Hey curvy girls all over the world,
One of the questions I get asked a lot is how do I find dresses that flatter my shape. Honestly, it has taken time, patience, and a series of trial error situations to find what dresses work best on my shape. Through trial and error, I've also found that there are 5 universally flattering dresses for plus size women. The classic wrap, fit and flare, a fitted sheath, Off the shoulder, and my personal fave, a classic shirt dress looks good on every shape and size. These dresses are the kind that you can just grab off the rack and know automatically, it's going to make you feel and look good. When I shop, I like to buy things that are not going to give me buyers remorse. I buy clothes that will flatter my shape whether I loose or gain weight. These 5 dress styles are honestly, the best choices for a guaranteed flattering look.
The Wrap Dress
I know people are over hearing about the wrap dress but there's a reason why Diane Von Furstenberg has created a million dollar empire around it. I always tell people when in doubt, reach for a wrap dress. The asymmetrical criss cross cut helps to create a waist, flatten a tummy, and make your boobs look awesome.
Christina Hendricks shows off her curves in a belted wrap dress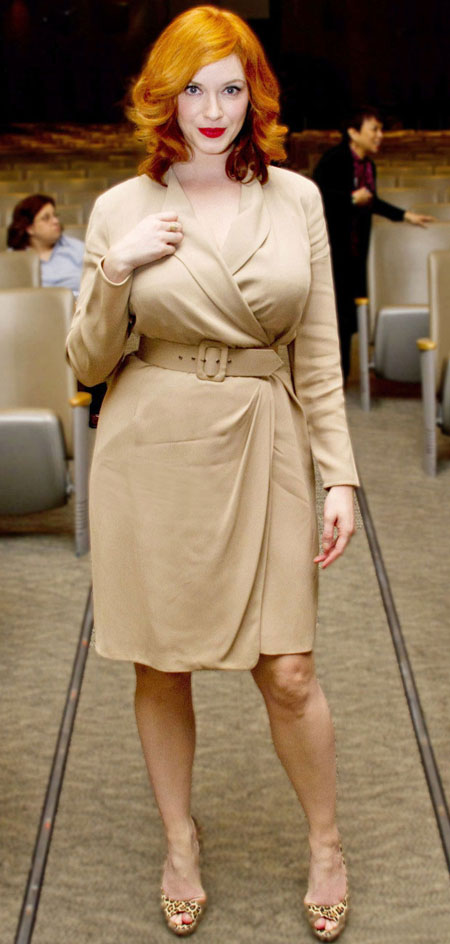 Celebrities like Gabourey Sidibe often opt for a traditional wrap dress for red carpet events.
Raven Goodwin hit the BET red carpet in a red maxi wrap dress
This wrap dress from Ralph Lauren is a summer must have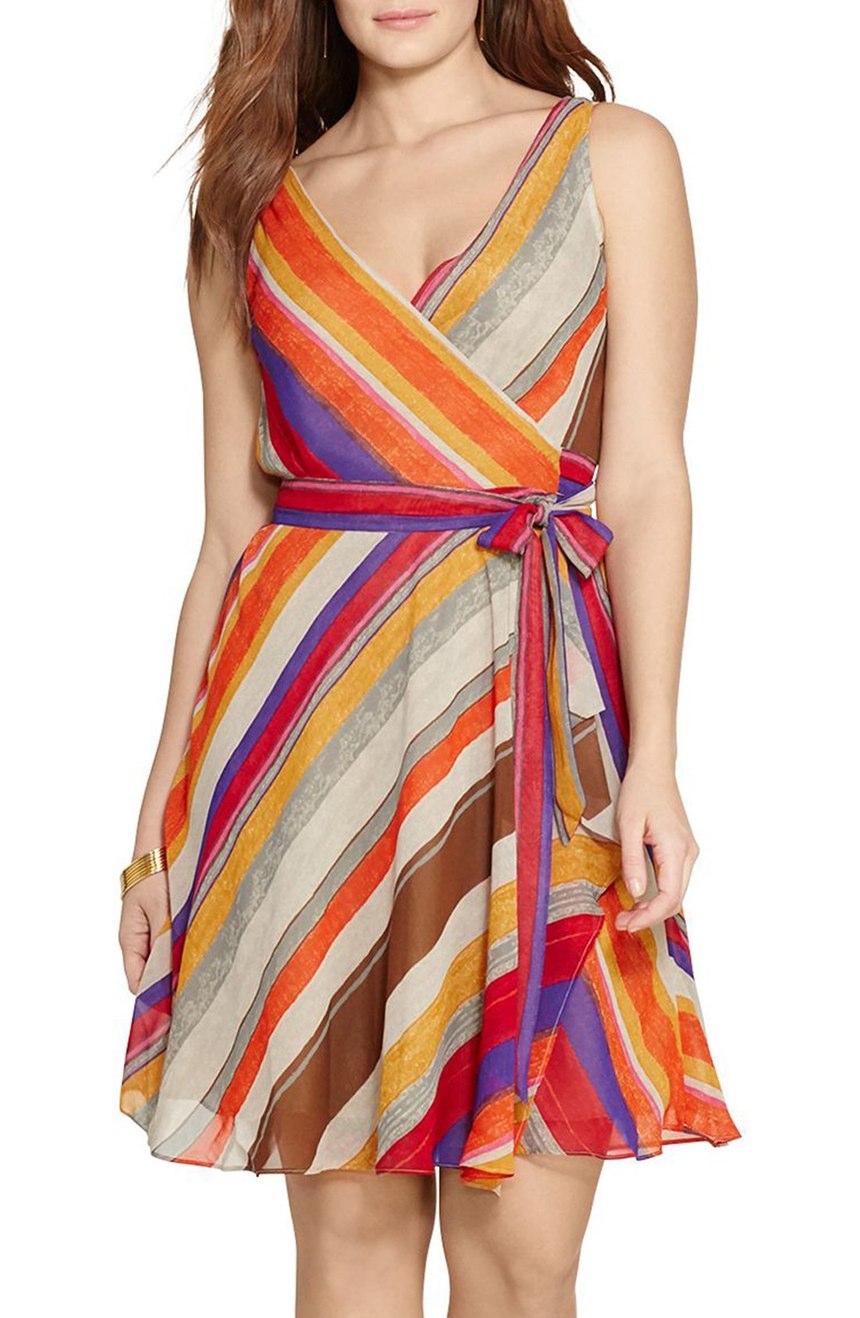 Fit & Flare
Fit and flare dresses are what you reach for when you want to create an hourglass figure. When you want your waist to look snatched, this is the dress you slip on. Whether your shape is curvy, straight up and down, or round, the fit and flare dress will automatically give you a more proportionate shape.
Celebrities like Mary Lambert look stunning in fit and flare dresses
Melissa McCarthy recently rocked a fit and flare dress to the Ghostbusters premiere
And Amber Riley looked stunning in a bright yellow fit and flare asymmetrical hem dress.
This fit and flare dress from City Chic is super sexy.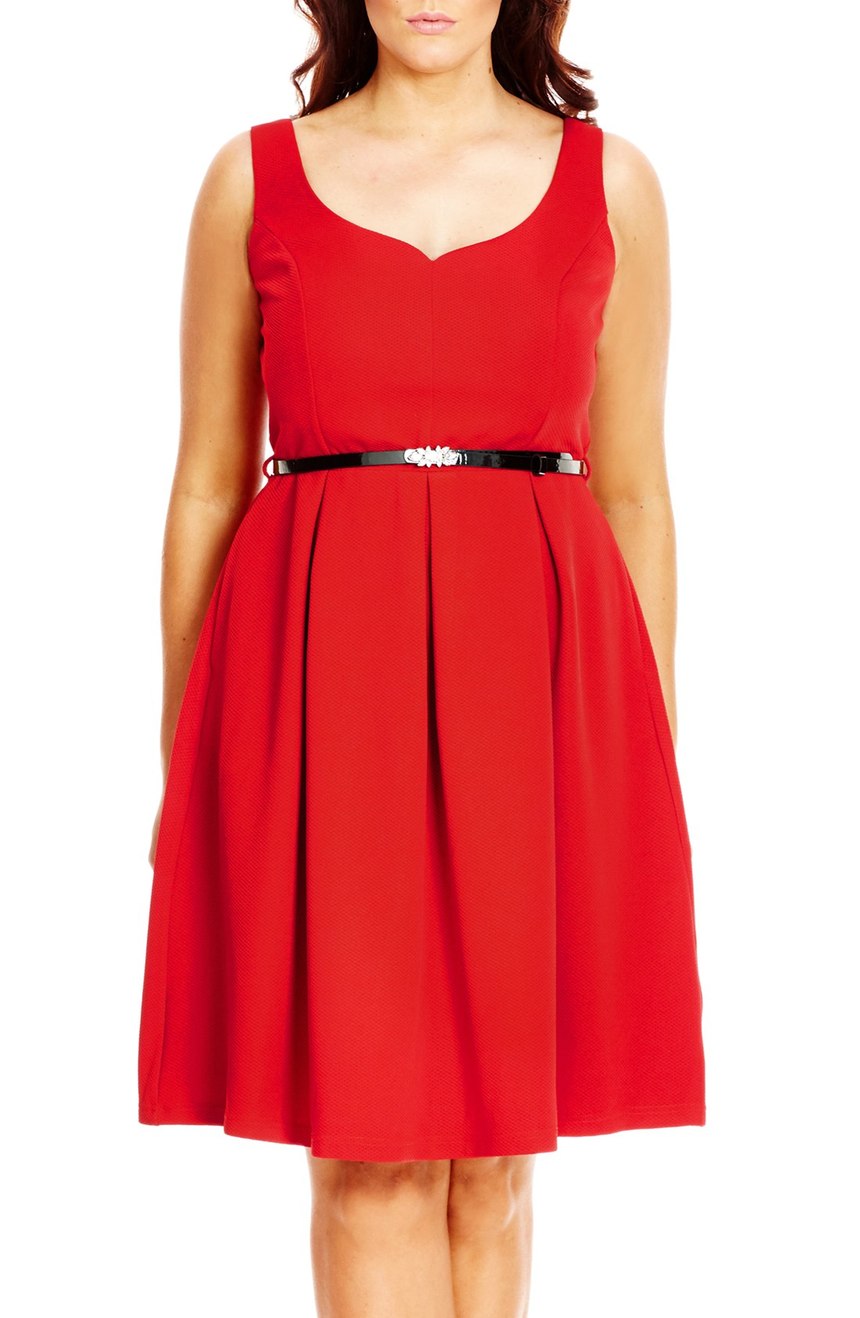 The Sheath Dress
Some plus size women are truly afraid of anything fitted. I say don't be afraid. Fitted pieces are just as flattering and they don't always have to be made of stretch polyester. One of the reasons I find the sheath dress universally flattering is because it adds structure to your shape. It nips you in all the right places and gives you a tailored look.
OITNB star Dascha Polanco loves a sexy sheath dress
and so does Rebel Wilson
For a red carpet event, Queen Latifah opted for a sequin sheath dress
Maggie London has some fantastic options in plus size sheath dresses. Love this black one for a nice cocktail hour or dinner.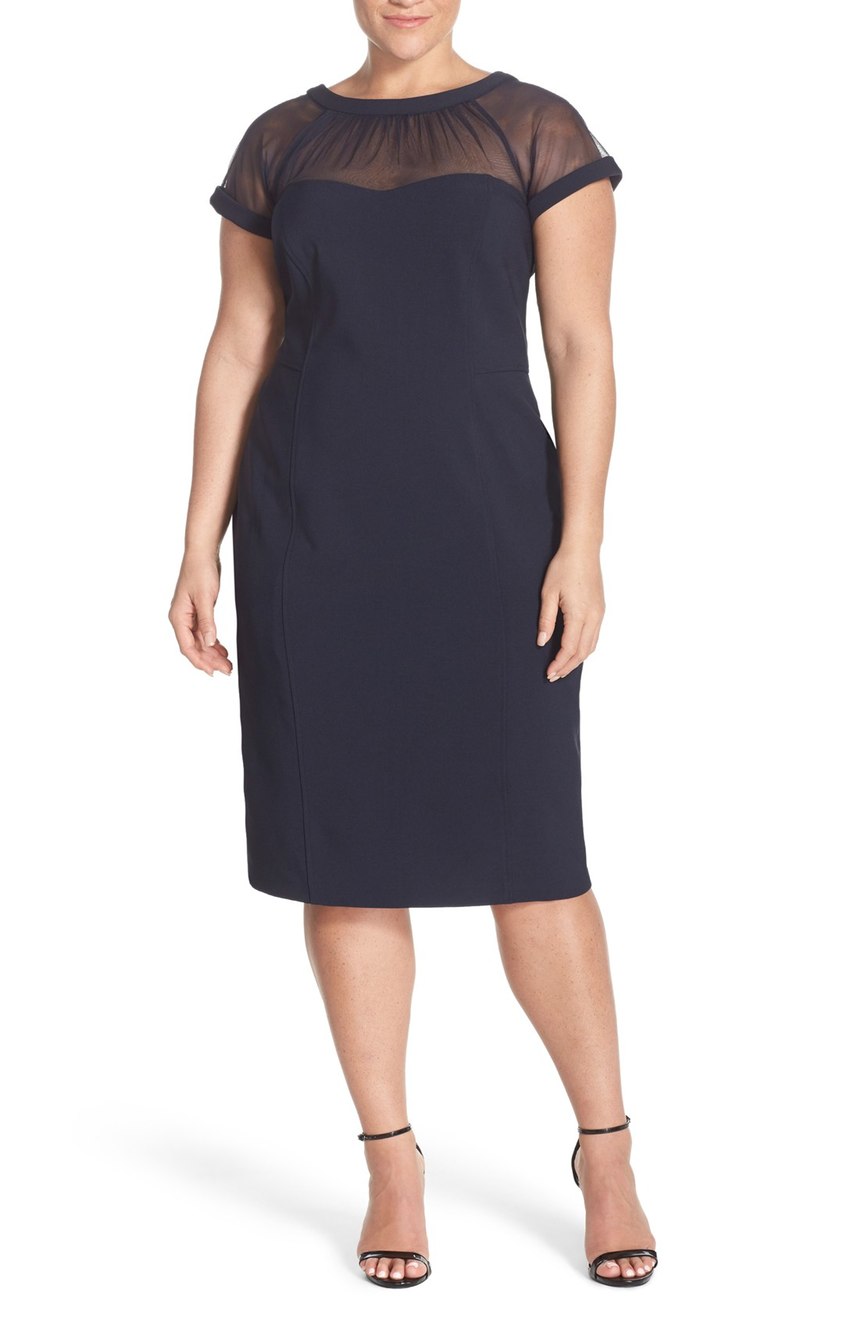 Off The Shoulder
Off the shoulder dresses are my favorite. It shows off your decolletage and gives you a sexy playful look.
I've been wearing them all summer. Remember this one (seen HERE)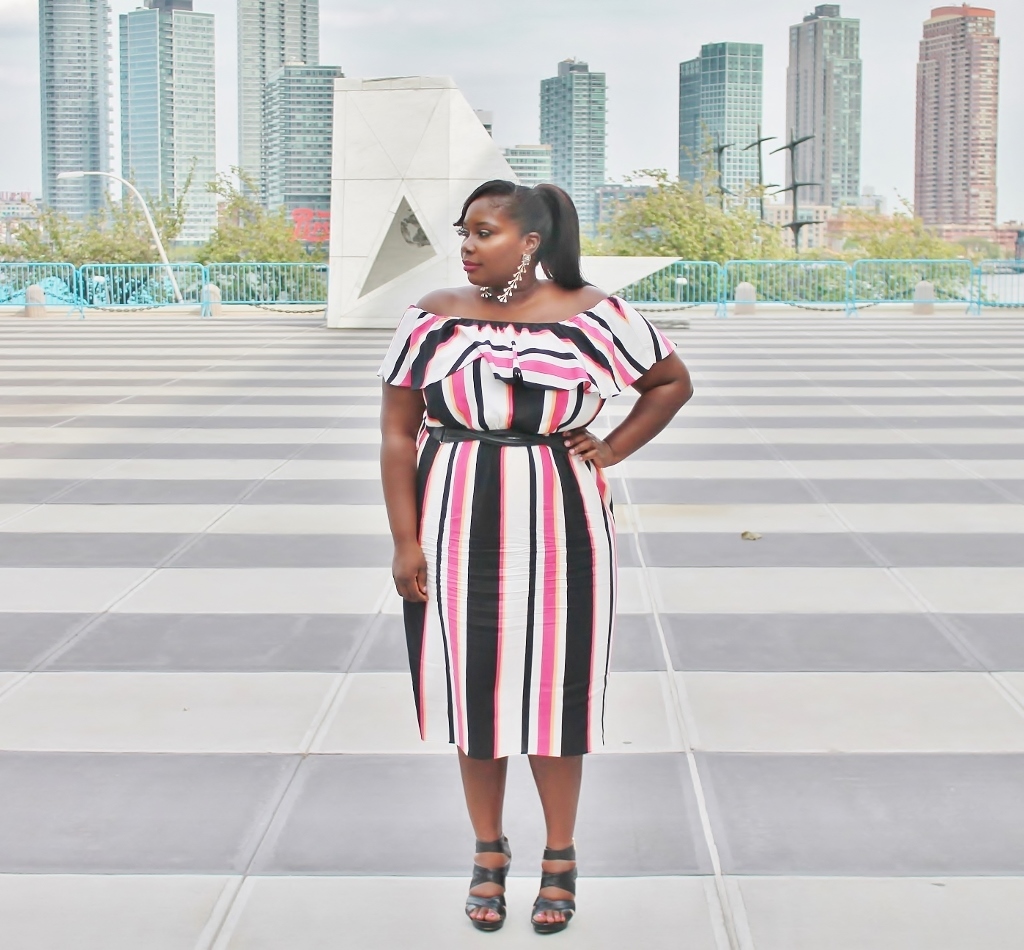 I like this orange beauty from Eloquii.
Eloquii Belted Off The Shoulder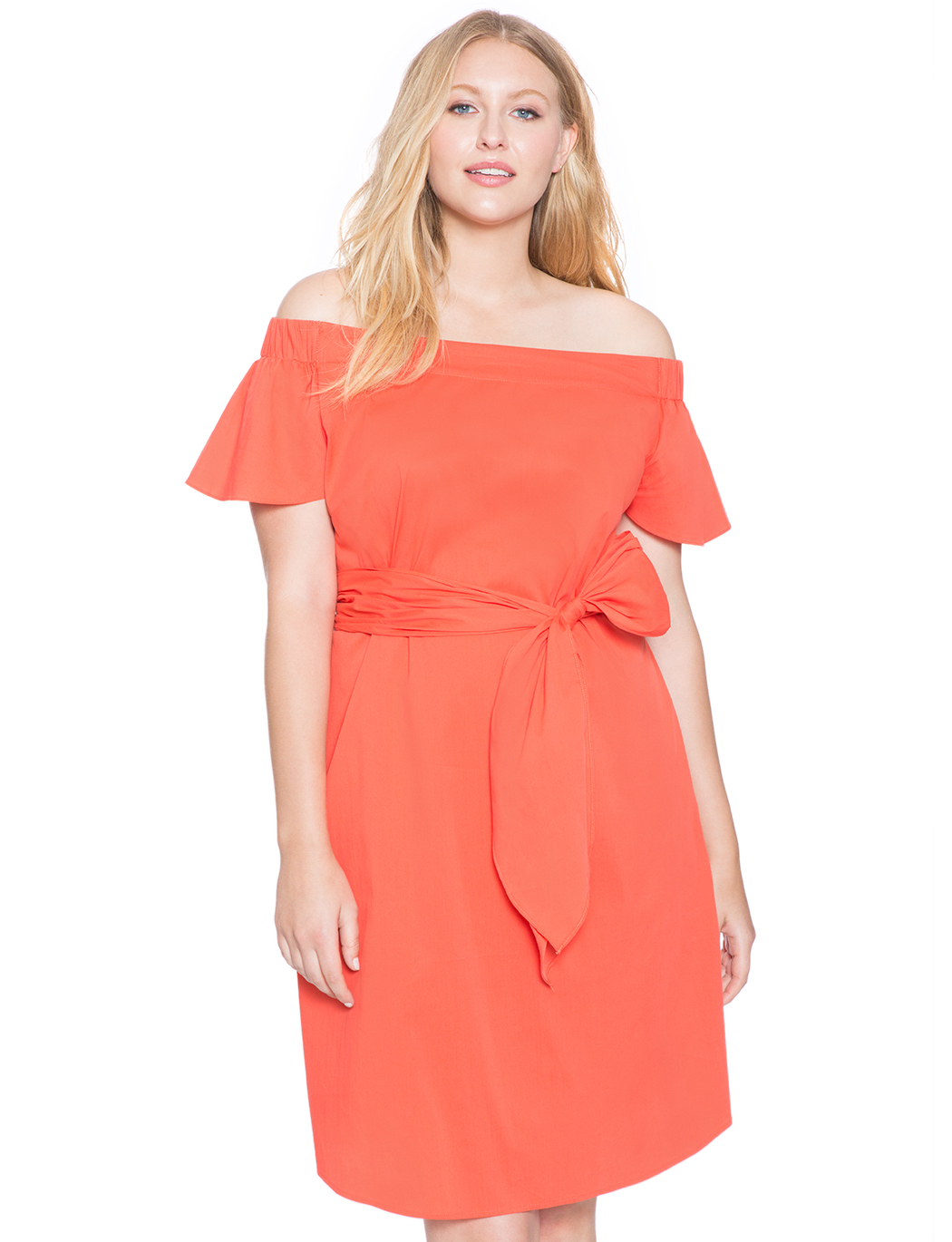 A Shirtdress
Last but not least, a shirtdress is a must have for any plus size woman.  Shirtdresses come in so many different styles and lengths. Recently OITNB star Danielle Brooks wore a beautiful white maxi shirtdress.
Blogger Cece from Plus Size Princess looked polished in a cute shirtdress from Eloquii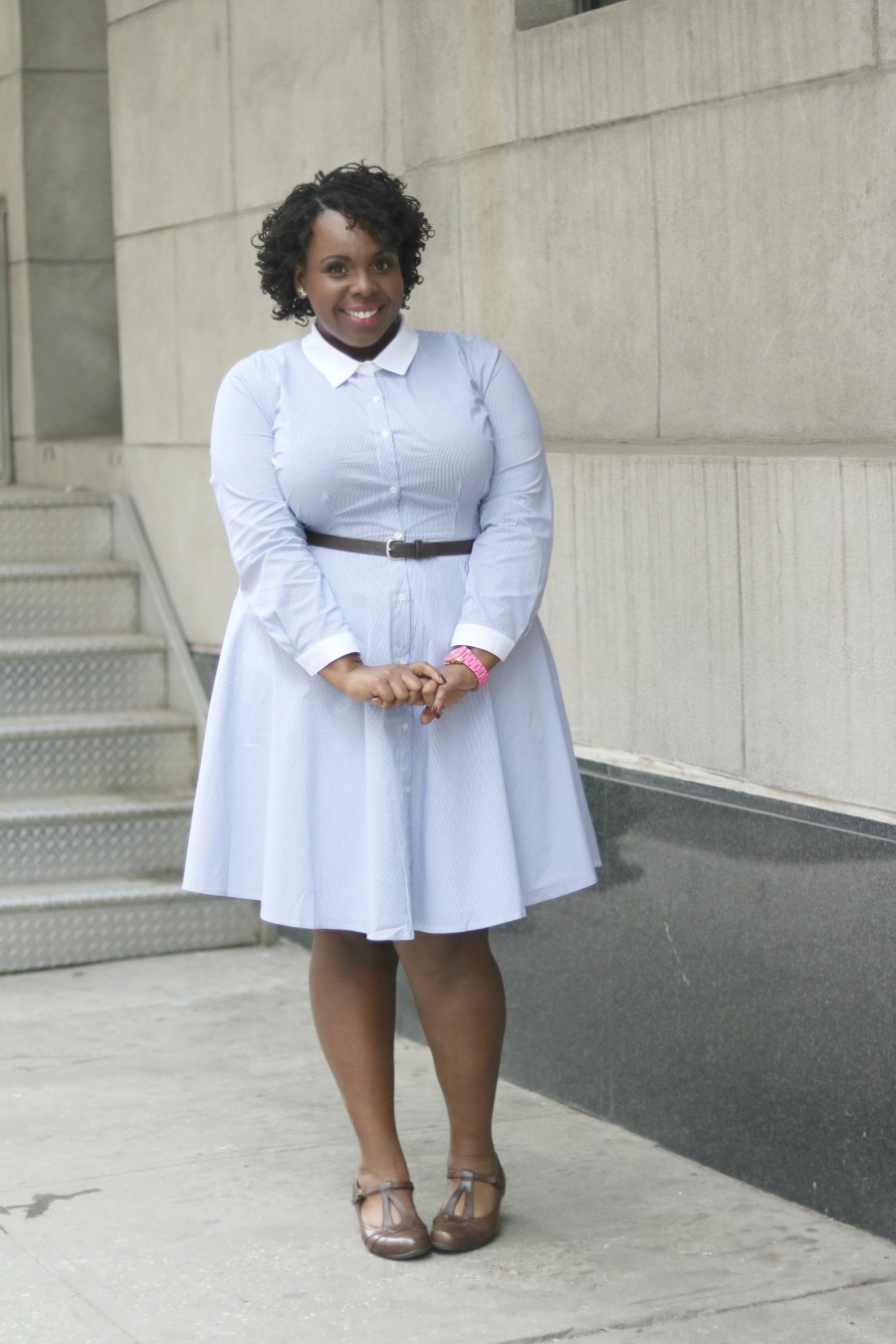 Amber Riley opted for an Ankara printed shirtdress for a red carpet event this year
Eloquii offers a bevy of shirtdresses ranging from classic pinstripe to denim. This one caught my eye.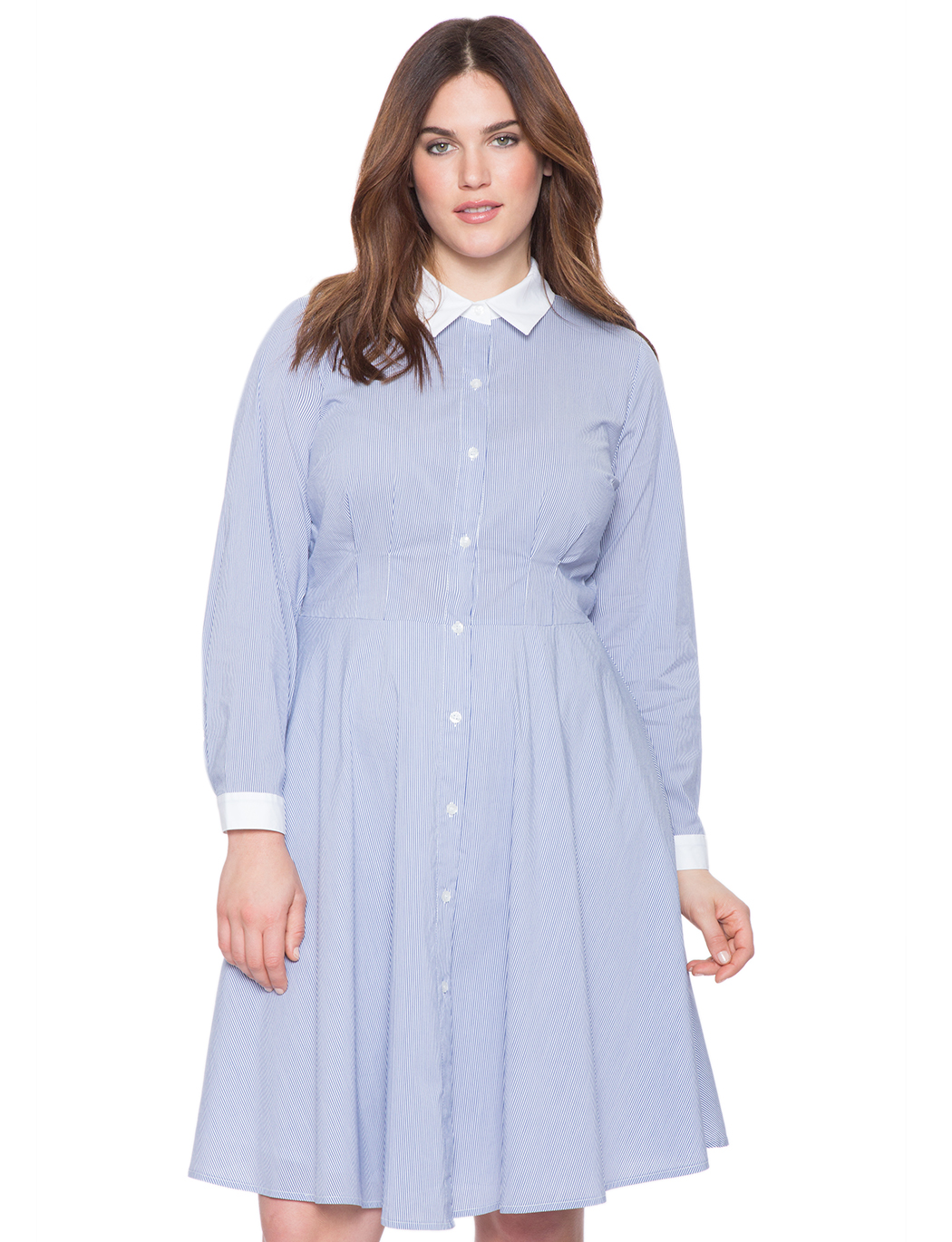 The great thing about these dress styles is that they all mingle together. You can rock a fit and flare shirtdress, or a fit and flare wrap dress and it will still flatter your shape.
My top key tip to finding the right dress to flatter your shape is to find a dress that helps to give you a more balanced shape and shows off atleast one favorite part of your body.
Which dress style do you like the most?
Shop more styles below