Hey curvy girls all over the world,
For the past couple of months, we've been teased by Lane Bryant about their collaboration with Christian Siriano. Today, in an exclusive campaign launch with People Magazine, Lane Bryant announced not only the launch date of the collection, which will be April 28th, but that the face of the collection is none other than Orange Is The New Black and The Color Purple star, Danielle Brooks, better known as Taystee. Yup, our girl Taystee, I mean Danielle is doing big things. This collaboration comes right on the heels of Danielle's Ebony Magazine cover.
Danielle looks absolutely fantastic in the Christian Siriano Lane Bryant collection which is equally as fabulous as she looks. I had no bout that Christian would bring it. The collection is made up of bright cheeky colors, fun and feminine silhouettes, with a little edge. I started to slightly drool over a mint green houndstooth biker jacket and black and white printed dress.
Then, I spied Danielle in a punch colored ruffled one shoulder dress and squealed. I literally had to cover my mouth. Danielle posed like a natural and the colors just popped on her skin tone.
Danielle had this to say about being dressed as a plus size woman:
 Being plus-size, it's very easy to put a woman in black or navy dress," she says, "but to get to show color on my chocolate skin is really fun for me, and it's not an option that always comes around."
What I like about the Christian Siriano Lane Bryant collection is that it's not just filled with dresses, Siriano included fun separates like a striped multi colored tee and a peach colored mesh skirt.
Christian Siriano talks about how he wanted to design the line and he had this to say:
"I wanted it to be a lot of color," he explains of the line, which features tops, dresses, skirts and even a full-length gown, all for sizes 14 to 28. "We took a lot of inspiration from 1950s ice cream parlors. I wanted there to be a lot of prints and stripes and textures, but still feel modern, with a little vintage feeling as well.
Take a look at a few more pieces from the Christian Siriano Lane Bryant collection. Ooh, I can't wait. You can shop the collection at Lane Bryant come April 28th.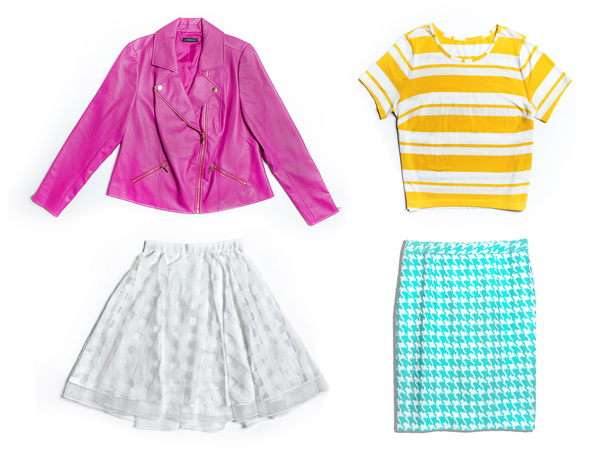 For more photos and story, head to People