Hey curvy girls all over the world,
In the latest issue of People magazine, Gabourey Sidibe really opened up. While showing off her new style and slimmer body, she talk about her weightloss surgery. In addition to her weightloss, she also shares details on her memoir and upcoming projects. For the issue, Gabourey was styled by Marcy Guevara and wore pieces from ASOS Curve and City Chic.
She rocked this super cute ASOS Curve Club L ruffled dress.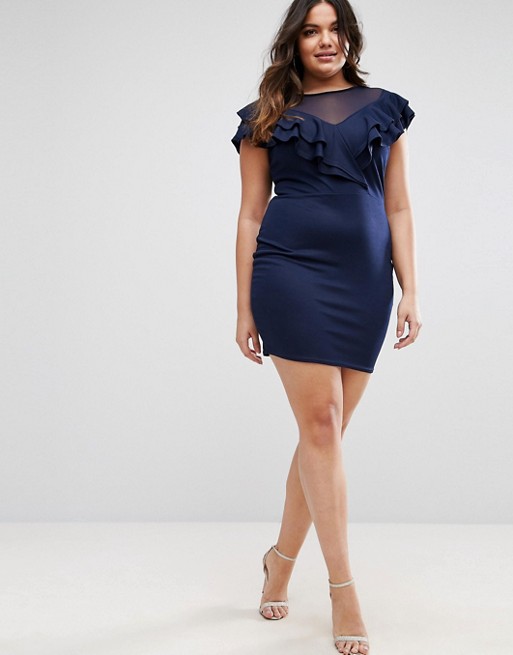 We've seen Gabby grow from her first role in Precious to being a star on FOx's hit show Empire. What some of us may be shocked to know is that Gabourey had laproscopic bariatric weightloss surgery last year. According to her interview with people, Gabby said, after she and her older brother Ahmed, 34, were diagnosed with Type 2 diabetes. "I truly didn't want to worry about all the effects that go along with diabetes. I genuinely [would] worry all the time about losing my toes."
She also shared how she felt after her surgery, "The surgery wasn't the easy way out," she says. "I wasn't cheating by getting it done. I wouldn't have been able to lose as much as I've lost without it."
Gabby has always expressed confidence. However, she said she wasn't always confident. "It has taken me years to realize that what I was born with is all beautiful," she writes in her book. "I did not get this surgery to be beautiful. I did it so I can walk around comfortably in heels. I want to do a cartwheel. I want not to be in pain every time I walk up a flight of stairs."
We mentioned earlier this year that she penned her first book which is a memoir. The book is called, This is just my face, Try not to stare.
Well kudos to Gabby for taking charge of her health. I alsolove that her career is still strong. I remember when Howard Stern said she wouldn't be around for long. However, she's still here and winning too. I know some people may try to shame her for getting surgery. However, when it comes to your health, you must take necessary action.
I appreciate her honesty about why she got the surgery and how her confidence has boosted after the surgery.
Read more of Gabby's interview over at People Magazine
What are your thoughts on Gabourey Sidibe's new look?