Hey curvy girls all over the world,
I've been in a number of heated conversations when it comes to the topic of women using the word curvy vs plus size. Some people believe that you can only be one or the other, while others believe you can be both. I've even received flack from social media bullies for my blog name having the word curves in it. In a perfect world, how we identify ourselves, especially our bodies, shouldn't matter to anyone but us. Unfortunately, the world we live in is not perfect. Ever since Plus Model Magazine put out their article in the January issue asking the question, "What is Plus Size?" (Read HERE), even the Huffington Post has weighed in on the topic.
When it comes to the word curvy, what body type do you think represents that title? Is it limited strictly to an hourglass or pear shape figure? Is it a certain weight or size? When I think about the entertainment industry, women like Beyonce, Christina Hendricks, Serena Williams, and Kim Kardashian are often referred to as curvy. However, women like Amber Riley,  Queen Latifah, Oprah, Melissa McCarthy, and Rebel Wilson are referred to as plus size. The controversy comes in when someone like Christian Hendricks is referred to as plus size and someone like Amber Riley or Queen Latifah is referred to as curvy. The word says you shouldn't do that.
One of my blogger buddies Chastity of Garner Style who I deem plus size and curvy due to her voluptuous pear shape,  posted this quote on her facebook page from Kirstie Alley (see photo below)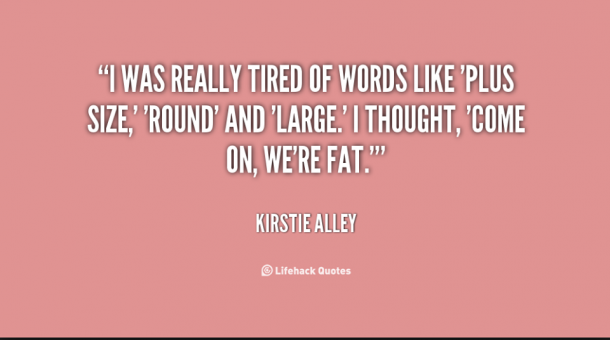 I think in the plus size community we use the words interchangeably. Personally, I believe you can be plus size and curvy.  I think the word curvy references shape more so than weight or size. As a plus size woman, I am not in denial about my body and I think society thinks we use the word curvy or plus size because we are in denial about being fat. Listen, there is one thing I know for sure, fat people know they're fat, but should it matter to the world what we refer to ourselves as, and can we NOT be considered delusional or in denial if we don't refer to ourselves as fat?
No, every woman in America isn't curvy but being plus size and curvy can coexist in one body.
So, I pose this question to you:
Do you think the terms curvy and plus size can be used interchangeably? Share your thoughts and take our poll below