Hey curvy girls all over the world,
The show we all know and have loved for God knows how many cycles has returned, but with a little controversy. A new revamped season of America's Next Top Model aired on Monday Dec. 12th and a few people were in their feelings about the lack of size diversity on the new season. Orange Is The New Black Star Danielle Brooks and plus size model Tess Holiday sent out a few tweets calling out the show. Both Tess and Danielle have been body positive advocates.
Ever since Danielle hit the scene, she has used her voice and platform to shed light on the discrimination women of a certain size receive. Recently, she was part of Lane Bryant's "This Body" campaign. Tess Holiday, has been a voice for the plus size community ever since she started her modeling career. Just a couple of years ago she sky rocketed to fame by becoming the first size 22 model to be signed to a major modeling agency.
Now, ANTM in the past has always included at least one, sometimes two aspiring plus size models. Remember Toccara Jones and Whitney Thompson?
Former ANTM contestant Toccara Jones
So, it is surprising to not see a curvy contestant especially since they have Ashley Graham as a judge. Maybe they thought having Ashley was enough.
Tess and Danielle went into details on Twitter as to why they were disappointed. Here's what they had to say,
Danielle
This 1% thing is real. The world really disregards plus size. Watched #ANTM and not one contestant was plus, hell, not even a size 6 or 8.

— Danielle Brooks (@thedanieb) December 13, 2016
Even if producers felt well it'll be hard for a plus size girl, show that ish. Let the world see how much work still needs to be done…

— Danielle Brooks (@thedanieb) December 13, 2016
Tess added her thoughts about the show not having a plus size representation
I grew up religiously watching #Antm & praying one day to be a model. Girls like me were never given a fair shot. Having 0 plus girls (cont)

— Tess Holliday (@Tess_Holliday) December 13, 2016
(Cont) on this season just really feels like 10 steps back. Plus girls need representation. Not just seeing a curvy judge-we need more.

— Tess Holliday (@Tess_Holliday) December 13, 2016
According to Yahoo style, Ashley Graham spoke on the issue in an interview with ENews. She says,
"Unfortunately, it didn't happen for this round, but that's alright. Hopefully for season two — I'm looking for the woman who wins to be plus size. I think it would be so epic."
Both women are not wrong for putting the show on blast. The show is filled with diversity in terms of  different races and nationalities. However, no diversity in size is a bit mind boggling, especially since Tyra's mission is to change the way the world sees and defines beauty. Also,there shouldn't be just one plus model, it should be at least two contestants that fall in the plus size range. They always pacify us with just one and call it diverse. No, there needs to be more than one.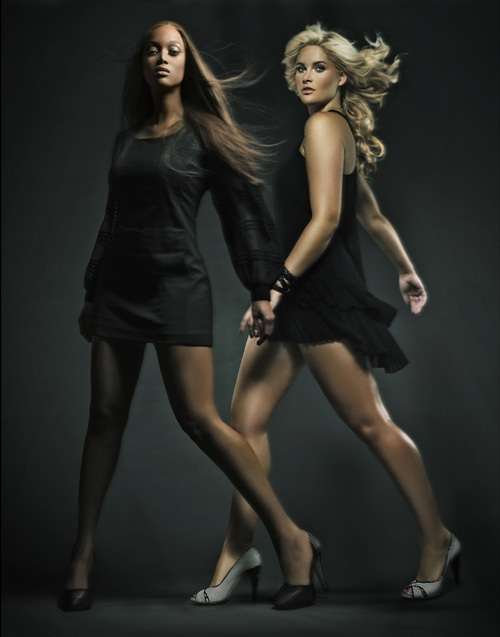 Former ANTM contestant Whitney Thompson
Using Ashley Graham as a judge was smart because they know she is going to draw in plus size viewers. However, to not have a plus size or curvier contestant is a slap in the face. They could have created some inspiring moments between Ashley and an aspiring plus size model because Ashley is living the dreams of many plus size models. Unfortunately, they missed out on a major opportunity. I guess there is always next season.
Did you watch ANTM? What are your thoughts on the issue?