Hey curvy girls all over the world,
If you don't watch Scandal then un-follow us. Just kidding. Scandal has become everyone's guilty pleasure. I often refer to myself as a gladiator because Kerry Washington just gives such a magnificent performance with each episode that she makes you want to be on her team. As the 3rd season has already begun we thought it would be fun to conjure up a few office appropriate looks inspired by Kerry Washington's character Olivia Pope, if she were a plus size woman, of course. As a corporate professional by day, I can relate to Olivia's wardrobe.  I'm a plus size woman so when I watch the show, I try to come up with outfits in my size to get that Olivia Pope look.
When it comes to getting Olivia's style , there are a few key pieces you need. A white coat, a tweed jacket, a classic structured suit, tote bags, and leather gloves. These items are all signature Olivia Pope pieces. There is not an episode that goes by where she doesn't wear atleast one of these items.
Pope 's on screen wardrobe consists of a very classic muted color palette of white, gray, black, with splashes of blush pink and tan.  Her pieces are structured and tailored to her figure. We love that she gives a nod to old school professionalism but her looks are modernized with fun details, like those leather gloves or a cape like coat.
Based off of the signature items, we came up with 5 easy and simple chic office looks from retailers that carry plus sizes. We promise that these looks will get you clearance into the white house.
Check them out and tell us what you think:
The Princess Coat and Dress Combo
Olivia loves a good coat and dress combo. So we though this plaid and black shift dress from Dorothy Perkins would be great for the office. It goes up to a size 18 . We paired with this princess double breasted coat also from Dorothy Perkins which goes up to a size 18.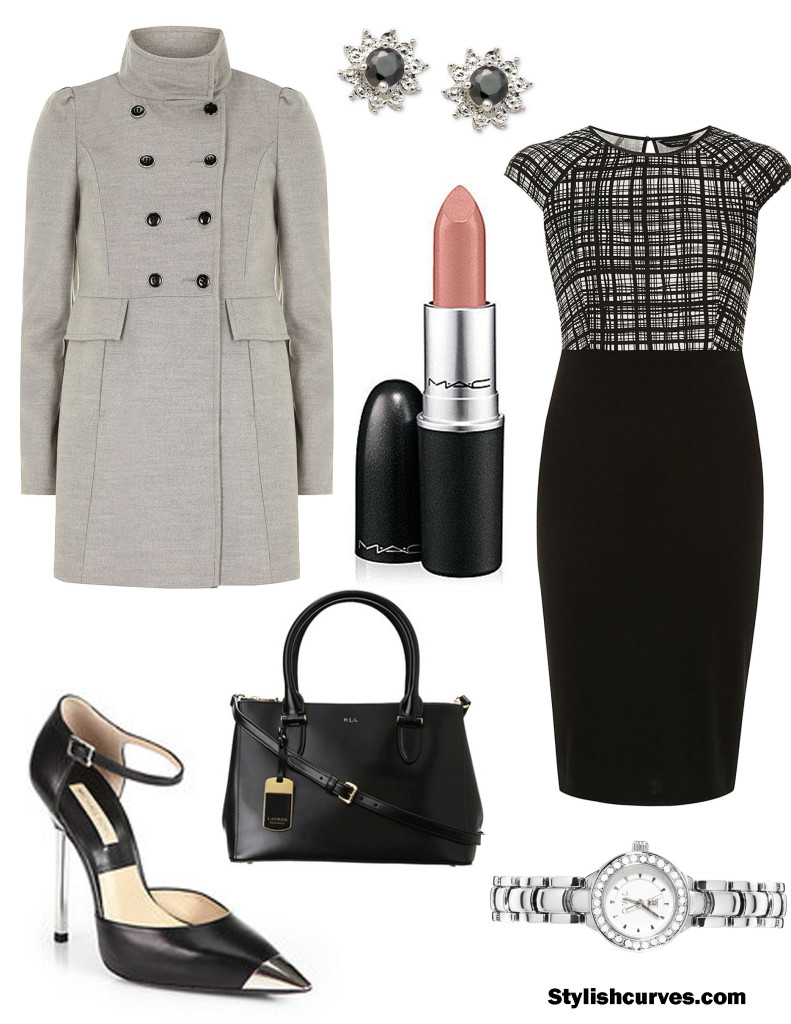 The White Coat
The white coat is synonymous with Olivia and the shows name. When you think Scandal, you think Olivia's white coat. We found this wool blend double breasted peacoat in the plus section at Old Navy. Throw it over your basic trousers and a silky blouse and you're office ready. Add a pair of leather long length gloves to add a little drama to the look.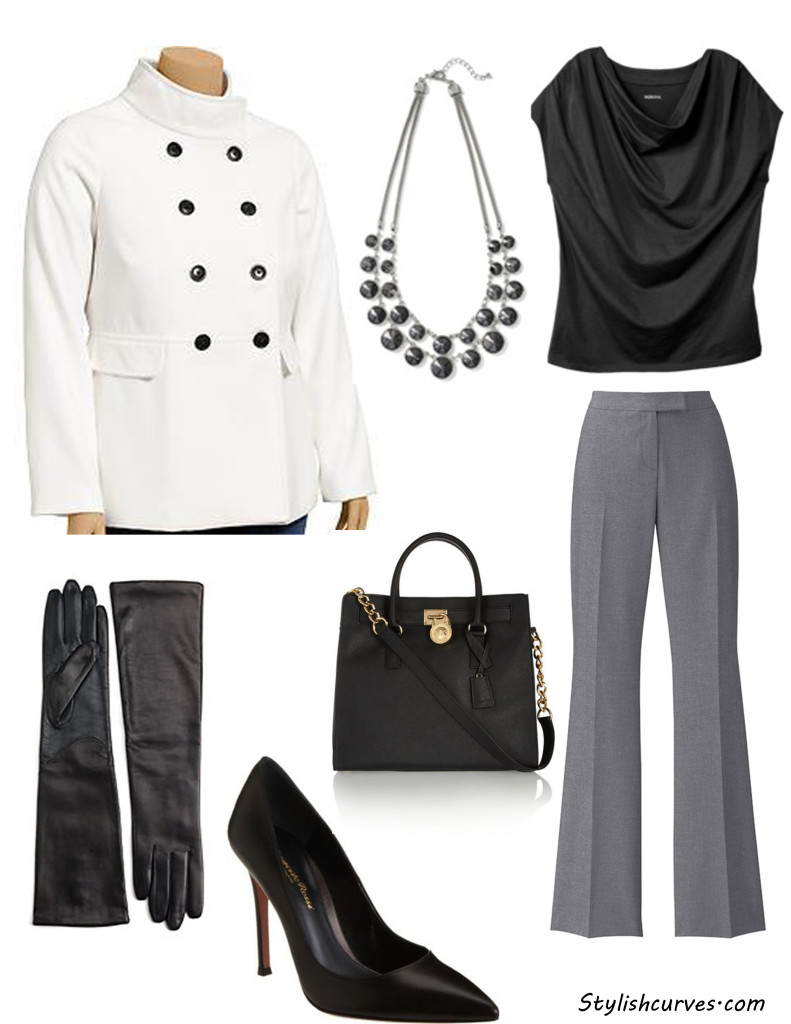 The Tweed  Jacket
From short sleeved versions to asymmetrical cuts Miss Pope loves her a tweed jacket.  We personally love this biker tweed jacket from Simply Be. It's youthful with a dash of sophistication. It goes up to a size 26 in plus.  Let the jacket be the focal point and utilize your basic workwear pieces like a pencil skirt and white blouse to create a polished look.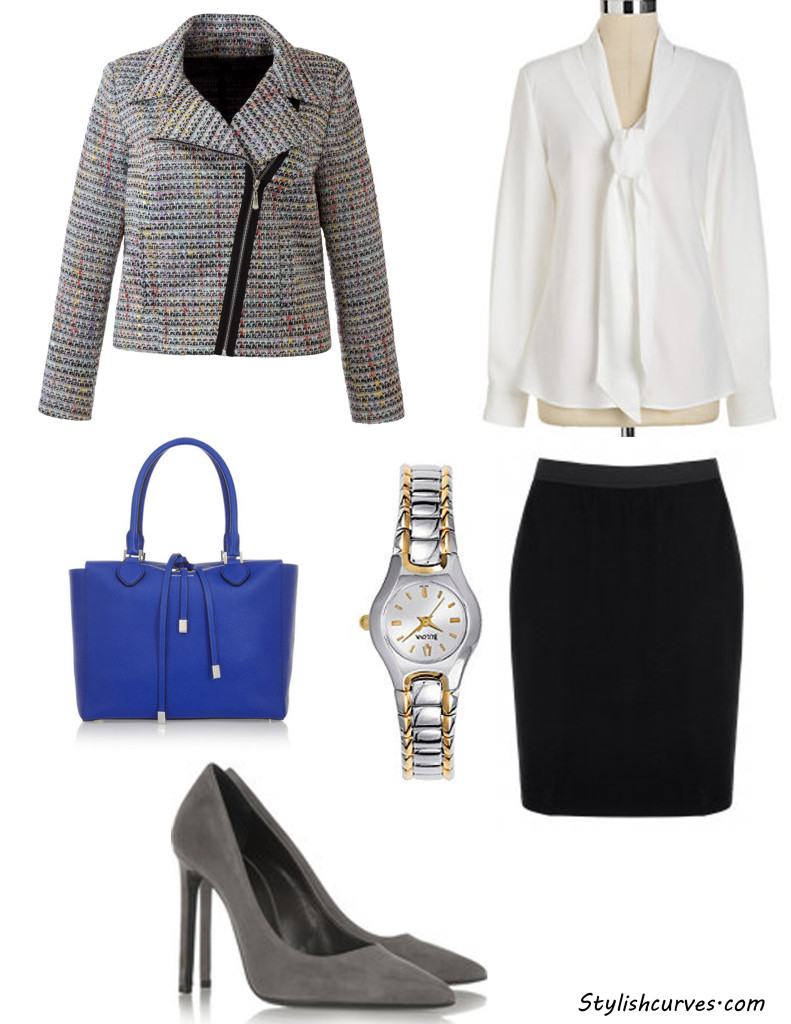 Tweed Jacket: Simply Be
The Feminine Color Palette
Olivia's office style is feminine and understated. You won't catch her in anything too bright or bold. She seems to stick to a color palette of black, white and gray. When she wants to wear color, she goes for blush or pastel pinks mixed with beige's and tan's.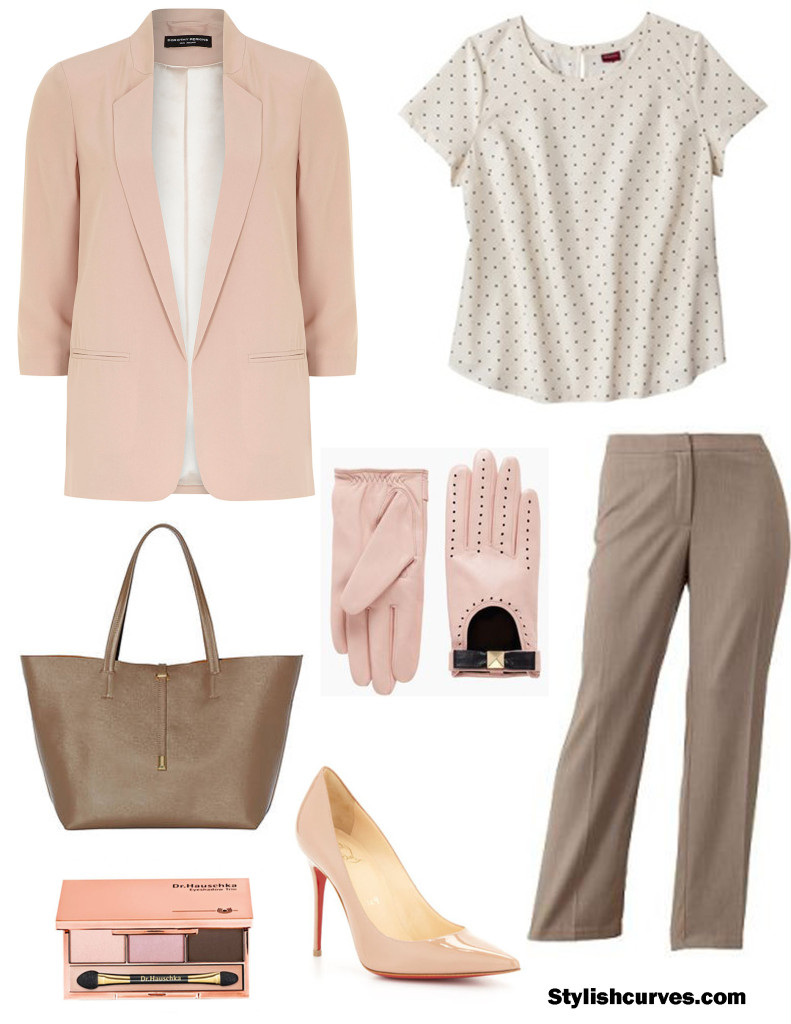 The Classic Suit
Last but not least is the classic corporate working girl suit. Olivia wears alot of gray suits, whether they are pants or skirts. The gray suit screams, I mean business, and we all know Olivia does mean business.
We found this super duper affordable plus size suit at Walmart. Get it HERE