Hey curvy girls all over the world,
Last week, we posted our annual denim trends shopping guide (seen HERE).  When I was browsing through it, I found a couple of cute denim pieces I knew I wanted to add to my wardrobe. Every season I try to update my wardrobe with denim pieces. Skinny jeans are my go to. A denim dress and denim top are my wardrobe staples. One piece I just had to add to my closet this season was a denim bomber jacket. It gives all of your looks a down to earth vibe.
Every season, there are so many new denim trends. I try to pick styles that make sense for my style and help to enhance it.
Here's 3 ways I'm incorporating denim into my wardrobe.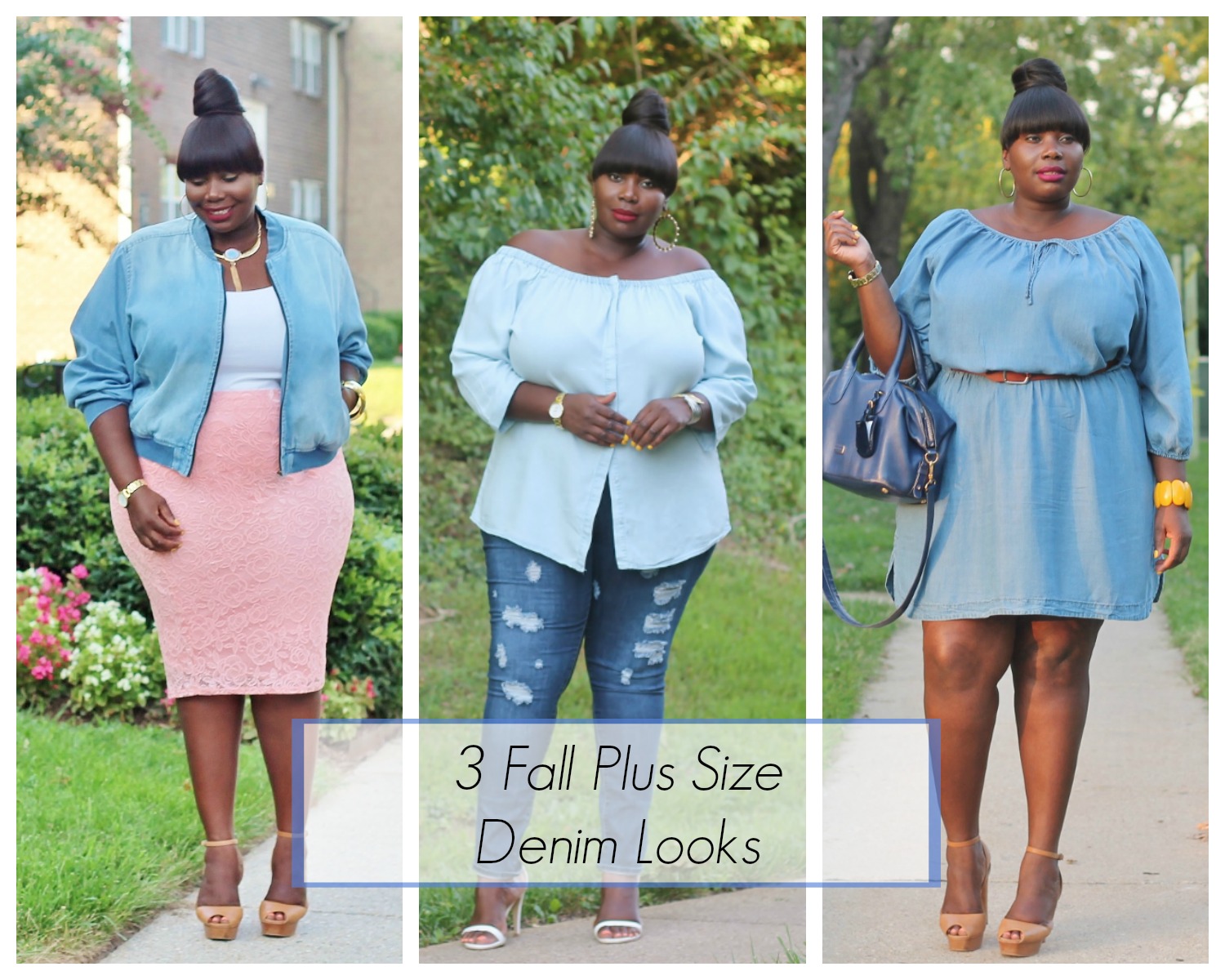 Bomber jackets are going to be a popular trend for Fall. I found this light washed cutie at Ashley Stewart. I chose to rock it with a pink lace pencil skirt for a girly look. Mixing casual pieces with dressy styles makes for a cool look. I love the juxtaposition of dressy and casual.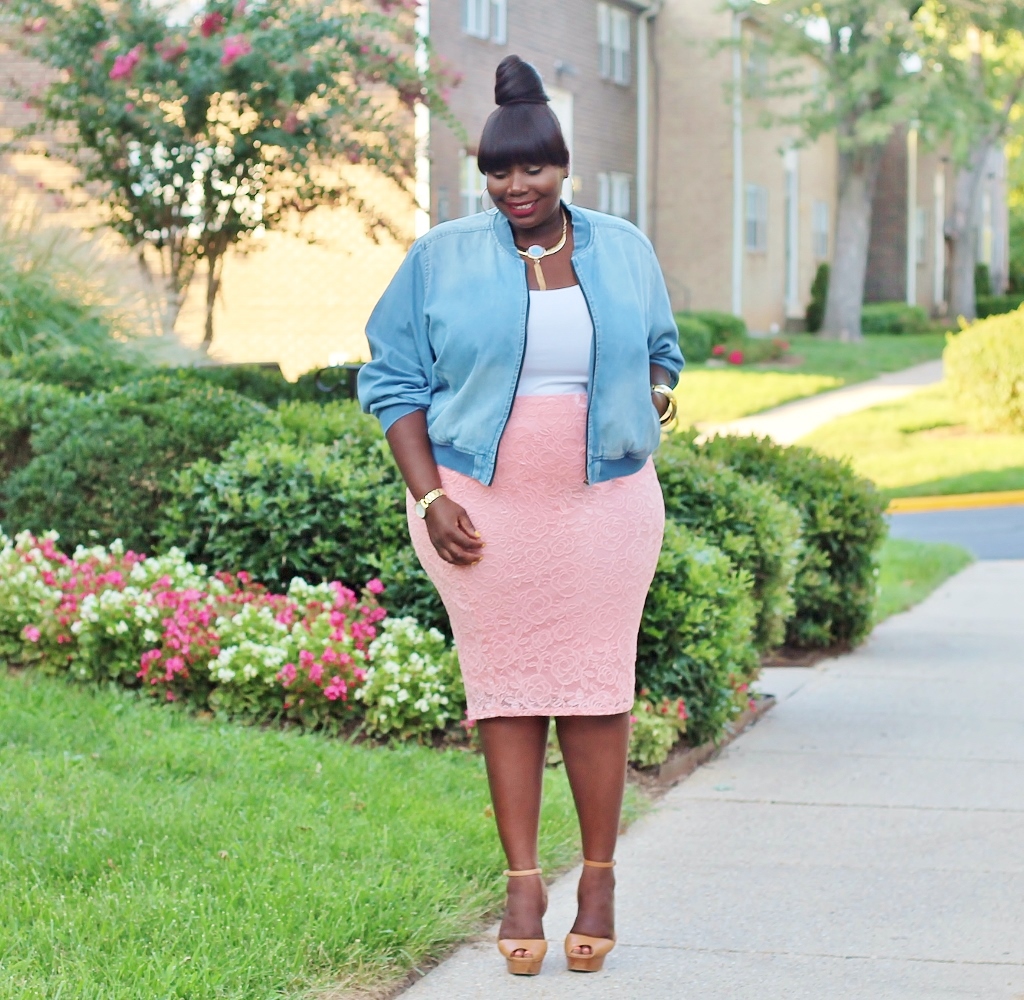 Jean Bomber jacket, Lace Skirt, Sandals, tank top, Necklace
I accessorized the look with a pair of ankle strap platform sandals, a gold tassel necklace, gold cuff, and Kate Spade watch.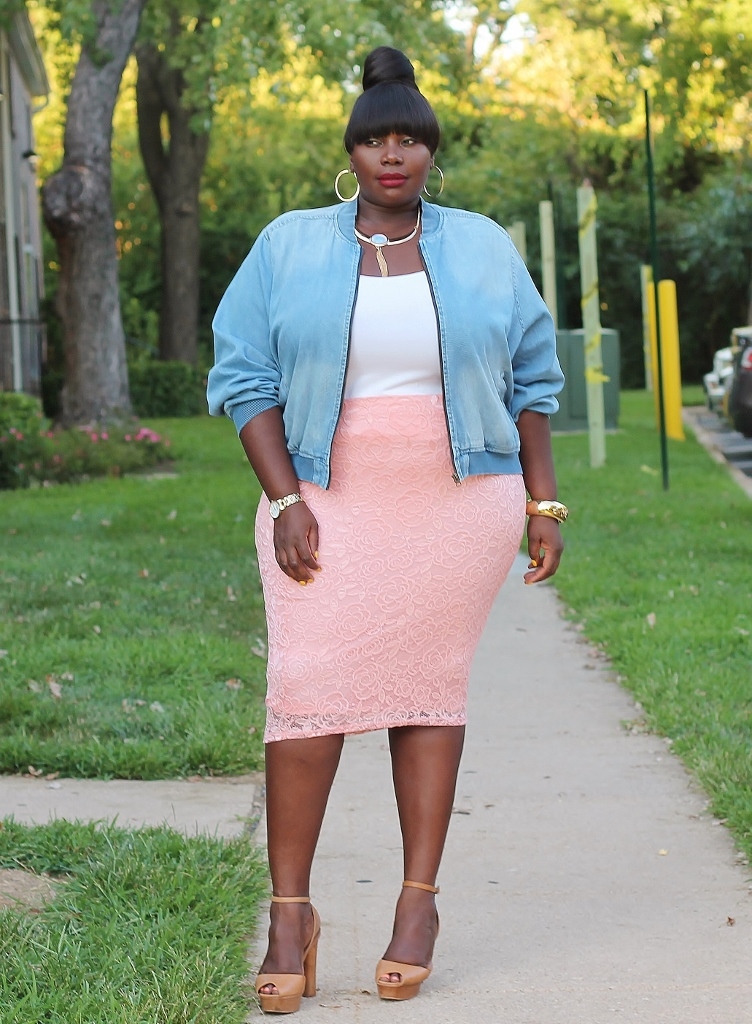 Denim shirts are classic but this year I wanted to update my closet with a denim top that was a little sexy but still casual. I found this off the shoulder light weight denim top from Ashley Stewart. Since I love my skinny jeans, I thought they would look good with a pair of distressed skinny jeans. The top also has versatility because you can tuck it into a skirt or even rock it with a pair of shorts.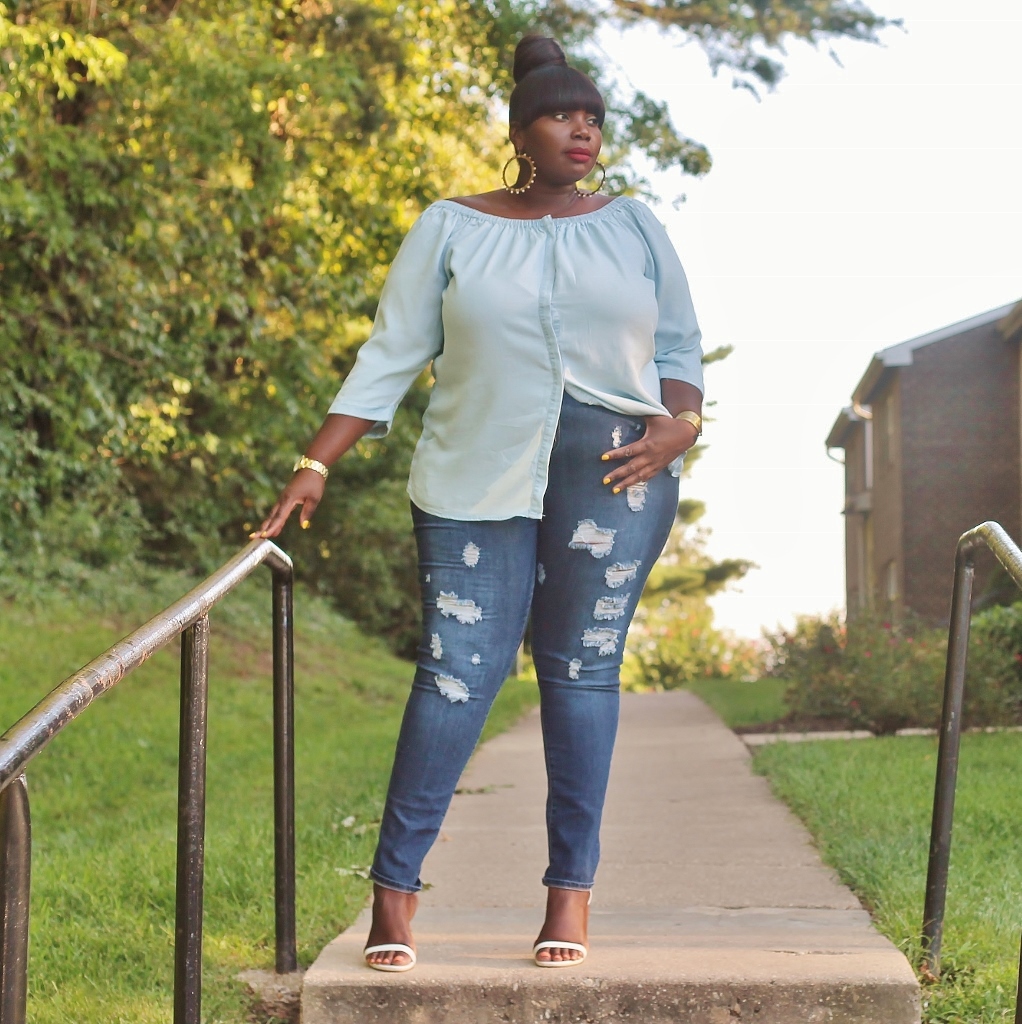 Denim Top, Skinny Jeans, Sandals
I love when pieces standout on their own because you don't need a lot of accessories. For this off the shoulder denim top, I slipped on a pair of white ankle strap sandals, a gold cuff, and oversized hoop earrings.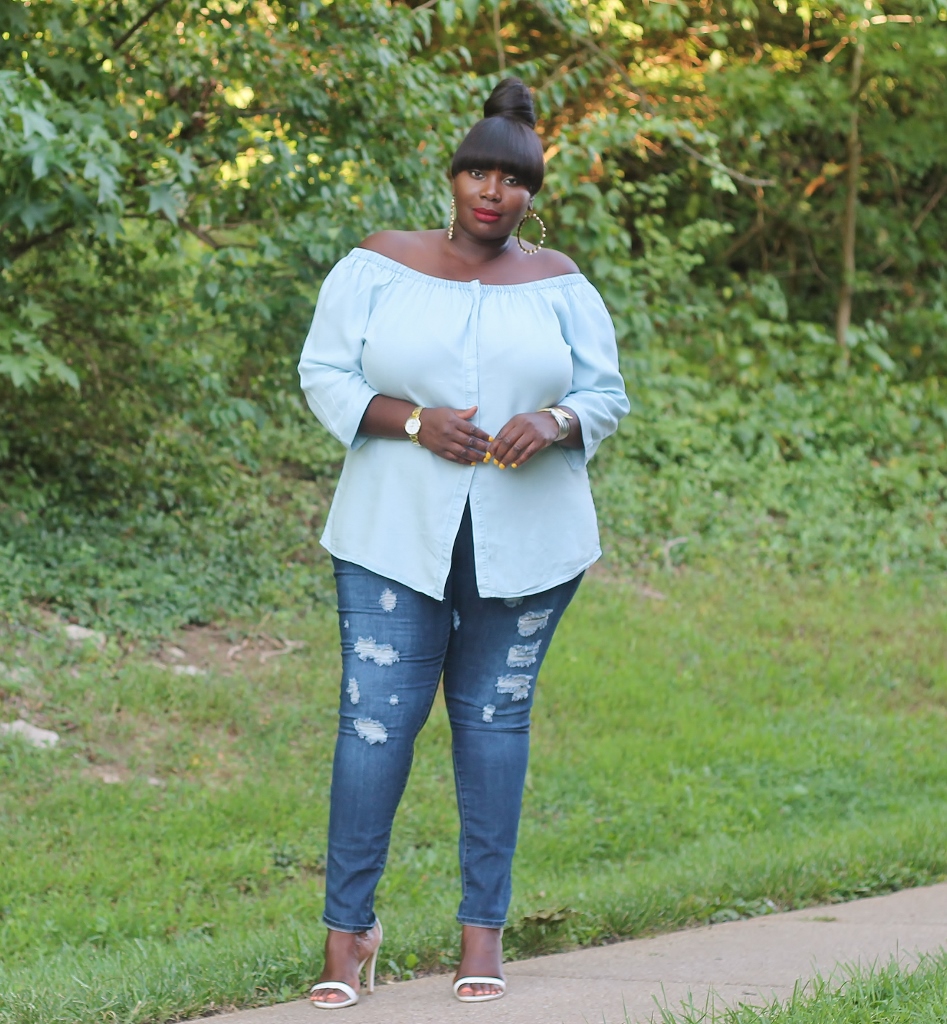 Denim dresses are a must wardrobe staple. I recommend every girl have atleast one in her closet. I have quite a few. I was drawn to this denim dress from Kohls because it had a peasant boho look. It's a dress that I can wear now and later when the weather gets a little cooler.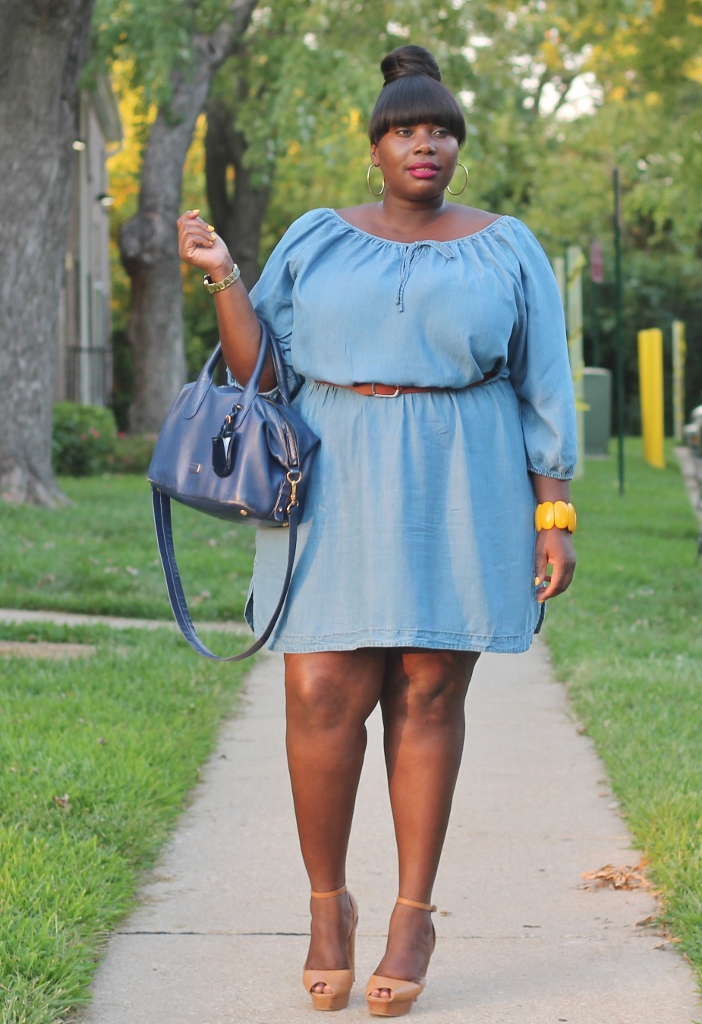 Jean Dress, Sandals, Tote Bag, Bracelet
I added a navy Marc Jacobs tote bag, a yellow bracelet, hoop earrings, and my ankle strap tan sandals to complete this look.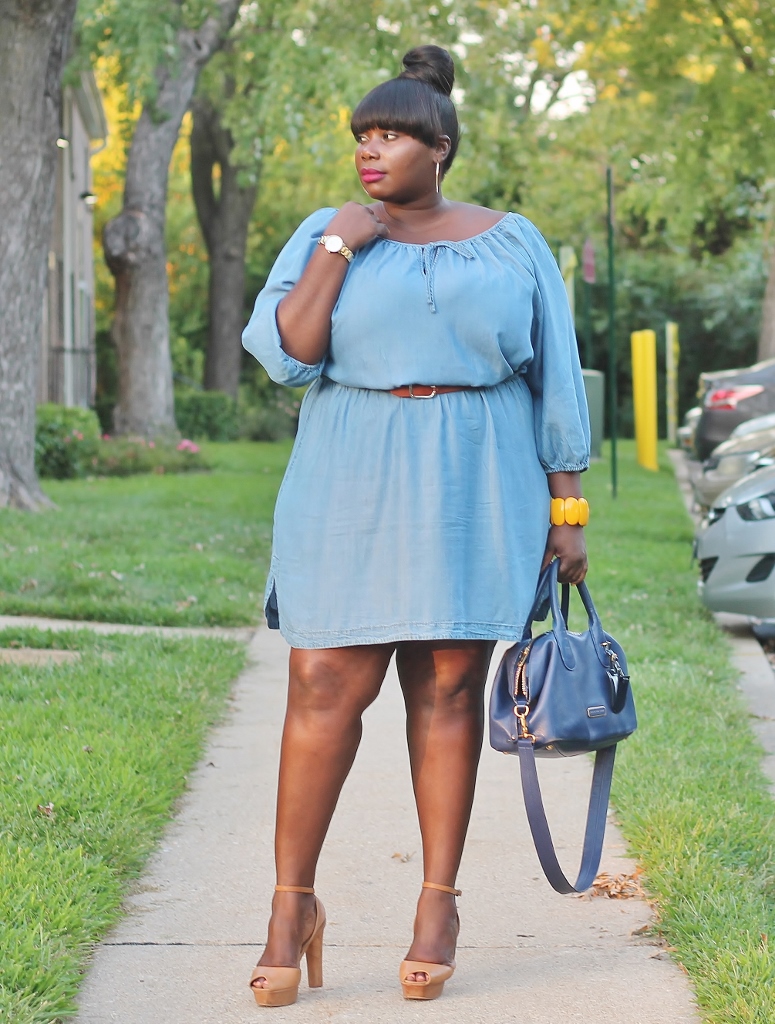 What denim pieces are you adding to your closet this season?
All photos by: Brandon Flowers
*Denim bomber and shirt were gifted by Ashley Stewart. All opinions are my own