This year I made a promise to myself to buy more from black plus size designers. In the past I've worn pieces from Monif C., Jibri, and Demestiks. These are all designers who were making clothes for plus size women before it became popular. 10 years ago plus size women did not have nearly the amount of plus size designers we do now. These are just a few designers who were.
Why Black Designers Hit A Road Block
It's no secret that black designers don't receive the amount of support that white designers do. In the fashion industry black designers aren't given the recognition they deserve. Many black designers struggle to keep their lines going. In a 2018 Nylon article Haitian designer Azede Jean-Pierre said,
"The biggest roadblock for black designers is money. "To start a fashion design business, you have to come from some kind of money or you have to find access to it."
The same goes for black plus size designers. Now don't get me wrong. It's a struggle in itself just being a plus size designer. I've spoken with a few plus size designers who feel like they don't see the support from the plus size community and mainstream media basically ignores them.
To help promote plus size indie designers, last year we published a list of 16 indie plus size designers you should support. We wanted to educate plus size women on the designers making clothes specifically with them in mind.
There have been a few efforts to get the fashion industry to be more inclusive of black designers. Harlem's Fashion Row has been a major player in showcasing black designers from the past and present. I would love for them to start including black plus size designers in their showcases.
Designer Zelie For She
As I mentioned earlier, my goal this year is to support black plus size designers more. Zelie For She is an independent fashion line by Los Angeles based designer Elann Zelie. Her aesthetic is bohemian chic. She makes unique designs in limited quantity for plus size women.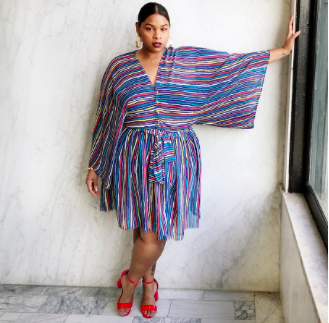 I met Elann at FFFWeek back in 2012. It was a few months before she launched her line. When I met her she was stylish and had such a sweet personality. Since launching her line, I have been eyeing a few pieces. Last month, I decided to show her support and bought her Cozy Day Wide Leg pant set.
The knit pant set was made with excellent quality and fit perfectly. It's a light weight knit fabric and the ruffle detailing around the shoulders and sleeves added a little flair to the set. Zelie designs for plus size women up to a 3X.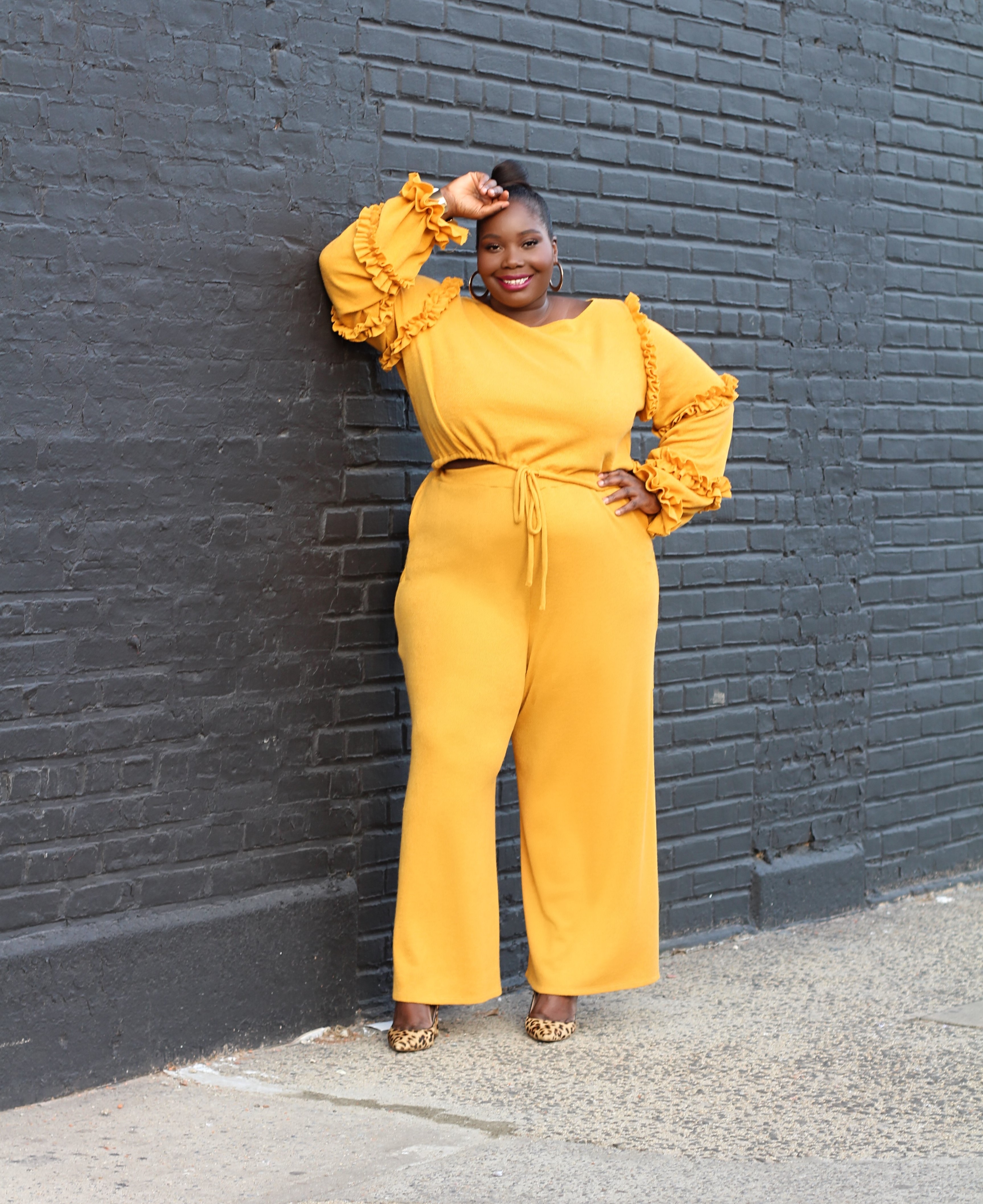 I reached out to Elann to share with me what she wanted people to know about her brand. When it comes to the type of woman she designs for, Elann says, "I don't like to think I design for one type of person. I design according to my mood. So if I'm in a sexy state of mind I design sexy."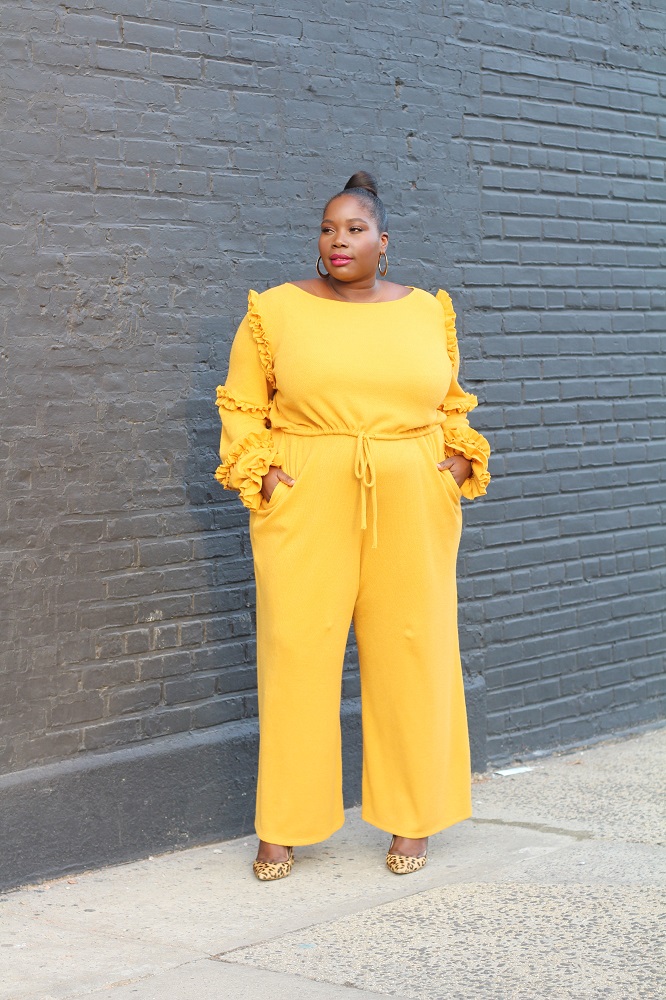 Zelie goes on to say, "My collections all have a story behind them. I have collections I've created while going through a breakup. From the dark side of the breakup, all the way to when I saw light again."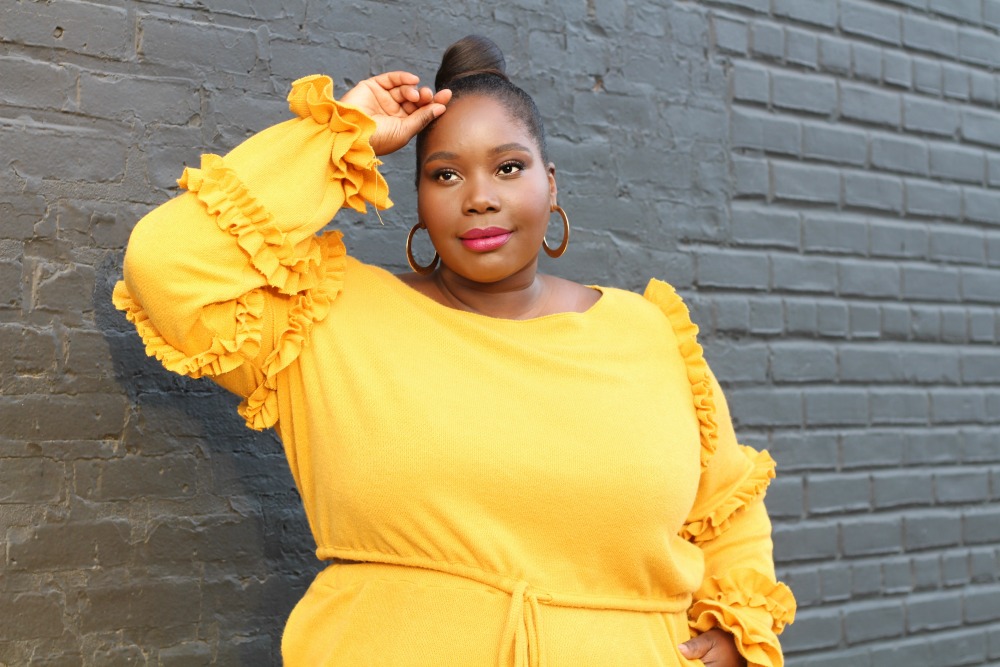 As for inspiration, Elann's inspiration comes from everyday people. She says, " Dressing celebrities isn't a goal of mine. I've done it already and truthfully seeing women from all around the world wear my designs is what brings me the most joy."
If you haven't already, you can checkout Elann's line at Zelie For She.