Hey curvy girls all over the world, 
Denim is a wardrobe staple for me. I probably own a minimum of 15 pairs of jeans. I'm quite sure 7 of them look identical, but they all fit different. And they all serve a different purpose. I have jeans that cup my booty just right. Making it look like I've been doing 100 squats a day. Then I have jeans that are strictly for flats and jeans that are only for heels. You get my point. Now that we are about to head into spring, I've been looking for some new plus size jeans.
When it comes to spring denim I'm all about ripped and skinny leg styles. However, this year brands have been giving their denim a mini facelift. Lane Bryant is one of those brands that has revamped their plus size jeans. This month they launched their Re/Made in L.A. denim collection. Basically, they sent their denim to some Artisans in L.A. to have them one by one  sanded, dyed, distressed, and washed by hand. So, none of the jeans are exactly alike.
I'm so here for denim like that because it makes your jeans unique and that much more cool. I was able to try out some of their new remade jeans and I love them. Typically, I'm all about skinny jeans but I found a pair of straight leg distressed denim from the collection that are going to be my go to jeans for spring.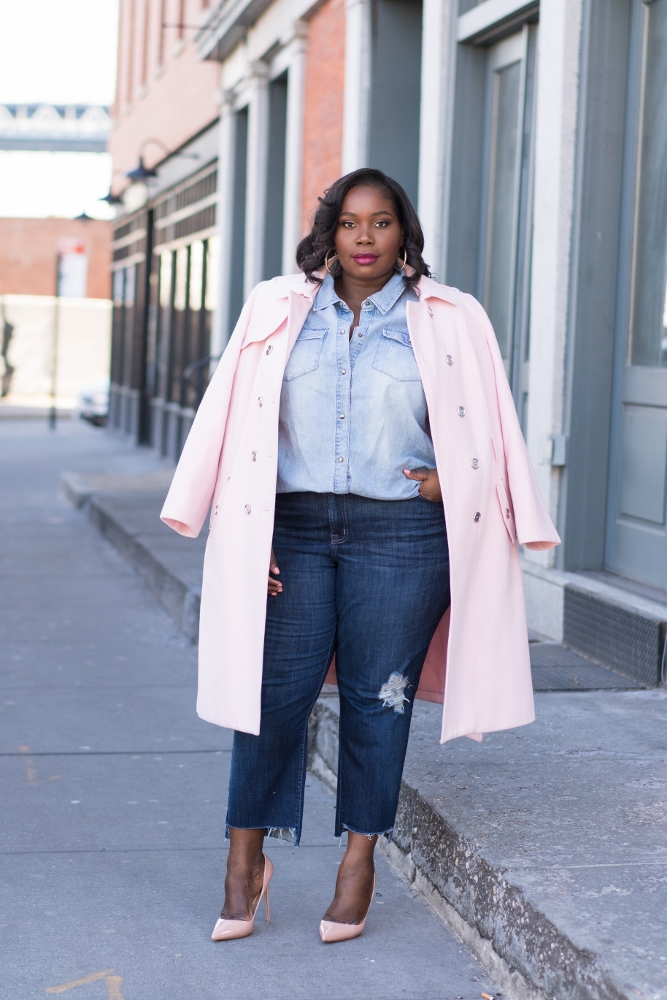 Denim Shirt, Straight leg Jeans, Shoes, Coat
The straight leg style fits my curves perfectly because they are mid rise which keeps this gut in check. Also, they are relaxed from hip to ankle. I like that they are not skinny legs but are a little wide leg when you get to the ankle. The kind of jeans that look great with heels.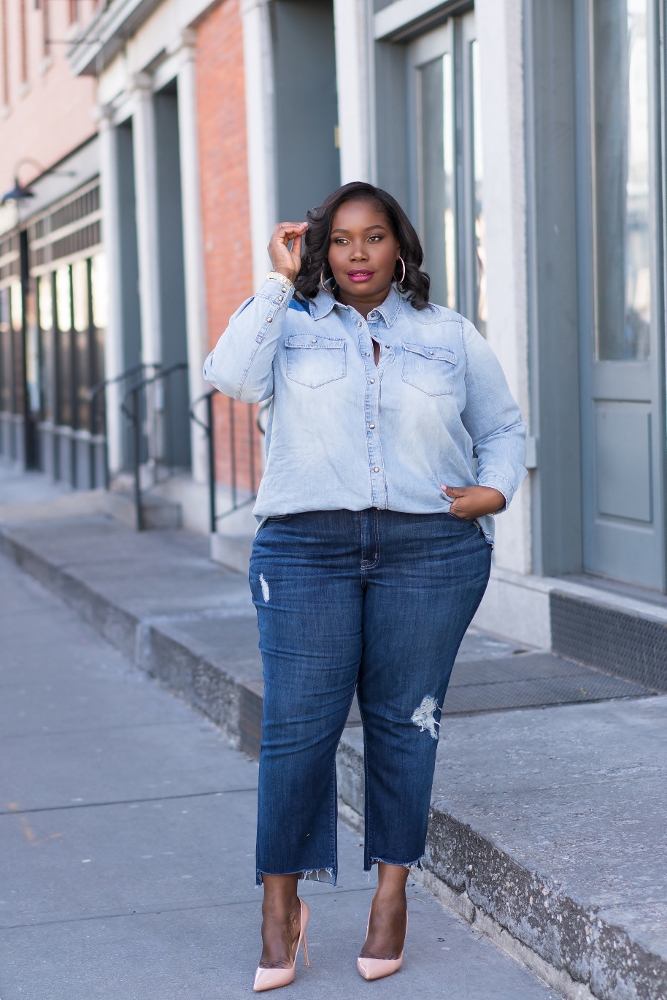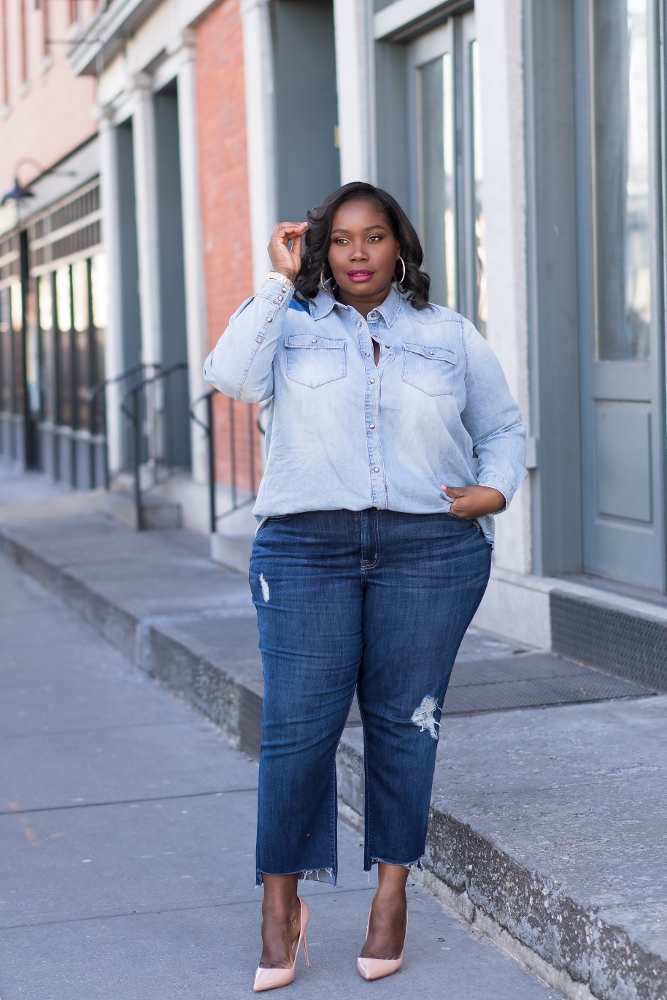 Denim on denim is such a classic look that never gets old. I paired the straight leg jeans with a rip and repair denim shirt. Most of my denim shirts are dark wash, so I like that this one is light washed. It went perfectly with the dark washed jeans. Recently, I found out that denim on denim is referred to as the Canadian tuxedo. I swear I never knew that. I find it hilarious.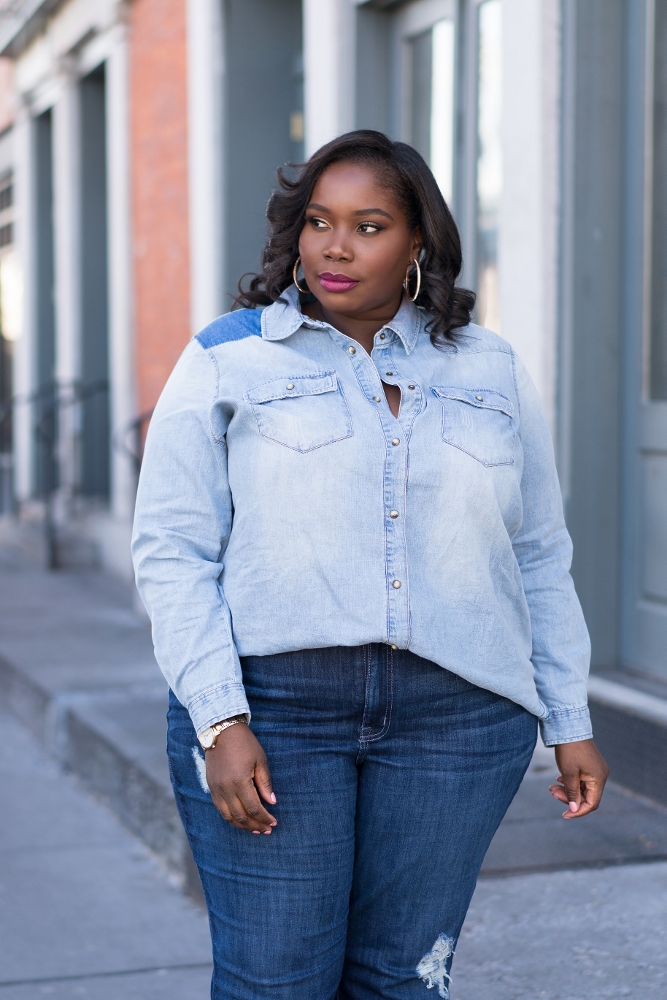 Another style of denim that I'm loving is the chewed hem. Lane Bryant's Fast Lane collection has a fantastic pair. They're skinny leg, light washed, and perfect with flats or heels. For a cute spring denim look, I rocked them with a blush pink double breasted blazer.
The frayed hem jeans are slim from hip to ankle, which means they have your curves looking nice. I added a polka dot tank to give the look a little flair.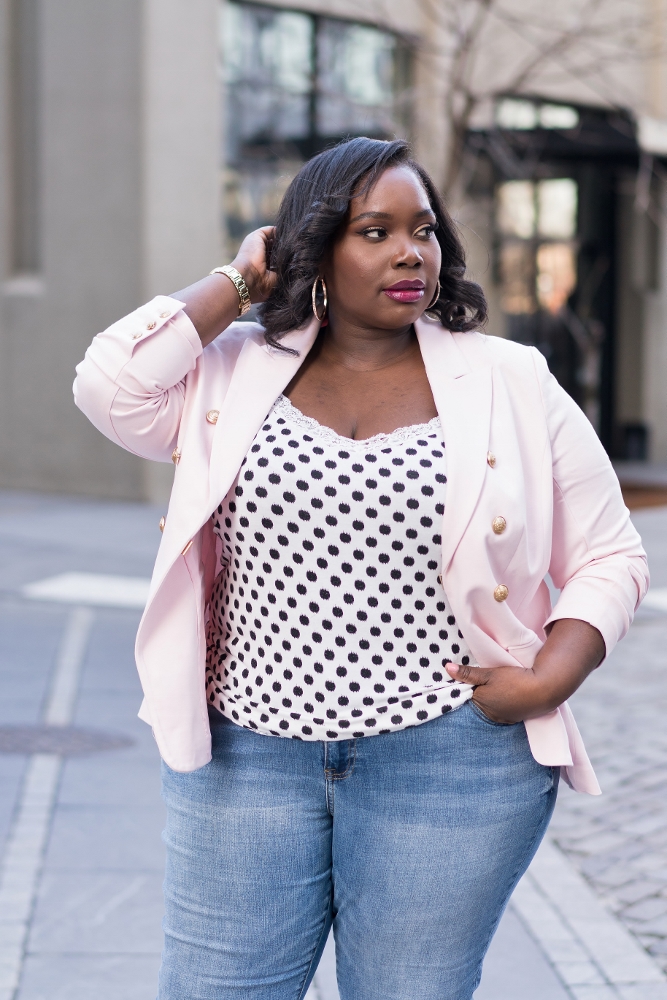 This is one of those spring looks that is an excellent choice for casual Fridays at the office or a lunch meeting.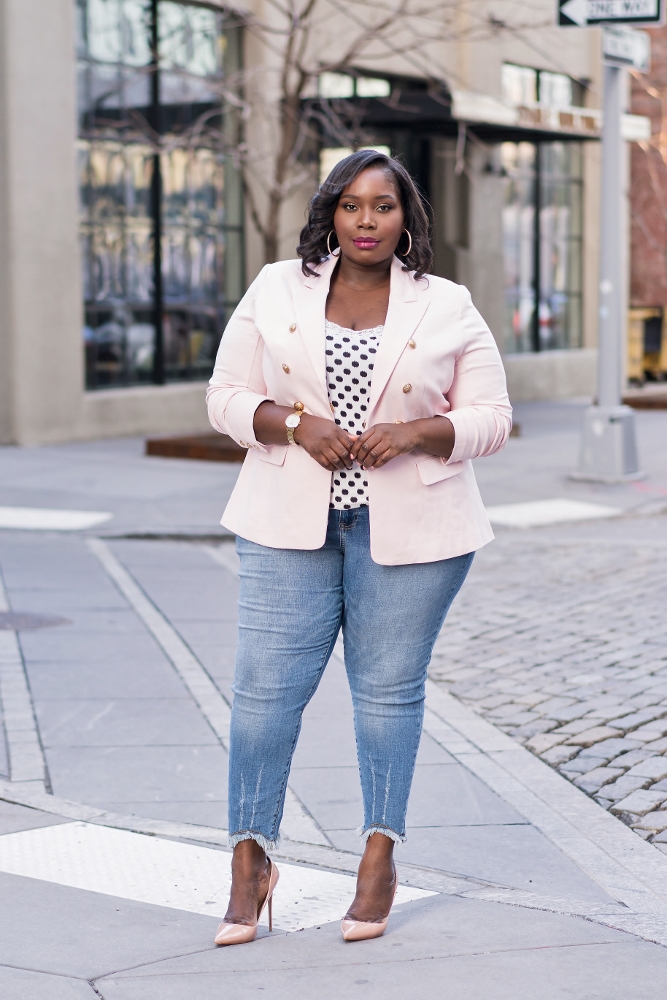 Lane Bryant's new denim collection is on point. I love the new Lane Bryant plus size jeans. You can checkout more Re/Made in L.A. looks below.
Also, right now Lane Bryant is offering 40% off with code: Springplease
*This post was done in partnership with Lane Bryant. All opinions are my own. 
All photos by: Edelle Kenny