No doubt about it, I am a dress kind of girl. Give me a cute dress any day of the week and I'm happy. However, when it comes pants, they're a little more tricky for me. I am very particular about pants. I need the fit and length to be right. When you have a big butt, semi wide hips, and a long torso, it is not easy finding pants that work for your. Especially when you're plus size.
My go to pant style is a skinny leg. I love them because they make my legs look long and lean. My closet is filled with skinny leg pants so I wanted to try something different. This spring/summer season, I really wanted to try a pair of plus size palazzo pants. I found a bright yellow floral printed pair on Modcloth and thought they would be perfect. They have an elastic waist, they are super long, and they are light weight. Which makes them perfect for spring/summer.
I ordered a pair and when I got them, they were too big. I had to send them back and order one size down. When I tried the smaller size, they were perfect. They draped nicely over my leg, the waist fit comfortable, and they flowed beautifully.
Since the pants were wide leg and a little voluminous, I wanted to wear them with a top that I could tuck in. So, I slipped on a white off the shoulder top that had lace details on the front. I tucked it in and thought it helped to create a nice balance.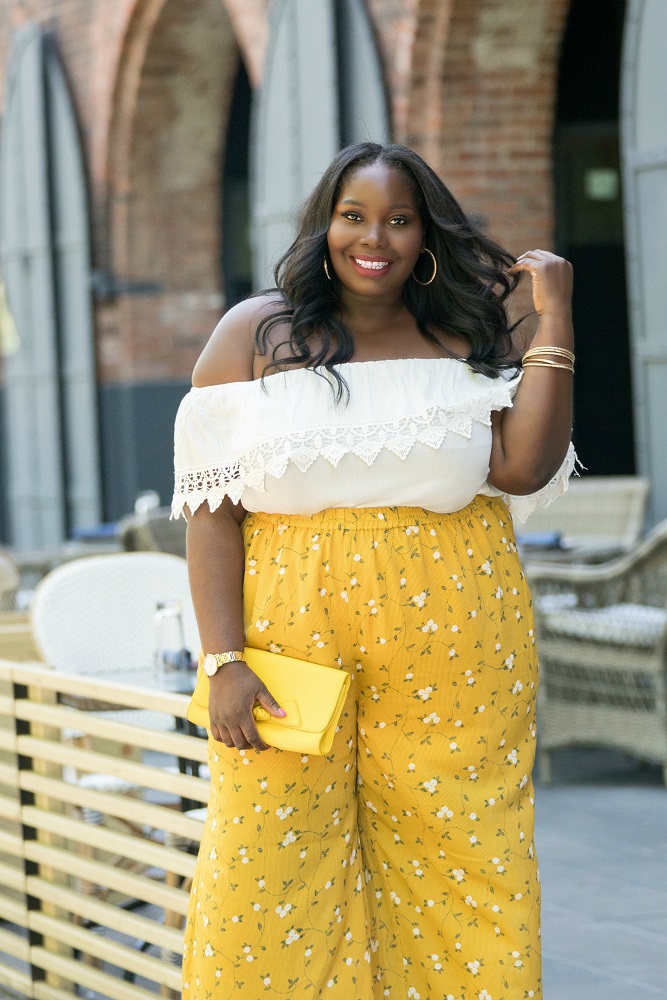 As for accessories, I kept things simple with a yellow clutch, white sandals, gold bracelets, and a basic pair of hoop earrings. I also swiped on a matte red lipstick for an added pop of color.