Hey curvy girls all over the world,
We are only a couple of weeks away from the official start of Summer. I am super excited to bask in the warm weather. Here in NYC we experienced a long winter and a weird spring. Honestly, I don't even think we had a real spring. It has been cold and rainy. Nevertheless, the weather has been better here and I am ready to hit the streets in all these cute summer dresses that I have piling up in my closet.
Last month, we did a roundup of some of our favorite ASOS Curve Design pieces. There was a rainbow stripe off the shoulder dress that I was eyeing and I wound up ordering it. I was immediately drawn to the bright colors. Also, the off the shoulder ruffled details really sold me on it.  Also, the fact that it was only $29 made me immediately checkout. LOL.

Its one of those summer dresses that is girly and fun. You can slip heels or flats with it. Rainbow stripes are a huge trend this season. As you can see, I'm here for them. Now, I have to be honest. This dress is a little too short for my liking but I feel like the ruffles help it out. Also, I should have gotten my regular size. I sized up because it was too short and I was hoping if I got a larger size I would get atleast another two inches in length on it. I got about one extra inch in length. However, the top part was too big. So, if you're thinking about getting it yourself, GET YOUR NORMAL SIZE.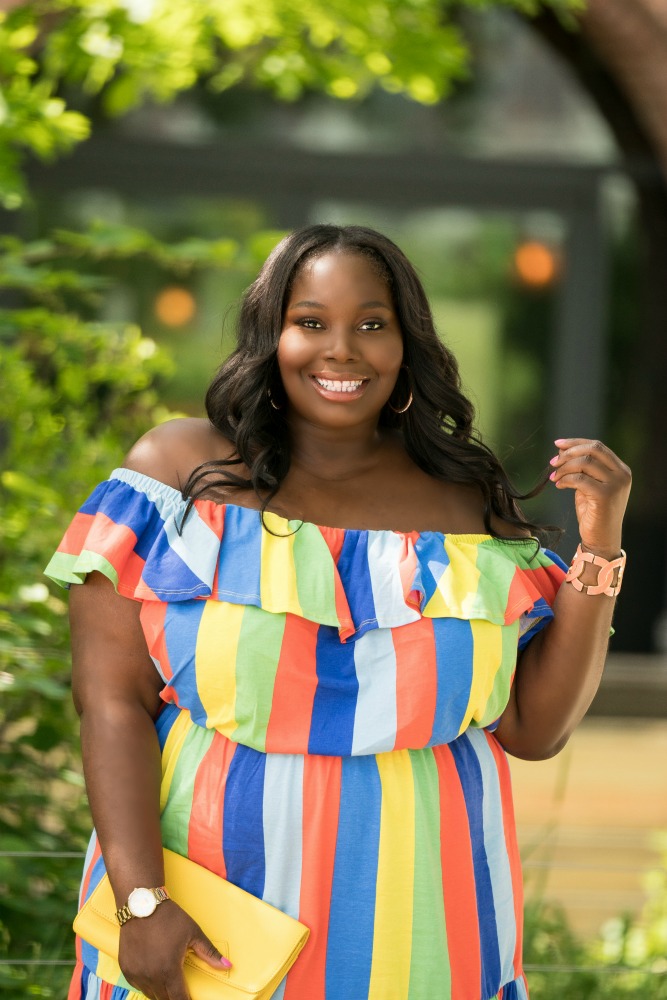 When I wore it, I wanted to play around with some of the  bight colors in the dress. I wore a yellow bow detailed clutch to pick up the yellow stripe in the dress. Also, I whipped out my lime green lace up sandals to pick up the lime green color in the dress. Everything worked perfectly together. I would also rock this look with a pair of sneakers just to make it more casual.
If you haven't I suggest you guys checkout some of the ASOS Curve Design pieces because they're bomb.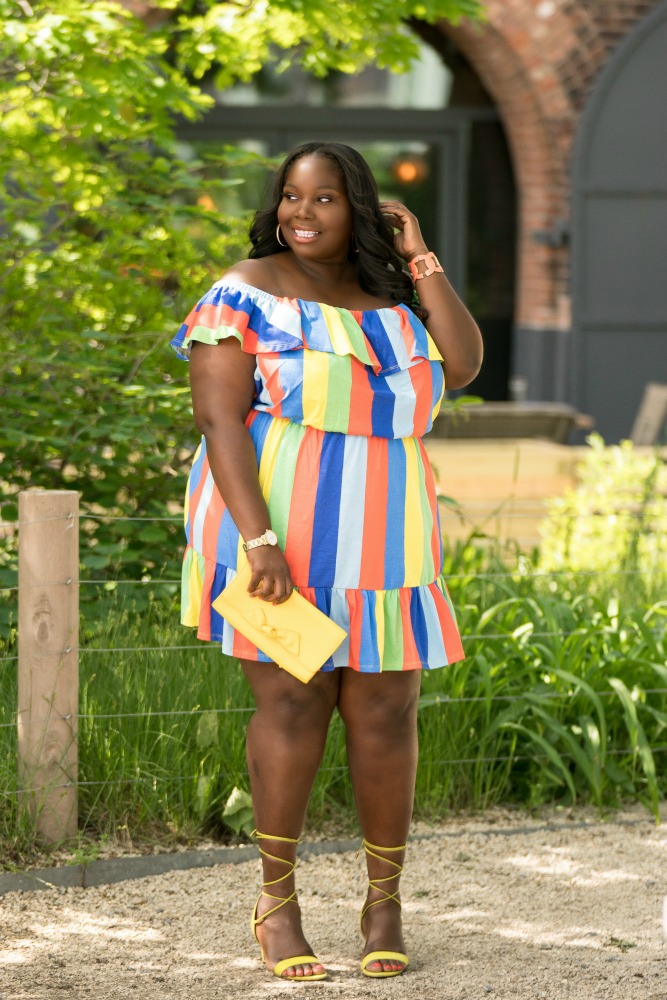 Checkout more ASOS Curve Design Looks HERE
All photos: Edelle Kenny