It's no secret that shoes are my absolute favorite thing to buy. I'm almost afraid to say that I prefer shoes over clothes. However, its the truth. One of my favorite places to shop for shoes is Nine West. Their shoes are ageless. Especially Nine West pumps. They offer the perfect medley of trendy and classic shoes.
Fun fact. I use to work at Nine West back in my college days. I loved being able to try on all the new shoes before we put them on display. Since I use to work there, one of the reasons I'm a fan of the brand is that they carry sizes 5-12. When most shoe brands start at a 6 and stop at a 10. They were always catering to small and large feet women.
Nine West Pumps For Day & Night
Nine West pumps were my first pair of work shoes. When I started my first corporate job back in 2004 I bought a pair of black leather pointed toe pumps. I had those bad boys for years and they were comfortable. Fast forward to 2021 and they're still holding it down for large feet and small feet girls.
This month they unveiled their new collection and the shoes are fantastic. It's a nice assortment of heels and flats. Oh and the color options are beautiful.
When it comes to creating an outfit I always start with shoes. I love a good pair of colored heels. I found a pair of beautiful pink suede ankle wrap pointed toe Nine West pumps (gifted). And when I opened up the box and saw them I fell in love with color. I decided to pair the pink suede heels with a one shoulder belted top and a pair of medium wash skinny jeans.
I'm wearing the Nine West Tabita heels in berry. Look at how beautfiul the color is. They're are ankle strap and have a unique block heel. Don't worry, they are comfortable to walk in. These are the kind of shoes that can take you from day to night.
Nine West Handbags
In addition to bomb shoes, Nine West has also been doing their thing in the handbag area. I found a few cute Nine West handbags. This white crossbody bag can also be used as a tote or top handle bag. I thought the white contrasted nicely with the pink tabita Nine West heels.
The heels with my medium wash skinny jeans made for a cute daytime look. For a night out, I would slip them on with a sexy bodycon dress. However, I'm loving how they look with jeans.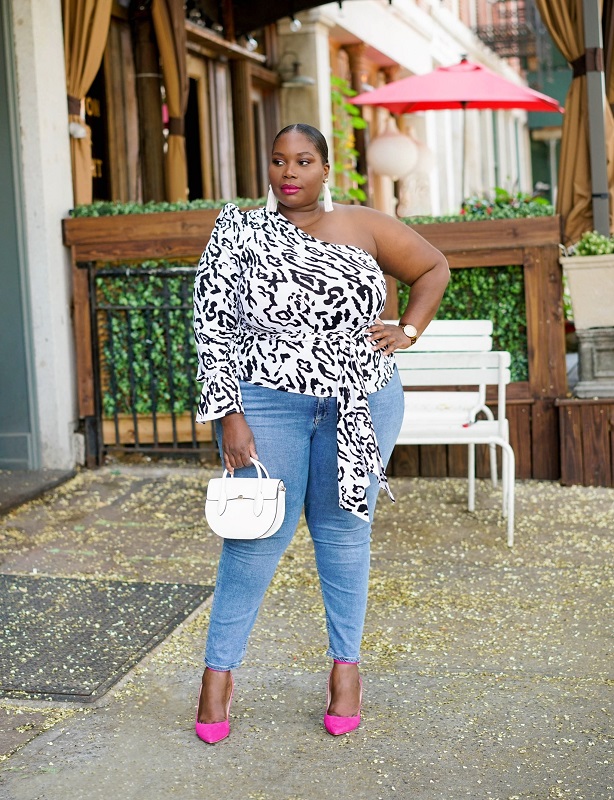 Nine West Tabita pumps also come in other colors. There's a neon green, teal suede, as well as white and black leather. Check them out below.
Shop more stylish shoes at Nine West
---
Nine West Tabita in Neon Yellow