Anytime there is a designer that transitions into offering plus sizes, it is our duty to put you on. Today we want to introduce you to Diarrablu. A female black-owned lifestyle brand that specializes in resort wear.
Diarrablu, A Size Inclusive Sustainable Lifestyle Brand
This conscious contemporary brand offers sustainable fashion. Their designs are created in California and handcrafted by artisans in Senegal.
Diarrablu was founded by Diarra Bousso. A former Wall Street financial analyst. Bousso quit her finance job to follow her dreams of becoming a fashion designer. In 2013 she created Diarrablu. Since 2013 the brand has evolved into a global fashion force.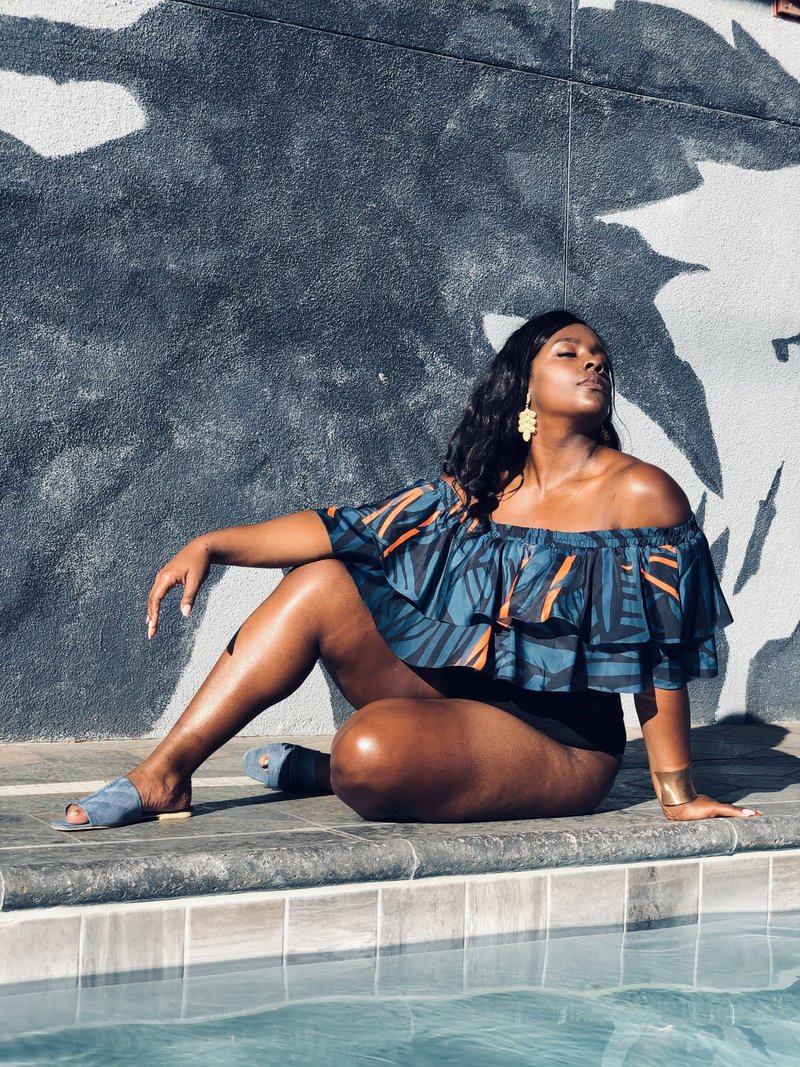 Although the brand has been around since 2013, I found out about the brand in 2019 via Instagram. Thanks to a plus size influencer wearing a beautiful printed wrap maxi dress. I decided to checkout where they got the dress from and instantly became a fan of Diarrablu's aesthetic.
Initially I thought the brand didn't offer plus sizes. They didn't have any plus size models on their social media page at the time. And they didn't have any plus size models on their site. However, it wasn't until I browsed their site and found an entire section labeled plus sizes.
In select styles Diarrablu plus size offers extended sizing up to a 24 and 3X. In regular misses sizes they range from an XS-XL.
When it comes to aesthetic, Diarrablu celebrates african heritage with bold prints, structural cuts, and versatility. Many of their pieces are convertible. You'll find sleek and chic kimono's, pants, tops, and dresses in beautiful prints.
If you're looking for plus size resort wear, Diarrablu should definitely be a place you shop at. Their styles make you want to book your next vacation.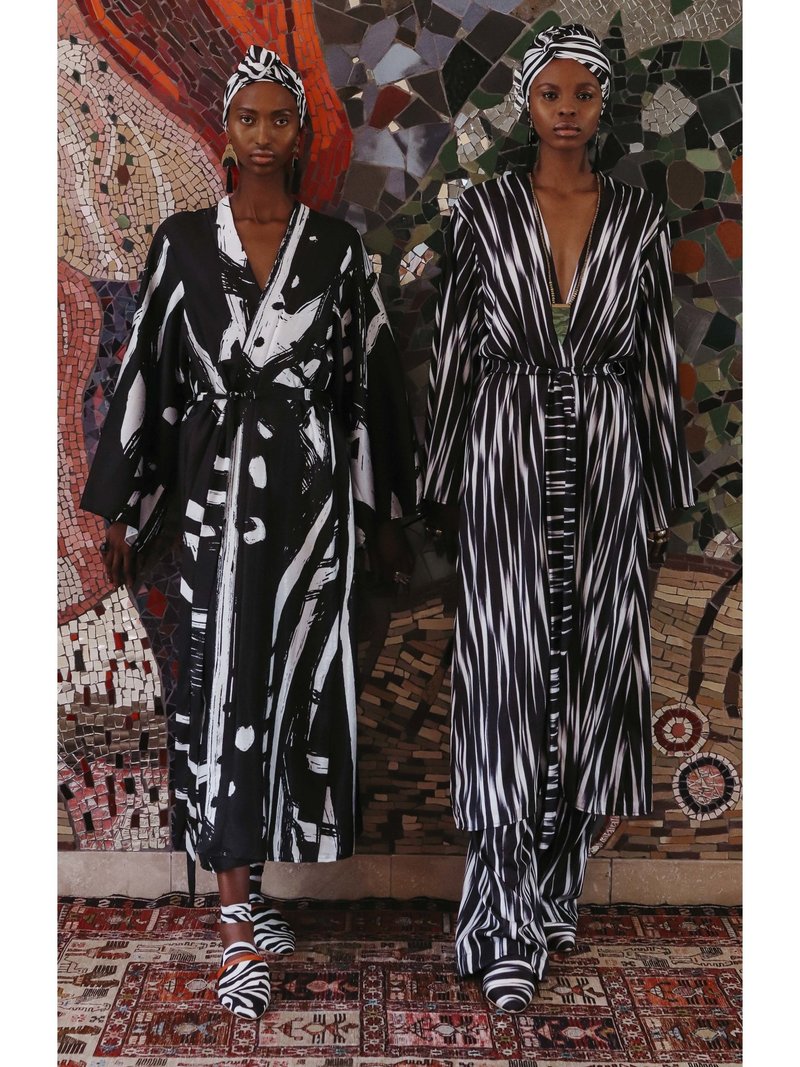 Trying Diarrablu Plus Size Kimono's
After falling in love with their designs, I decided to purchase a piece. I bought the Awa kimono in Zena white. One of the reasons I went with a kimono was because it could be worn as a dress. When one piece can work double duty, that's a winner in my book.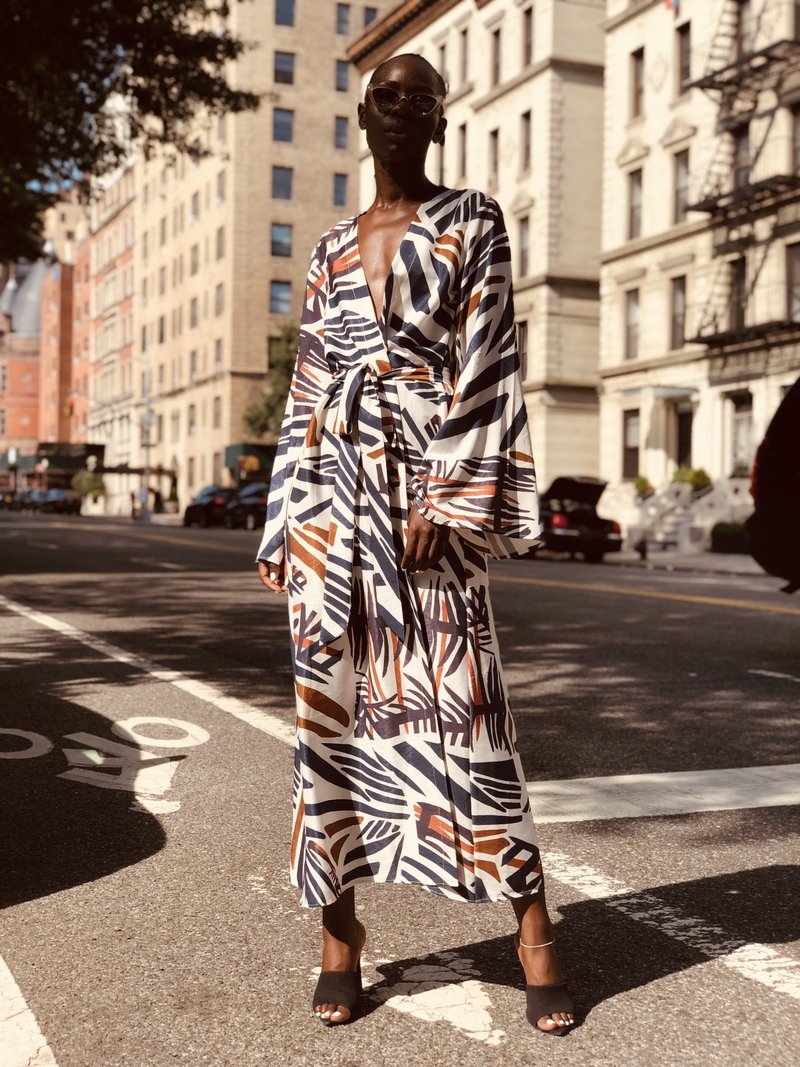 When I ordered the kimono I had to provide my height so they could custom adjust the kimono to me. It took about a week to arrive. And when I got it I was so pleased with the quality and how well it fit. Let me just add in here that the customer service was excellent. They responded to my emails within 24 hours.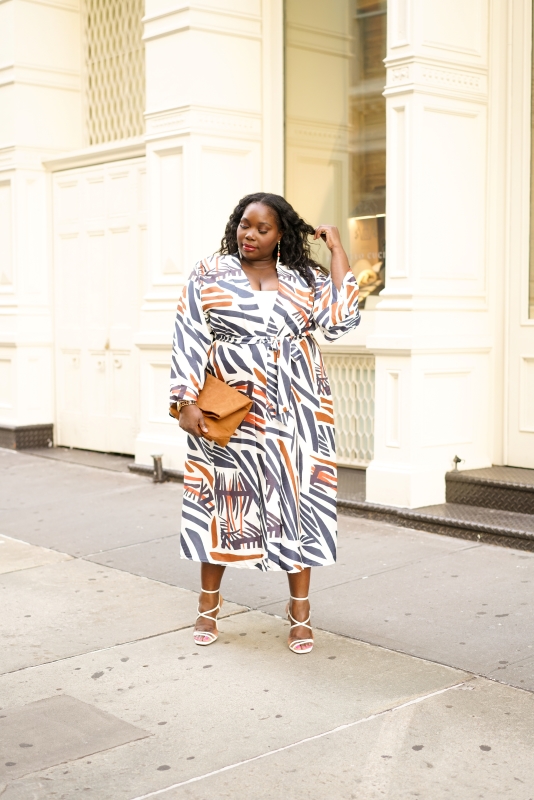 The print and colors were stunning. Although the kimono is 100% polyester you couldn't tell. It looked like it was a silk blend. For my first time wearing it I wanted to layer it over a bodycon dress. I went with a white tank dress and loosely tied the belt part of the kimono around my waist.
Diarrablu Fit: In my opinion Diarrablu plus sizing was true to size. I got the 3X. Typically I am a 20/22 or 2X in dresses, tops, and dusters. With this kimono I was able to wrap it around me just enought to wear it as a dress.
However, the construction of the piece is very tailored. So, if you want something a bit more loose or oversized, then size up. Additionally, you can contact them and maybe send in your measurements for a more customized fit.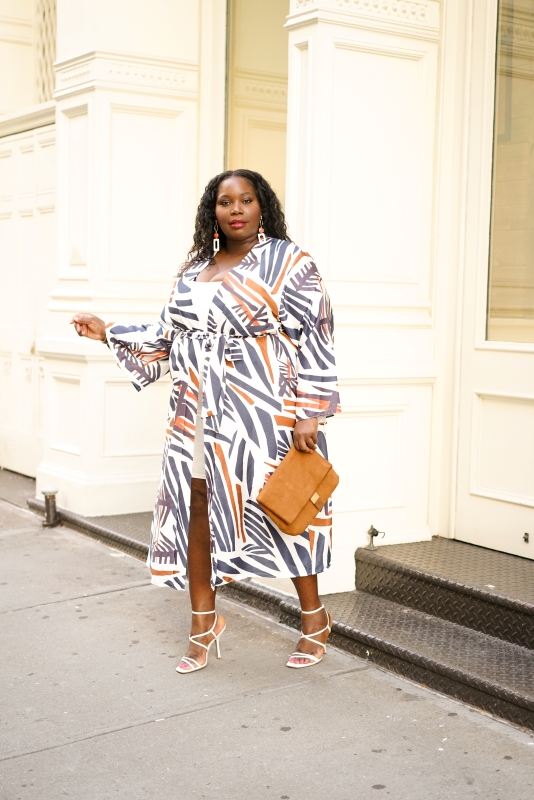 I wanted to bring out the white and tan in the dress. So I went with a pair of white strappy sandals from Sam Edelman and a faux suede tan bag from Simply Be. I loved the look so much and felt like everything was cohesive.
I already have my cart filled up with more pieces from their summer collection. Which you can checkout now at Diarrablu.