Hey curvy girls all over the world,
Back in June I shared with you my secret about bladder leaks. It was probably one of my most vulnerable moments I've had with all of you. For some people, like myself, it's not an easy thing to talk about. However, it's more common than you think.
Did you know 1 in 3 women experience bladder leaks?
Now that my little secret about bladder leaks is out, I've been working with Always Discreet to help other women deal with sensitive bladders. A common complaint from women who experience bladder leaks is there are no stylish options to help protect them.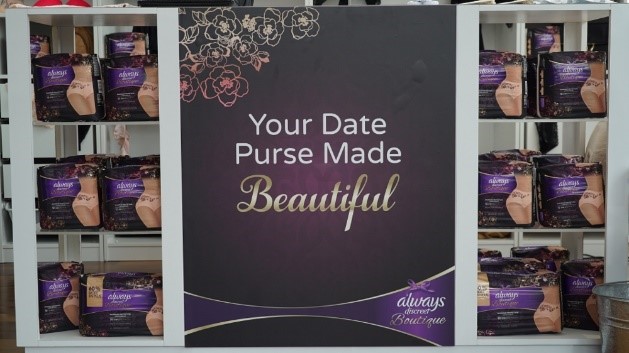 If you go into any drugstore, you will see a shelf full of bulky bladder leak underwear that makes it look like you're wearing an adult diaper. The kind of underwear that makes you feel and look frumpy. So, to help protect you from bladder leaks in a comfortable and stylish way, Always Discreet has launched a new product. Always Discreet Boutique Underwear.
The new Always Discreet Boutique Underwear was created after talking to, and learning from, thousands of real women who experience bladder leaks and feel there shouldn't have to be a tradeoff between maximum protection and a product that makes them feel beautiful.
I also recently learned that 2 in 3 women who have tried bladder leak underwear avoid wearing them all together, even when they know they need them and 77% of women say the idea of wearing bladder leak underwear makes them feel older than they would like to feel2. Um, absolutely. Have you seen some of the other options?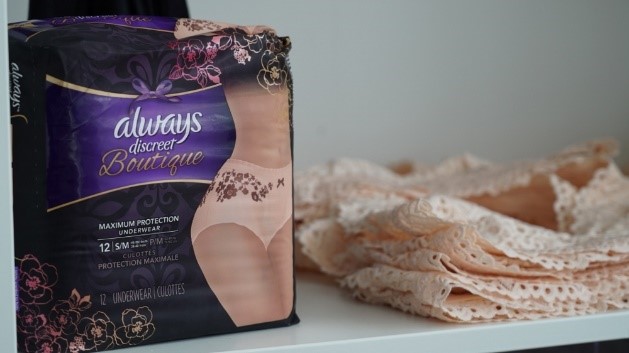 A few weeks ago, Always Discreet invited me and a few fellow bloggers to get an up-close and personal look at the new Always Discreet Boutique Underwear. They treated us to a date night themed event with educational and fun activities. I had never really got the chance to learn about a brand in this setting before! It was great.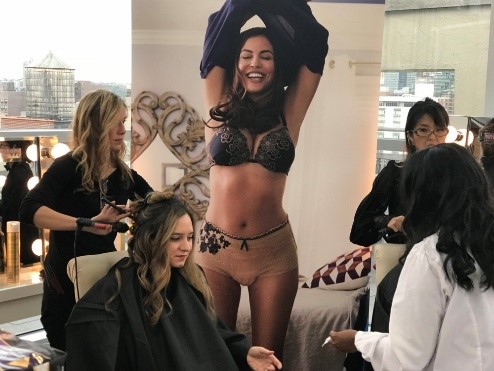 We got to speak to the Always Discreet Boutique Brand Manager, Karen Martin and a brand scientist, Selin Waltz about the development of the product. Tons of consumer research went into this product so the brand can deliver on maximum protection, made beautiful.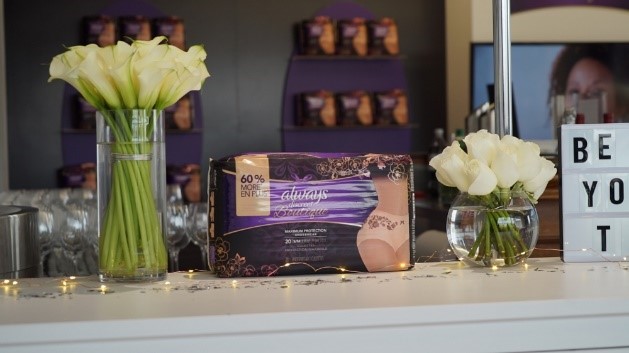 I had a blast at the event. I wore a sexy leopard print wrap dress that would be perfect for a date night.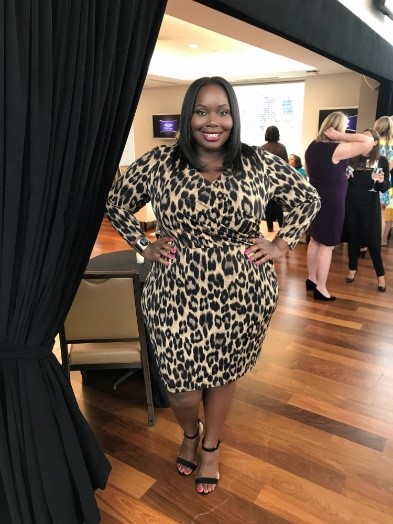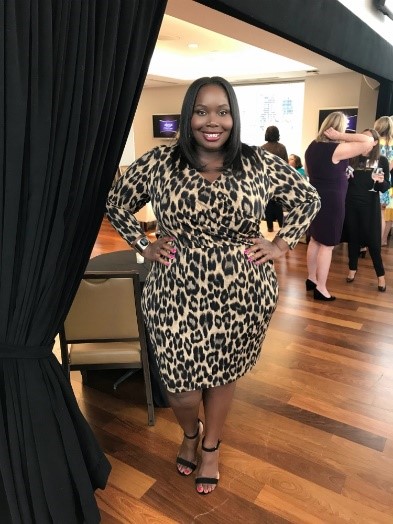 I headed over to the hair and beauty stations that were set up to get myself all dolled up and hear some interesting facts about why women don't like to wear the current bladder leak underwear on the market.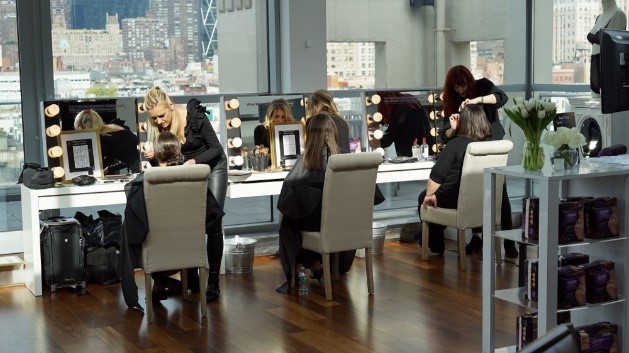 While getting my hair curled, an Always Discreet Boutique scientist told us that 88% of women say they would be more likely to wear bladder leak underwear if it looked and felt like regular underwear.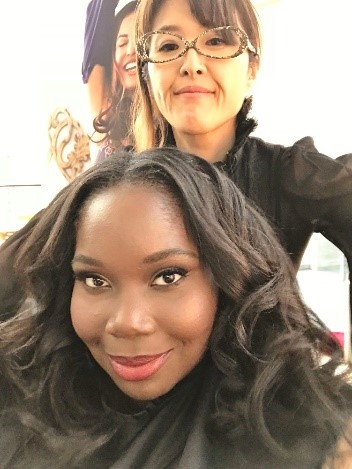 First, wearing bladder leak underwear is not easy, so you at least want it to be cute and comfy when you do. Especially if you're going out on a date. Second, can you imagine being on a date, wearing your cute dress, and you're constantly fidgeting around or feeling dowdy because your bladder leak underwear are making you feel uncomfortable? Trust me, you don't want to imagine that.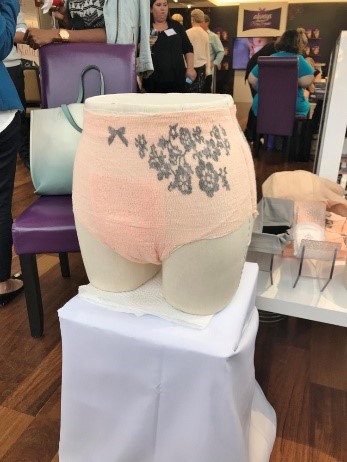 Thank goodness that the new Always Discreet Boutique Underwear now come in a pretty rosé color, with a snazzy floral design on the sides. Although Always Discreet created a stylish pair of bladder leak underwear, the underwear also offers incredible-performing protection. Hidden inside is a super-absorbent core with unique RapidDry™ technology that absorbs leaks in seconds, OdorLock technology that helps neutralize odors instantly and continuously, and Absorbent Gel Material (AGM) that helps lock the fluid deep within the core and away from the body.
So, if you're on a date and have to wear the underwear, there is no need to worry about leaks. Trust me, the underwear and the core look super thin! You wouldn't think it would be able to hold much liquid, but whoa, did it hold a lot.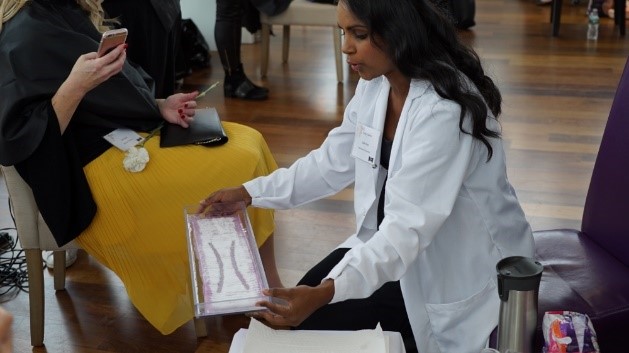 What makes Always Discreet Boutique Underwear special is that the brand took the time to talk to a variety of women and get their feedback on the type of bladder leak protection that would make them feel confident. I love a product that is functional and stylish and that's exactly what Always Discreet Boutique Underwear are.
You can find Always Discreet Boutique Underwear in size S-L (Large fits up to 260 lbs) and it retails for $11.99 for a 12 pack.
Checkout Always Discreet Boutique Maximum Protection Underwear at http://AlwaysDiscreetBoutique.com
1Fem Care AI analysis – "Nielsen Homescan Panel ending March 2012 looking at Fem Care purchases in HH 50+ that have no teenagers at home."
2The Always Discreet Boutique Online Study was conducted by MSLGROUP Research.
This is a sponsored post.