Hey curvy girls all over the world,
I am loving this October weather. Not too hot and definitely not too cold. If you remember last year this time NYC was hit with the catastrophic storm Sandy. It was windy, rainy, and ridiculously cold. Today is the one year anniversary of Super Storm Sandy and there is still work that needs to be done in NYC and NJ. I can only hope that our government and local officials can really rev things up this year to help people rebuild their homes.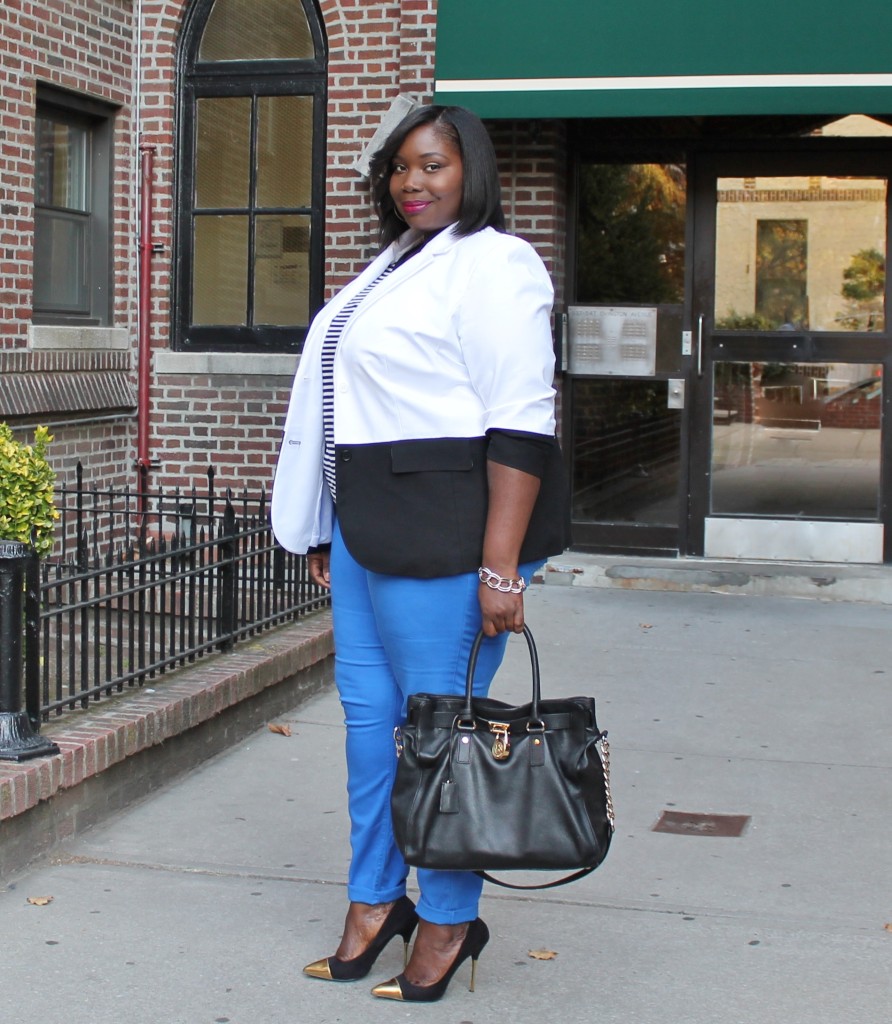 Now on to this ensemble. I scored this two toned/colorblocked blazer from Bloomingdale's. It is by Michael Kors and its called the structured chop boy blazer. When I was on Good Morning America this summer, I modeled it in the video. At that time it was not on sale, so I waited until I could get a coupon or until it got marked down. Luckily, the latter happened. A few weeks later, I went to Bloomy's on my lunch break during their friends and Family sale. While cruising the store, I saw the blazer again but it was only two left. You already know what I was thinking. I bet they don't have my size.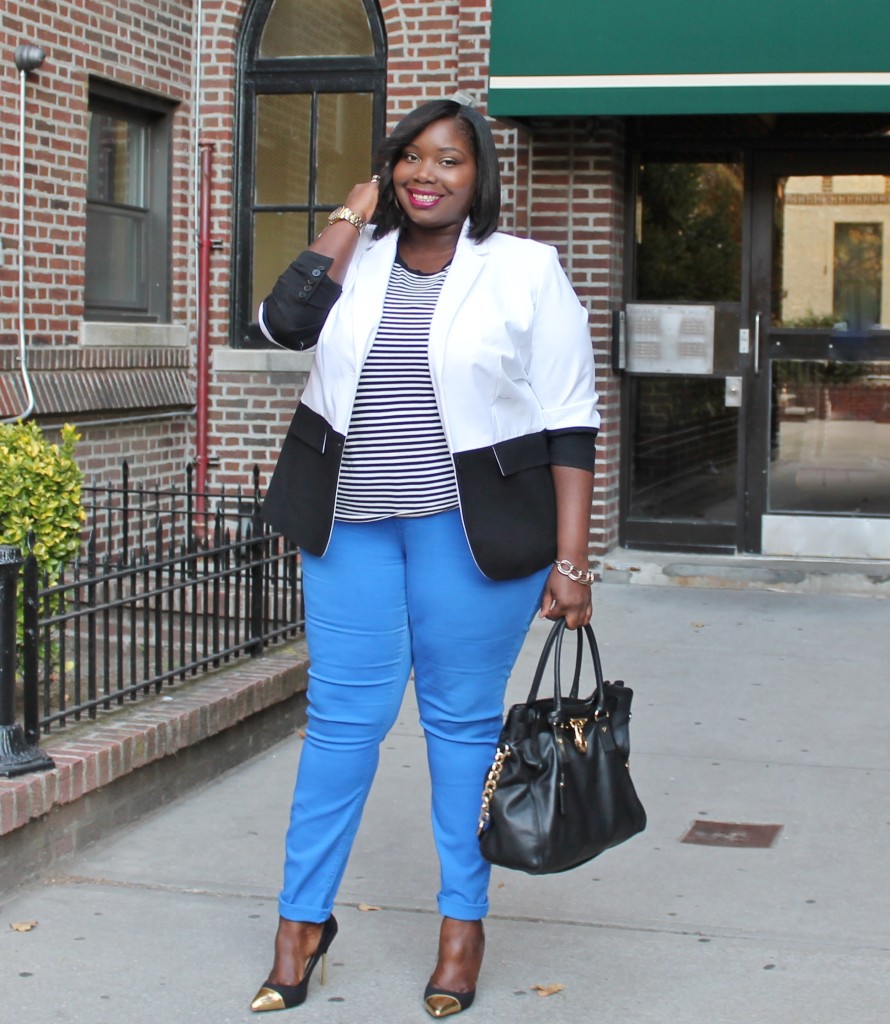 I went to the rack it was on and checked the tag to see if it was my size. Lo and behold, it was. The jacket was 40% off the original plus I had a 20% coupon. Basically, I got it for a steal. It was way too hot in the summer to wear it so I decided to break out this fall. I have moved on from my red, black , and white color combo to blue, black, and white. I love how well these classic colors look together.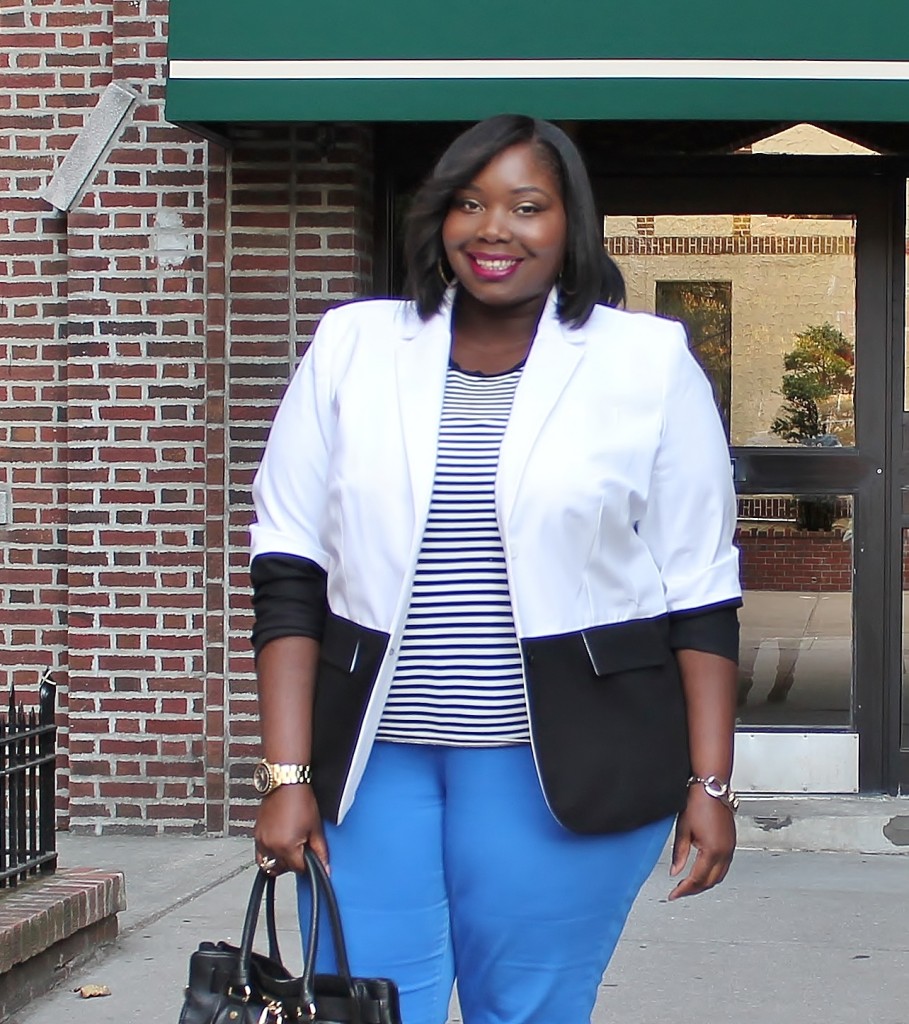 I wanted a casual yet polished look so I opted for a pair of blue skinny jeans from ASOS Curve, a striped tee from the GAP, and my cap toe heels from Shoedazzle. My MK Hamilton tote gave the look a professional touch. Because I am in a lipstick craze, I punched up my look with Wet n Wild Mega Last Lip Color 965 Cherry Picking

.
Shop My Look