Hey curvy girls all over the world,
Today, I have a special treat for you. If any of you are fans of The Walking Dead then you guys know Ann Mahoney who plays Olivia on The Walking Dead. In honor of the season 6 premiere, I had the pleasure of interviewing Ann last week.
Ann lives in New Orleans and is married with two kids. She started her acting career as a stage actress and then went on to be in films like Big Momma's House 2, Frankenstein, and Odd Girl Out, just to name a few. After being on The Walking Dead for season 5 her character Olivia has garnered Ann some diehard fans.
In Stylish Curves exclusive interview, I chatted with Ann to talk about her role on The Walking Dead, body image, personal style, and this show stopping custom dress she is wearing to the season 6 premiere.
Checkout my exclusive interview with Ann Mahoney
How did you get the role of Olivia on the The Walking Dead?
The casting company I worked with that has cast me in pretty much everything that I've done so far, auditioned me for the role. I didn't know what the role was for but I've been working with the casting company for awhile and I guess they trusted me and liked my audition and I got the role.
How do you like working with cast of The Walking Dead?
The people I work with are very humble and consummate professionals. They come ready to work. They are really fierce about what they do. It's just wonderful to work with them.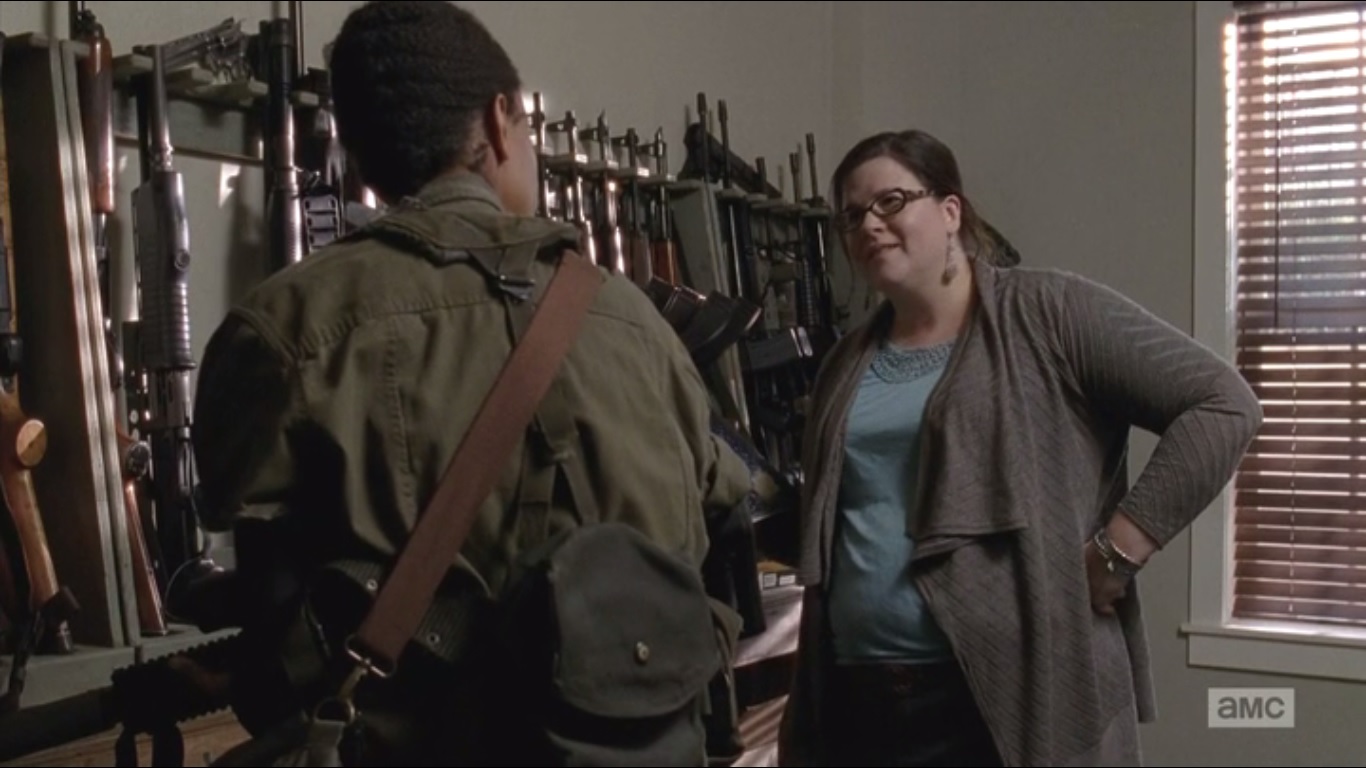 When it comes to Hollywood, what are your thoughts on body image and how they cast women? How do you deal with that and have you encountered any discrimination?
In this profession, so far, I have not experienced any discrimination personally. The only thing I was worried about was being able to be dressed by designers. I heard Melissa McCarthy's story about not getting a designer to dress her for the Oscars because she was plus size and I thought if it was difficult for her then oh my gosh, what about me. The guy that's actually designing my dress immediately said yes when I asked. He is extraordinary.
My friend from college Dellany and I actually have Youtube series called (PSI) Plus size inspiration. We talk a lot about how casting needs to be more diverse. If you look at Hollywood you would think that the only women in Hollywood that are having sex are smaller than a size 2 and that's just not the truth. I know girls that are sex that are a variety of sizes. There needs to be more diversity in casting. There needs to be more thought about talent. It's like skinny is the default size. I am fortunate because my agent is really good about pitching me for a variety of things.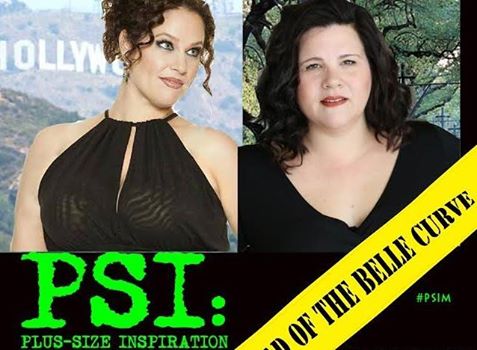 Who are some of your favorite actresses?
Melissa Mccarthy certainly inspires me. Renee Zellweger, whom I am working with on a new movie. She is really nice, she gave me some wonderful advice and wrote me a nice note. She talks to everybody on set.  She is just as warm and lovely as you might imagine. I just love Hellen McArthur. My other favorite stage and film actress is Viola Davis.
I read that you were a stage actress and that you also teach acting.
Yes, I started a theater program at my sons charter school. My sons class is the oldest class and they didn't really have money for a full fledged theater program and I volunteered to be in charge of the theater classes.
I also saw that you tweeted about Lane Bryant's plus is equal campaign. What did that message mean to you?
There was a response from my thinner sisters who felt like they were being excluded. I told them that plus is equal is about plus size women being given the same opportunities and being equally represented. There is a mentality that if you're not thin, you must be stupid or lazy. The women in my family are not itty bitty. Down here in New Orleans, they call it thick. Plus size is equal means that we are equally represented.
For the The Walking Dead season premiere, I heard that you're going to be wearing this spectacular amazing dress made from recycled parachute material. Please, tell me all about it?
That's right! The designer is Andrew Dyrdal and his website is www.houseofdyrdahl.com.
Ok, tell me what does this dress look like? Is it strapless, is it long, is it short?
It's not strapless. It's both short and long. Since the premiere is in October it has sleeves because I'm from the south, I don't like the cold. It's going to be dramatic and its going to be fierce. It's kind of on the steam punk side.
Did you give Andrew any ideas to design the dress or did he just design it based off his vision?
I've seen his stuff, so I already knew that he had an aesthetic that I liked. When we started talking, he said I am going to send you a couple of drawings and you tell me what you think. I saw one that I really liked and he asked if I wanted to make any changes, and I said, you know, I wouldn't ask you to go on camera for me so I am gonna let you be the artist. He came to New York this week with his sewing machine and we are going to do our last fitting. Also, my necklace for the premiere is a necklace made out of 9MM casings by Amber Hatchett.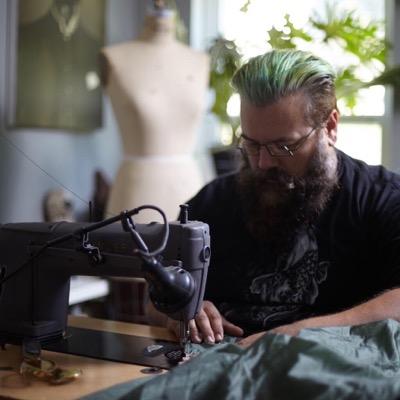 Designer Andrew Dyrdahl
 Is there any special reason that you guys chose recycled parachute material?
He has been experimenting with that material for a couple of years and making dresses out of it. So he said how do you feel about doing one of these parachute dresses. He's never done one for something this high profile. I don't know if you know this but my mother in law who is Hungarian is a holocaust survivor and called me and said I have to tell you something about your parachute dress. In 1945 they survived the Holocaust and the American troops were dropping supplies in Hungary in parachutes. She and the survivors would get the parachutes and make clothes out of it. Every time I tell the story, I get goosebumps all over again. She is a stoic but loving woman and she said its quite a coincidence and for me it's a God thing. For her as a survivor she used parachutes to make clothes and I am going to my first premiere wearing a dress made out of parachute material.
Wow, that is so beautiful. It's going to be a beautiful red carpet moment. Now, how would you describe your personal style?
I would say steam punk meets 50's pinup. I like stuff that's a little bit classic but I like an edge. I like color. Bright jewel tones or black. On an ordinary day, my style is whatever is clean. There is a store in New Orleans that is doing some fittings on me for a few things, its called Trashy Diva. They custom make beautiful dresses and they have a whole line of plus size clothes.
What are your favorite stores to shop at?
I really love Eloquii. I do some Lane Bryant. I also sew and I sew some of my own stuff. I can't make a premiere gown out of a parachute but I can sew. I also love Kiyonna and a lot of local stores in New Orleans like a store called A girl Is A gun.
Since you said you sew, will you be doing your own clothing line in the future and what would it look like?
Absolutley! It would look like steam punk meets pinup girl. It would be a lot of jersey fabric, stuff that has texture. It would be classic with a punk edge.  When I was looking for a premiere dress, everything off the rack looked very much like mother of the bride.  I felt like everything on line was a long dress with a sequin cardigan. When I saw Andrews stuff, I was like OMG, I wonder if he would make me a dress.
So, we have some reader questions from Twitter, everyone wants to know, if you can give us some info on whats happening in season 6, what will Olivia be doing this season?
If I had a million dollars I would but I can't . I have a crazy non disclosure agreement and I have mad respect for the writers and their need to surprise so I can't disclose anything.
Someone also asked, do you think playing the role of Olivia has shaped your acting skills?
Um, yes. This is the most time I have been on the same show ever. I'm learning to have stamina.
Well, thank you so much Ann for taking the time out to chat with me. I look forward to seeing more of Olivia in season 6 of The Walking Dead.
This is Ann's custom made dress by Andrew Dyrdahl.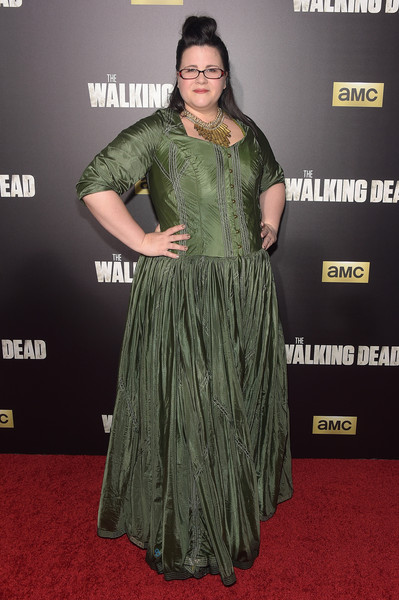 You can follow Ann on Twitter at Anniemoho