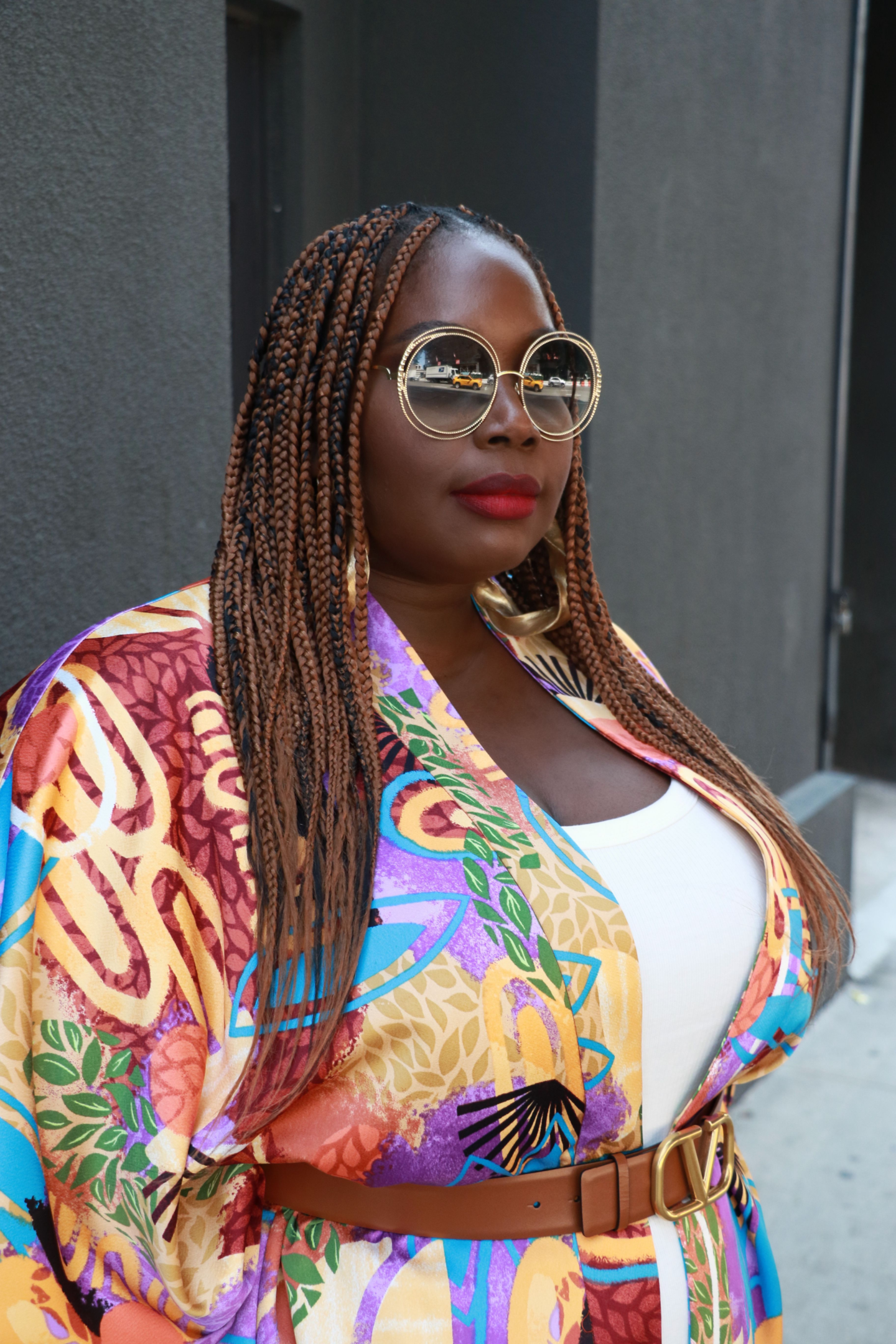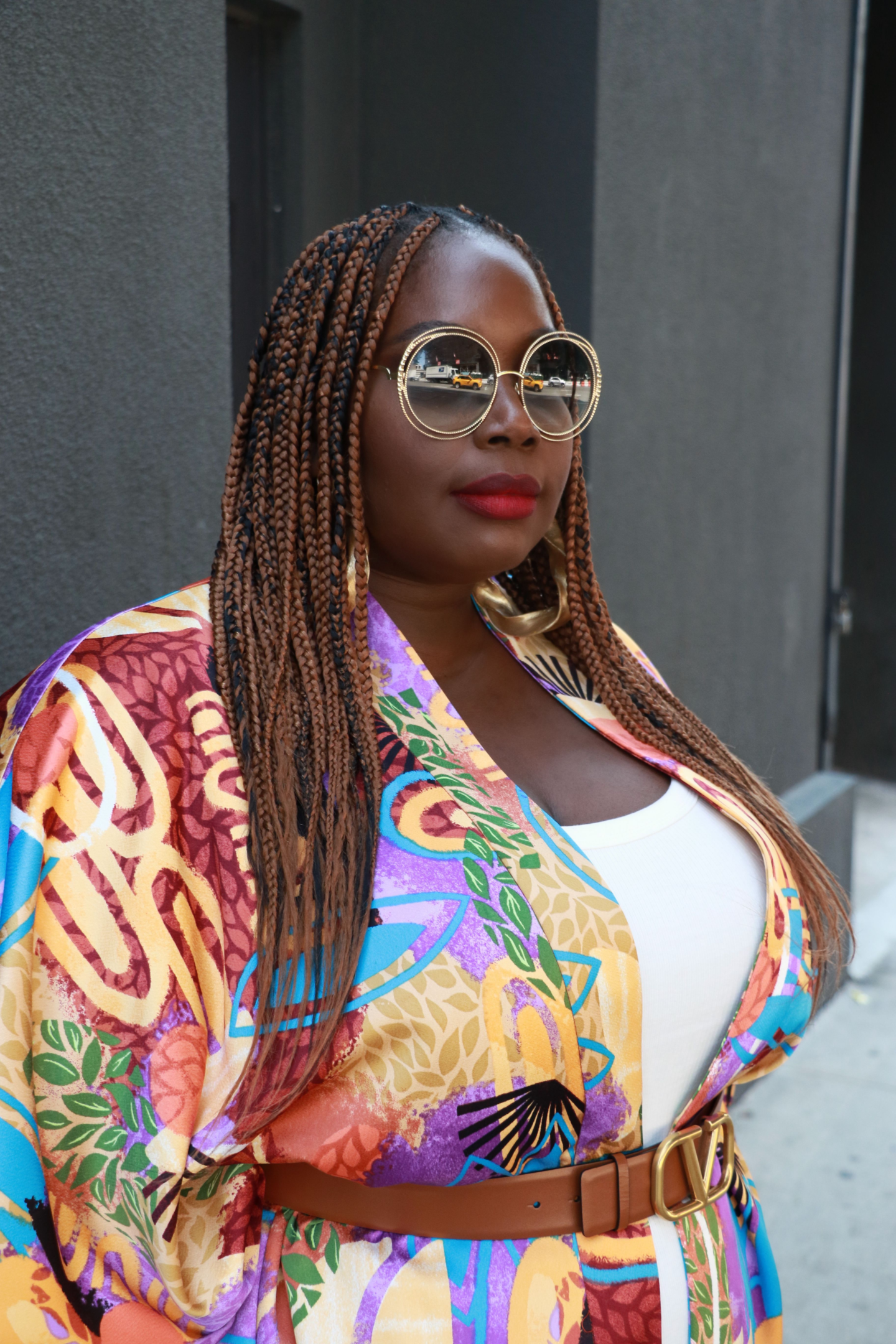 Now that fashion week for the S/S 2023 collections has ended, I wanted to recap some of my New York Fashion Week plus size outfits.
Every year I like to have a theme for what I wear. This season I wanted to wear bright colors and bold prints. Some of my plus size outfits were from trendy size inclusive brands like ASOS. Additionally, I wore extended size brands like Mara Hoffman.
This year, planning out my looks proved to be helpful and allowed me to get dressed quickly and make my shows on time.
Now, lets get into these New York Fashion Week looks.
My New York Fashion Week Plus Size Outfits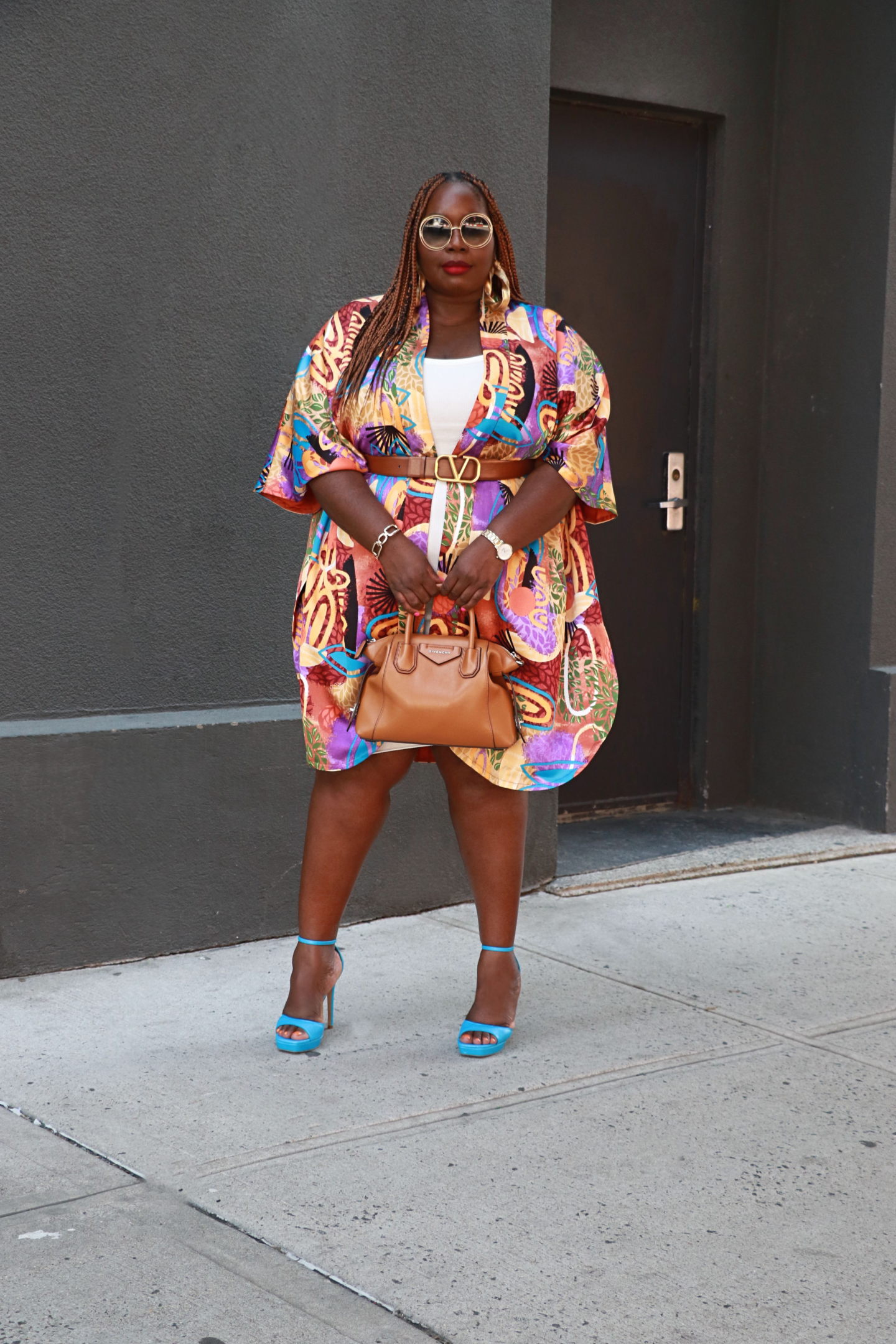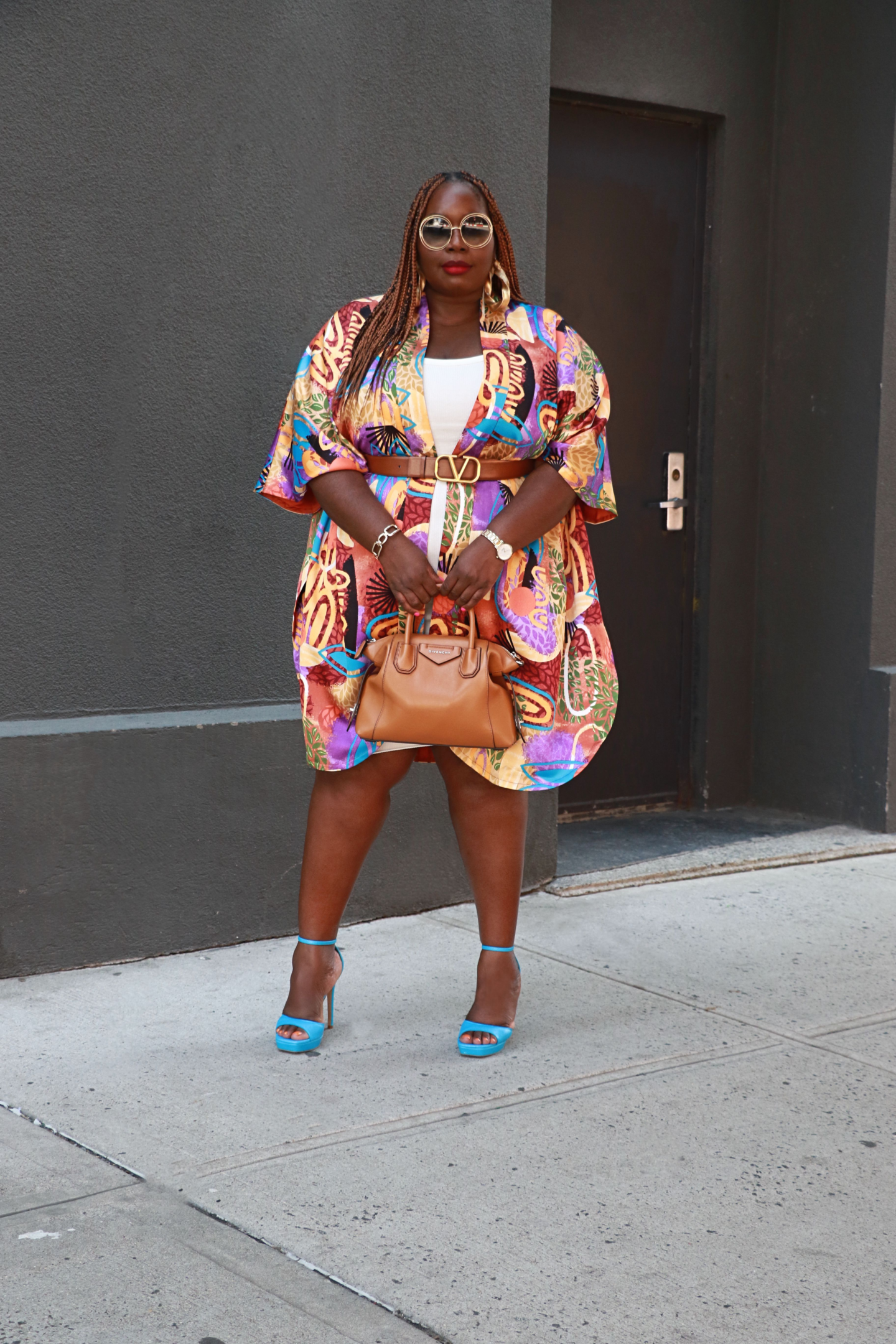 NYFW Day 1
For day one of NYFW I only had one show. Which was Tiffany Brown. I wanted to wear something comfortable yet stylish and statement making. And I wanted to wear a plus size designer.
After browsing through my closet, I opted for a printed kimono by Googoo Atkins for Macy's Bar III collection.
Its a beautiful printed kimono with a pretty color scheme of brown, blue, purple, and gold. The print is bold so I knew it would standout.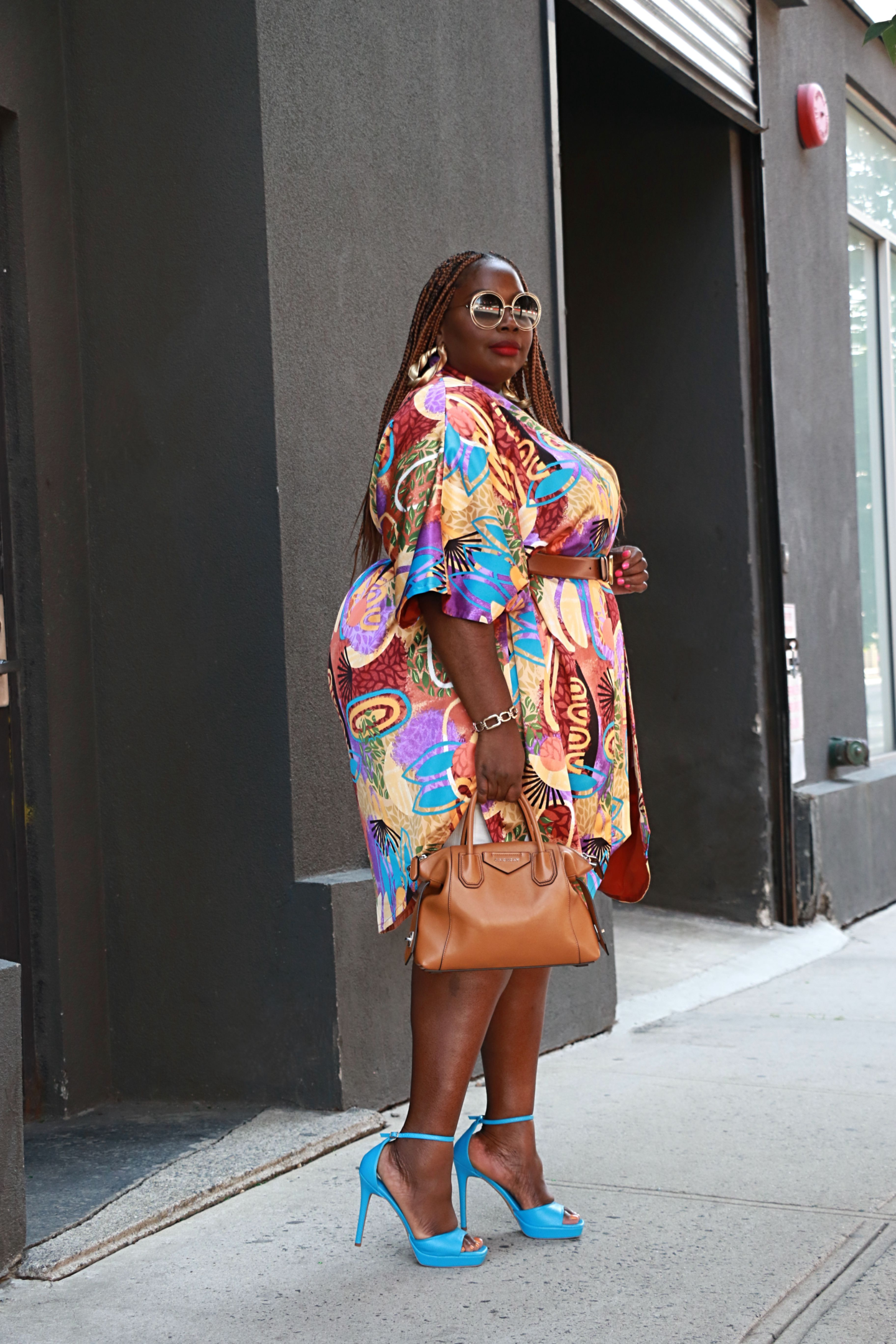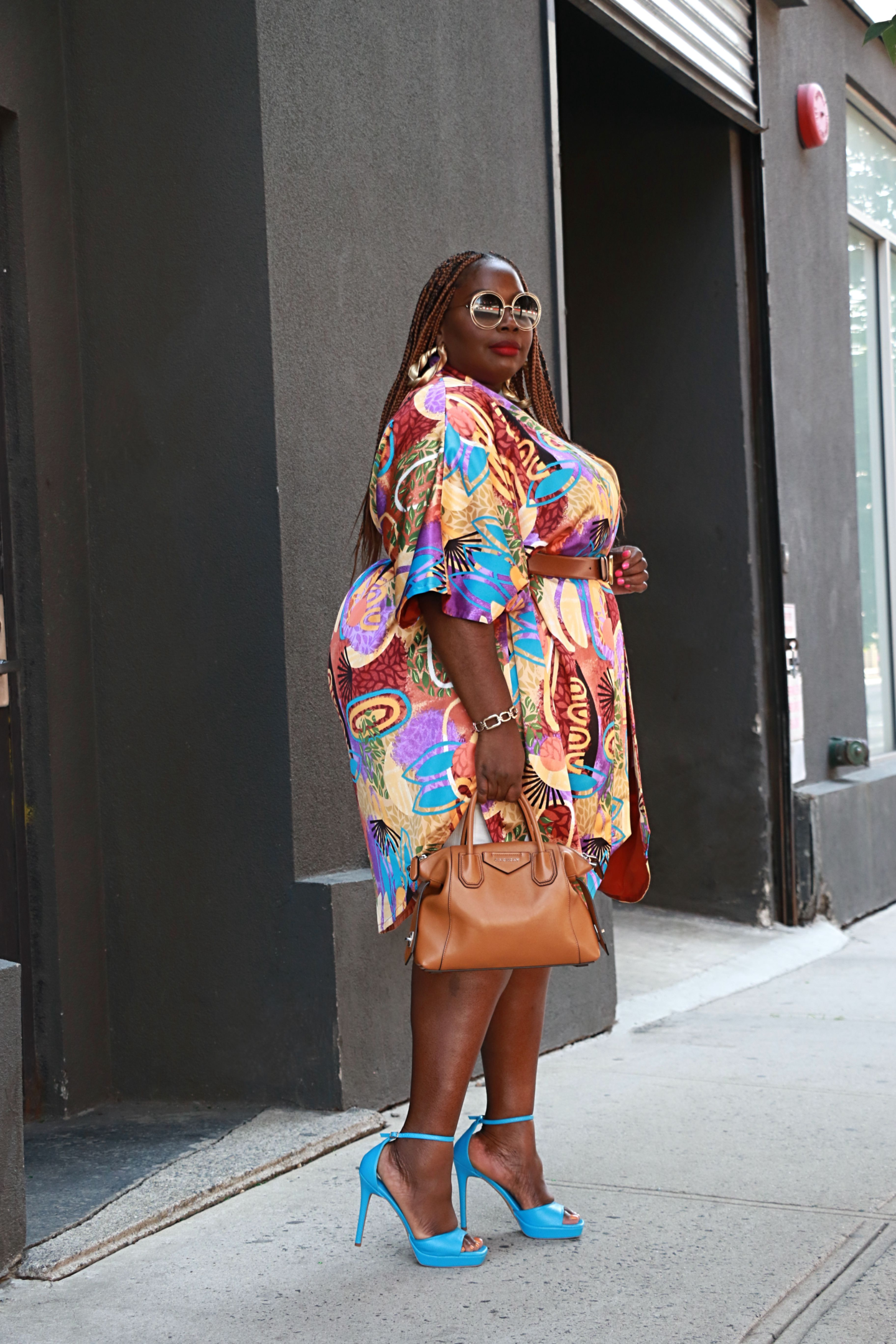 As for styling, I wore an off white ribbed tank from H&M underneath the kimono. For accessories, my Chloe Carlina sunnies, Valentino belt, and Givenchy Antigona tote made the look more interesting.
To bring out the blue in the kimono, I slipped on a pair of blue ankle strap heels from Aldo. I thought it was a solid New York Fashion Week plus size outfit. Especially for only one show that day.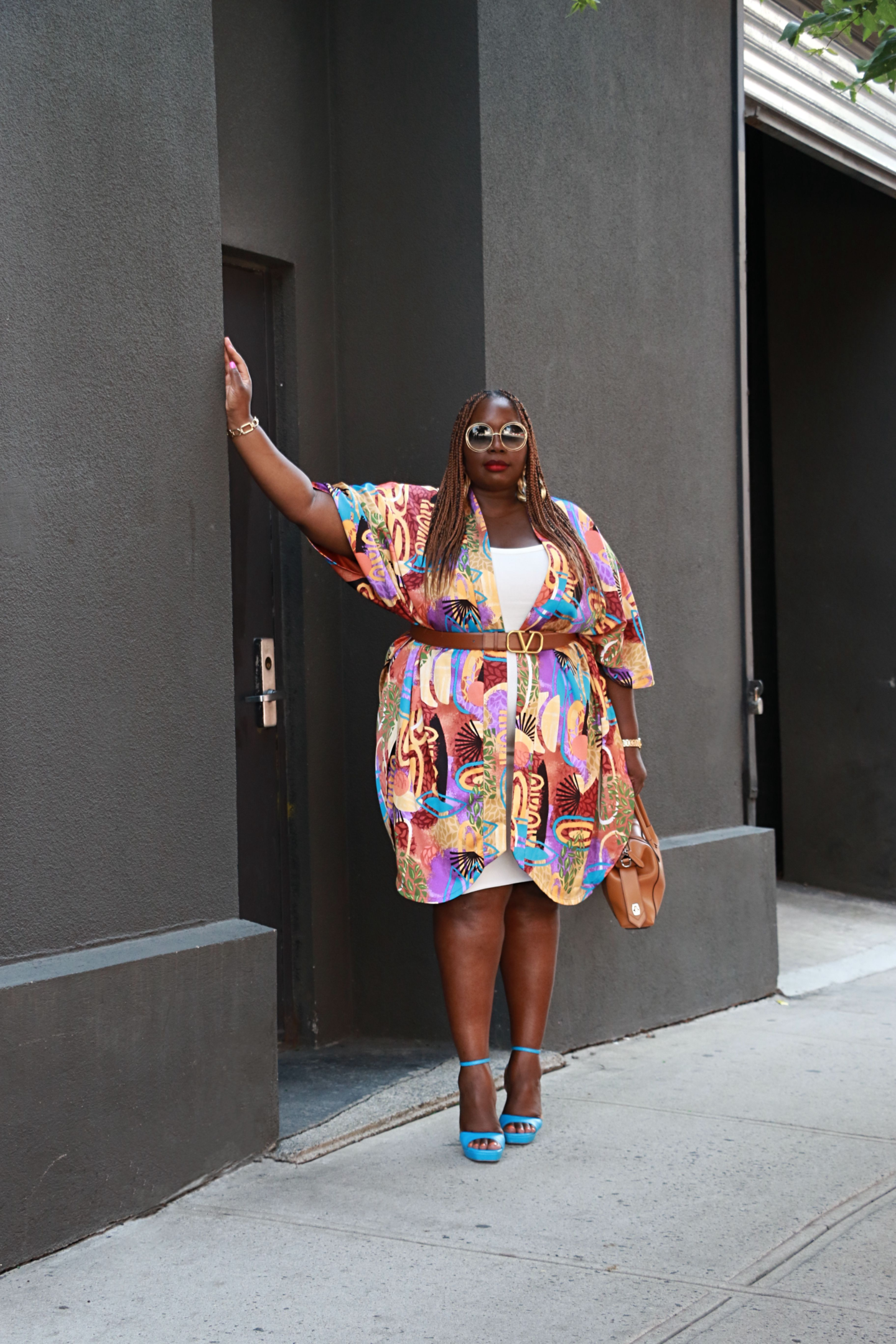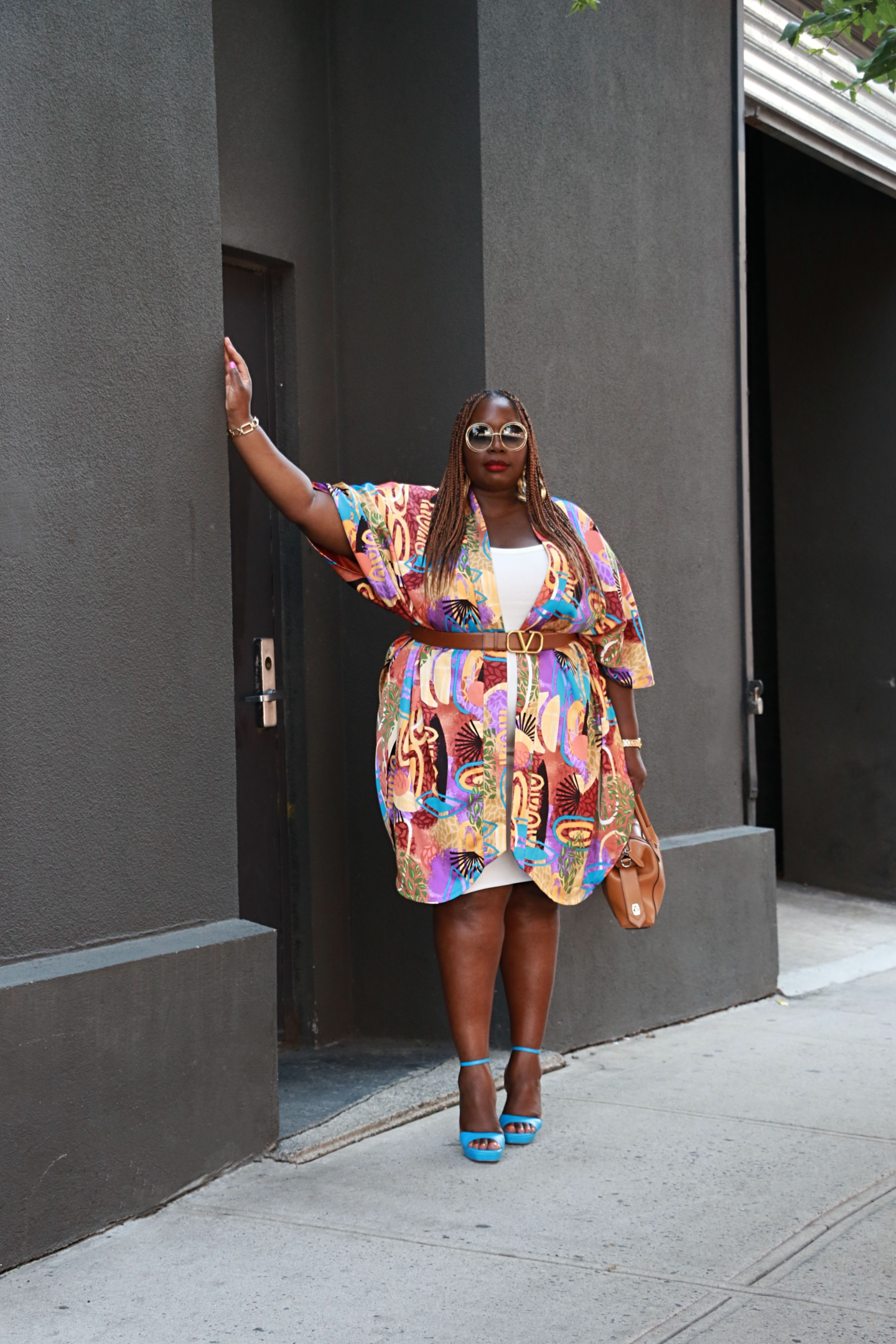 Shop The Look: Kimono, Shoes, Bag, Sunglasses, Belt
---
NYFW Day 2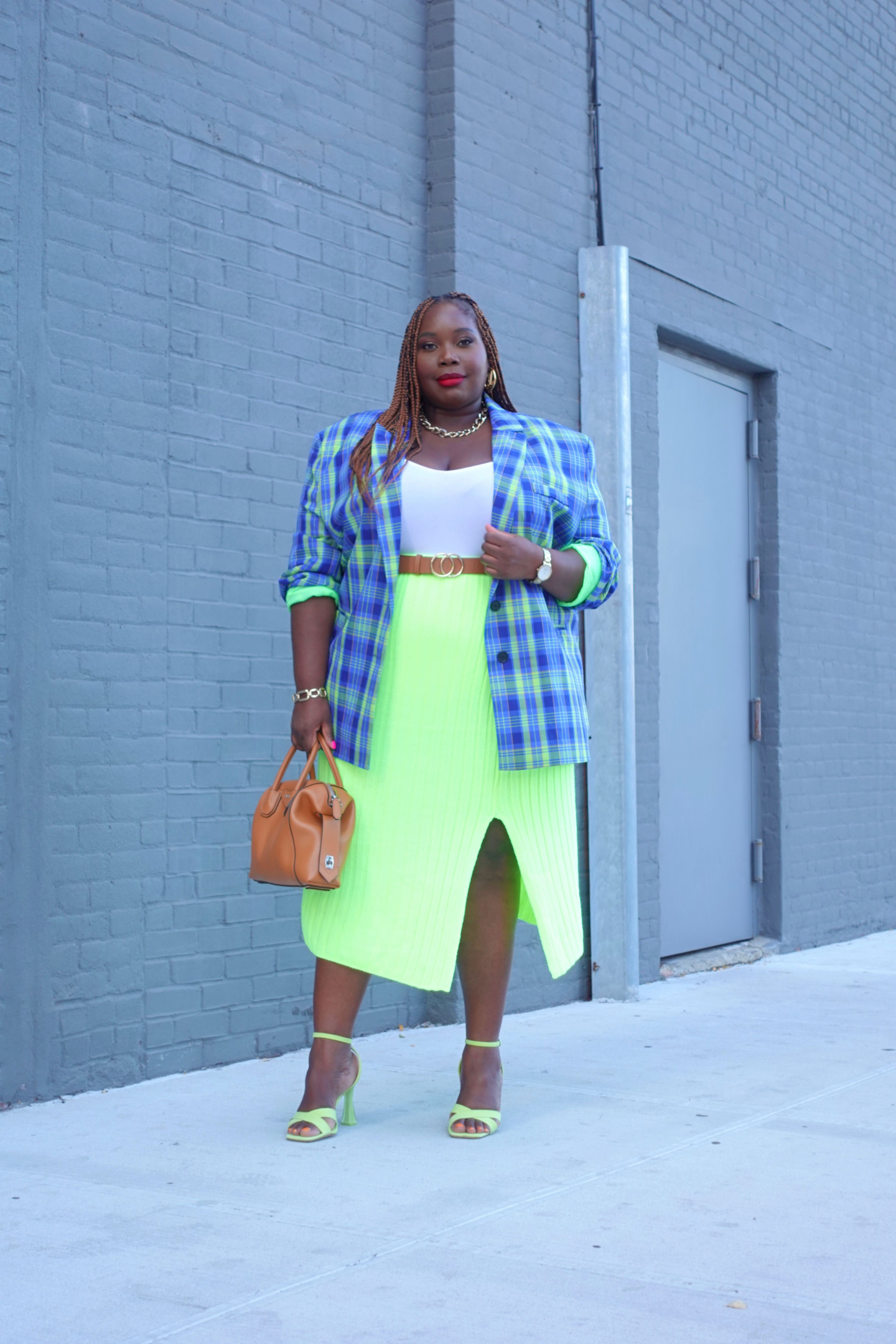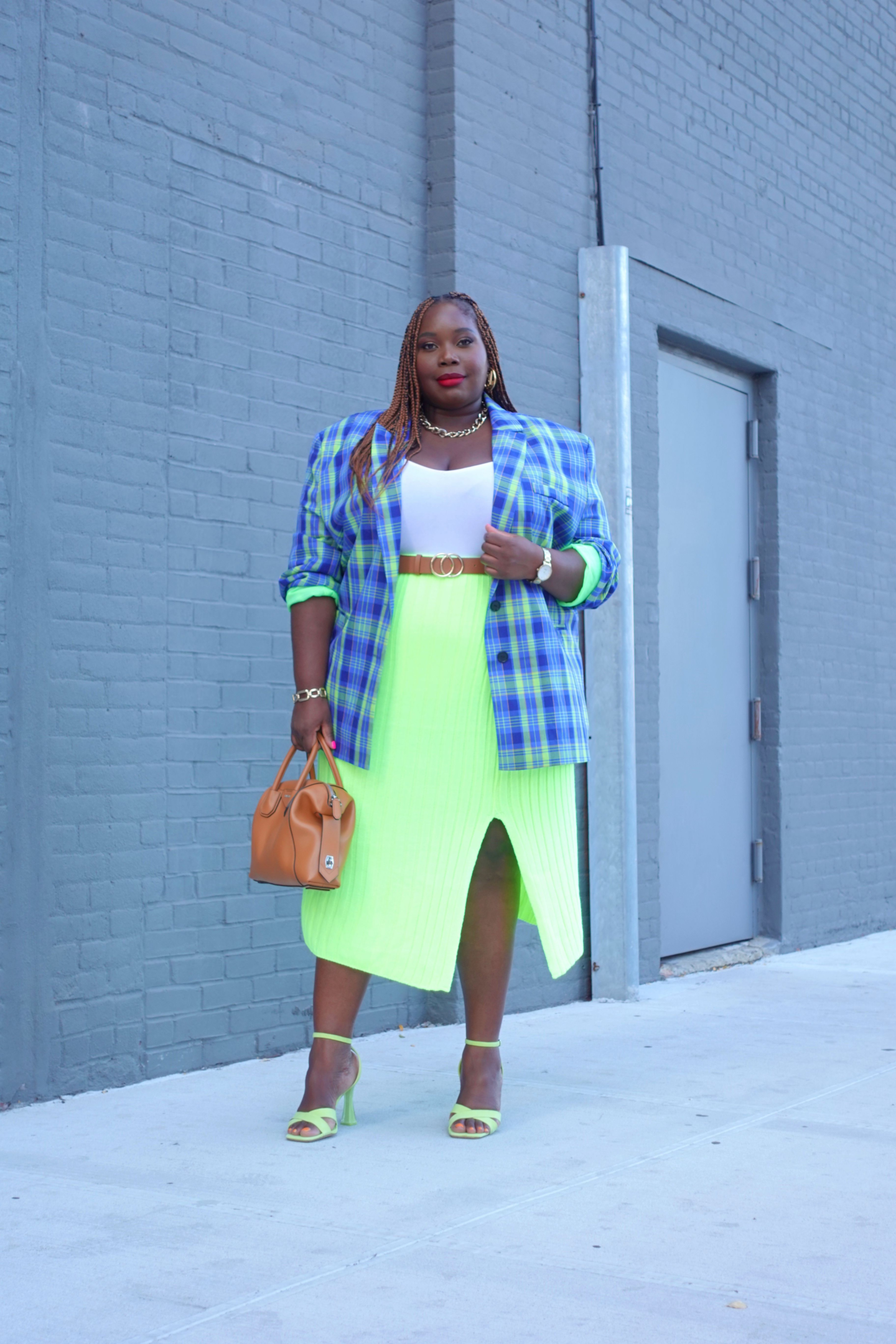 On day 2 of NYFW I had three shows but only made it to two. For this day the goal was to wear both bright colors and a bold print. So, I pulled out an old blazer from ASOS Curve that I never wore but knew that I would wear one day. And this was the day I was going to take it for a spin.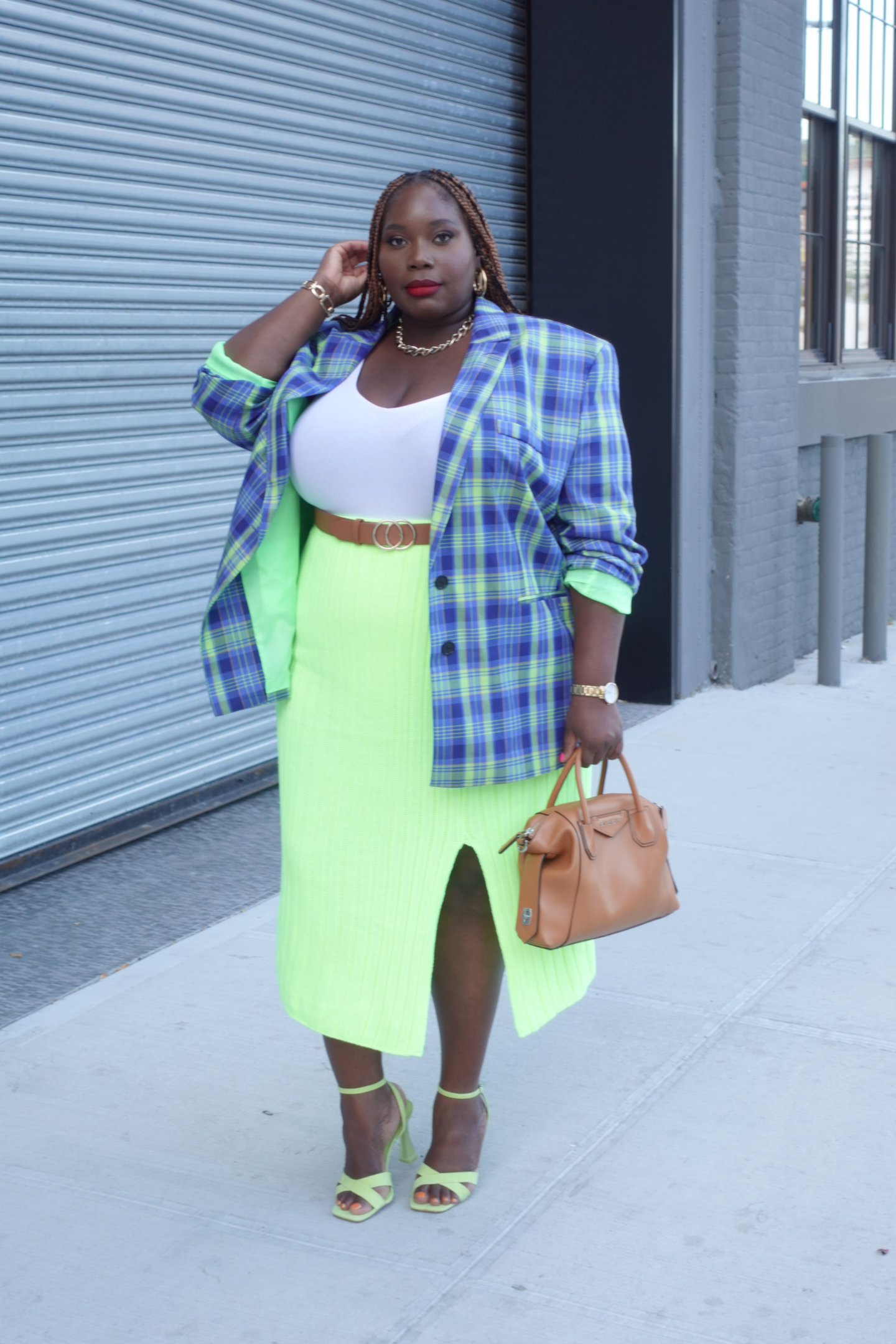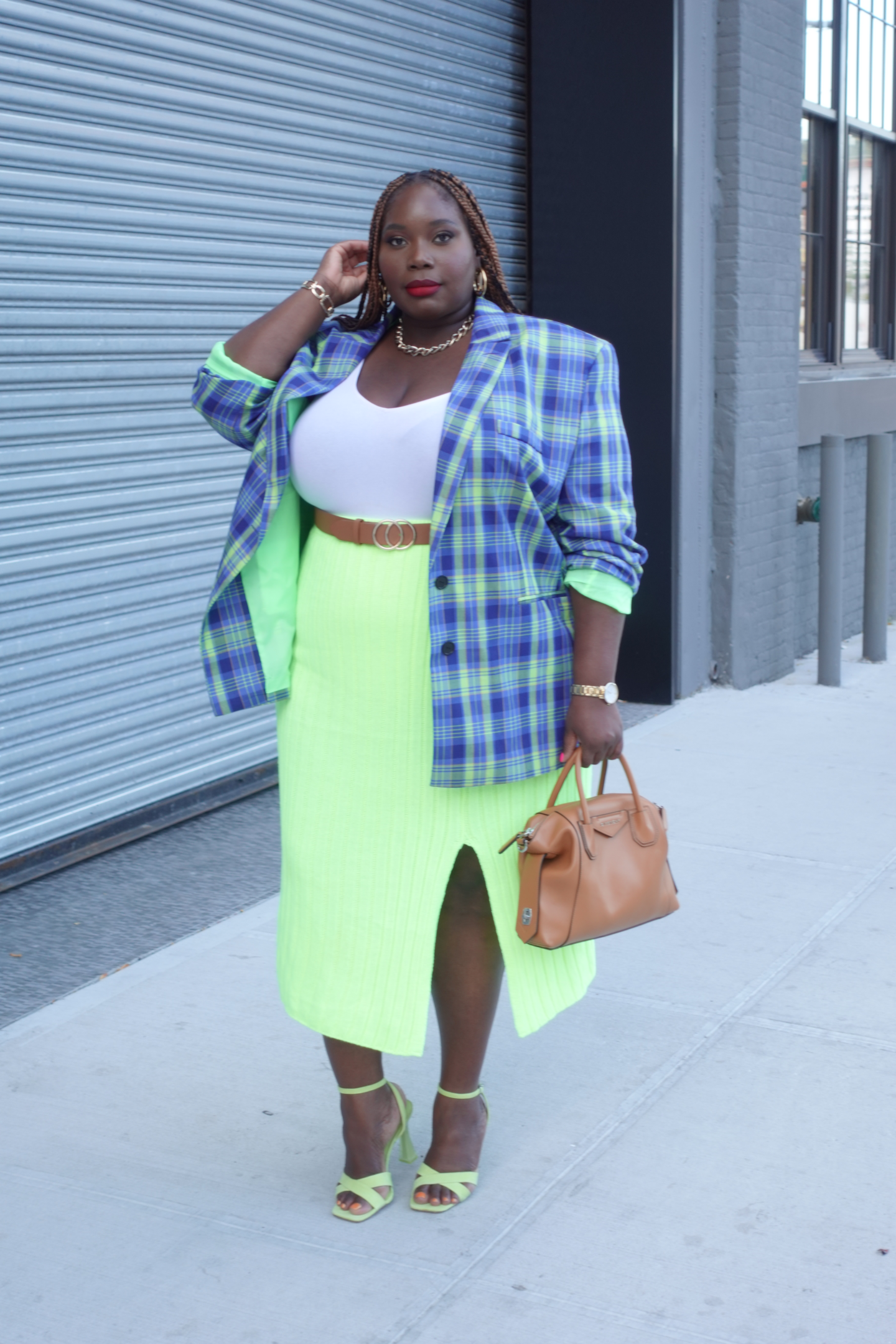 Continuing with the oldie but goodie theme of the outfit, I slipped on a neon green knit skirt. This was a skirt I bought a few years ago from Pretty Little Thing. I wore it a few times but packed it away. This seemed like a perfect time to take it out fo retirement.
It went so well with the blazer. Since its fashion week adding a pair of lime green sandals just made sense. Let's just say I was looking like a pack of blue and green neon highlighters. And I loved it.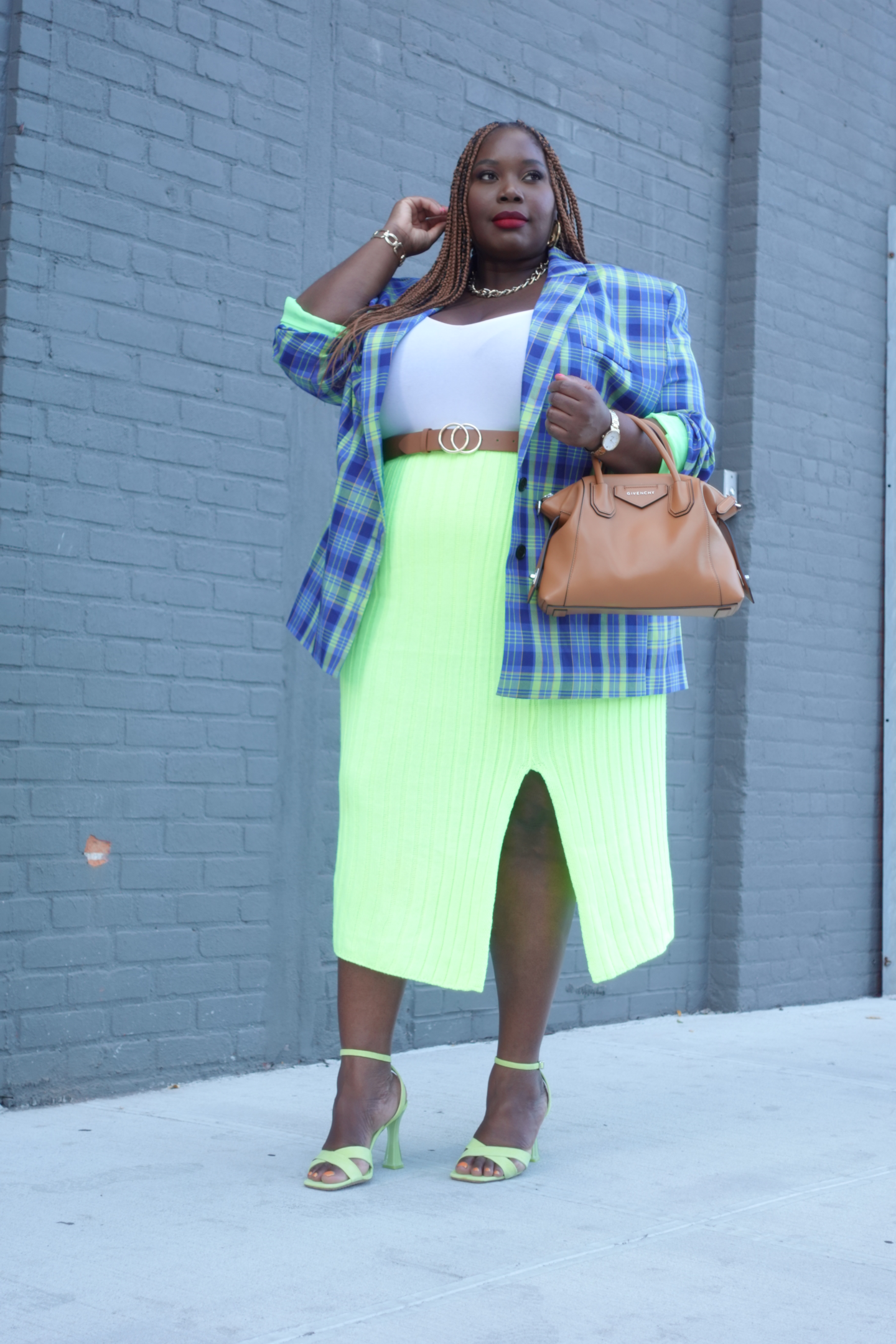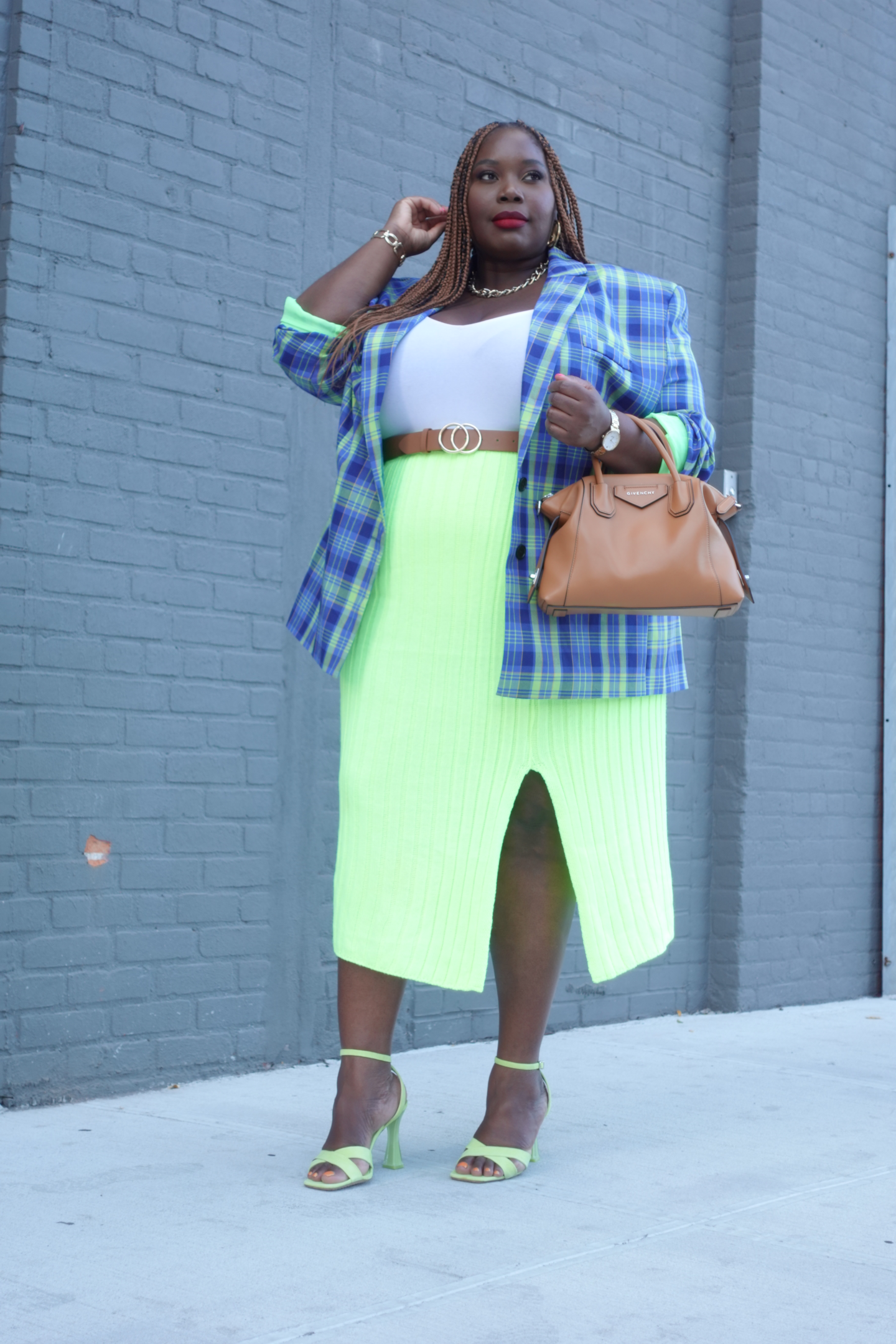 When it came time to accessorize, I opted for a chunky gold link necklace, my Antigona tote, and Louis Vuitton earrings. Adding a cognac belt from Amazon pulled the look together.
GET THE LOOK: Similar Blazer, Similar skirt, shoes, bag, belt
---
NYFW Day 3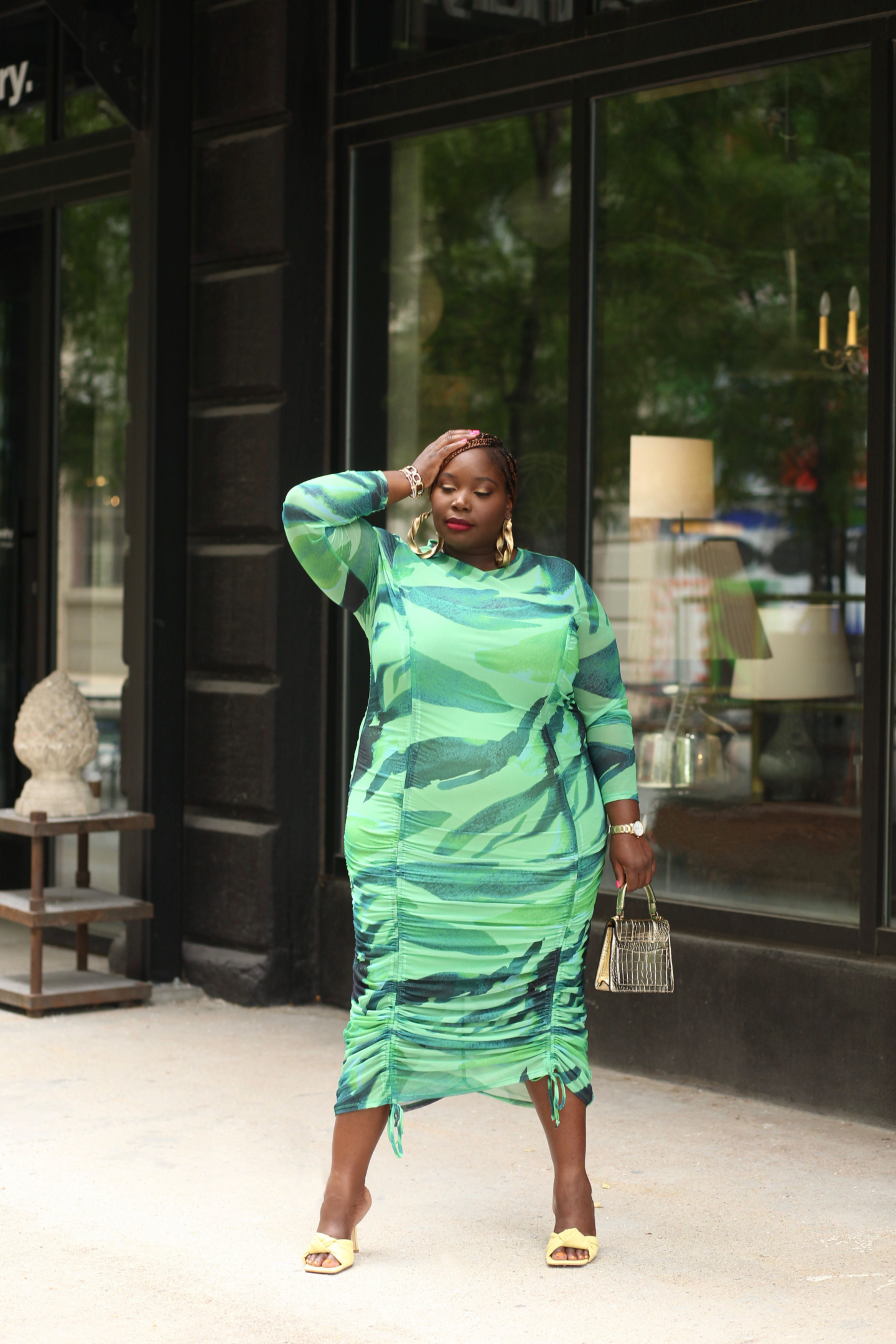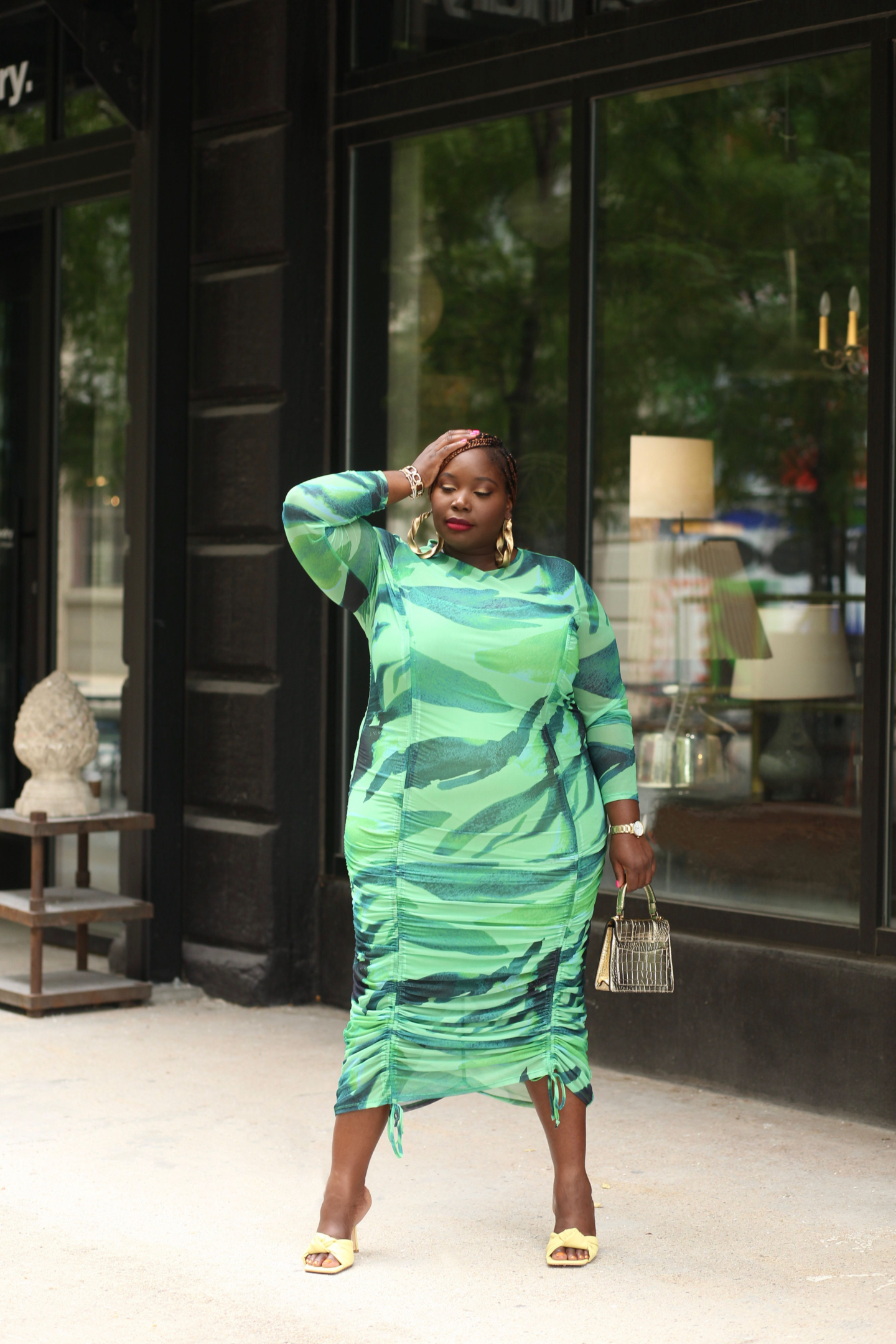 Thinking about day three of fashion week kind of puts me in a sour mood. Simply because I went to a fashion show with no fashions. True story! I had one show this day and waited on line in the drizzling rain to get in.
After waiting on line for an hour, I was told the show was at capacity and I couldn't get in. A nice lady kindly escorted me and a few others who were online to the lobby. She then told us to watch the show on the big screen in the lobby. Tuh!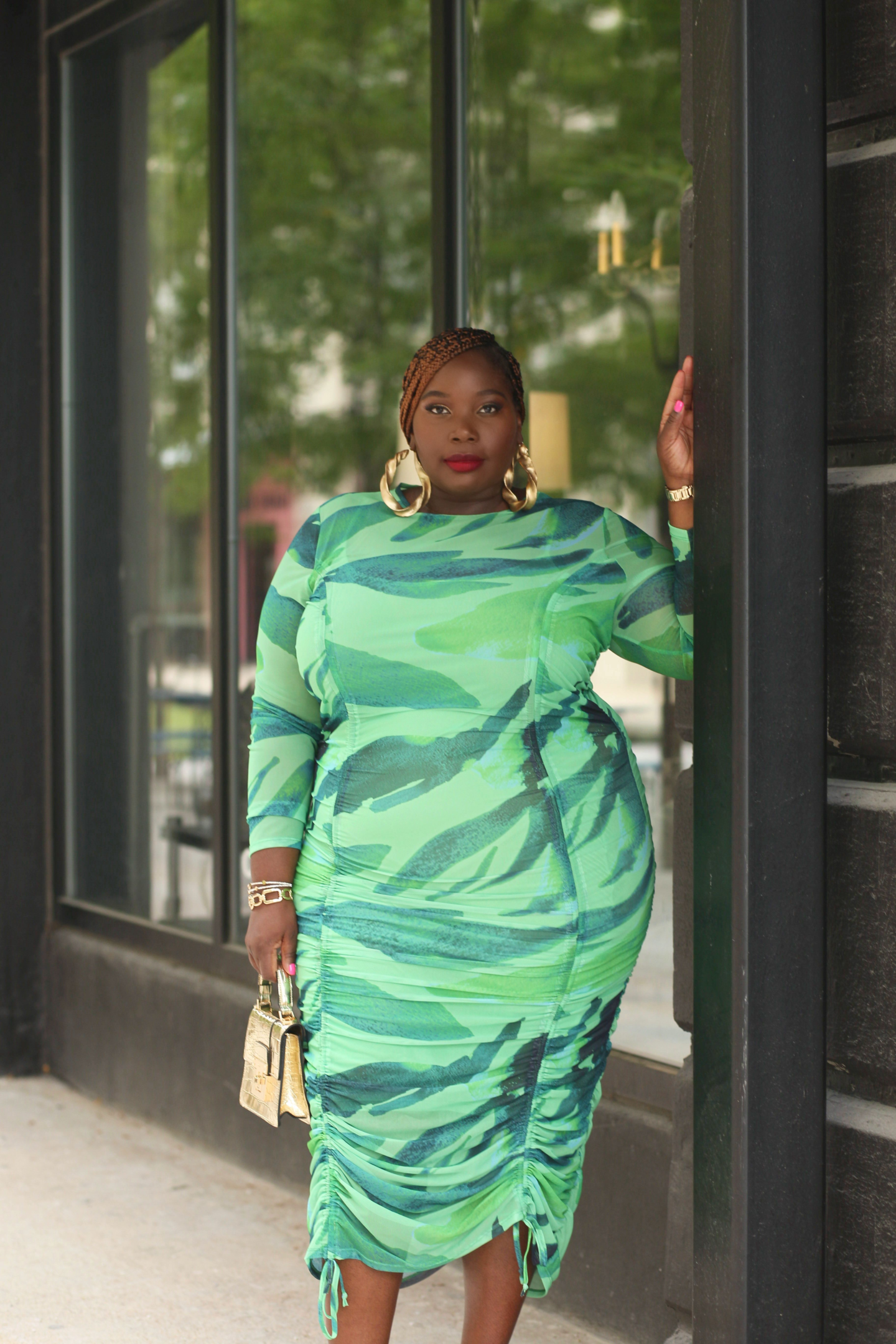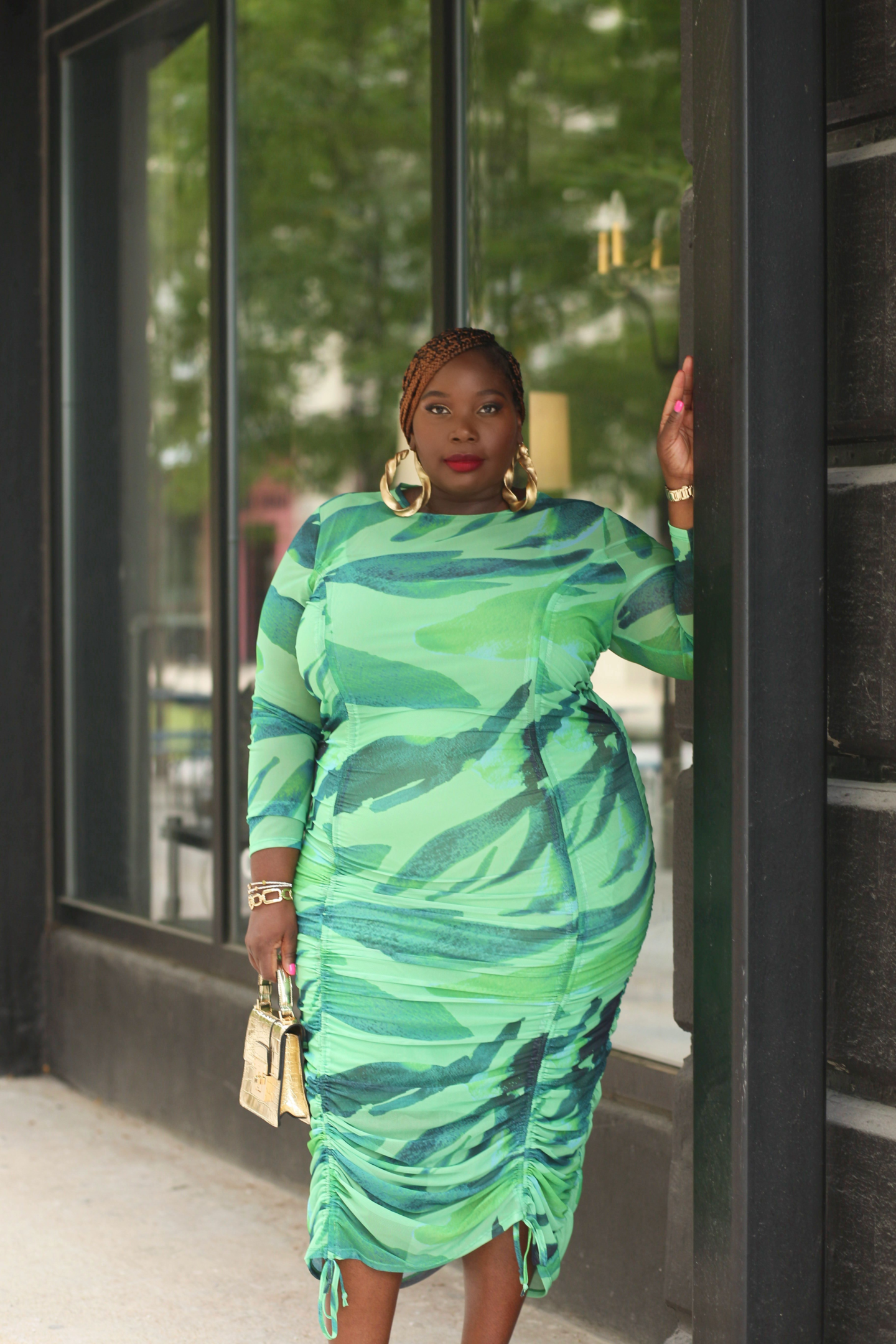 While I was a bit perturbed, I still went to the lobby and watched the show. Because somebody was going to see my outfit. It was too cute.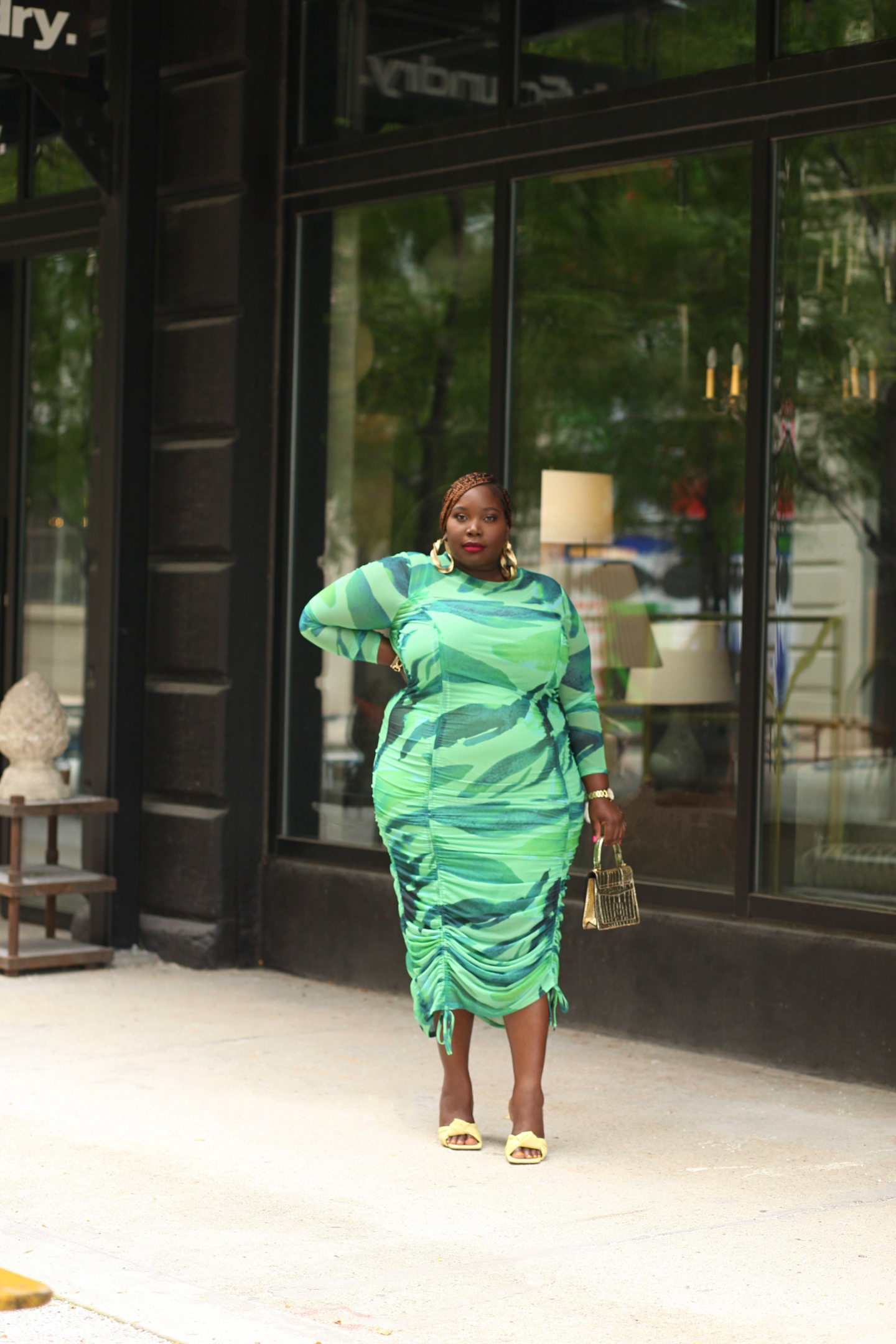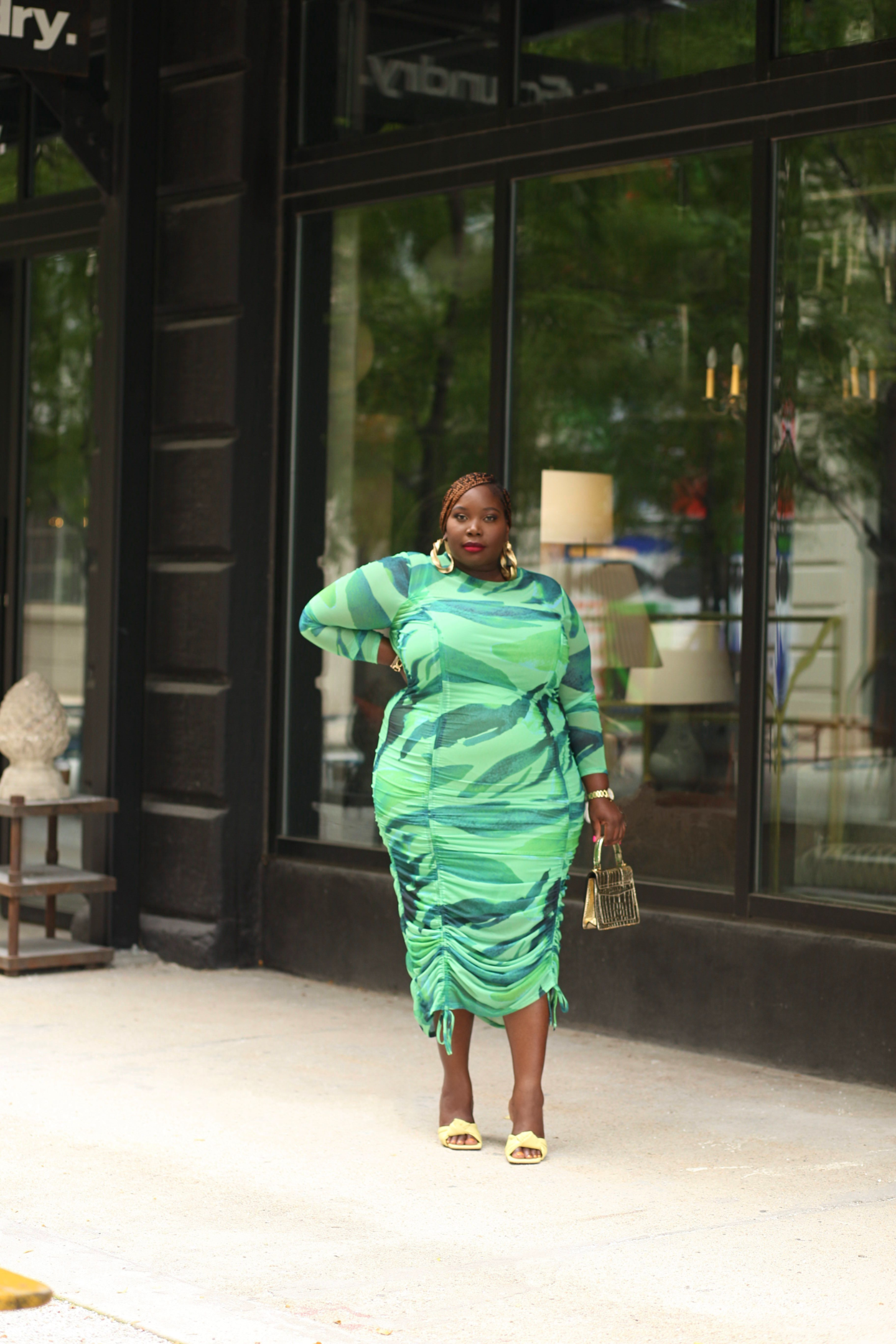 For this rainy fashion week day I wore a sheer mesh green ASOS Curve body con dress, a pair of yellow Marc Fisher mules, gold twist hoops, and a gold Aldo tiny bag.
SHOP THE LOOK: Dress, Shoes, Earrings
---
NYFW Day 4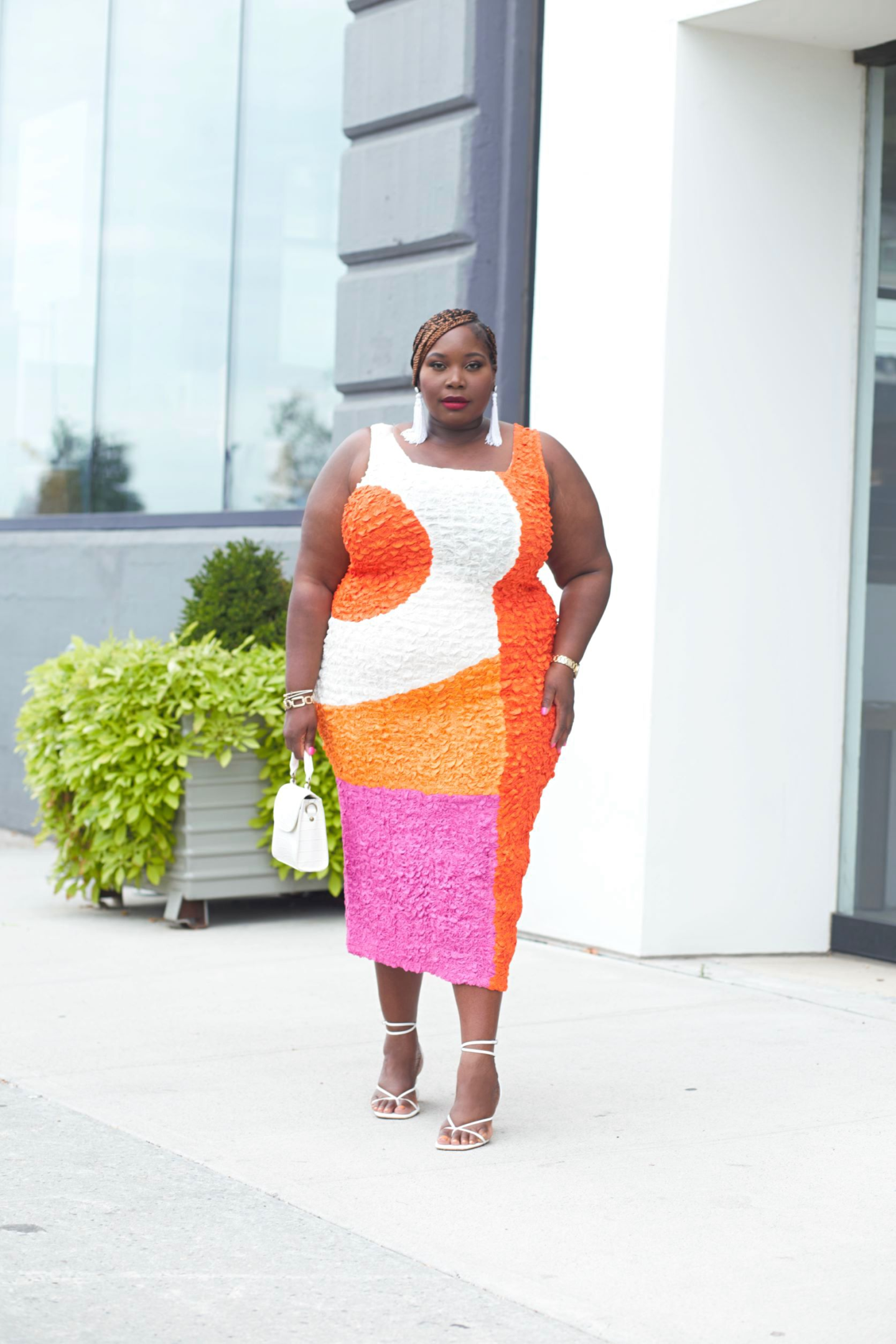 The night before day four of fashion week I laid my clothes out like a kid for the first day of school. I was super excited to wear my Mara Hoffman dress.
It was on my designer wishlist. And when I finally got it I knew it had to be worn for fashion week. Wearing Mara Hoffman's popcorn textured "Sloan" dress, was like wearing a piece of art.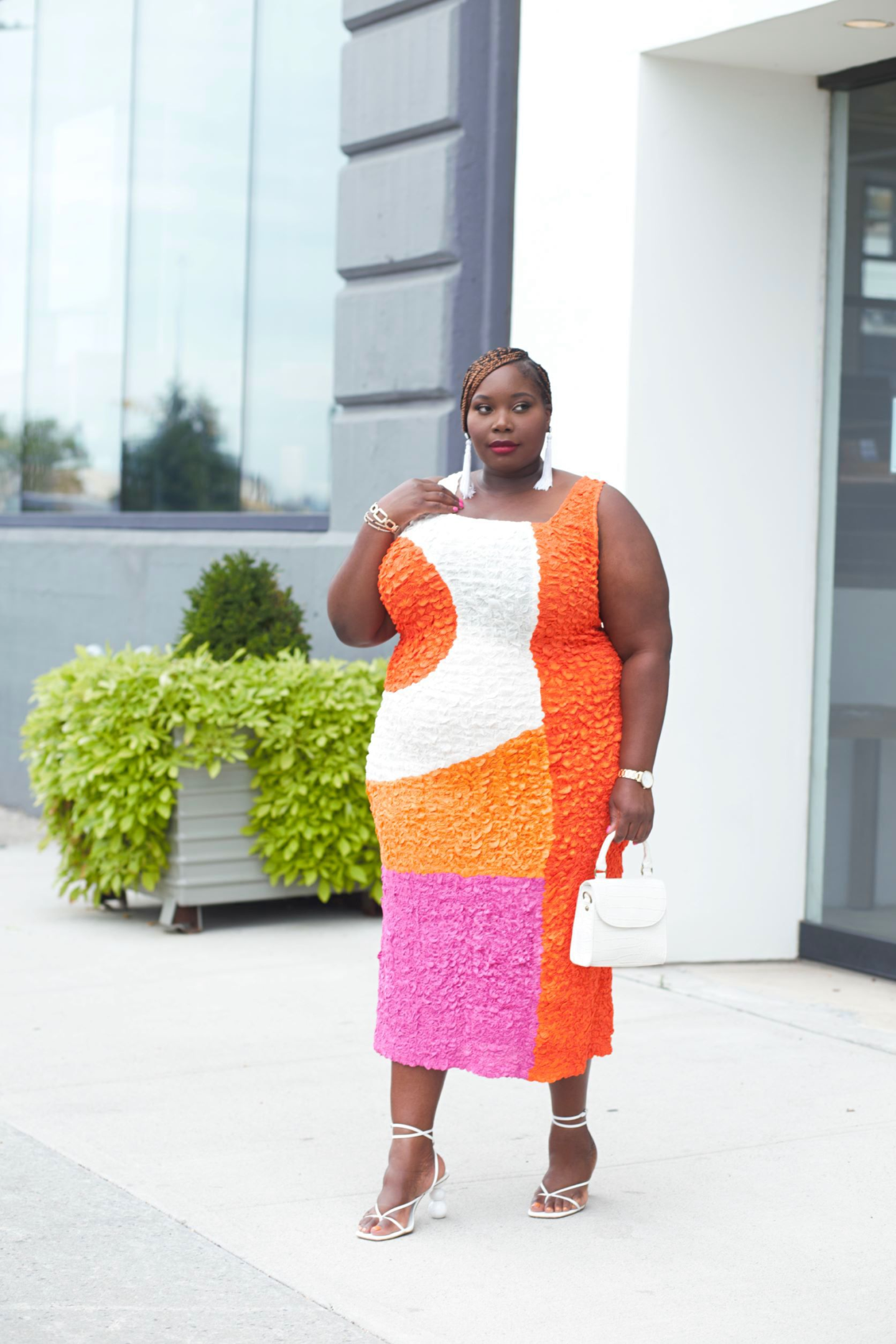 The colors and the colorblocked pattern made you want to stop and write a think piece on how it made you feel. I'm probably exaggerating but that's what it felt like wearing it.
This dress was a hit because I got stopped by numerous photographers to take my photo. Since the dress made a statement all on its own, I kept my accessories simple.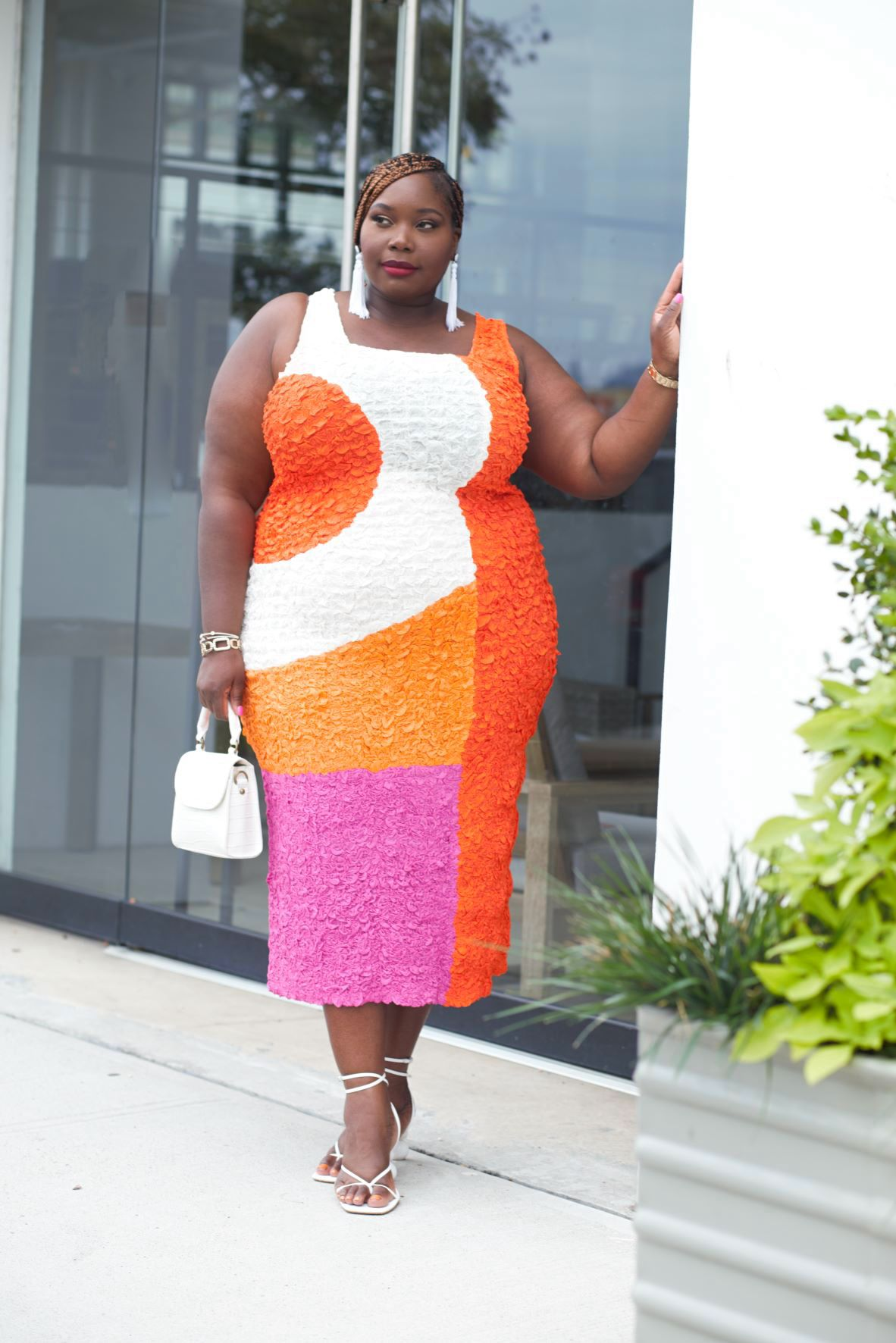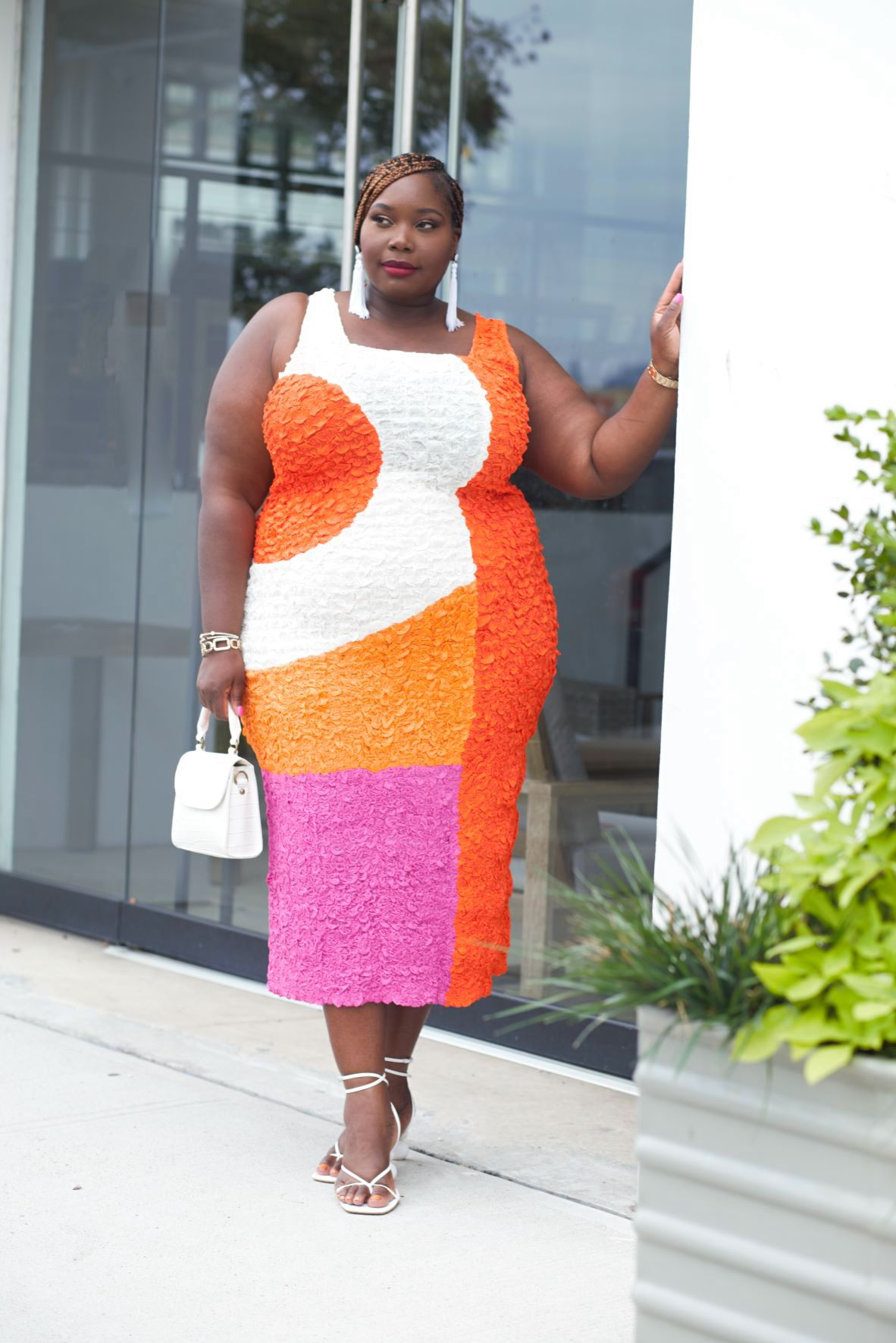 I went with a pair of white ankle stap sandals from INC and a pair of white tassel earrings.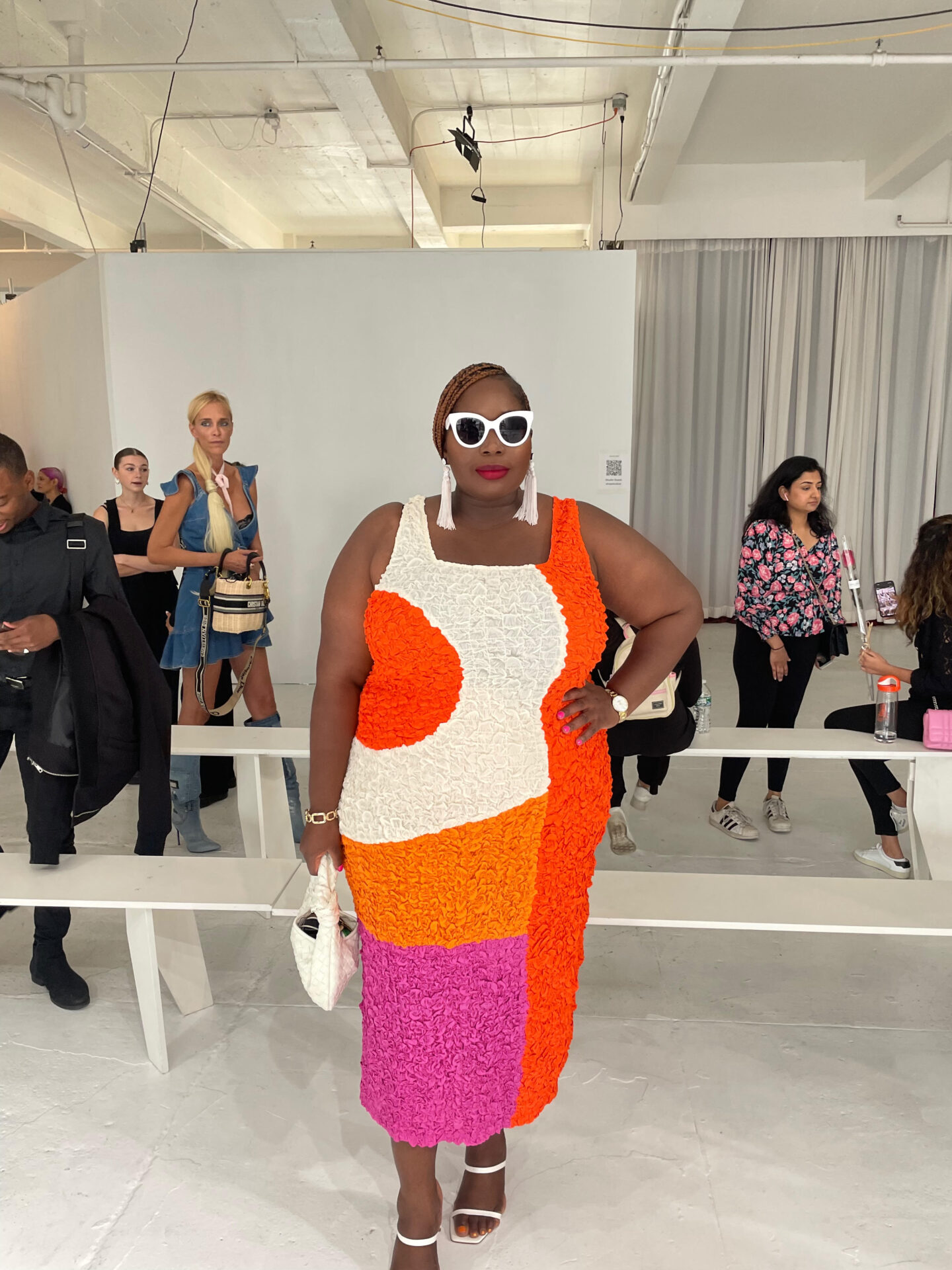 GET THE LOOK: Dress, shoes, bag, earrings
---
NYFW Day 5
On my last day of NYFW I had one show. For me it was one of the most important shows of the week. Attending Selkie's S/S 23 runway show was a moment for the size inclusive fashion industry.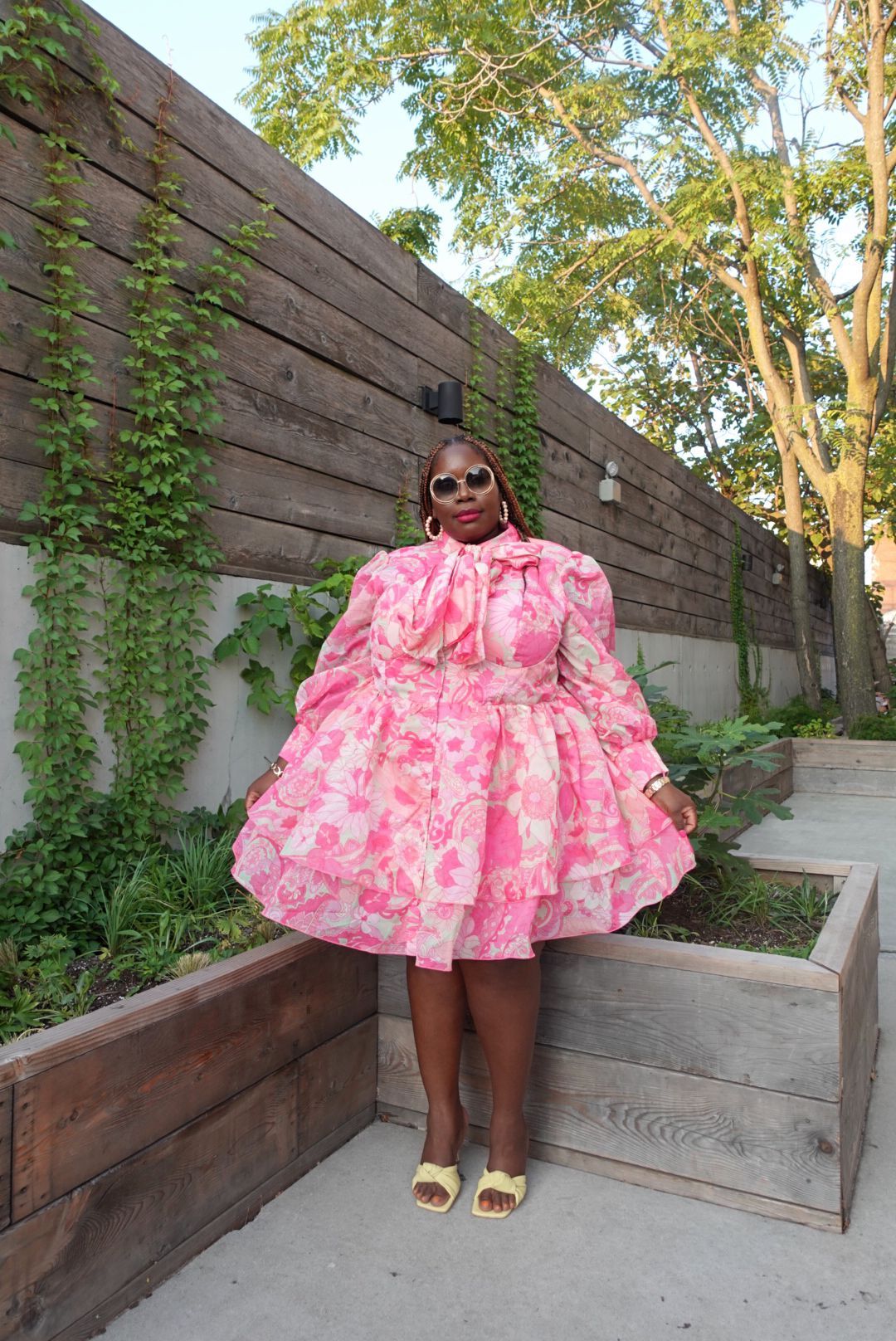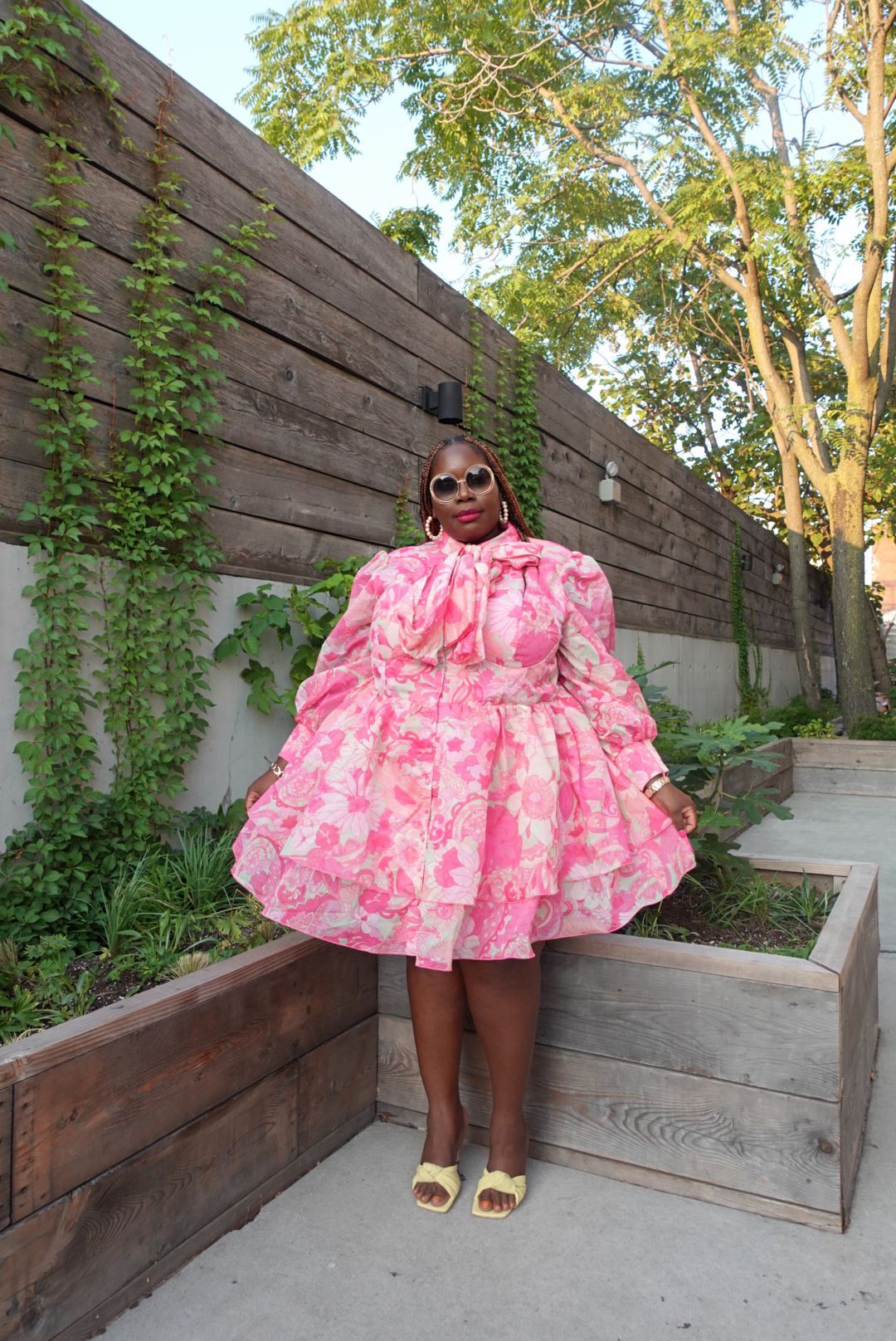 This show was going to include models of all sizes. For this monumental moment I wore a beautiful pink floral tie neck dress from ASOS Curve. Since my feet were on swole from running around the city, I slipped on my Marc Fisher mules again.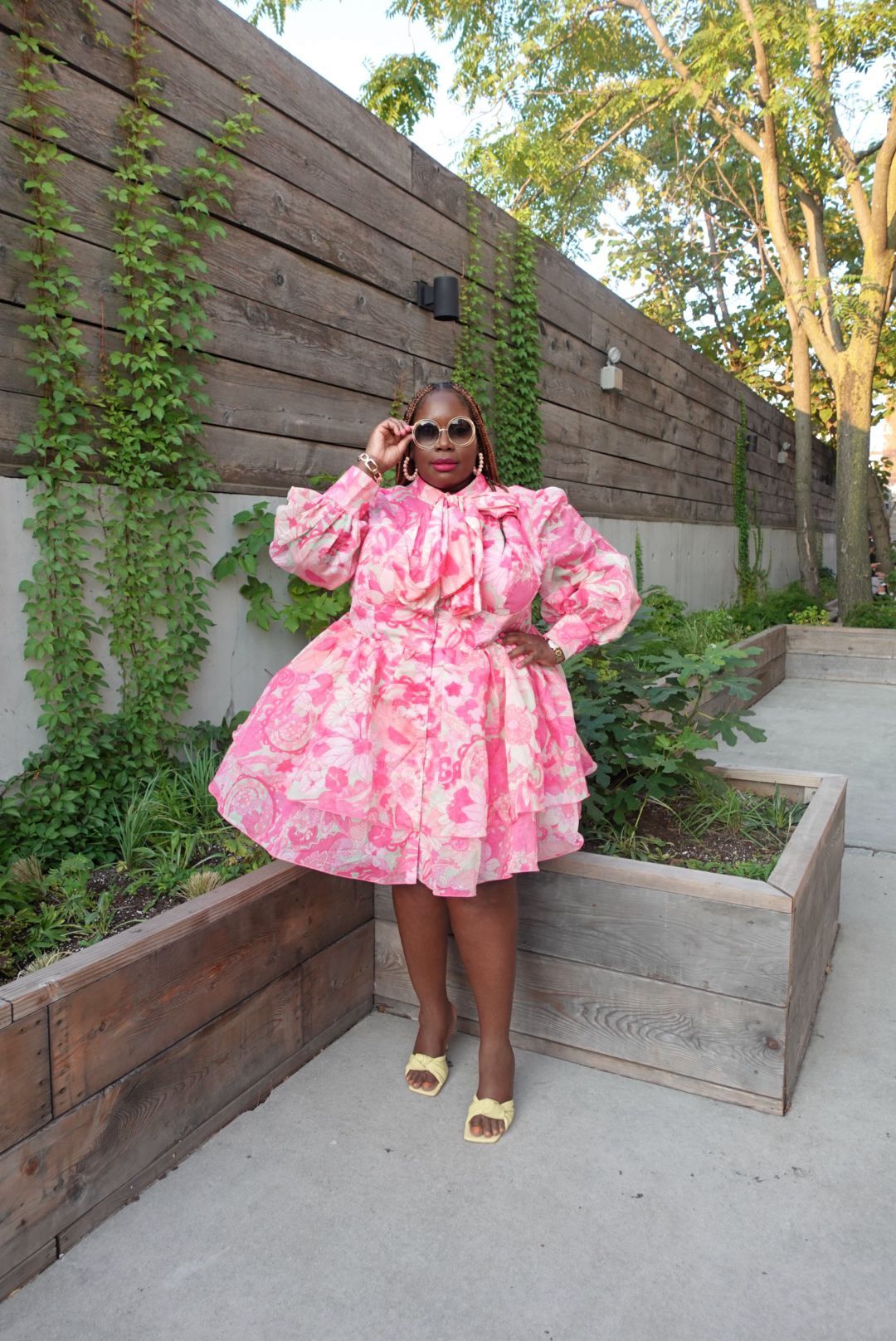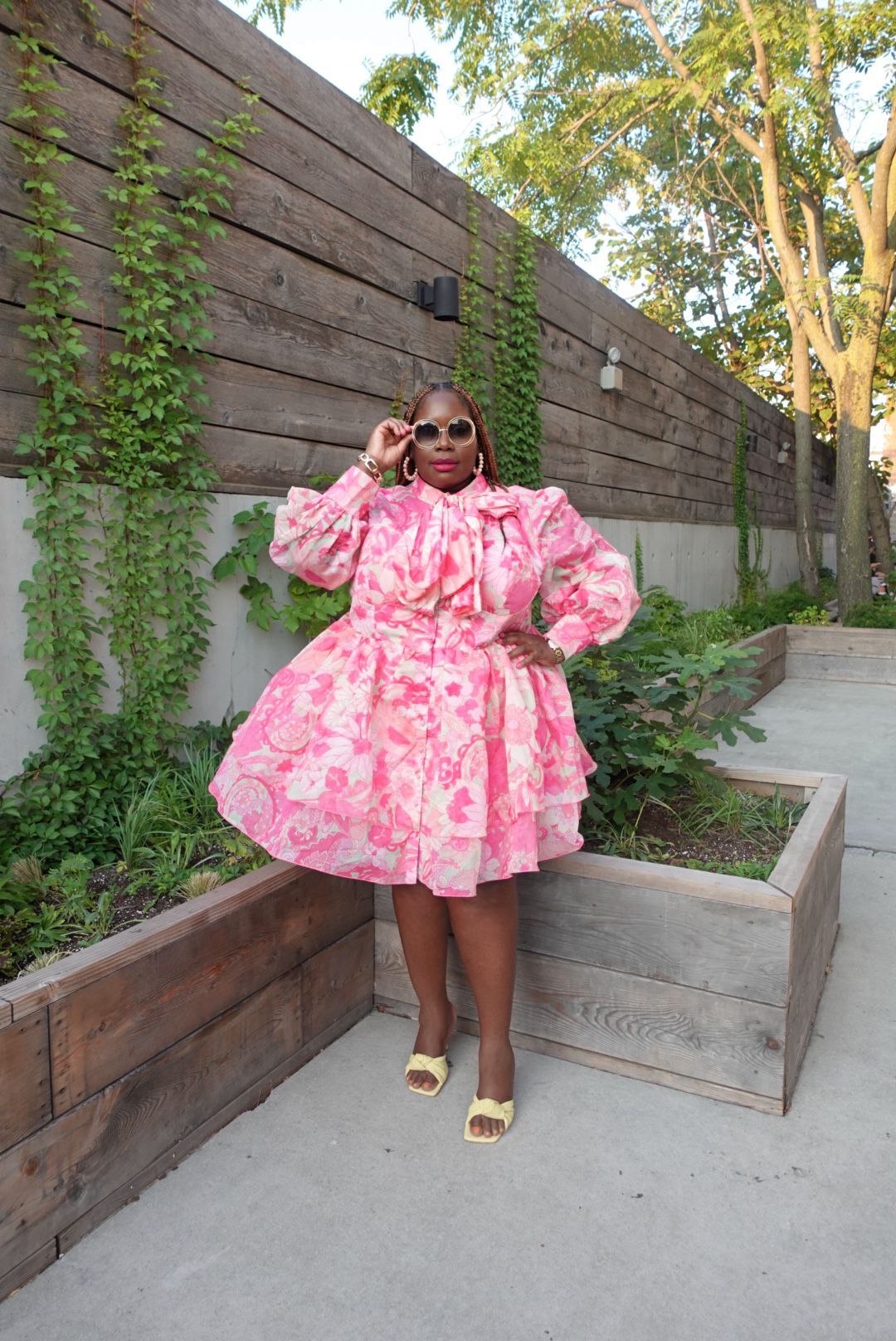 As for accessories, I added a yellow patent Calvin Klein bag and my Chloe Carlina glasses again.