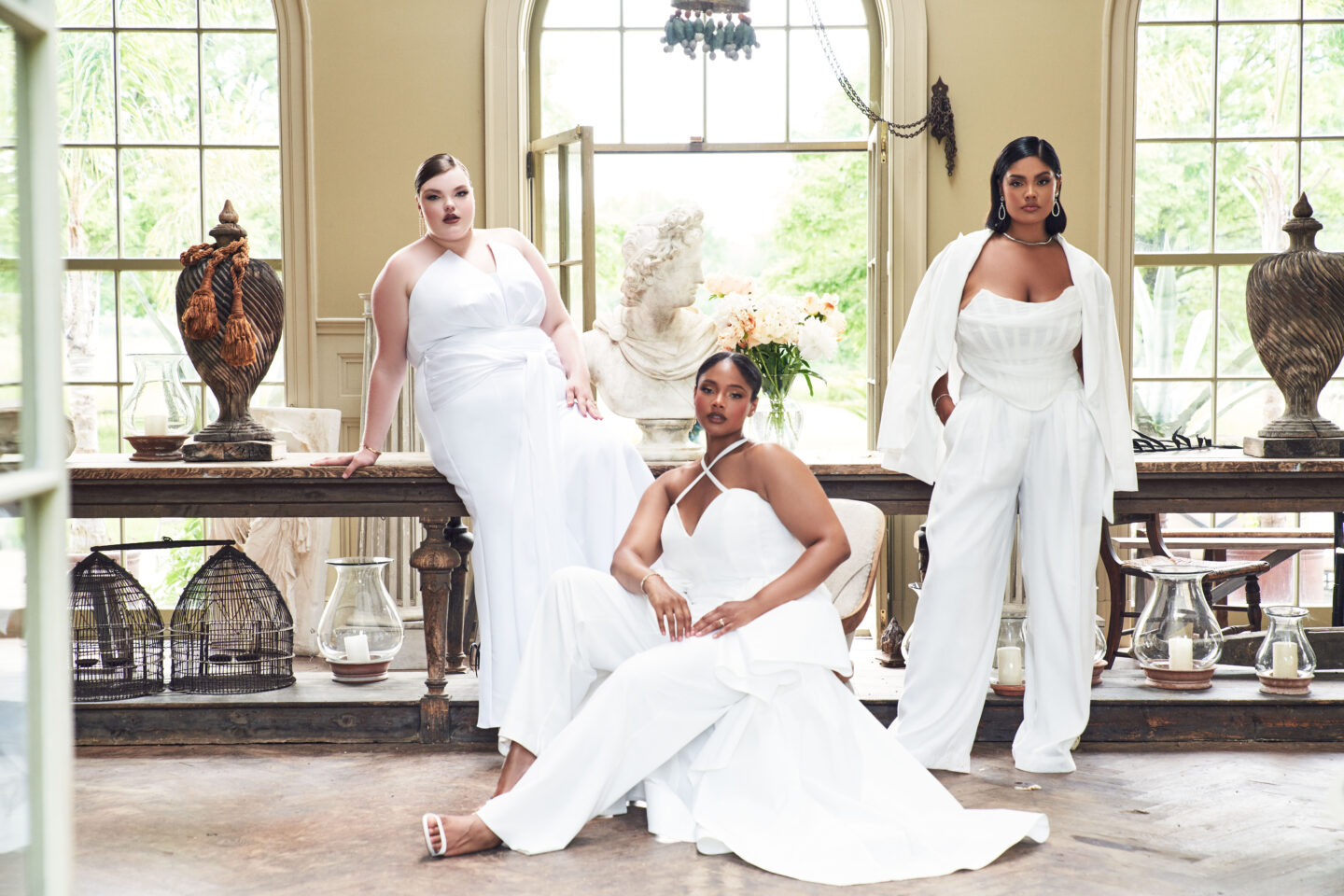 You asked for it and Eloquii has finally delivered. Introducing Bridal by Eloquii. A new plus size bridal collection that offers everything from plus size wedding dresses to accessories. And in true Eloquii style, this collection features fashion-forward pieces in sizes 14-28.
Back in March Eloquii announced that they would be launching their very own bridal line and now the day has finally come.
Introducing Bridal By Eloquii
Plus size women know all too well how arduous it can be to create a stylish wedding wardrobe. Wedding gown options are limited, not only in size but in style. And when it comes to fabric, often times we are given itchy, stiff, or overly stretched polyester material.
It gets worse for plus size women when trying to find modern pieces for a bachelorette party, rehearsal dinner, and even the bridal shower.
Well Eloquii has set out to make your wedding experience a whole lot better and your wedding wardrobe more stylish with Eloquii Bridal. This new collection offers elevated looks with luxe fabrics. Which include, lace, tulle, satin, and sequins.
Bridal by Eloquii has over 50 styles all priced under $900. Informal dresses start at $89 and formal dresses start at $299. Included in the collection are show stopping separates, starting at $49.
SHOP BRIDAL BY ELOQUII HERE
In the new Bridal by Eloquii clothing line, you can expect amazing fits and silhouettes. Which is something that Eloquii has become known for. In addition, You'll also be able to shop statement making jumpsuits, head pieces, and gloves.
What's amazing about this line is that not only are there options for the brides but for the bridal party as well.
Even if you don't want a traditonal wedding dress, you can find amazing separates to create the look of your dreams.
Additionally, there's wedding gowns and dresses with shorter lengths. Eloquii did not skimp on the details with these pieces. From a tiered tulled gown to a white lace mini dress, each pieces looks special.
Since the launch of Eloquii the brand, plus size customers have asked them to create a bridal collection. Back in 2016 they partnered with Stone Fox Brides for a plus size wedding dress collection.
Plus size customers were already wearing Eloquii dresses for their bridal events. With Eloquii's new bridal line, they now have a one stop shop for all their fashion needs leading up to the big day.
These are not boring pieces. You'll be turning heads at every bridal event with the new Bridal by Eloquii collection. And it won't cost you a year of college tuition to look good.
You can shop the entire new plus size bridal line at ELOQUII.
PIN THIS