Here's the deal. Every girl loves a good sequin dress during the holiday party season. However, it can become a bit redundant and boring. So, this year nix those sparkly dresses and go for a holiday plus size pant suit. Now, let me sell you on why you need one. A holiday style plus size pant suit is sleek, sexy, and just plain ole boss like.
What really has me hyped about a holiday party suit is that plus size brands brought their A game this year. There's metallic, sequin, and velvet plus size pant suits that are showstopping conversation starters. I found the most beautiful saucy holiday plus size pant suit from ASOS and I want to wear it to every holiday party on my calendar. Yes, the suit is that fly.
ASOS Curve Metallic Holiday Party Suit
A few weeks ago I was browsing the ASOS site and stumbled on this silver metallic suit on the women's page. I was so enamored with it that I said a quick prayer and hoped that it would be available on the ASOS Curve section. Oh the joy I felt when I saw the suit came in plus sizes. I added it to my cart with the quickness because you know how ASOS is. One minute you're looking at something and the next its sold out. Luckily, that wasn't the case with this metallic holiday party suit.
---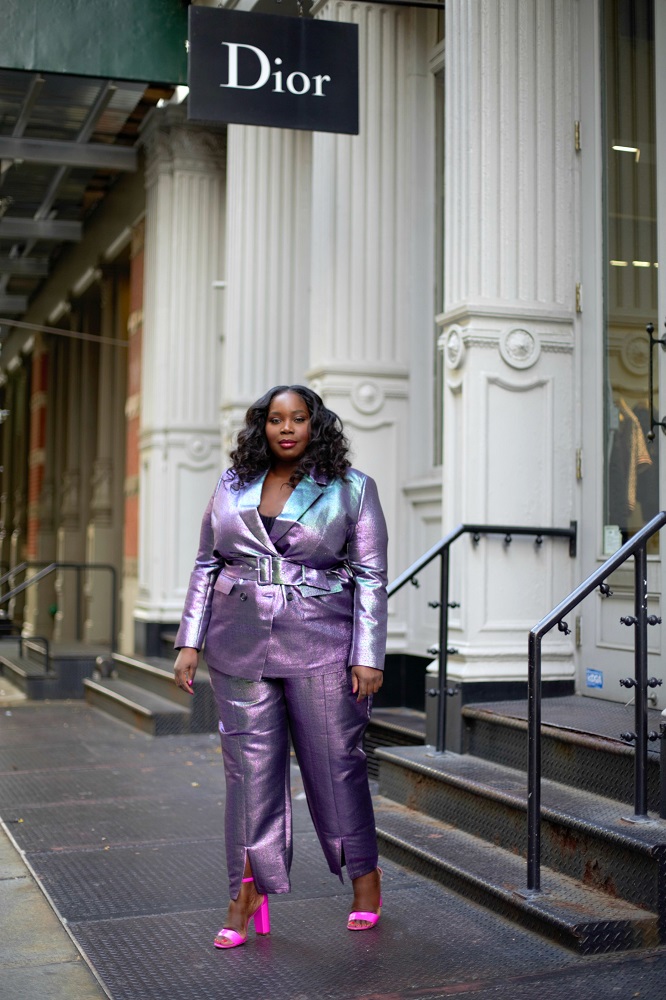 Shop this holiday plus size pant suit: Jacket and Pants, shoes
---
In person, the suit is even more spectacular. It has a pink and purple iridescent effect. The sizing on this particular suit is a bit different. It doesn't have any stretch whatsoever. I mean not an ounce of stretch. It's a bit stiff so I say size up if you want a comfortable fit. If you want a more fitted look, then be careful when you sit. You don't want to pop a seam.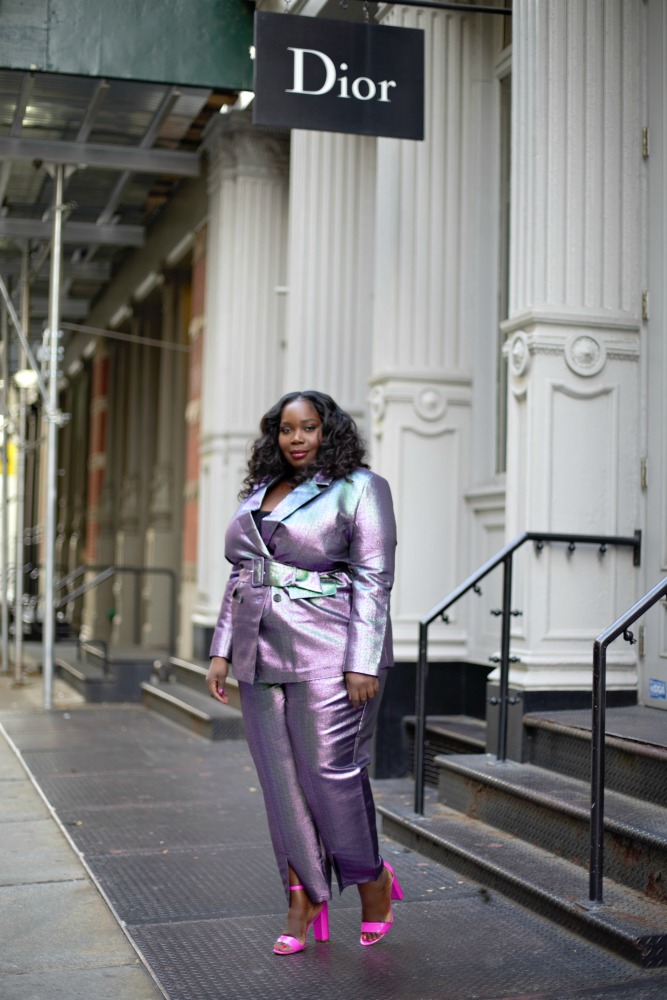 This is definitely the kind of holiday party outfit that will put you on anyone's best dressed list. My initial thought for shoe options was to rock a pair of silver open toe sandals. However, I wanted to pick up the pink in the suit so I opted for a pair of patent leather pink sandals from Sam Edelman.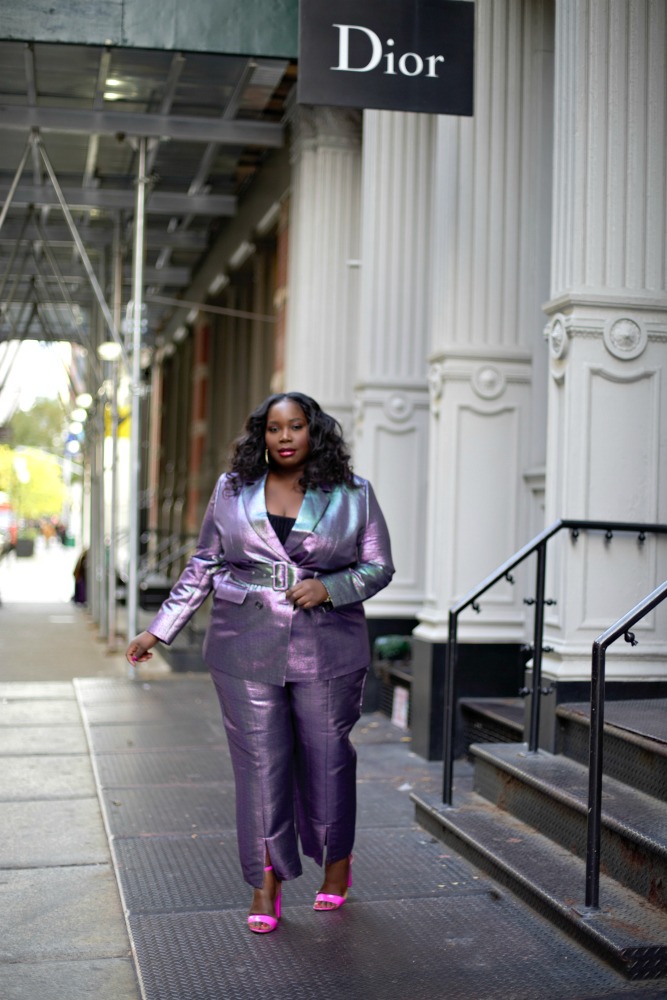 If you like this suit I'm wearing then checkout the other fabulous options below.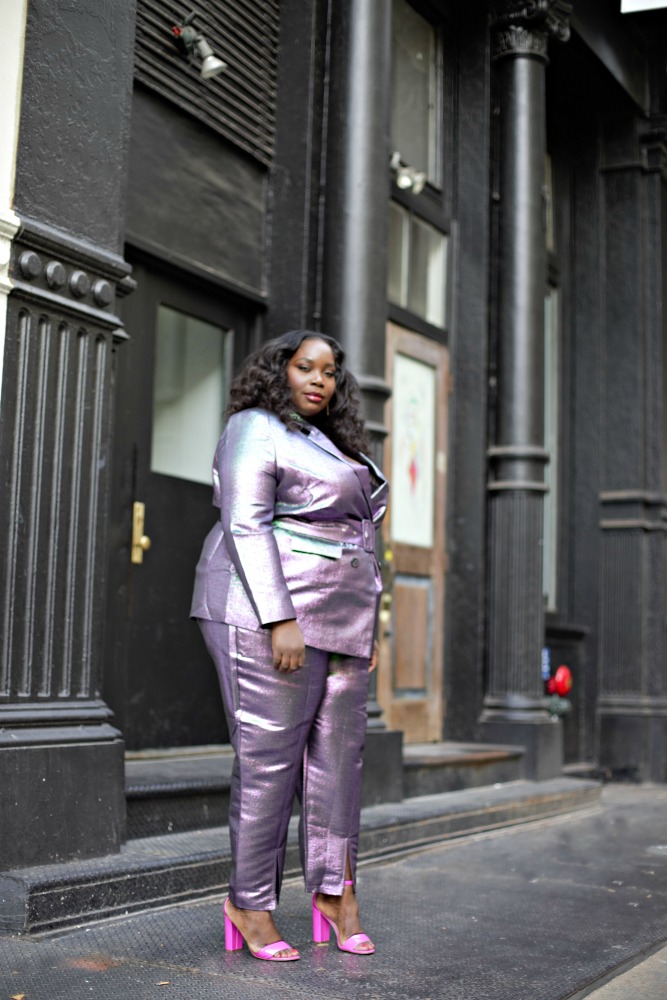 Where To Find Your Perfect Holiday Party Suit
It's never easy trying to find the perfect holiday outfit. That's why I'm team pant suit. You can mix and match and still be festive. Below is a roundup of some of the most gorgeous suits that will definitely have heads turning at your upcoming holiday parties.
---
1. Shut the party down in this red sequin belted plus size jacket and wide leg pant set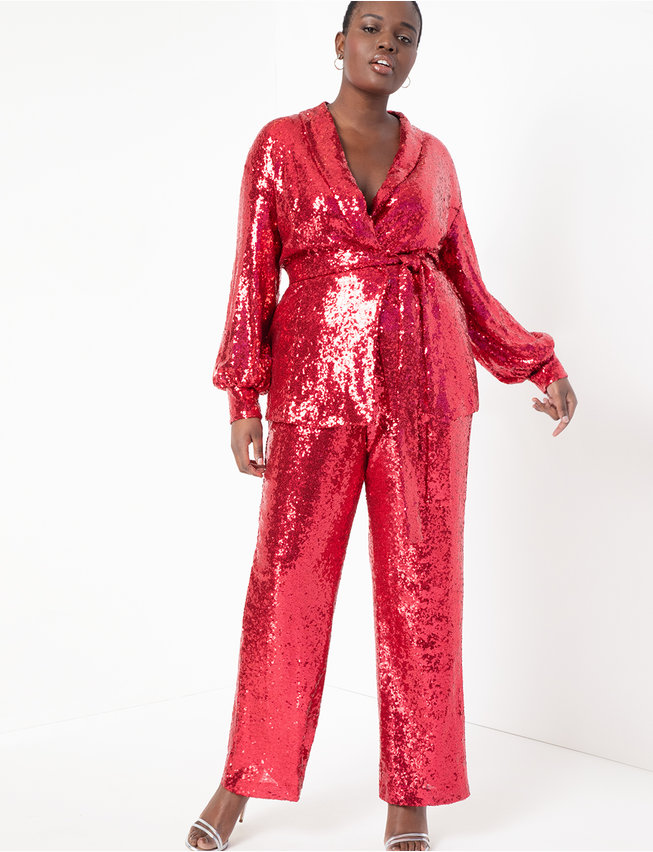 2. Plus Size Wide Leg Tuxedo Suit
3. If you're not into sequins, then try a velvet plus size pant suit. This robe blazer and flare leg pant make for a perfect match.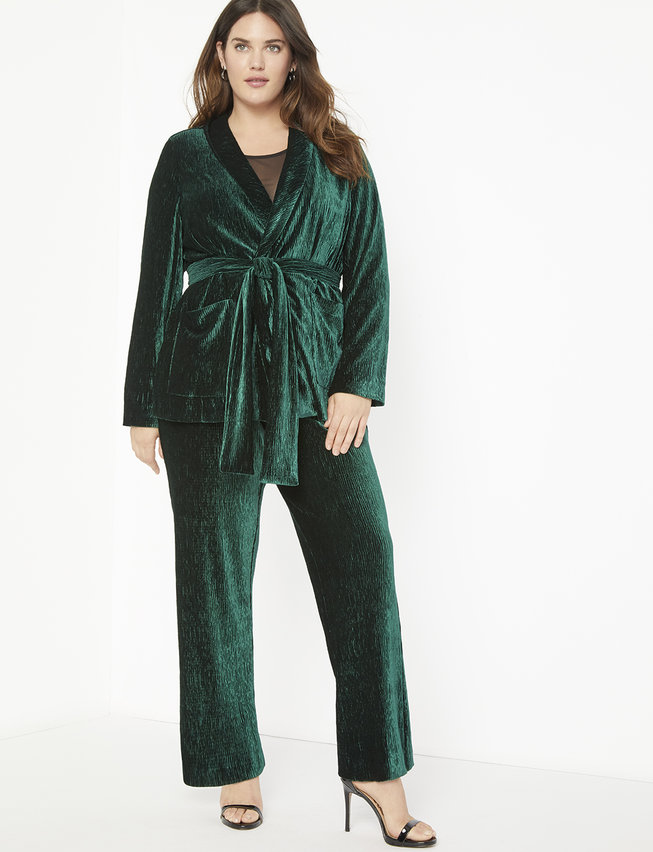 4. A satin pant suit is very feminine, smooth, and polished. This emerald Jacket and extreme flare leg pant set packs a lot of punch and most importantly, its affordable.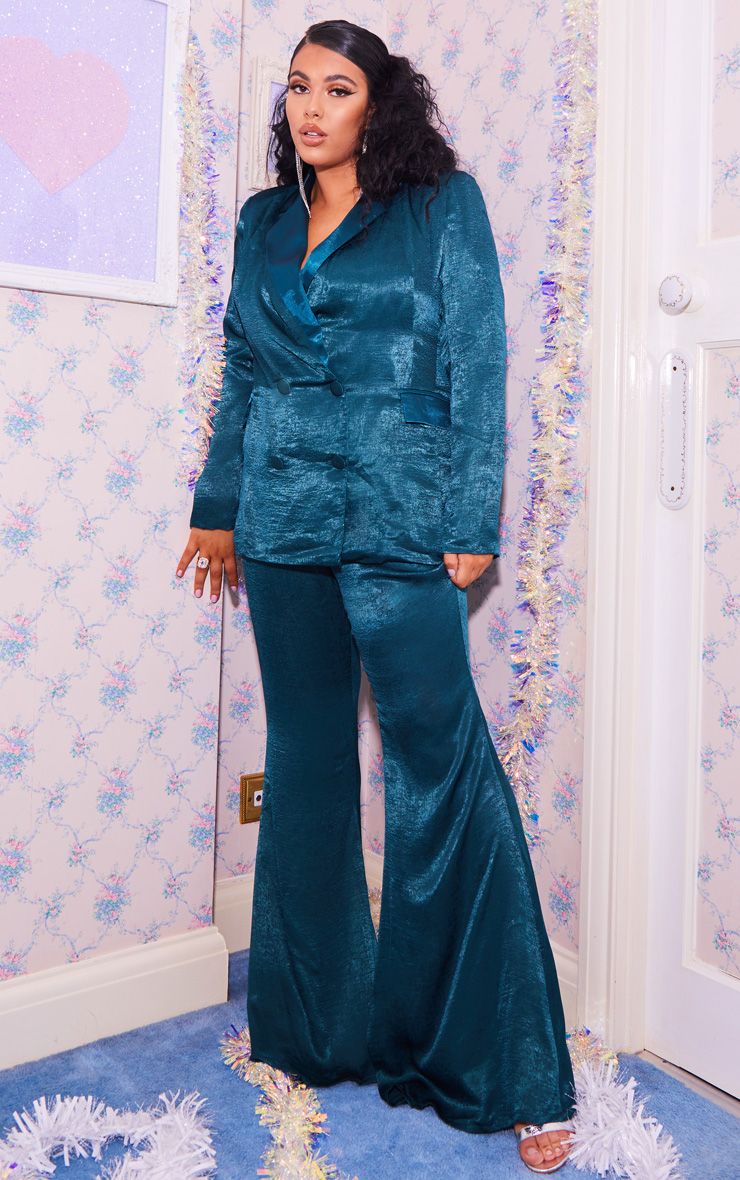 5. Two Tone Luxe Waterfall Blazer and Pant
6. Plus Size Brocade Jacket and Matching Pants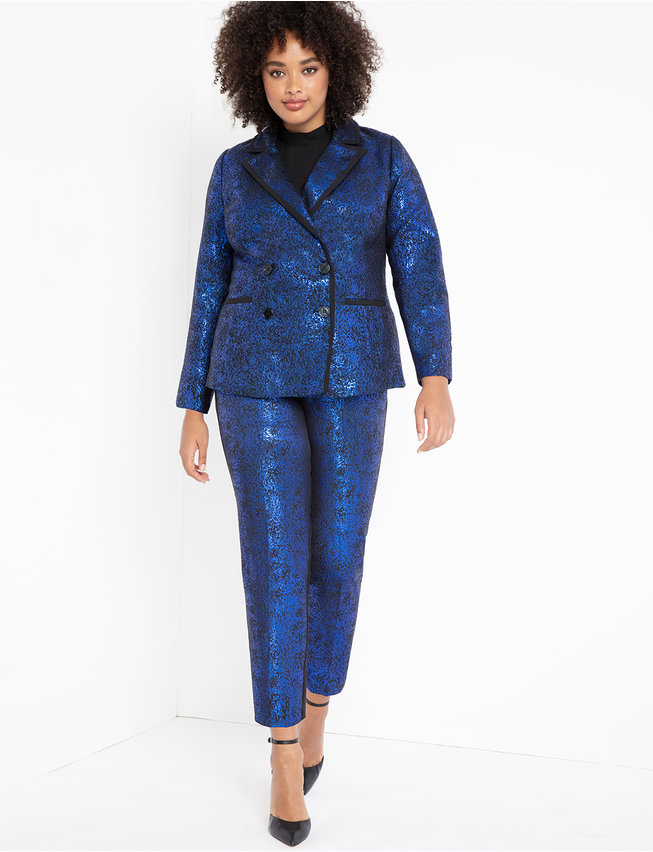 7. If you're style is sexy and trendy, then you'll love this satin suit that comes with a cropped blazer and wide leg pants.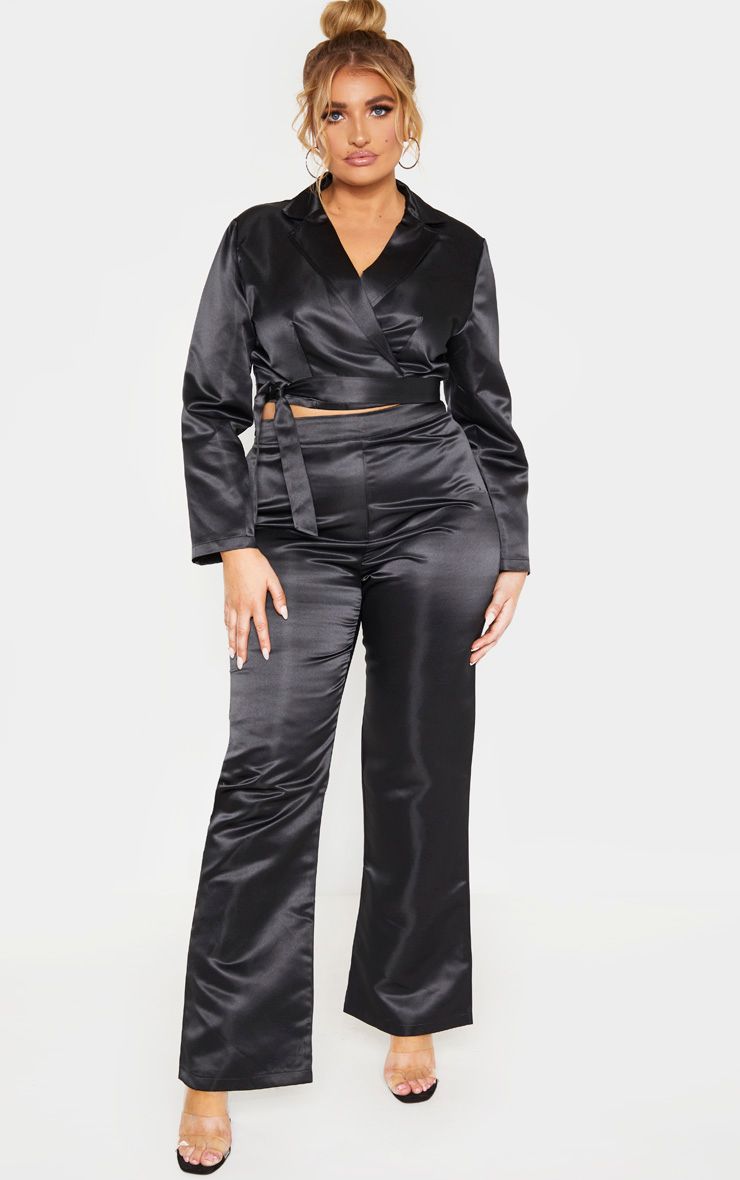 8. Universal Standard Bianca Velvet Blazer and Pants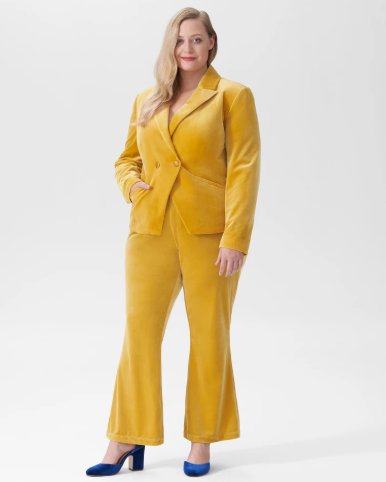 9. Have a little fun and opt for this tartan suit from Ralph Lauren Plus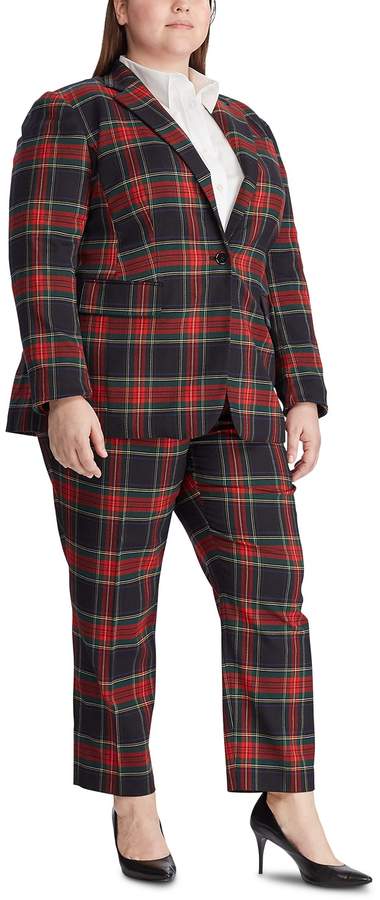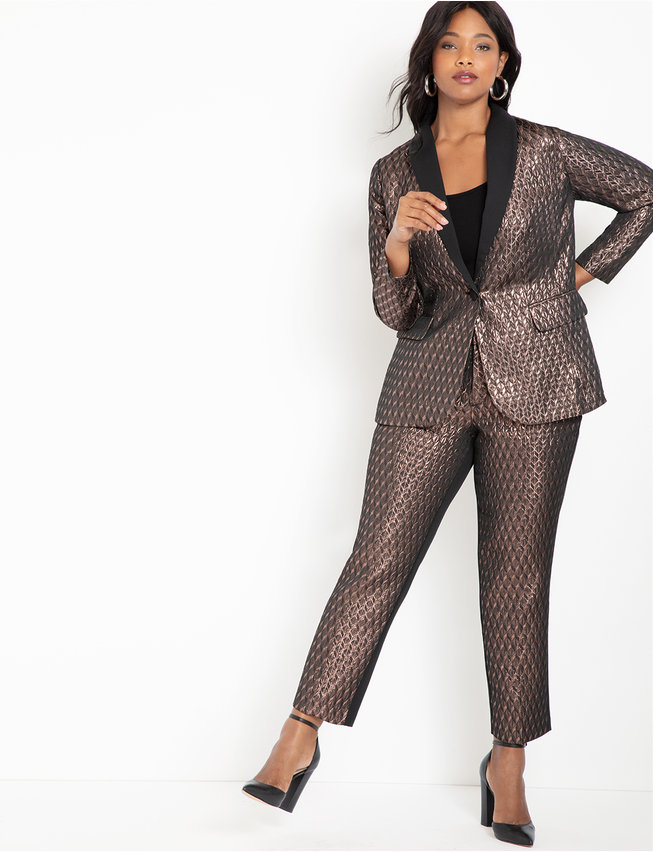 Which holiday suit do you see yourself rocking?
Outfit photo credit: Dadouchic