Are you looking for plus size cargo pants? We get it. Cargo pants have been one of the hottest trends since last year. Especially during the fall. Now, we are seeing their popularity transfer into the spring and summer. So, if you want to get in on the trend, we are sharing where to find the best plus size cargo pants for women.
And we are also sharing style tips on how to create a cute cargo pants outfit.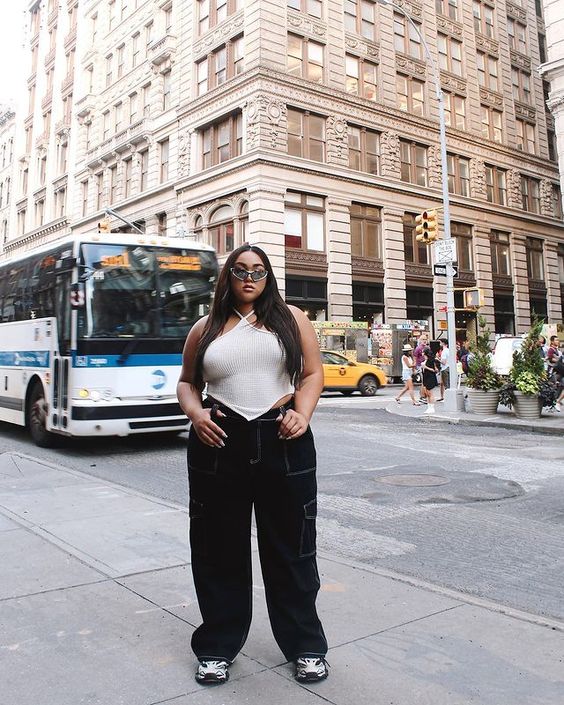 *This post contains affiliate links. All opinions are our own.
---
Back in the early 2000's cargo pants were a huge trend. I remember wanting a pair when I saw the Jenny From The Block video. Jennifer Lopez looked so fly to me in a pair of khaki colored cargo pants with a layered tank top and Manolo Blahnik Timberland boots.
After watching that video I knew I needed a pair. As much as I wanted cargo pants, the reality was the plus size options were not cute. So, at the time, I had to skip out on them. Fast forward to 2023 and cargo pants for plus size women are everywhere and come in just about every color.
One of the most popular colors for cargo pants are green. Green cargo pants are as classic as a pair of tan or beige cargo pants.
You can checkout more 2023 trends HERE.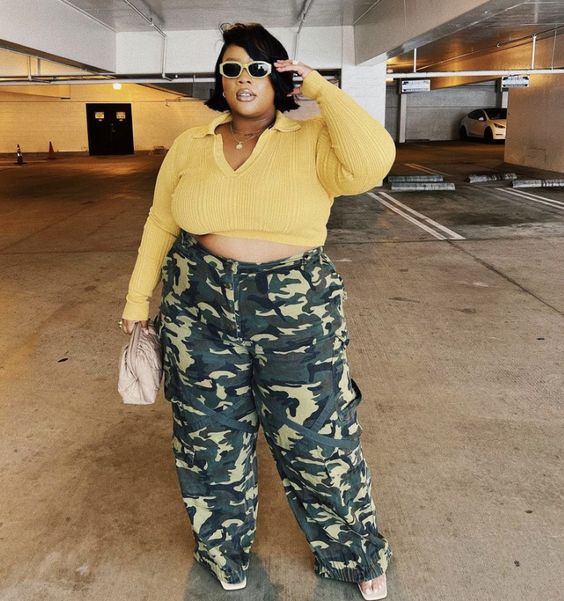 Thank God plus size fashion has gotten beter over the years. Now, I'm able to get my cargo pant on. The cool thing about this trend is that you can find a pair to work for a variety of style aesthetics.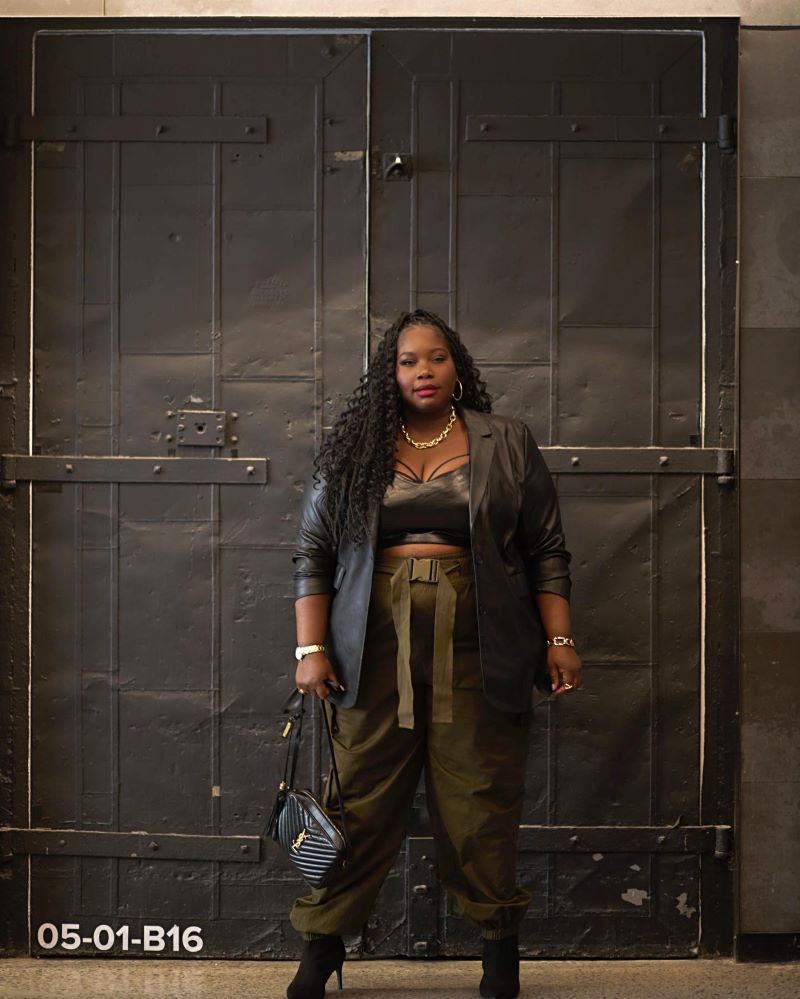 Whether your style is sexy, casual, sporty, or even dressy, there's a cargo pant out there for you. Which is why today we are showing you the some of the best cargo pants for plus size women. I promise they're cute.
Fit & Style Tips
We found a slew of different styles. If you're looking for cargo pants with pockets, checkout the pair we found at Pretty Little Thing. Are camo cargos more your style? Checkout the pair we found at Nasty Gal. All the styles are linked below. But first, let's get into some fit and style tips.
-If you are wondering how cargo pants are supposed to fit, know that you can rock them baggy, fitted, or relaxed. It depends on your personal style.
-As for styling cargo pants, I love that you can dress them up or down. Try a baggy or relaxed pair of plus size cargo pants with sneakers and a graphic tee. Especially if your style is casual.
-If you want to dress them up, you can go for a wide leg pair and wear them with a blazer and heels.
-Even a fitted pair of cargo pants will look good with flats, sneakers, or heels.
I also have a style video featuring a pair fo my favorite plus size cargo pants. Check it out after the cargo picks.
15 CARGO PANTS FOR PLUS SIZE WOMEN
Checkout some of the stylish plus size cargo pants we found.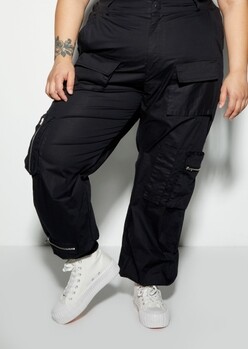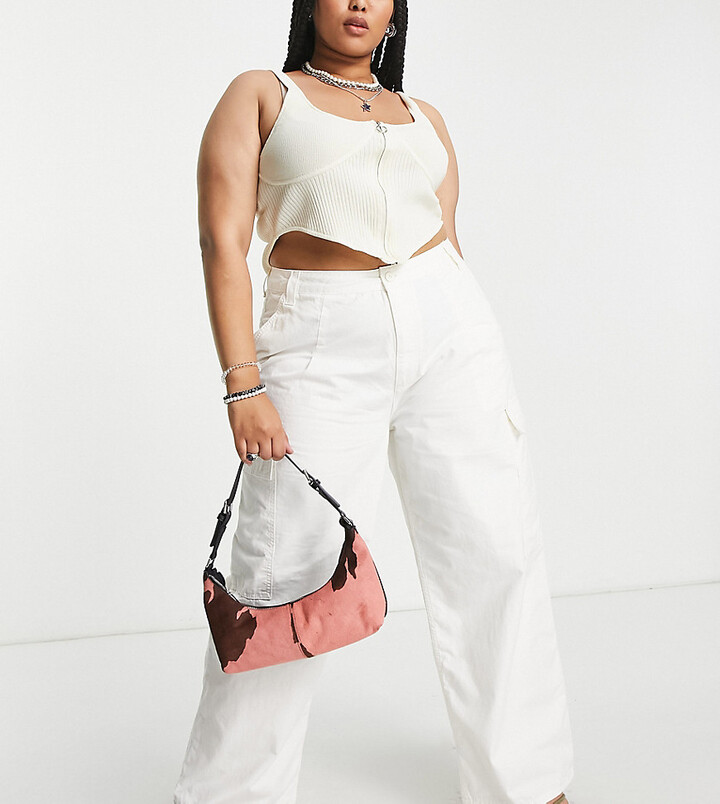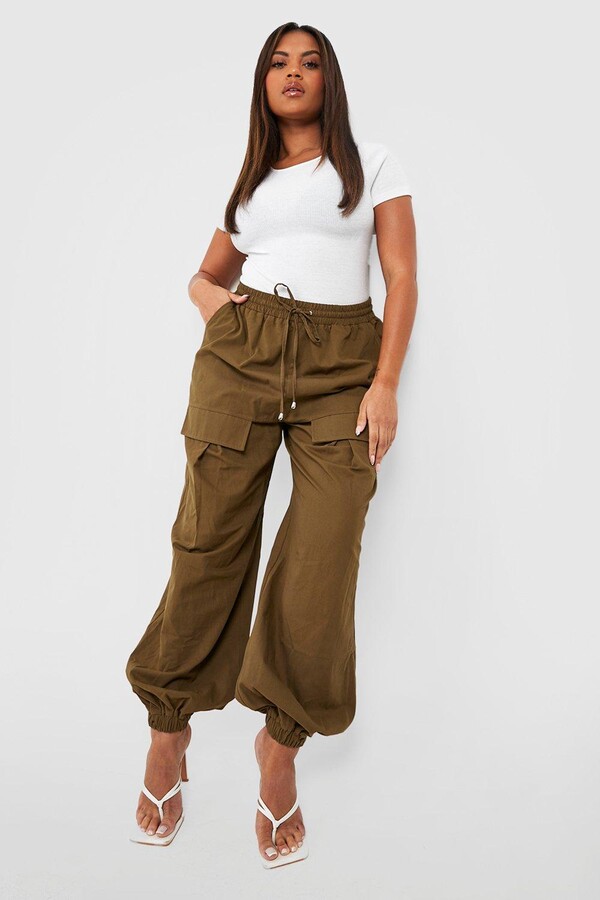 ---
Plus Size Cargo Pants Outfit Ideas
In addition to the cargo pants we featured, checkout these plus size cargo pants outfit ideas. As well as subscribe to the Stylish Curves Youtube Channel