Hey curvy girls all over the world,
When I was a young corporate professional, I never wanted my workwear to look boring. It was always my belief that I could look stylish, professional, and youthful simultaneously. Bland suits were never my thing. Mixing and matching separates was my forte. I treated getting dressed for work like the night before the first day of school. After my shower, I would browse through my closet and play around with different outfit combinations and lay my clothes out for the next day. Whenever I would read fashion magazines, I would look at the current trends and find ways to incorporate them into my work wardrobe. This made it easy for me to create some cute plus size work outfits.
There were times when it was a little tricky to do that. I've had quite a few fashion blunders at work where I looked completely inappropriate for the office. One time I went to work with a full leather ensemble. Every time I walked  around the office you could hear me coming. Another time, I went overboard on leopard print. In addition, I wore an over-sized leopard print dress that looked tacky and unprofessional. The good thing about fashion blunders is that you can learn from them. I've learned so much and want to share with you some of my personal tips and tricks on how to wear fall's hottest trends to the office.
This year there are a lot of trends that can easily be worn to work. Whether you work in a corporate environment or a more laid back office, I have 3 looks that will work for any office environment. The three trends I am focusing on today are the military trend, dark floral's, and the houndstooth trend. Checkout these plus size work outfits.
The Houndstooth Trend
Houndstooth is back and perfect to wear to the office. I have to keep it real and say houndstooth does have an old school vibe. However, there are ways to make it look modern and cute for work. A houndstooth blazer with modern details like leather trimming on the collar makes the trend fun. I found one at Lane Bryant. Pairing a houndstooth blazer with black skinny jeans makes the look youthful yet polished.  Since skinny jeans show of your shape, make sure you wear a blazer that is long enough to cover your booty. A blazer that hits just below or in the middle of your hip is perfect. To add a little flair try belting your blazers. It's chic and modern but you still look professional.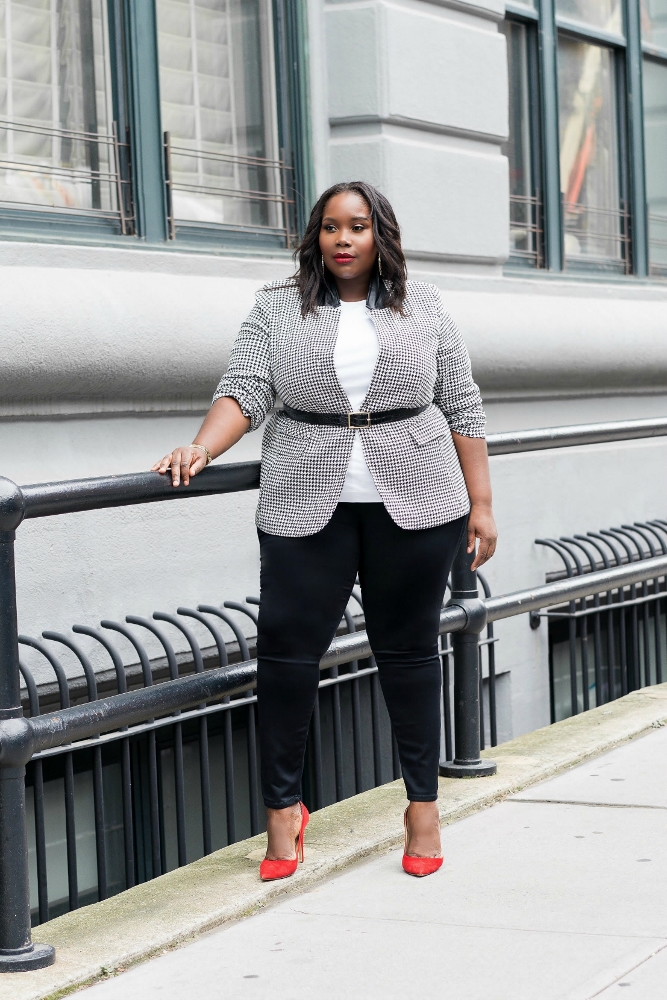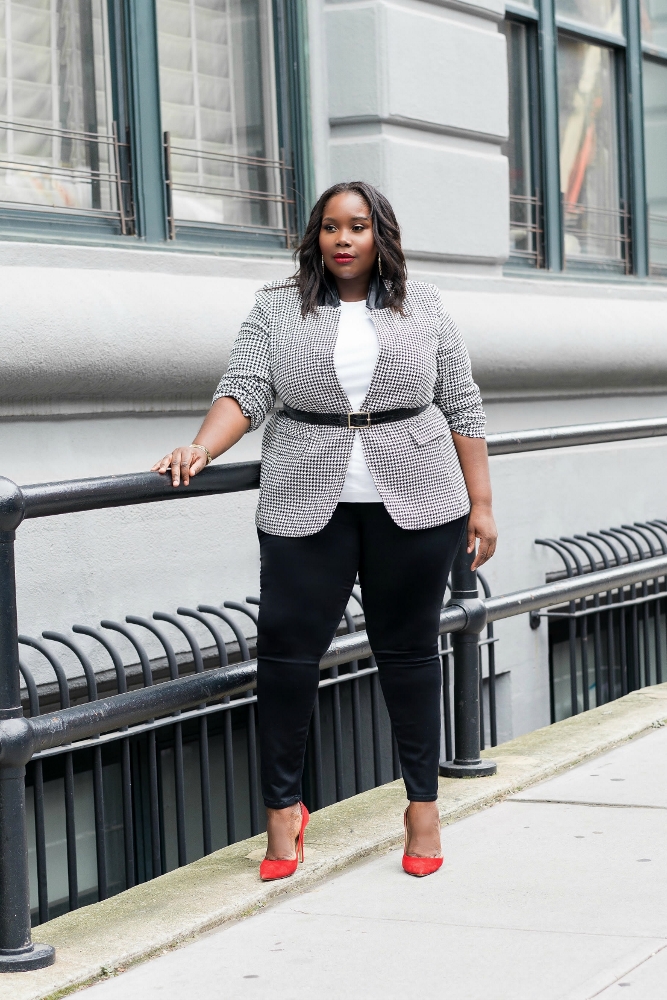 The Military Trend
The military trend is probably one of the hottest trends this fall season. Incorporating just one piece into your work wardrobe can take your look to the next level. There are a few ways you can incorporate the military trend into your work wardrobe. You can opt for a military style blazer, jacket, or skirt. I opted for a military button front duster from Lane Bryant.  When I spotted this on the LB site, I knew I had to have it. It is one of those pieces that can take you from work to weekend.
To make this trend an office worthy look, I teamed it up with a contrasting trim blouse from Lane Bryant. In addition, I wore the sweater vest with a pair of ankle length black trousers. I believe in adding interest to an outfit with shoes and accessories. To make this office look a little more interesting, I went with a classic pair of leopard print pumps and camel colored tote. For the weekend, I could rock this vest with a t-shirt, jeans, and sneakers or flats.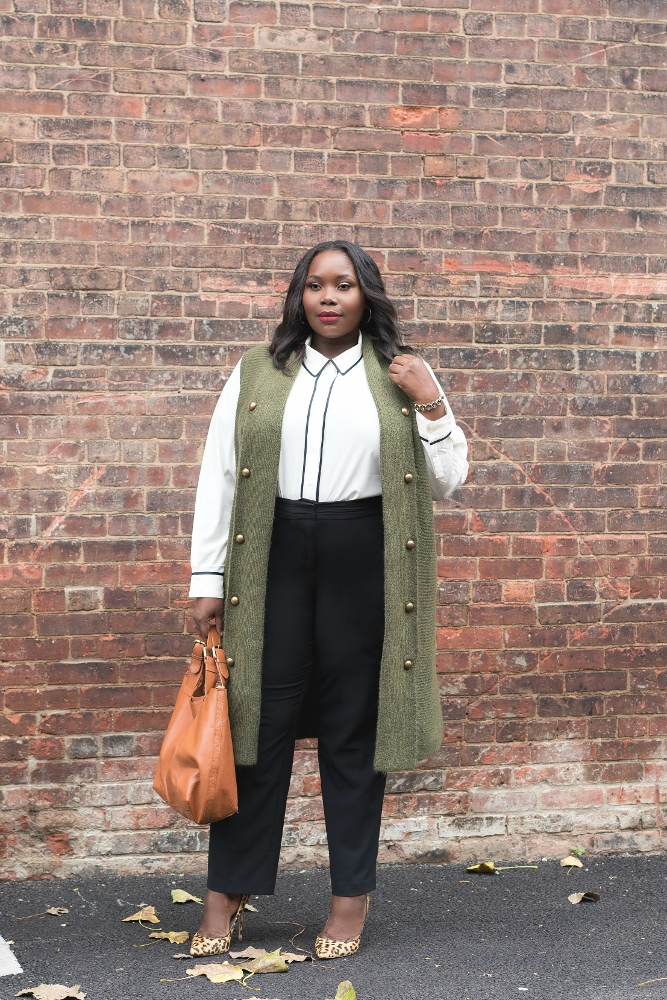 Military Vest, Contrast Trim Blouse, Ankle Trousers
The Dark Floral's Trend
Thank goodness floral's aren't only reserved for the spring and summer. Dark floral's have been a strong trend for the past couple of years. To incorporate the dark floral's trend into my work look, I kept it cute and simple. Lane Bryant had this pretty tie neck dark floral blouse that was right on trend. For a true professional office look, I wore the blouse tucked into a simple black pencil skirt.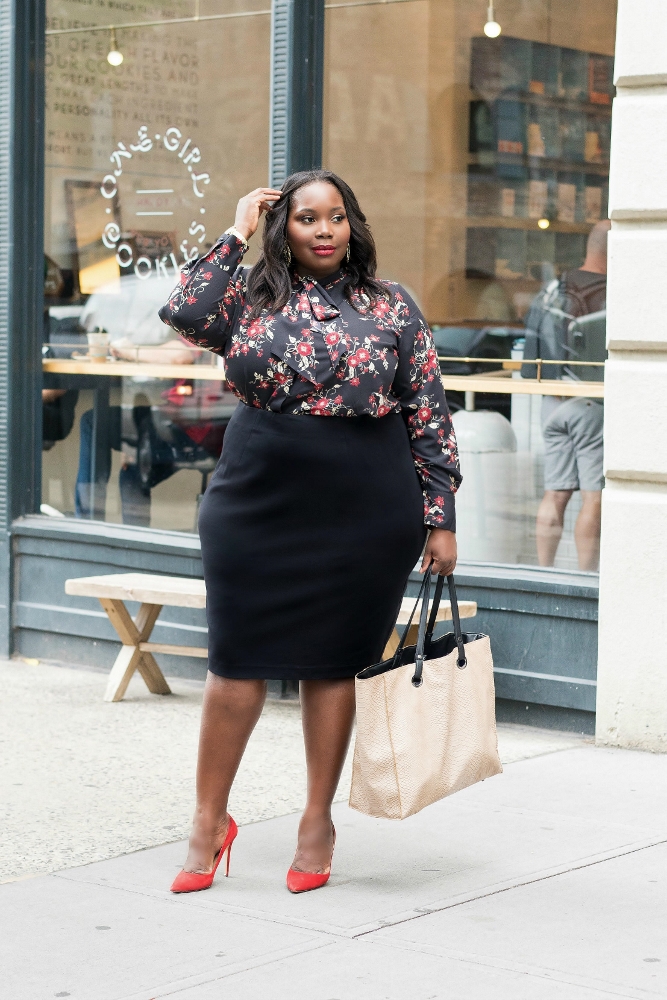 Lane Bryant Blouse, Pencil Skirt
Hopefully I helped make getting dressed for work this week a little easier. For more plus size work outfits checkout our Workwear Wednesday posts.
All photos by: Edelle Kenny
*This post was sponsored by Lane Bryant. All opinions are my own.