I'm quite sure by now you've heard about Lizzo and her cheeky (literally cheeky) outfit at the Lakers game. In an effort to defend and stand by her outfit choice and dance moves, Lizzo slams her critics. Although Lizzo is not the first celebrity to wear a risque outfit to a courtside game, she sure has the internet in an uproar over it.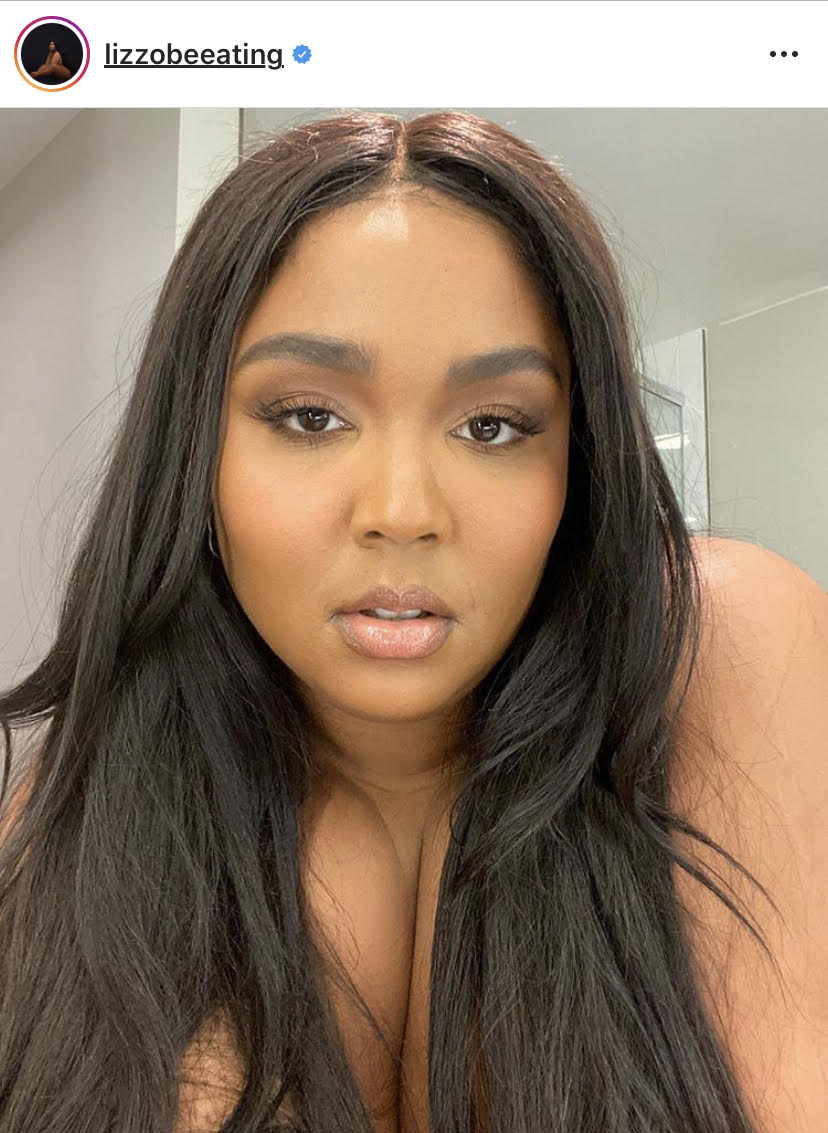 When it comes to the backlash over Lizzos Laker game outfit, I have to be honest and say my thoughts and feelings are all over the place. For the most part I am team Lizzo but I do understand where a few of her critics are coming from.
What Lizzo Wore To The Lakers & Minnesota Vikings Game
In case anyone has missed it, Lizzo wore an oversized t-shirt and a thong to the Lakers and Minnesota Vikings game. The back part of the t-shirt was cut out at the bottom and exposed her cheeks and thong. After the cheerleaders asked if they could play her song "Juice" and dance to it, Lizzo said yes and proceeded to turn around and twerk and dance along with the cheerleaders.
3/3 LIZZO NONONO IONWANNASEETHISSHITNOMO #youreeeeaaaady
🔥🔥🔥👨🏾‍🍳👨🏾‍🍳👨🏾‍🍳 pic.twitter.com/L6rDkK4B8Y

— ClydeTheBasedOne (@Theclydewebb) December 11, 2019
Here's What Lizzo's Supporters & Critics Had To Say
The video and photos went viral on the internet and everyone and their momma had an opinion about it. Although Lizzo received a lot of negative comments, the body positive movement came out and showed her love and support. In addition, her supporters called out the double standard and body shaming from critics.
If you weren't mad at Lady Gaga for wearing only her underwear to a baseball game then you need to shut the fuck up about Lizzo. Gaga looked fantastic and had a blast. Lizzo looked fantastic and had a blast. Both are awesome women. pic.twitter.com/v8sEyRCv17

— Katie Tuohy 🦇 (@katieroo_25) December 10, 2019
It is undeniable that all of this negative Lizzo commentary is laced in fatphobia. However, outside of that, the outfit is still ugly.

— 🌹VOTE LABOUR OR AM DIE 🦖🇩🇲🇯🇲 (@ChantayyJayy) December 10, 2019
Is Lizzo being extra obnoxious lately ? Maybe. Do the people tweeting about her beg to see Rihanna's bare titties on the daily ? MOST DEF.
Keep using ppls kids as a shield for your fat phobia/ rape culture, She's still topping charts 😊✨😙

— Kimiya deniseee (@Kimiya_denisee) December 10, 2019
People talking sh*t about Lizzo, trying to act like it's not about her weight, but that it was an inappropriate place to show her ass, meanwhile….#Lizzo #bodyshaming #Hypocrisy pic.twitter.com/ciYQ9ZAOSM

— Lindsie (@Lindsie_Rose) December 10, 2019
Lizzo Responds To Those Who Criticized Her Thong Outfit
Lizzo responded to all the negativity on Instagram live. She says that negative criticism has no control over her life. This has always been her and for anyone who doesn't like it, they can kiss her a$$. That's the juicy part of what she said but she did add some encouragement to her followers to always be themselves. Watch the Instagram video below to hear in detail her response.
After seeing what Lizzo wore and hearing the backlash, it reminded me of Nicki Minaj and how she was body shamed when she came out with "Anaconda" and wore a thong for the cover art. It seems that society doesn't deem big butts in a thong appropriate but somehow finds it appropriate on thin women with small booties.
I know many people keep saying their disdain for Lizzo's outfit has less to do with her size and more to do with the her wearing the outfit at an event with children. If that's true, then why have cheerleaders prance around and gyrate in the tiniest outfits during the game? If its about the kids.
As much as people are trying to omit Lizzo's size from this equation, you can't. If another celebrity wore the exact same thing, they would not have received the level of backlash she did. Lizzo is woman who is comfortable in her own skin. The problem is the world is not comfortable with seeing someone her size loving herself and her body in a way that is not considered flattering.
Now, here's what I can understand Lizzo's critics on. She did wear a risque outfit. It is a shock to see any woman walking around in a thong that is not covered and sitting bare booty on a chair. I can't lie, I would be looking and thinking that a basketball game may not be the best place to wear that type of outfit. However, I wouldn't be tearing her down and body shaming her.
Let me know your thoughts on Lizzos Laker game outfit and the criticism she's received. Leave a comment below.