It can be a bit difficult creating stylish plus size winter outfits. So many of us think we have to sacrifice style for warmth. Over the years I found its best to dress the way you want and not put any restrictions on what's winter appropriate or not.
As we all know, the winter weather can be a little bit all over the place. There's warm winter days where the temps sit at 50 degrees and all you need is a cute moto jacket, a turtleneck, and a pair of boots. Depending on the state you live in, you may be able to get away with a sweater cardigan and call it a day. Especially if you live in California or Florida.
Plus Size Winter Outfit Ideas
This week I wanted to create a few looks for you guys to draw inspiration from for your winter outfits. Some of these looks are great for cold weather and for fall like temperatures. Let's checkout these plus size winter outfits and fall outfits. Just in case you're wondering, all the pieces featured in each look comes in plus sizes.
The Sweater Dress Plus Size Outfit
I'm a huge fan of sweater dresses for fall and winter. They're great for layering and perfect on their own. For this look, I wanted to create a semi dressy sweater dress outfit. I paired Nordstrom's BP. brand plus size sweater dress with a chocolate faux fur jacket, a coffee colored wide brim hat, and a pair of snakeskin over the knee boots. For accessories I added a pair of mocha colored leather gloves, and a beige leather crossbody bag.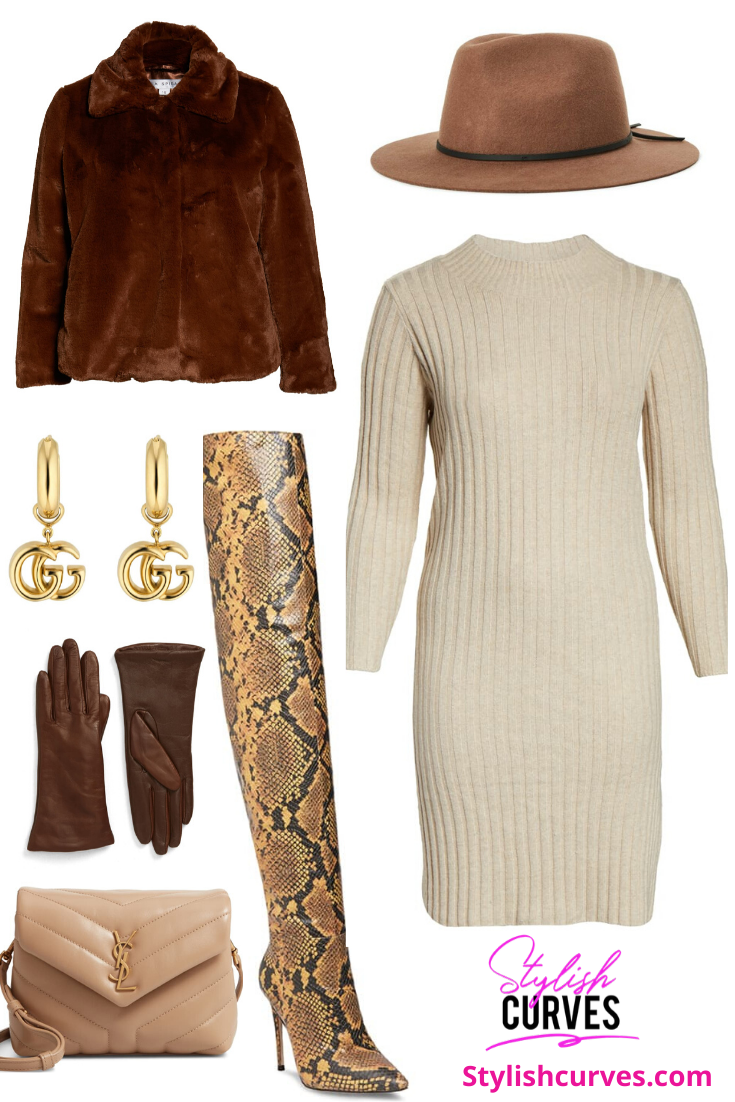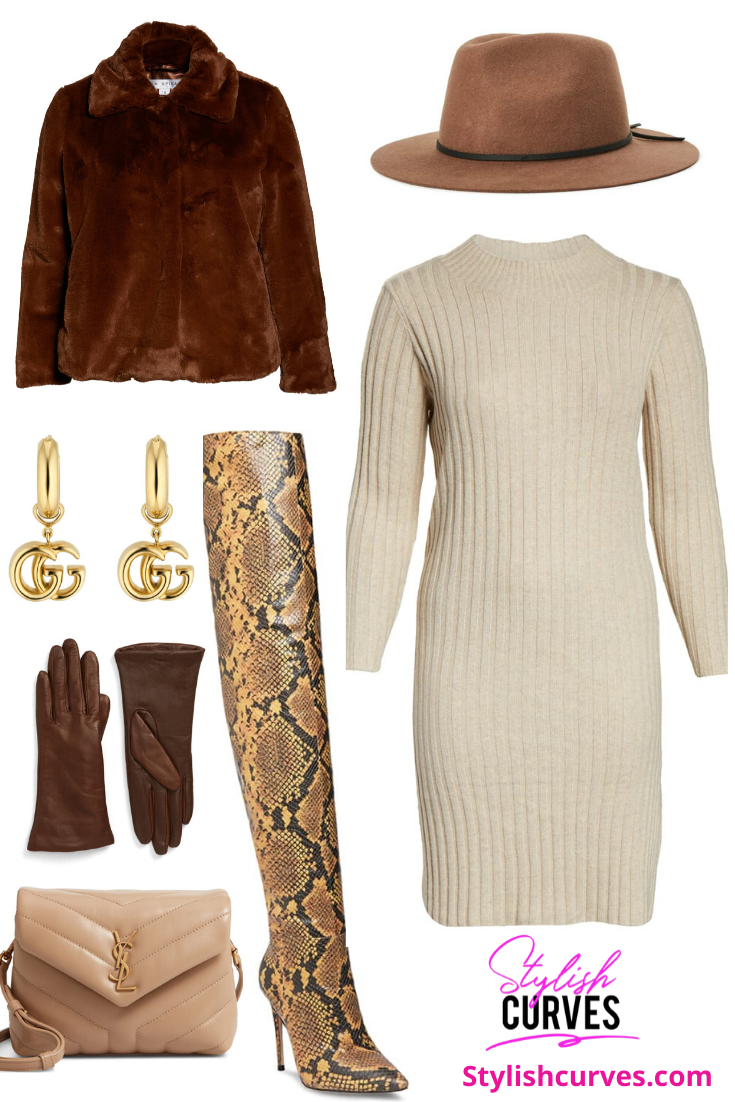 Shop the sweater dress look: Dress, Boots, Coat, bag, earrings
---
The Open Cardigan
This fall and winter season long open cardigans have been trending. One of the most popular styles is leopard print. Everyone and their mamma has been pining over the leopard print styles. For the next look, I paired a leopard print long open cardigan with jeans for a casual look. Pairing a statement piece with something classic and basic like a turtleneck and jeans makes for a polished and put together look.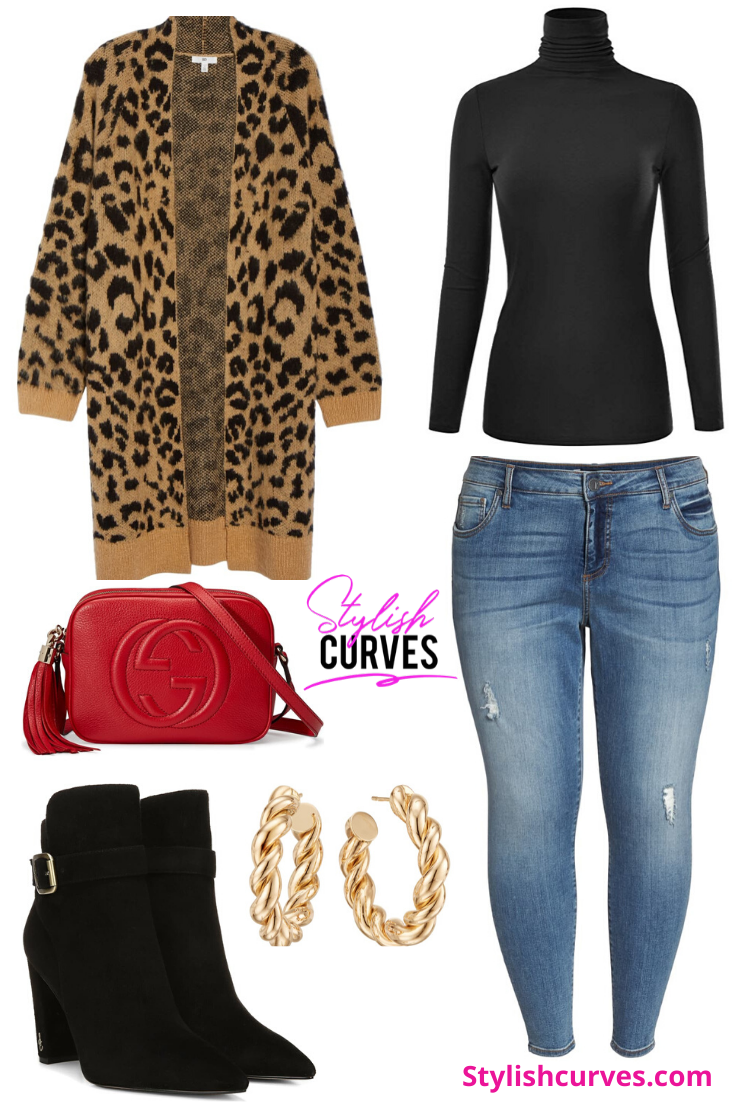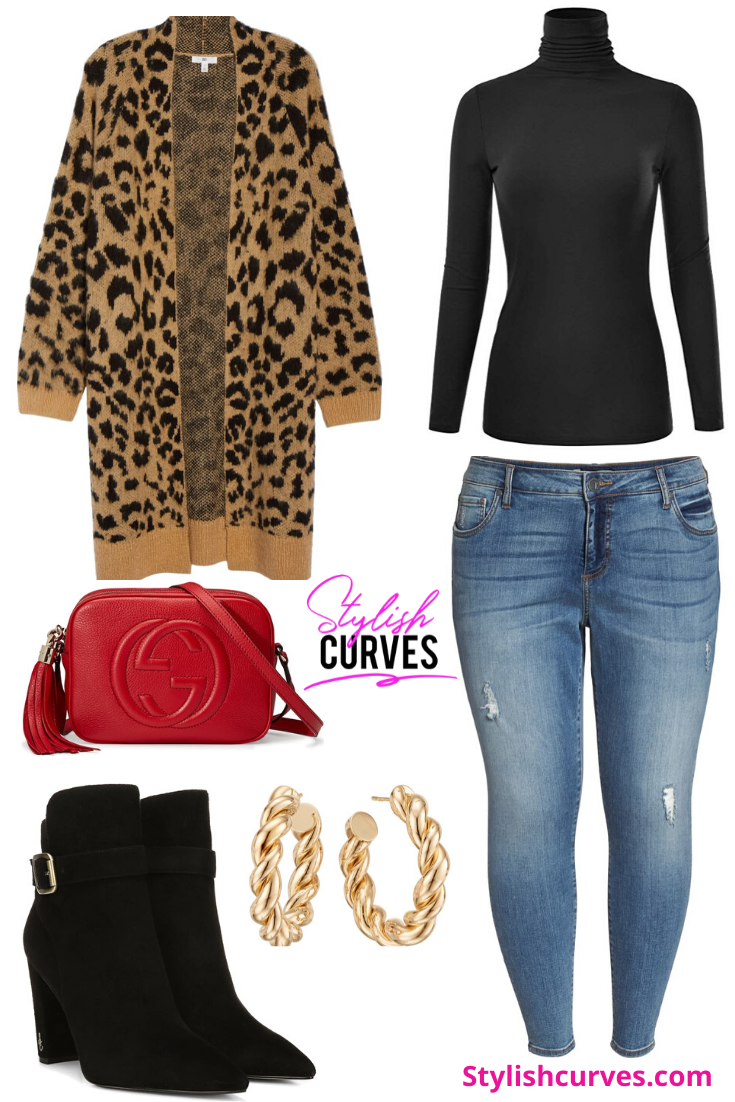 Shop this look: Cardigan, jeans, turtleneck, boots, bag, earrings
---
The Metallic Pleated Skirt
Along with the long open cardigan, pleated skirts are having a popular moment. Rock them with sweaters, tees, or a tank for an easy fall and winter plus size outfit. I found this blue metallic skirt. Its a refreshing color and fabric to pump up your cold weather looks. If you live somewhere that a moto jacket is all you need, then this look is for you.
Even if you live somewhere very cold you can throw on a heavier coat over the moto jacket and add tights to keep warm.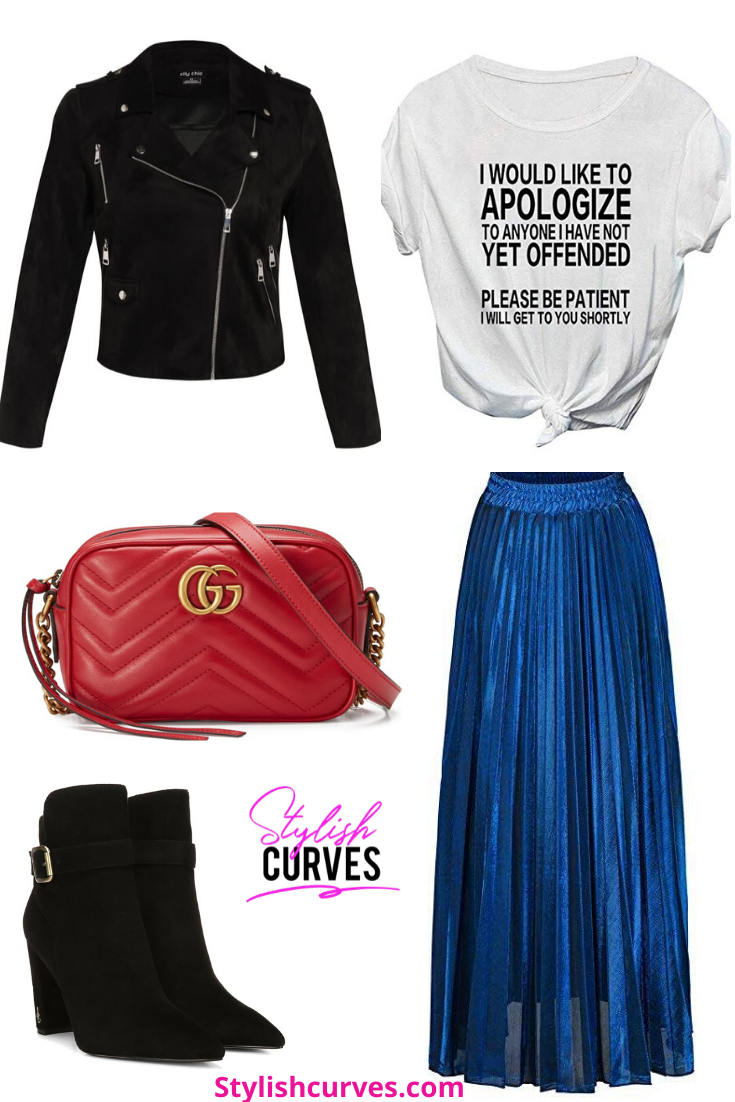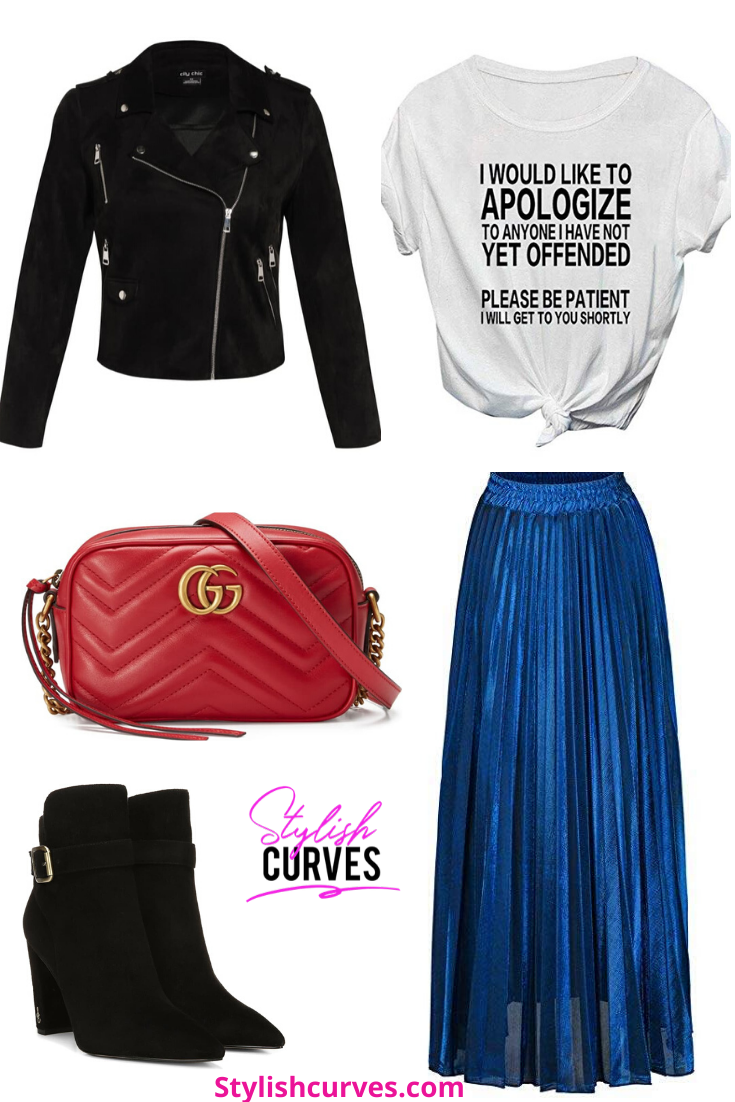 Get the look: Moto jacket, skirt, boots, bag, t-shirt
---
A Pink Plus Size Blazer For Winter
Don't be afraid to wear spring colors in the fall and winter. For the next look, I spied this pink plaid blazer from Tanya Taylor and thought it was so cute. It comes in plus sizes up to size 22. Why wait til the spring time to wear it? To make it cold weather friendly I teamed it up with a white turtleneck and jeans. Now, I know I added suede pumps but this would look equally as polished and chic with boots.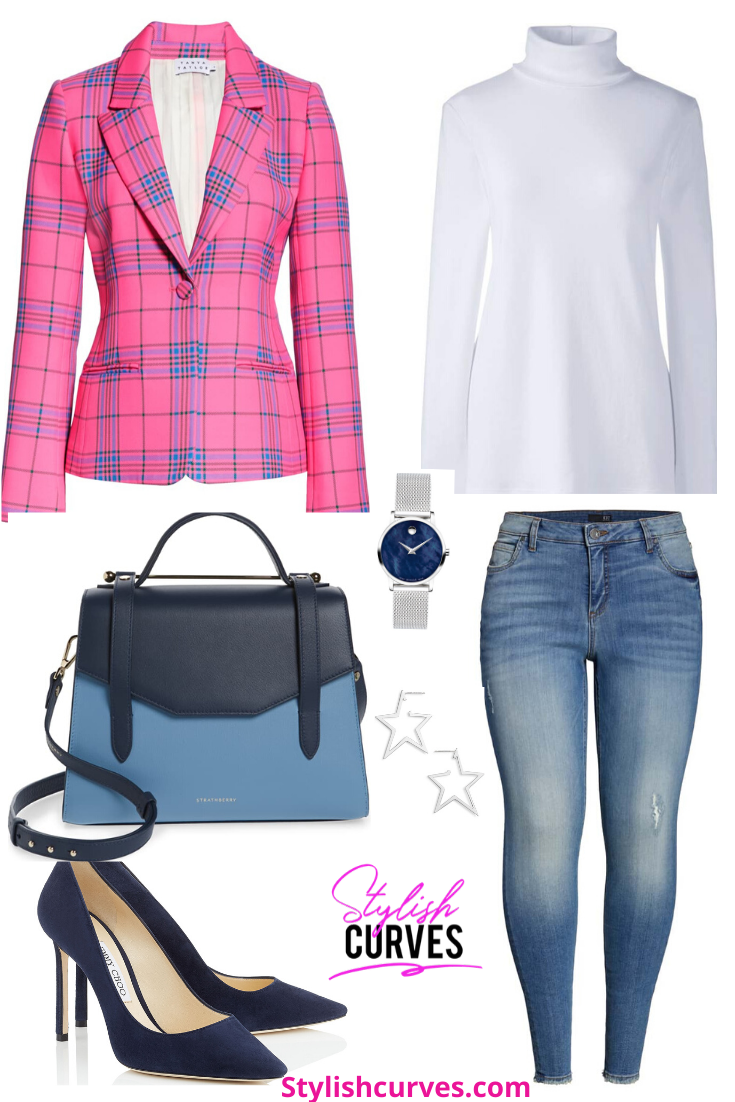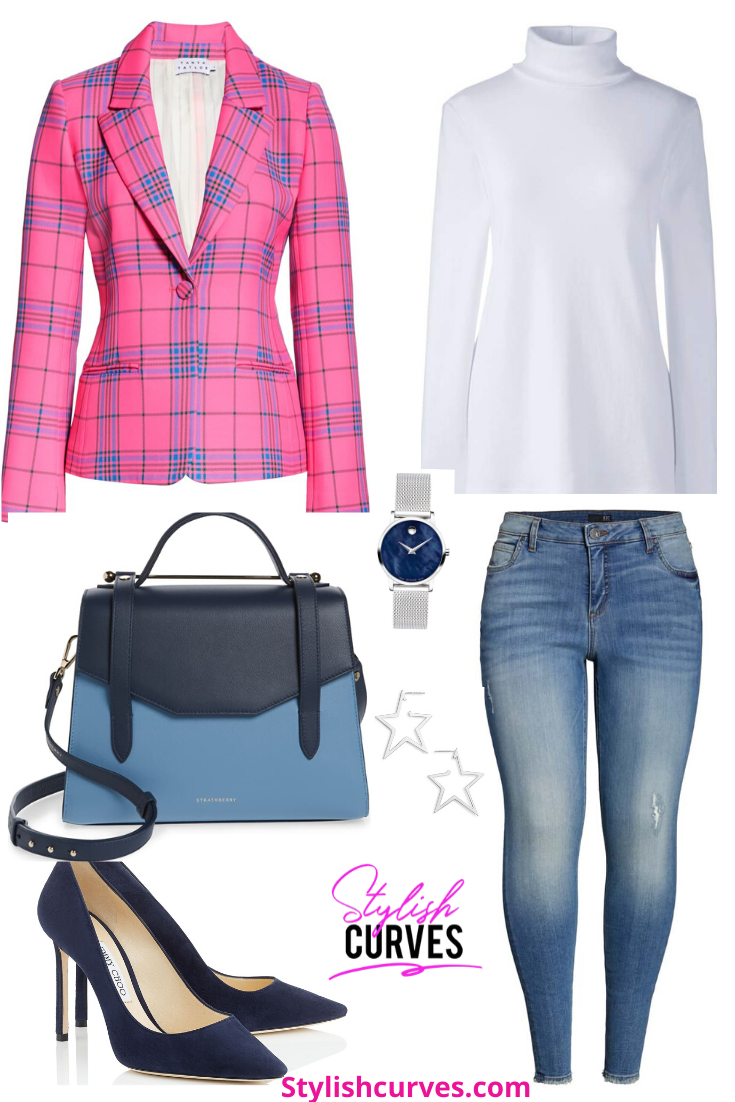 Shop this look: Blazer, turtleneck, jeans, pumps, bag, watch, earrings
---
A Satin Top & Faux Leather Leggings
One of the must have wardrobe essentials for fall and winter are faux leather leggings. They look great on their own or layered under a dress. Add tights under them and you'll definitely feel warm when the temps drop. In this last look, I found a puff sleeve satin wrap top from Leith plus sizes and teamed it up with black faux leather leggings for a chic and understated sexy look.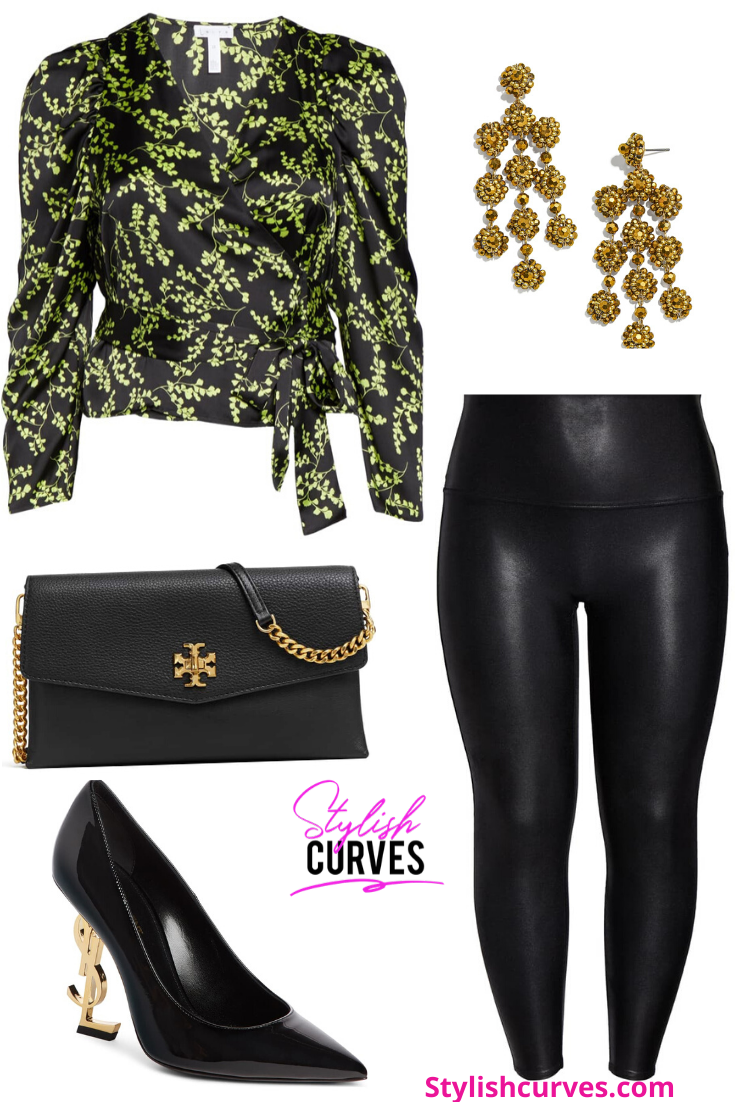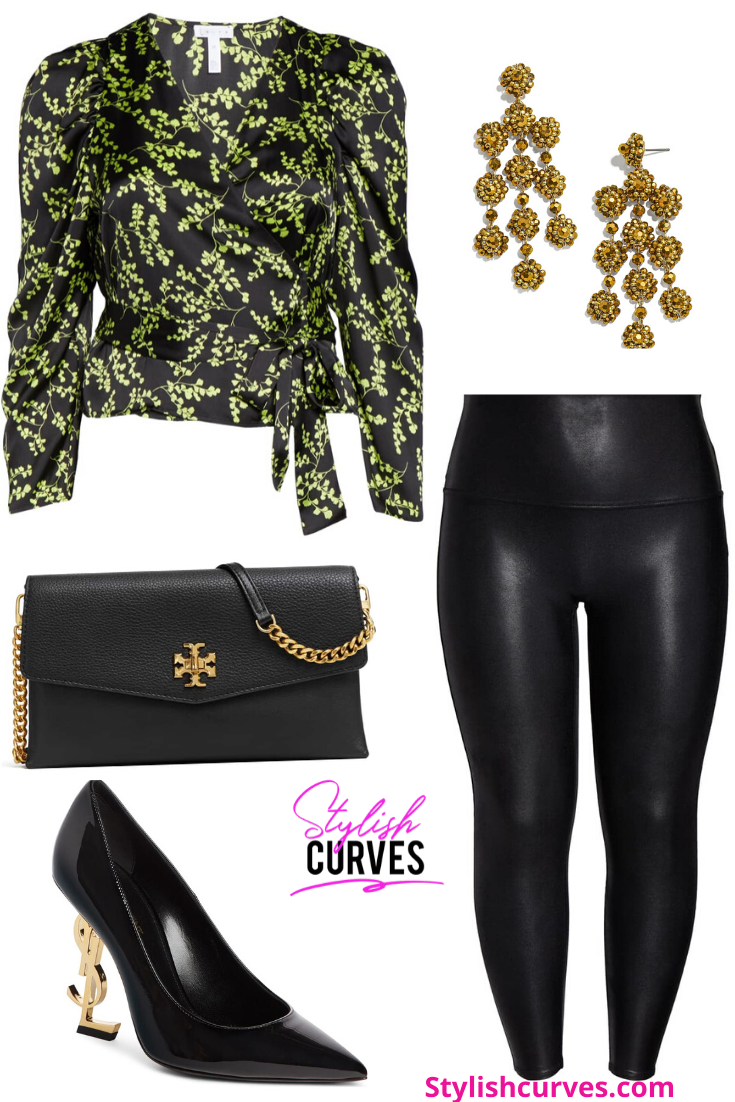 Get this look: Top, leggings, shoes, earrings, bag
---
We are going to be doing this outfit ideas weekly. Let me know which type of outfits would you like to see.