Hey curvy girls all over the world,
I get tons of questions about how to dress for your body type. Dressing for your shape takes patience and a lot of trying on clothes. Most people think they are limited when it comes to dressing for your body type but that's simply just not true. Identifying and understanding  your shape is about knowing what works for the largest and smallest parts of your body. Think of shape identification as a guideline to your best looks.
The most common shapes in women are apple, pear, hourglass, and a rectangle. There are other shapes and fruits that can be used to define your body type but lets just stick with the most common. Depending on your height and weight you can be a blend of two shapes. This is why trying on clothes when shopping is important. Most apple shaped women have large chests but there are some apple shaped women with small breasts and high waists which can blend in with the pear shape.
To help make shopping a little more fun and less strenuous I've decided to to do a mini shop your shape post . I've listed the most common characteristics of each of the most common shapes, your style goal, what to buy, and because I am a visual learner, I also added some notable celebs who have your shape in common.
*Key Point to Know: Once again, let me say that you can be a blend of two shapes so it's not always set in stone that your are 100% an apple shape or a pear shape but the goal is to get you to see what works for body based on the shape characteristics. Got it?!
Okay, lets go:
Apple
The most common characteristics of an apple shape are slim legs, large chest, and you carry most of your weight in your tummy and top half of your body.
Note: Some apple shapes are also referred to as diamond or oval shapes.
Style Goal- For most apple shapes creating or defining a waist is key. Since you carry most of your weight in your upper body it's important to try and create an illusion of an hourglass shape with your clothes. Show off your narrow hips and slim legs, while drawing attention away from your full tummy.
Below Rebel shows you how to work your apple shape in a fit an flare dress from Eloquii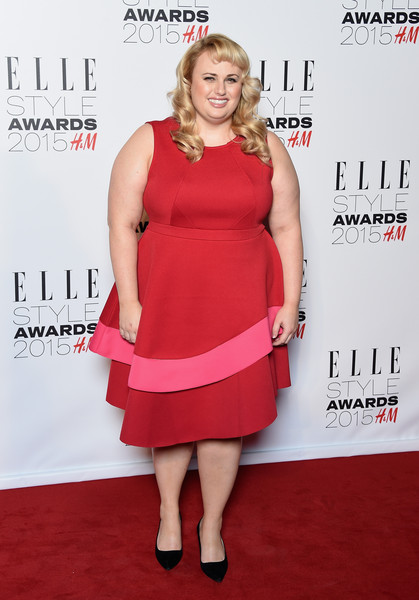 What to Buy– Pencil skirts that hit knee length and above the knee, skinny and straight leg jeans, wrap dresses, single breasted jackets that are hip length, ruching, printed bottoms, drop waist tops, A-line cuts, and v-necks.Since apple shapes have slim legs shorts work well for your body type. You also want to look for structured and tailored pieces.
Rebel went for a more streamlined look with a deep v neck and straight cut dress that doesn't cling to her stomach.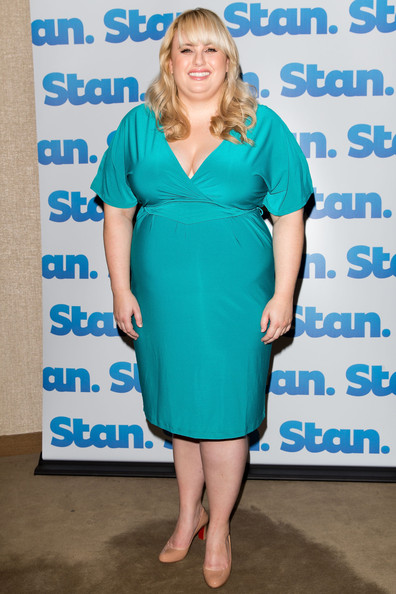 Shop these pieces for apple shapesItems L-R:

Dress

,

Pants

,

Skirt



Pear
The common characteristic of a pear shape is wide hips, thick thighs and legs, small defined waist, and narrow shoulders. Pear shapes are considered to be the most common on women today.Note: Some pear shapes can also look like they're bordering hourglass.
Style Goal– If you're a pear your focus is going to be on balancing out your upper body with your lower half. Often pear shapes have a hard time finding bottoms that fit their ample hips and small waist so a tailor should be on your speed dial.
 What to Buy– Printed & detailed  tops, Flat front pants, highwaisted, A-line cuts, long jackets and blazers,  bootcut jeans, belts will aid you in showcasing your small waist.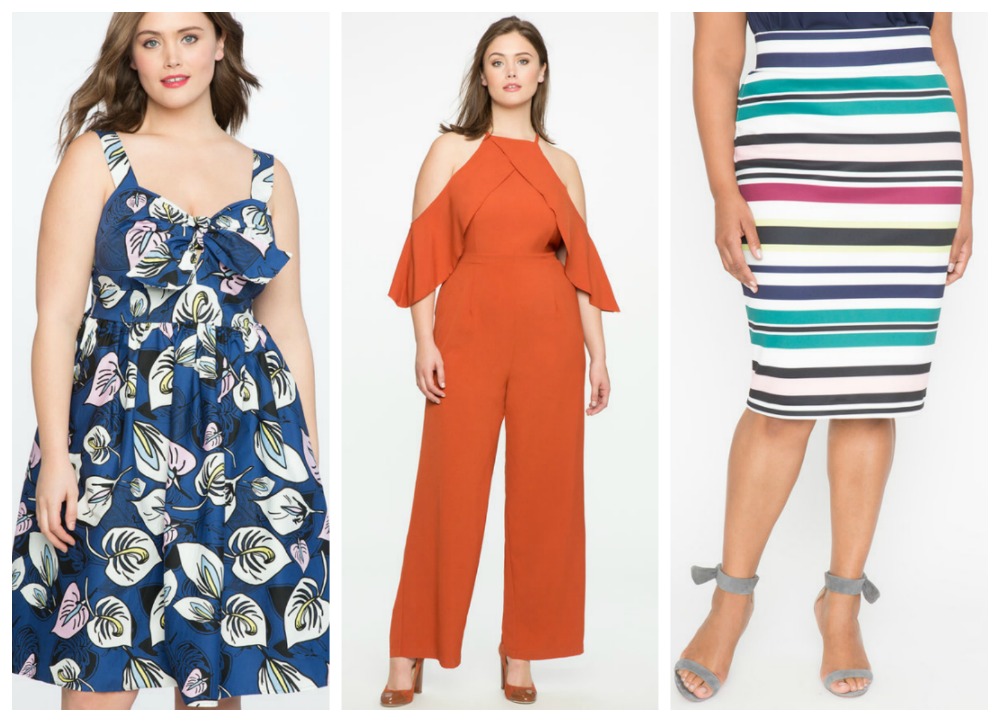 Celebrity's with your shape-Jennifer Lopez, Beyonce, Michelle Obama, Tyra Banks
Hourglass
This is probably the most coveted shaped of them all due to a well balanced proportionate body. Think Jessica Rabbit. Common characteristics of an hourglass are large chest, defined waist, and round full bottom. 
Style Goal-  Hourglass shapes much like the apple tend to have a large chest. Your goal is to find clothes that  fit and flatter your curves. Hourglass shapes also tend to look great in classic cuts and styles.
What to Buy– Hourglass figures can honestly wear just about everything under the sun with the exception of billowy loose tops and dresses. Your figure can get lost in it if you don't choose the right piece. Your best styles are classic silhouettes like a shift dress, pencil skirts, and peplum. Clothes should be more structured and on the tailored side.Items L-R:

Dress

,

Skirt

,

Jumpsuit
Celebrity's with your shape-Christina Hendricks, Salma Hayek, Scarlett Johanson
Rectangle
The main characteristics of a rectangle shape are an undefined waist, same size bust and hips. Women with rectangular shapes can look a little boxy and boyish.
 What to Buy-Since the rectangle shape is proportionate you can go for bold prints, ruffled tops, asymmetrical cuts like tulip skirts, tiered styles, heavy knits, peplum, and wide leg pants/jeans
Celebrity's with your shape– Whitney Thompson
Hopefully we helped you get a better understanding of your shape and how to dress it. Remember, these are just suggestions, you can always mix and match styles from each body type.