As we get ready to enter into the spring season, I think one look all plus size women should add to their wardrobe is a pair of plus size wide leg pants. Wide leg pants have the ability to make you look just as good as any skinny or straight leg pant would.
Every season designers create modern looks with wide leg pants. Believe it or not they can be one of the most flattering pairs of pants on any body shape.
**This post contains affiliate links.
Now, I know what you're probably thinking, as a plus size girl, can you really wear wide leg pants. The answer is ABSOLUTELY. Most women fear wide leg pants because they think its going to make them look bigger. With the right top and shoe pairing, wide leg pants can look fantastic on curvier figures.
I for one have dabbled with the 70's style quite a few times (see HERE). Finding the right pair of wide leg pants for my shape has taken a little trial and error. However, I have some easy universal tips for you to use in helping you find the right pair for your shape.
What To Look For
Length is important when wearing wide leg pants. The rule of thumb is that wide leg pants should hit past your ankle grazing the toe of your shoe. Floor grazing styles are even better. (in my opinion).
2. Find wide leg pants that fit the largest part of your body. If you're hippy make sure the pants are not pulling and gaping around your hips or near the crotch.
3. Try a wide leg jumpsuit with a belted waist for a universal flattering look.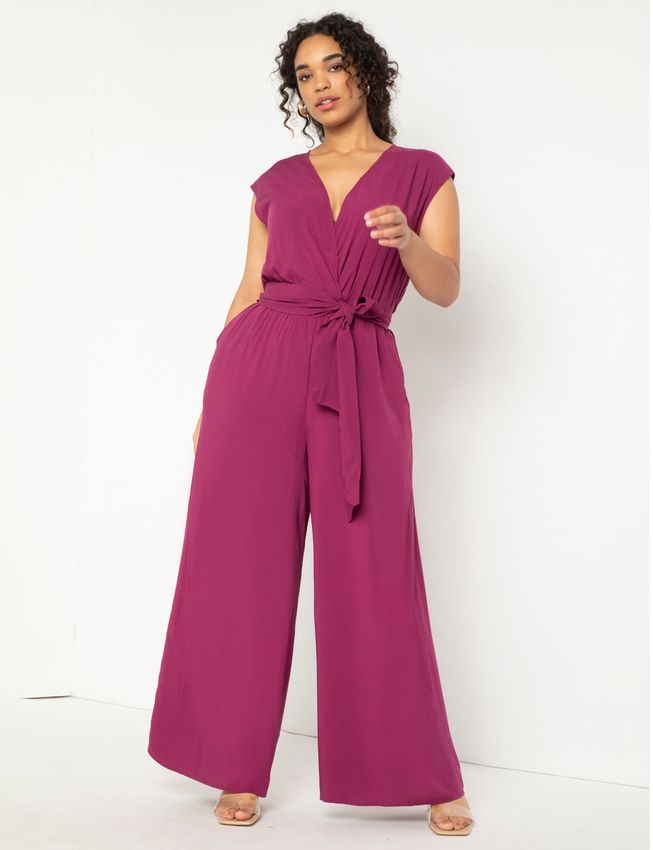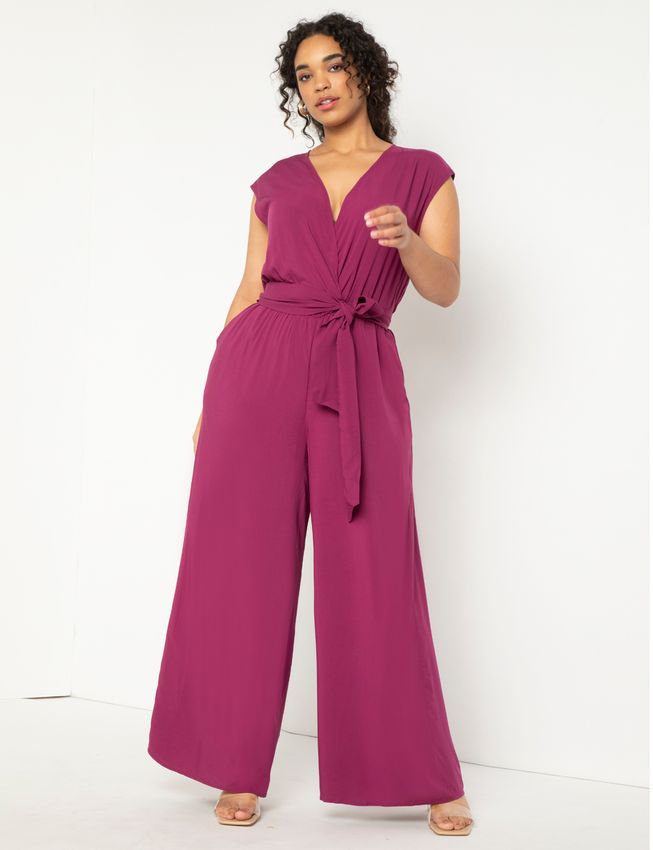 4. Plus size girls should look for thicker fabrics like jersey or a woven fabric.
5. Wide leg pants should neatly drape over your curves, so if you have to size up, that's okay. The goal is to get the best looking fit.
6. Since wide leg pants have a full relaxed cut, try wearing it with a fitted top or a sleek jacket. It creates a streamlined look and a fitted top balances out the full wide leg.
7. Go for a pair of wide leg pants that are high waisted. A high waisted pair of pants is flattering on a variety of body shapes.
---
Plus Size Outfit Ideas For Wide Leg Pants
Instead of writing you another list on what to wear them with, I thought I would share with you some fashion bloggers who have been down with the wide leg pant trend. There's nothing better than seeing trends on women you can relate to.
Rochelle from Beauticurve shows us how to wear wide leg pants to work. She chose a classic tie neck blouse in stripes for an office chic look.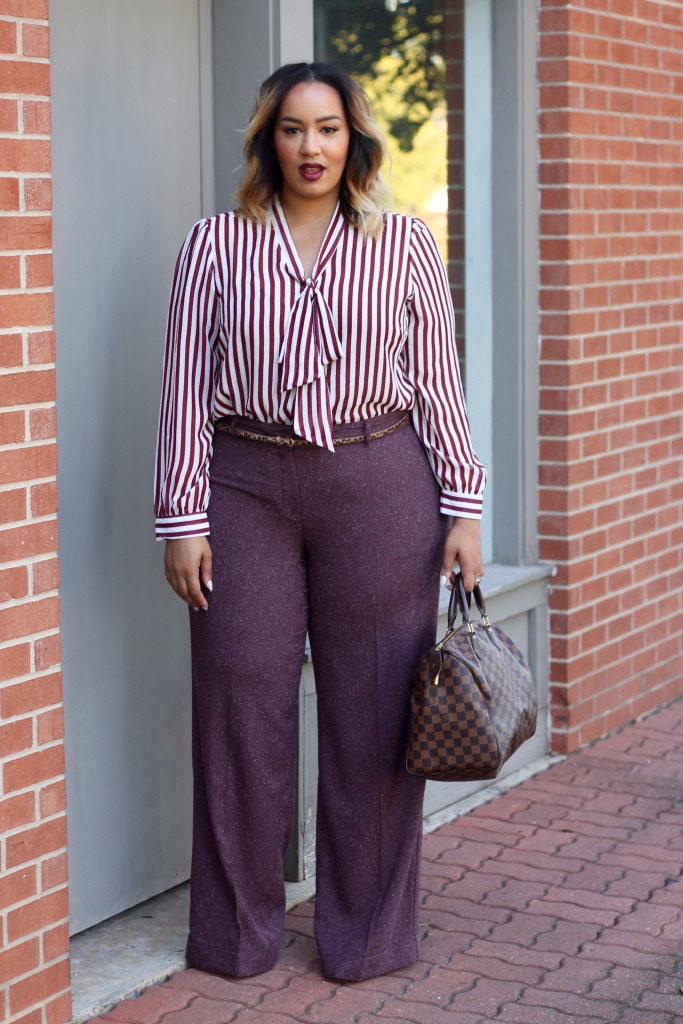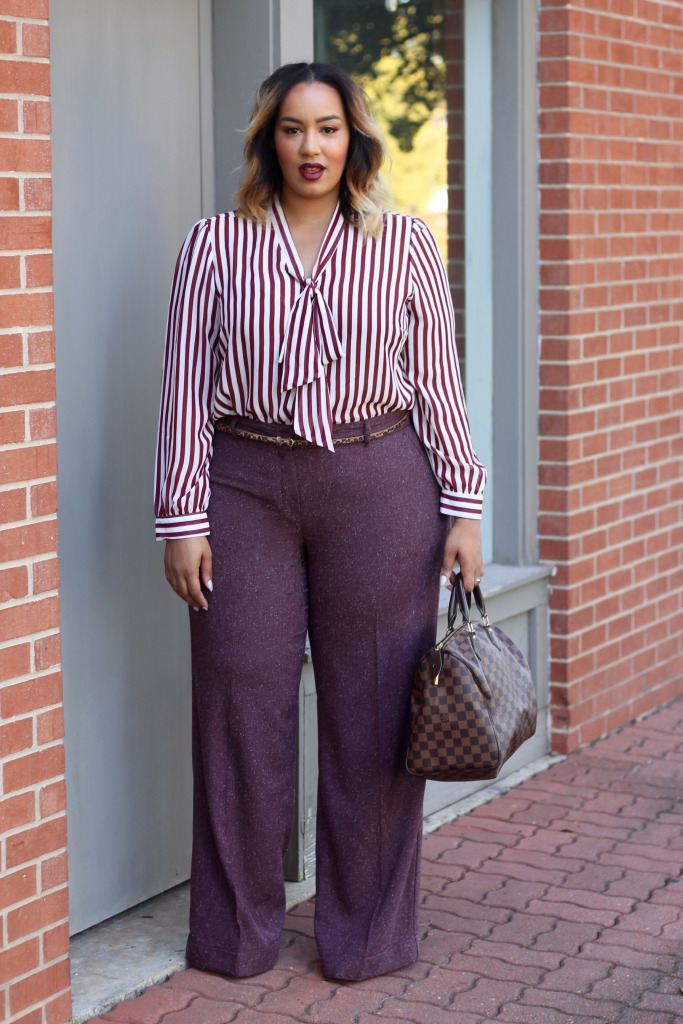 Jeniese from The Jenesaisquoi created a dashing wide leg pant look by pairing a yelllow pair of wide leg pants from Lane Bryant (sold out) with a white cape. This works because the cape skims over her and actually creates a nice balanced look.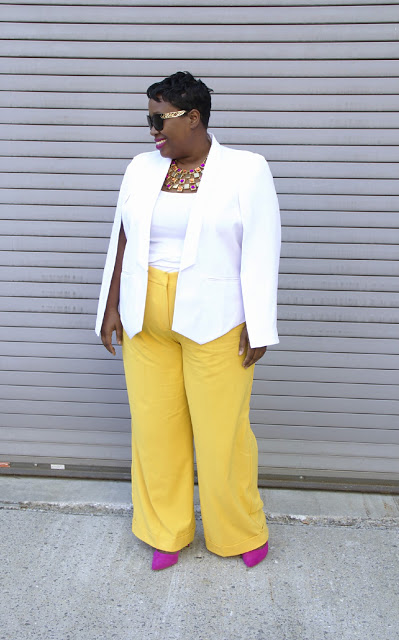 On The Q Train rocked a casual wide leg pant look by pairing her wide leg pants with a black crop top and platform heels.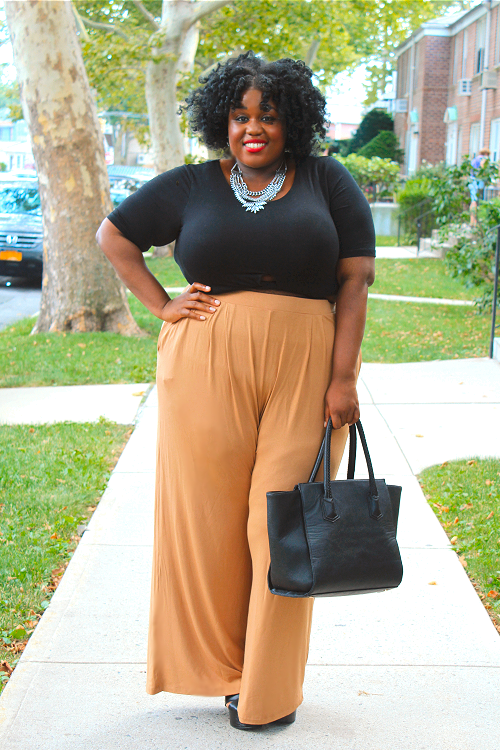 Georgette from Grown And Curvy Woman takes the same pair of yellow wide leg pants from Lane Bryant and paired it with a striped crop top, and a denim dress worn as a duster.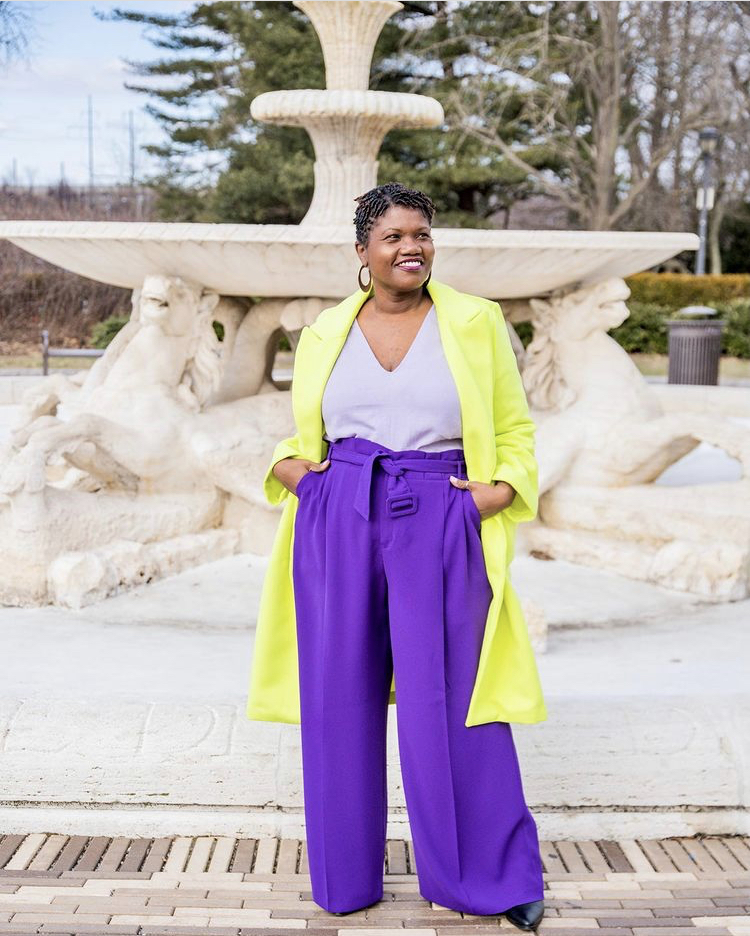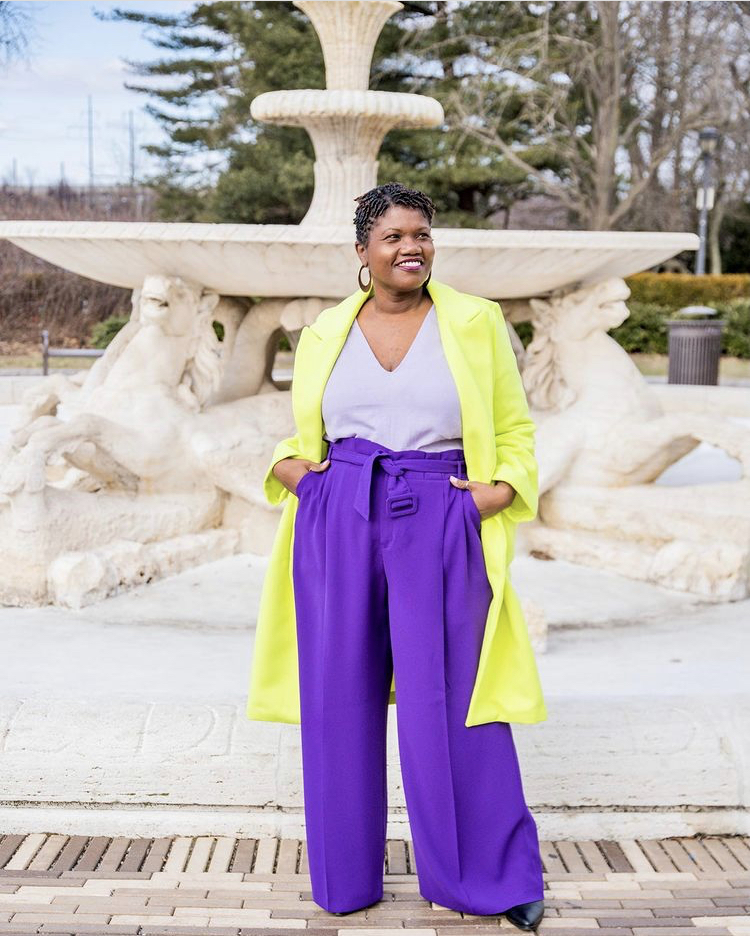 Also, here I am in a matching wide leg pant set. I loved how thes pants fit and made me look. The vertical striped helped to elongate my body.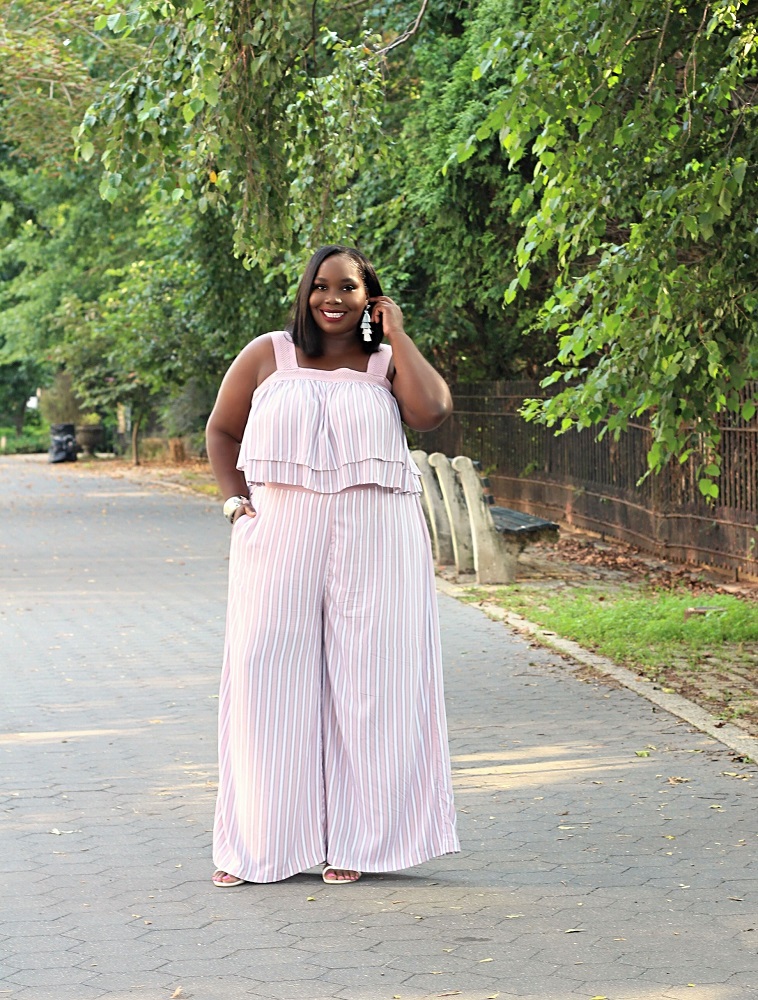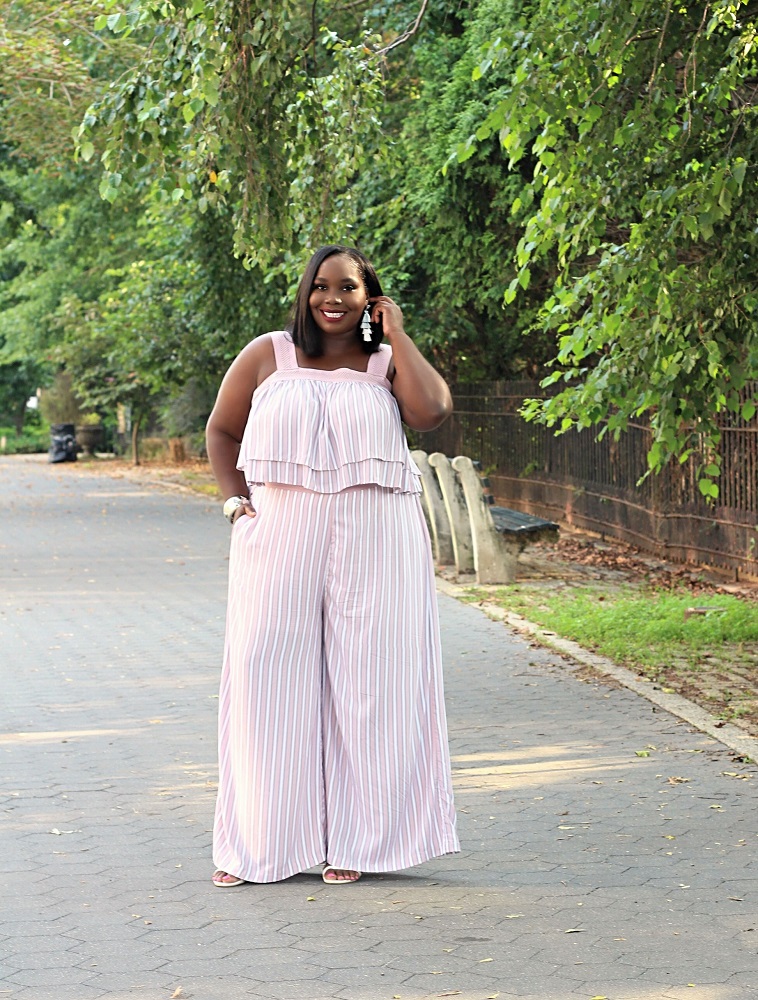 So, you have been equipped with fit tips and styling tips, now its time for you to try a pair of wide leg pants. I have found quite a few snazzy pairs. Check them out below.
Where To Shop For Wide Leg Pants in Plus Size
Will you be trying the wide leg pant trend?
**This post has been updated and was originally posted on October 26, 2015
Pin This