Hey curvy girls all over the world,
From tie neck blouses, flare leg jeans, and platform heels, 70's style has become a dominating trend this season. When it comes to the trend, we are seeing everything from suede to fringe. Fringe is having its own little takeover, especially with plus size brands. Fringe is on everything from jackets to handbags. I remember back in the mid 90's when fringe made a comeback, I had a leather fringe coat. I thought I was the most fabulous thing walking the halls of Jr. high school until my fringe started to shed and I would find pieces of it all over the place. That was definitely not cute. Due to the embarrassing shedding, I had sworn off fringe until now.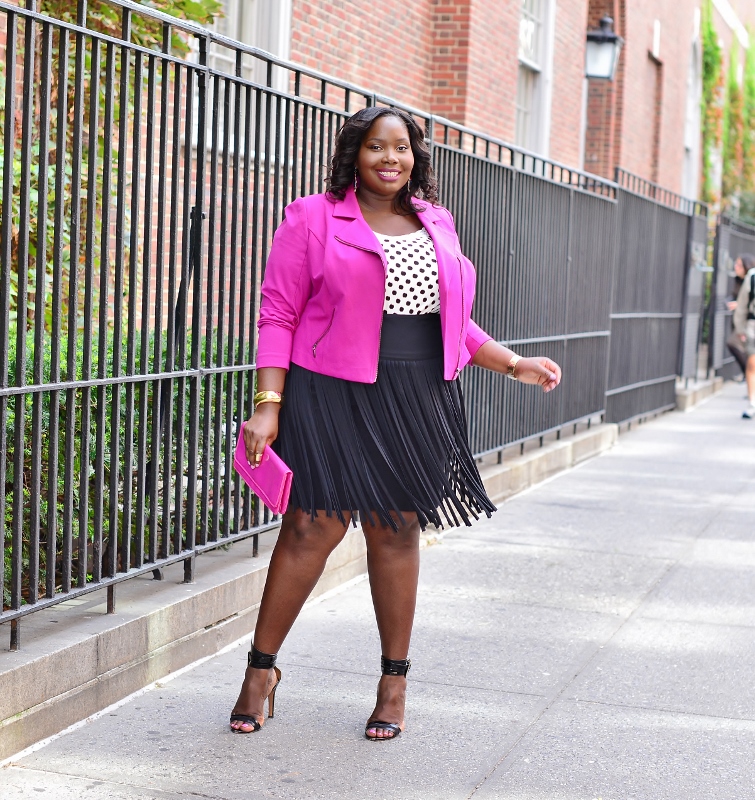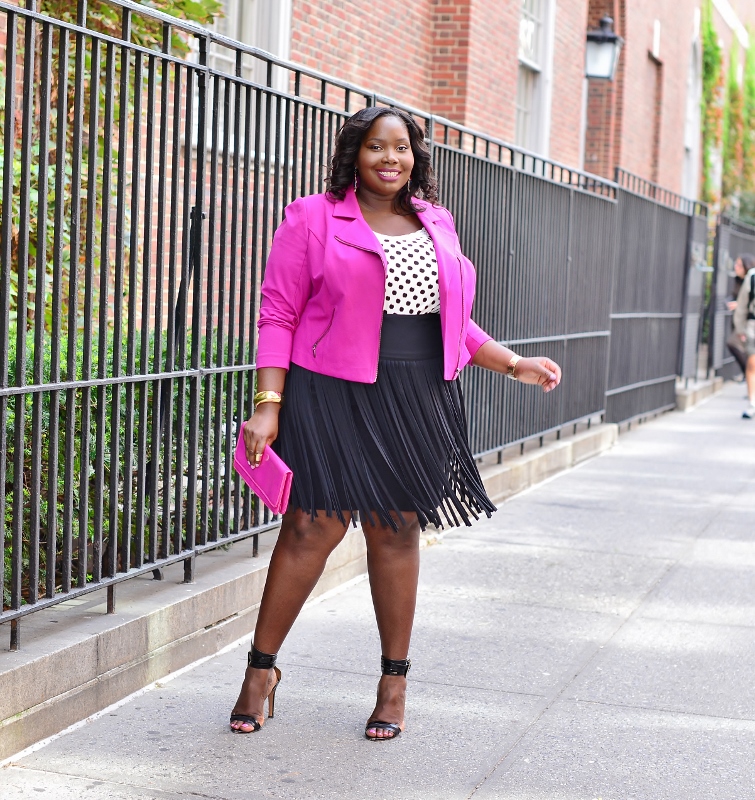 In August, I picked up the September issue of Redbook and saw a fellow blogger with a black fringe skirt. I immediately pulled the magazine closer to my face (because I wear bifocals) to see where it was from and to my surprise, that sucker was from Lane Bryant. I popped open my laptop and went to the Lane Bryant site only to see that the darn thing wasn't available yet. Fast forward to about 2 weeks later, I attended a private Lane Bryant event and they handed out their fall mailer, and guess what was in it? Yup, the fringe skirt.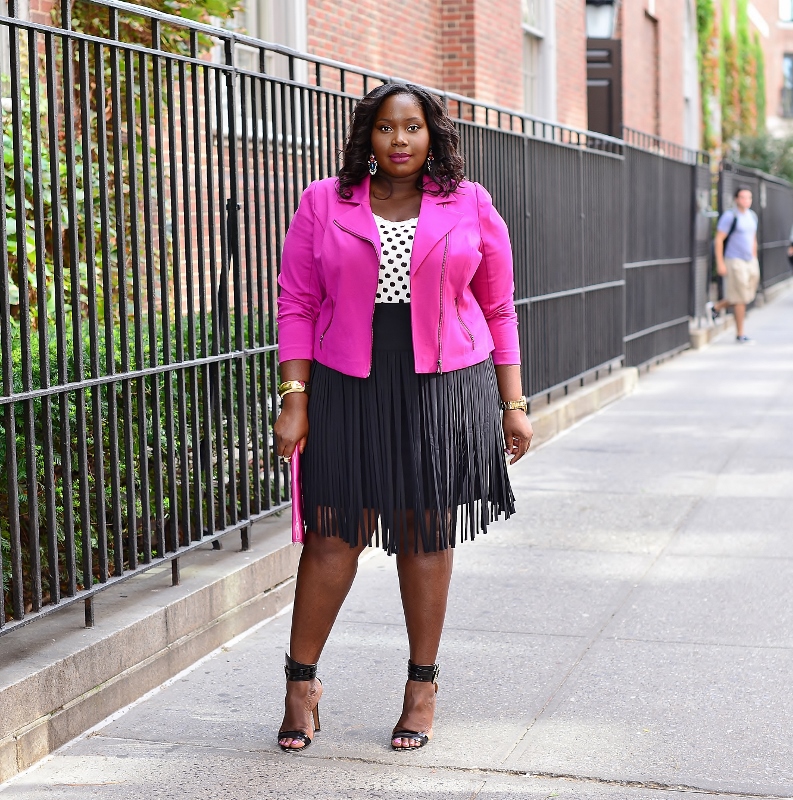 I wanted the skirt to wear during New York Fashion Week but it didn't arrive in time for the day I wanted to wear it. When it finally arrived, I was so happy because the fit was perfect and it was made of chiffon so I didn't have to worry about it shedding like my leather fringe coat.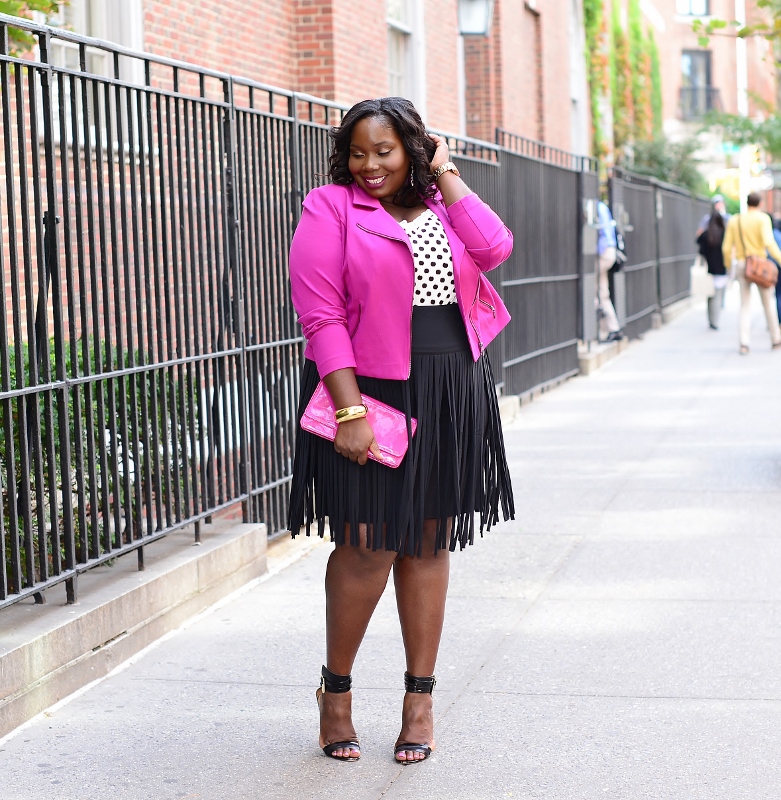 I initially had a black faux wrap body suit to wear with it but I wanted to add a little color so I opted for a pink knit moto jacket, and a polka dot tank top.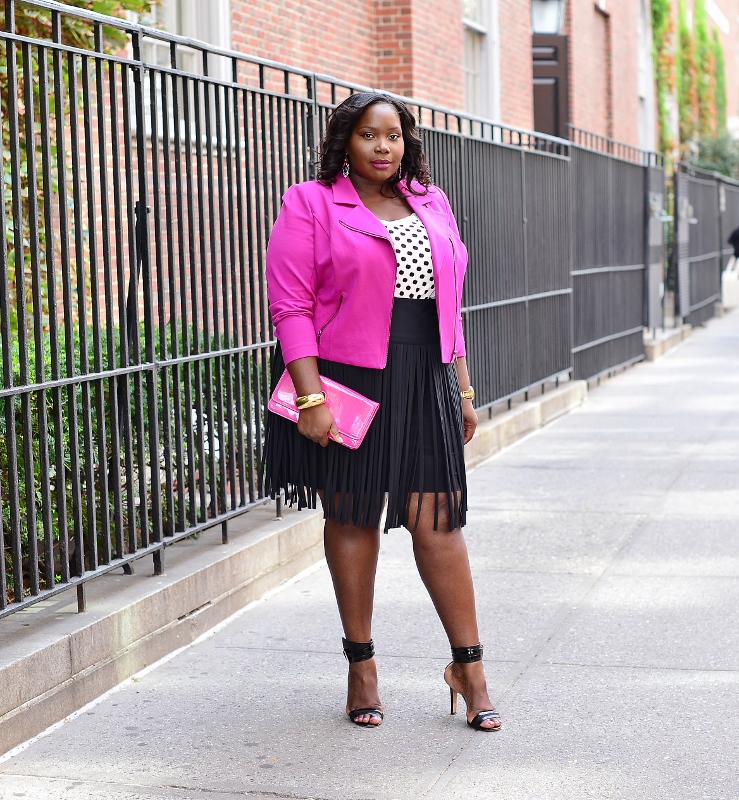 I slipped on my go to ankle strap sandals, and slid under my arm a pink patent leather clutch. I accessorized with a gold bracelet, multicolored jeweled earrings, and a gold watch.
As I've been saying for the past couple of months. Lane Bryant has been doing their thing so don't sleep on them. I will be doing an LB haul this week so stay tuned for that on our Youtube Channel.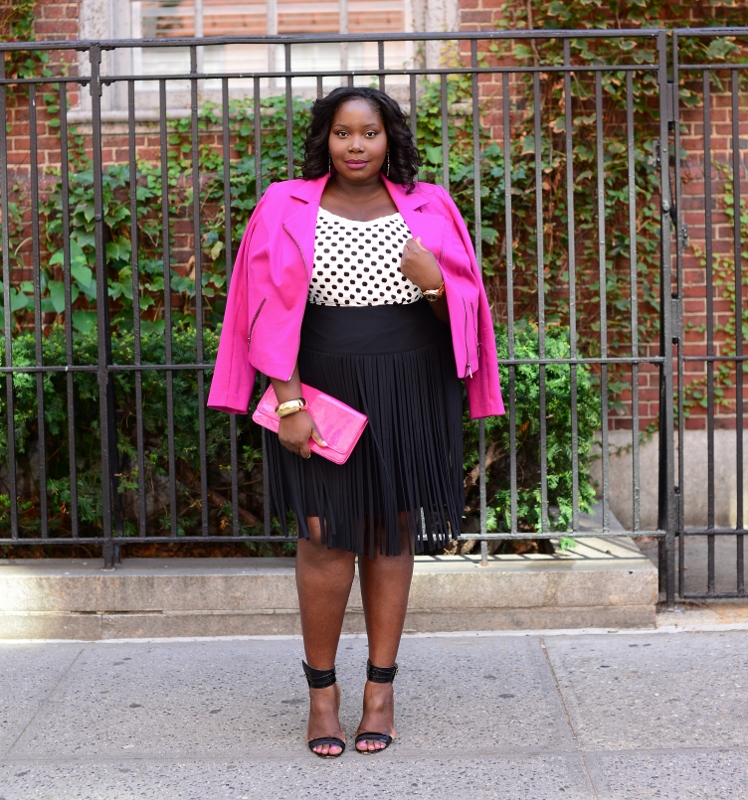 All photos by Lindsey of Pristine Finesse
Shop My Look
Lane Bryant Fringe Skirt: Get it HERE
Lane Bryant Moto Jacket: Ger it HERE
Lane Bryant tank top: Get it HERE
Nine West Sandals (old)
Aldo clutch(old)