Although I didn't grow up plus size, I've always had a big stomach. And over the years I've learned some pretty stylish tips on how to dress and hide a tummy. And create outfits to flatter a big belly. As a body positive advocate I believe you should wear what you want. However, I am also team flattering. I believe you can do both.
My way of thinking is not always in agreement with the body positive community. However, its my truth. And all I know how to do is to be real about how I feel. Learning how to dress my body in a flattering way is what helped me to love the skin I'm in. Its also helped me to experiment with different looks.
*This post contains affiliate links where we receive commission on any purchases made.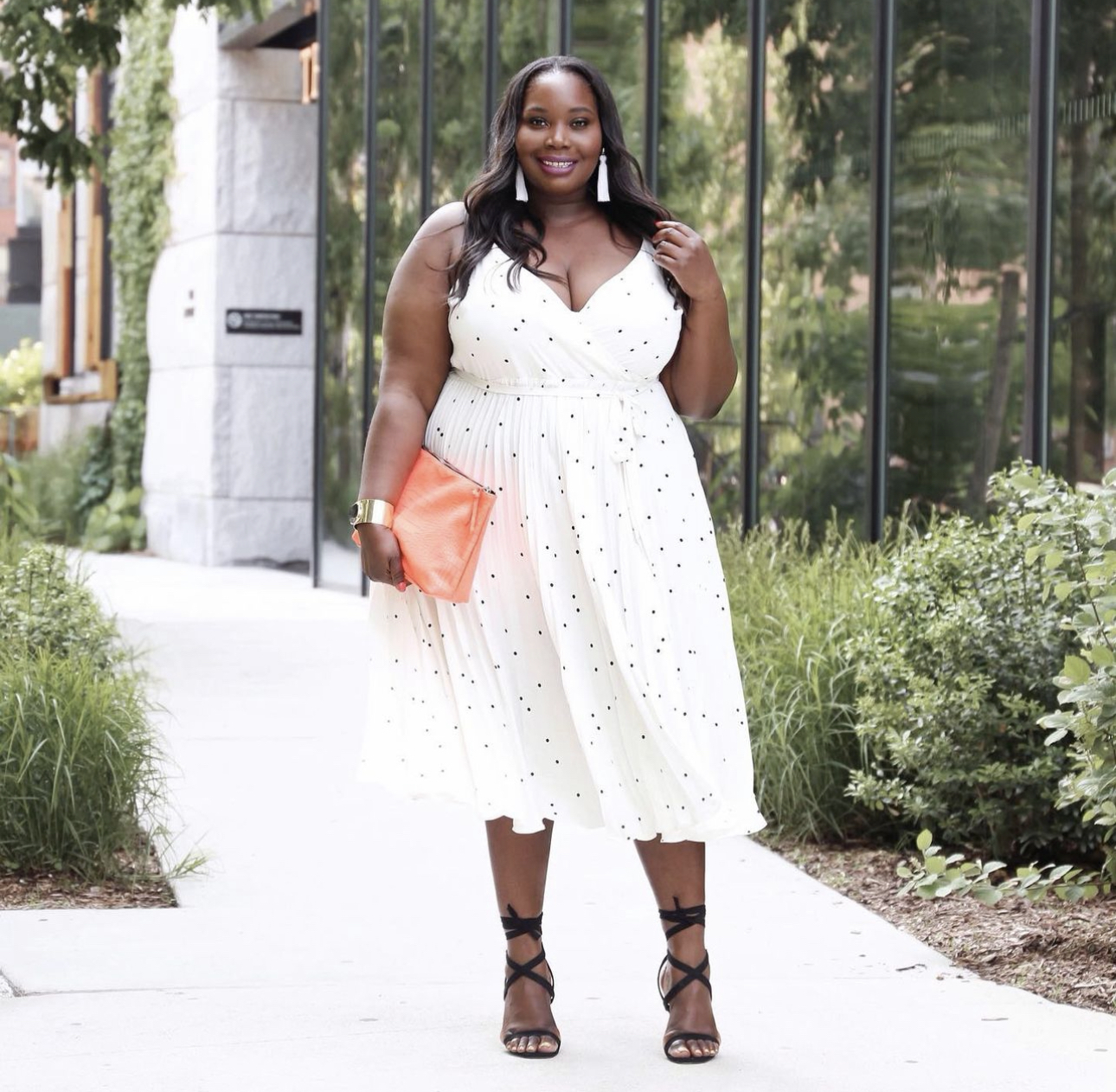 During my early adult years, it was frustrating trying to figure out what worked best for my shape. Often times, I was wearing clothes that were too small and tight.
All that did was put an emphasis on my stomach. It wasn't until I realized I needed clothes that worked with my tummy and not against it.
So, I read magazines and followed tips from stylists to figure out what worked best for me. Today, I want to share with you some of what I learned on how to dress to flatter a big tummy.
These tips work for a variety of body types. Especially apple body shapes.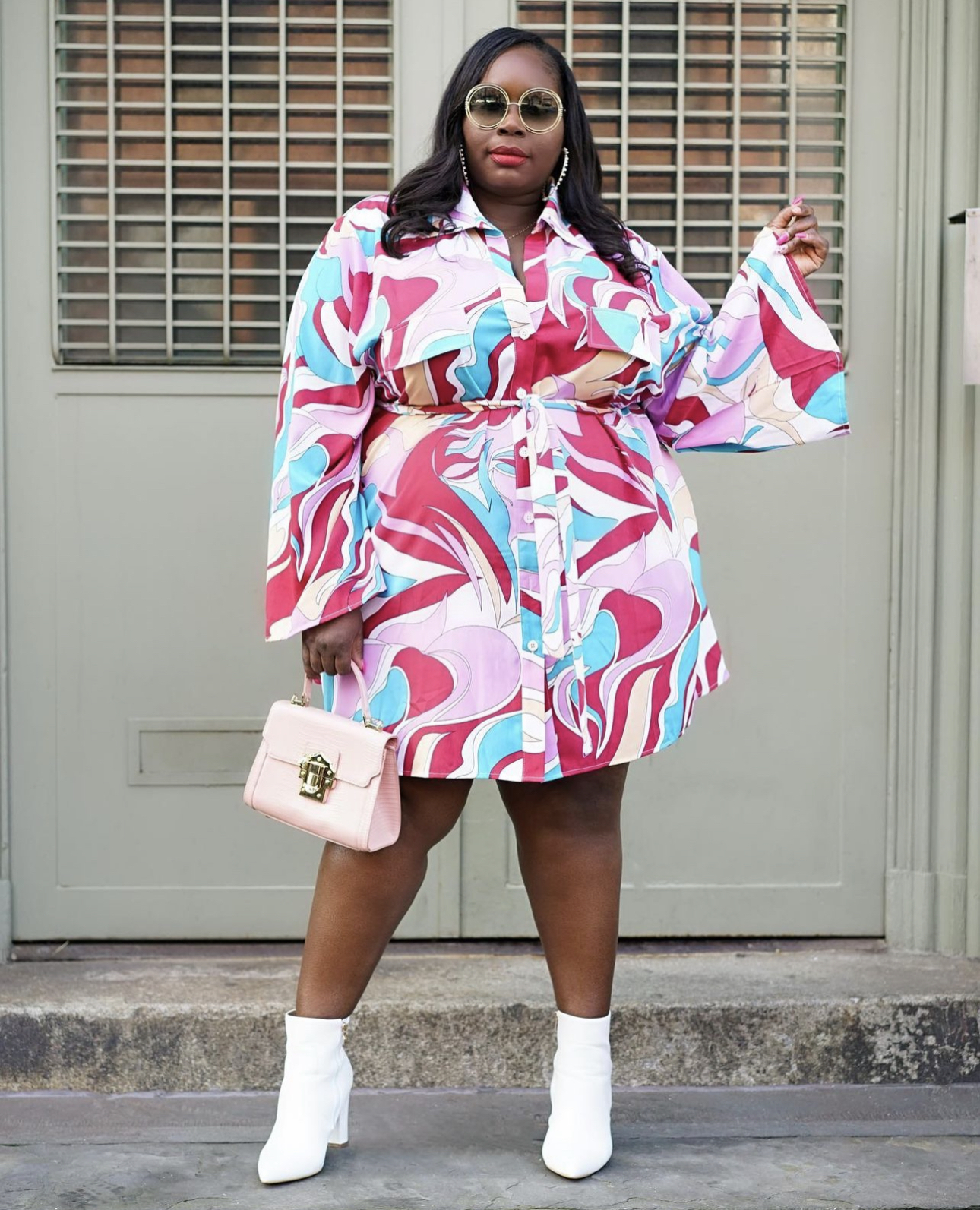 TRIED & TRUE TIPS ON HOW TO HIDE A TUMMY
To illustrate these tips, I'm using myself as an example. Plus, I'm going to show you side by side photos on what to look for and what to avoid.
Let's get started!
This is me without any shapewear and what my tummy actually looks like. So, yall know I'm keeping it real.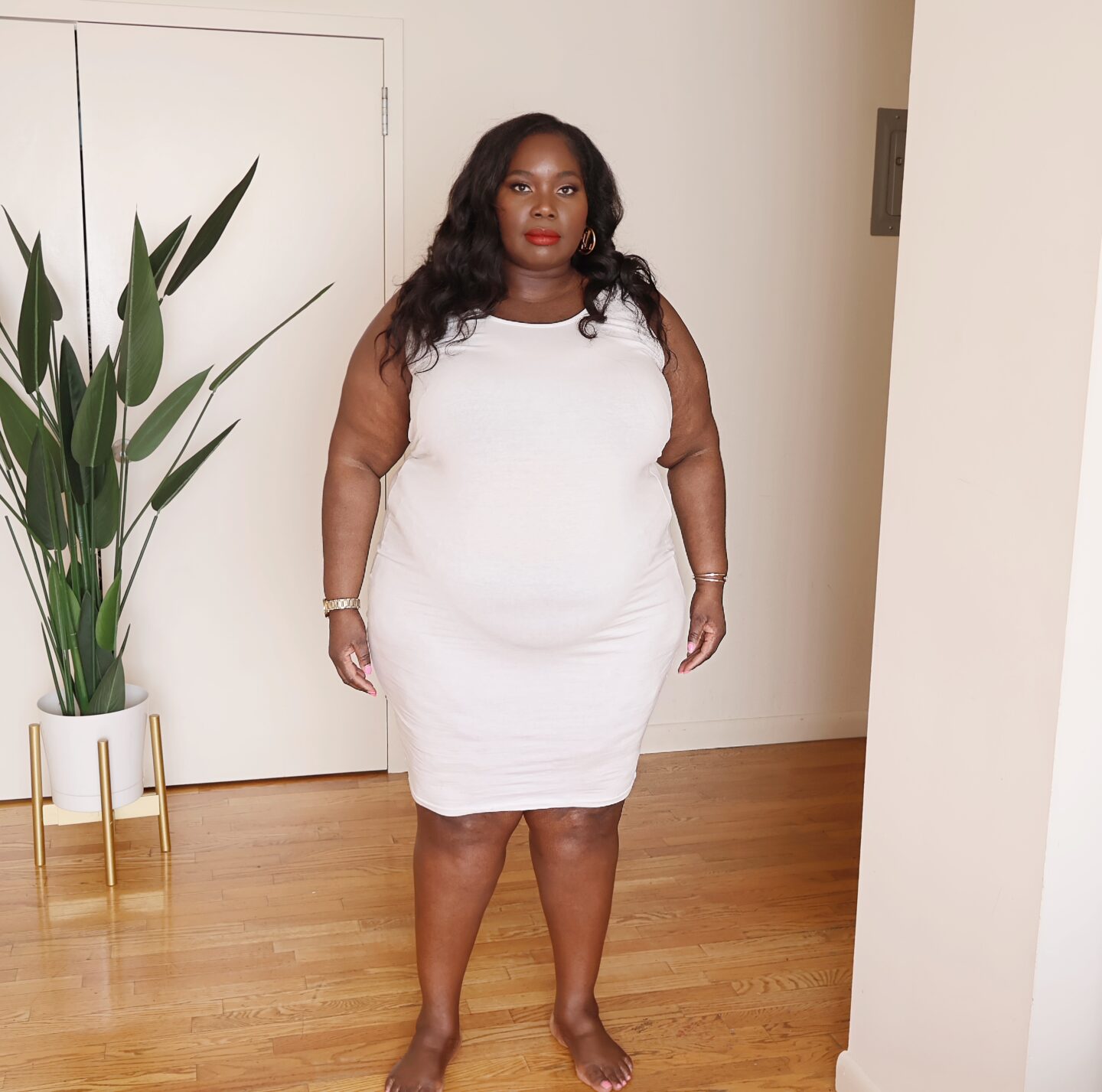 For a simple and easy way, I'm going to breakdown some of the best dresses to flatter a big stomach, the best jeans to hide a big tummy, as well as tops, and outerwear.
Key Tips To Remember
Tip #1: Go for pieces that skim over your belly bulge. And pieces that create balance and more of a shapely figure.
Tip #2: DON'T BE AFRAID TO SIZE UP. I believe you should buy pieces that fit the largest part of your body comfortably. And if you have to tailor the piece in the areas that are too big, then so be it.
---
Best Dresses To Hide A Big Tummy
When it comes to dresses that flatter, you want to avoid dresses that cling too tight on the tummy. Instead, look for dresses that skim over your mid-section. Dresses that hide a big belly are shirtdresses, fit & flare dresses, empire waist dresses, dresses with draping around the belly.
Try A Shirtdress
It creates a vertical streamlined look. Especially when belted. Below I'm showing you two shirtdress styles that flatter my tummy.
The leopard shirtdress has a more structured fabric. So, in this dress I had to size up, in order for me to button it over my mid section without it being too tight.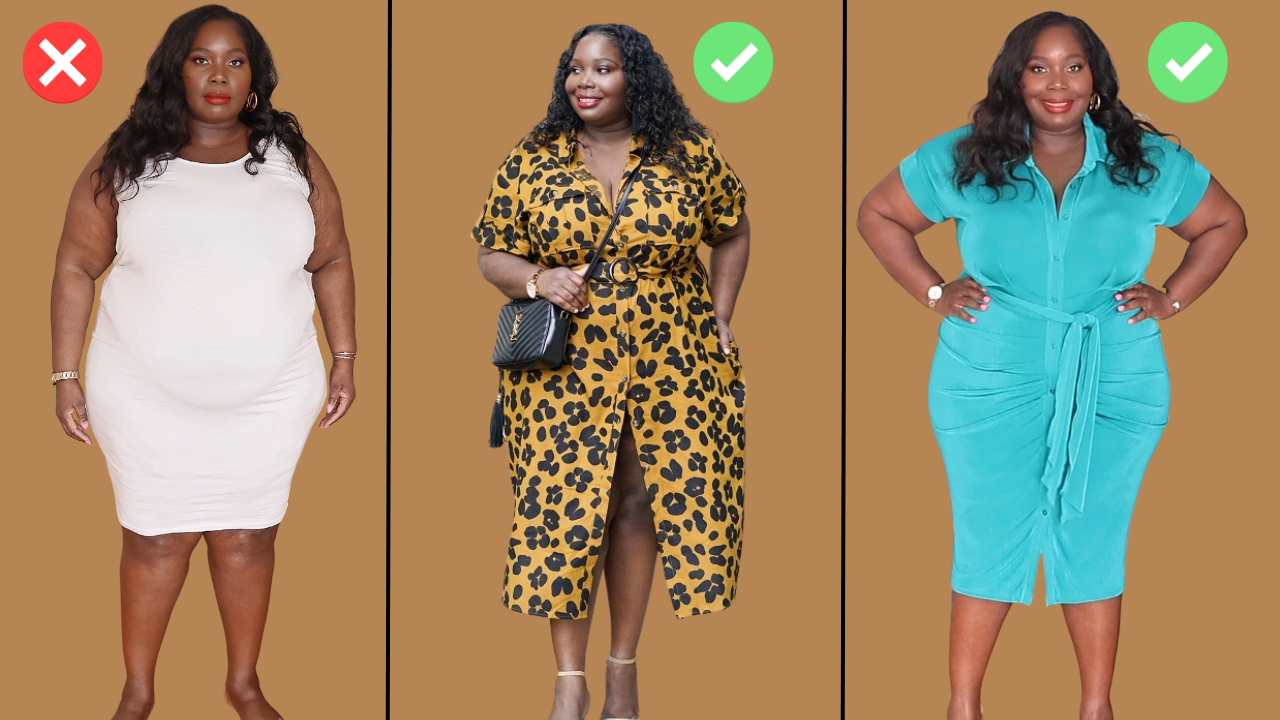 Style Tip For A Big Tummy: Play around with accessories. Try a crossbody bag to also help create dimension in your outfits.
Shopping Tip: Look for flattering details like a belted waist or ruching around the mid-section. The green dress has stretch in it which skims over my curves and the cinching gives the illusion of a smaller waist. For a more snatched look, add shapewear. (Only if you don't mind wearing shapewear.) I'm wearing shapewear with the green dress.
Checkout these shirtdress options
---
Go For A Fit & Flare Dress
Fit and flare dresses help to create a more shapely figure if you have a big belly. These dresses are fitted at the top and flare out on the bottom.
Often times when trying to hide a large belly, we go for drastically oversized pieces that wind up making us look frumpy or boxy. If THAT'S NOT THE LOOK YOU'RE GOING FOR, opt for dresses that create a shape.
For example, the polka dot black dress (photo below, on the left) does hide my tummy but it also makes my shape look boxy.
I created more of a curvy look with the two dresses next to the black dress. The white polka dot dress is fitted at the top with an empire waist. While the skirt part of the dress flares out pulling away from my mid-section. Creating a shapely figure.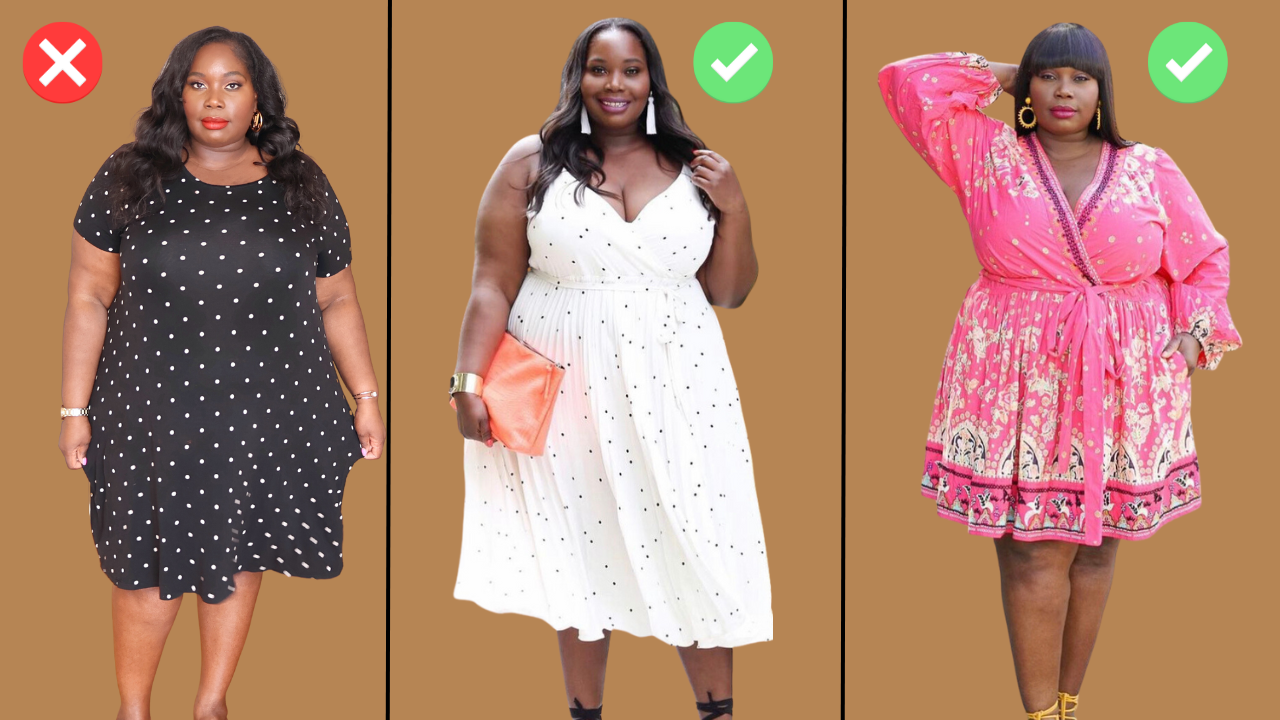 The pink fit and flare dress works for hiding a tummy because the belt hits me at the smallest part of my waist and the pleated skirt flows over my tummy. Once again, creating more of a shapely figure.
Checkout more fit and flare dresses below
---
Best Jeans/Pants That Flatter A Tummy
When it comes to jeans and pants, steer clear of low rise jeans and pants that are too tight on the waist. For a comfortable and flattering option, go for mid-rise jeans or high-waisted. Depending upon your proportions. Anytime your jeans are too tight, it creates a bulge. Which is why mid-rise jeans are a perfect flattering option. They provide enough coverage for a bigger belly.
Mid Rise Jeans
In the photo below, the first pair of jeans are low rise and too tight. Creating a bulge. The denim look with the t-shirt shows a higher rise pair of jeans which eliminates the bulge and creates a more elongated look.
Wide Leg & Straight Leg Pants
Believe it or not, wide leg pants can be a flattering option for a bigger belly. Especially a pair that skims over the fuller part of your tummy. I often size up with wide leg pants just to ensure a flattering fit.
Not into wide leg pants go for straight leg pants for a more streamlined look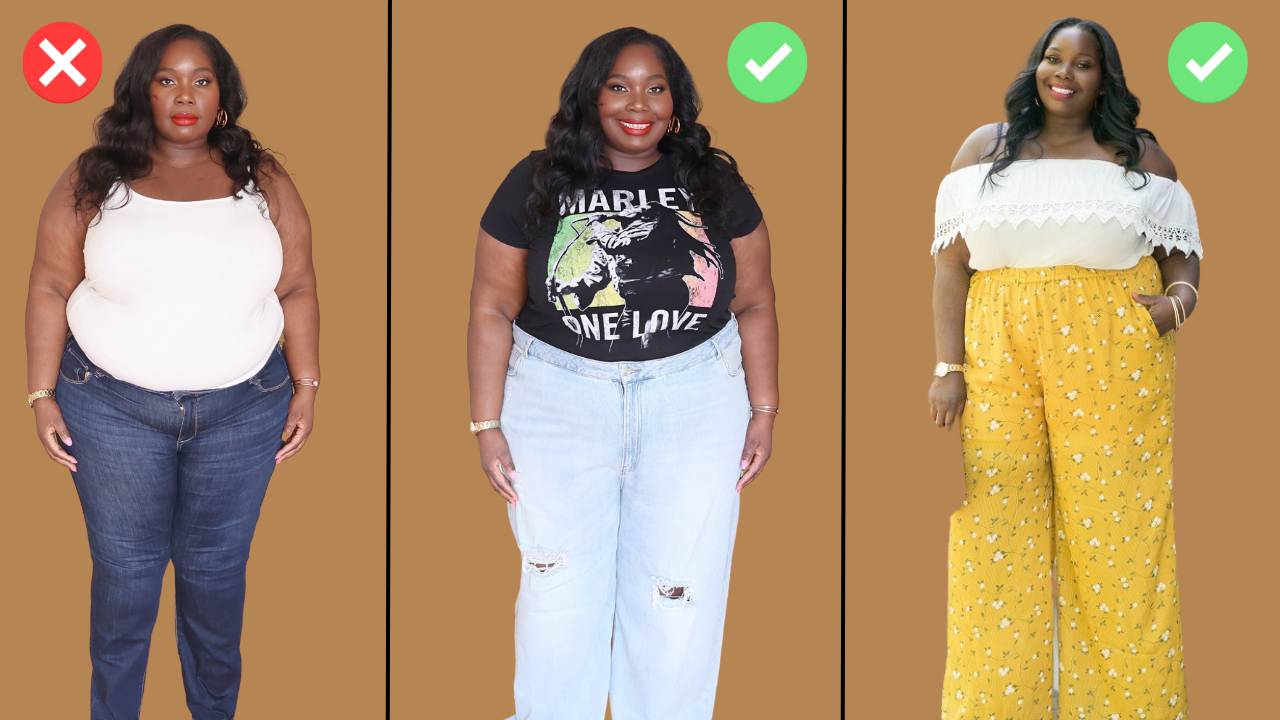 Style Tip: If you want to look taller and elongated, then add a longline blazer with mid-rise jeans and tuck your top in. Or wear a top that hits slightly above the hip but shorter than the blazer, if you don't want to tuck. See photo below.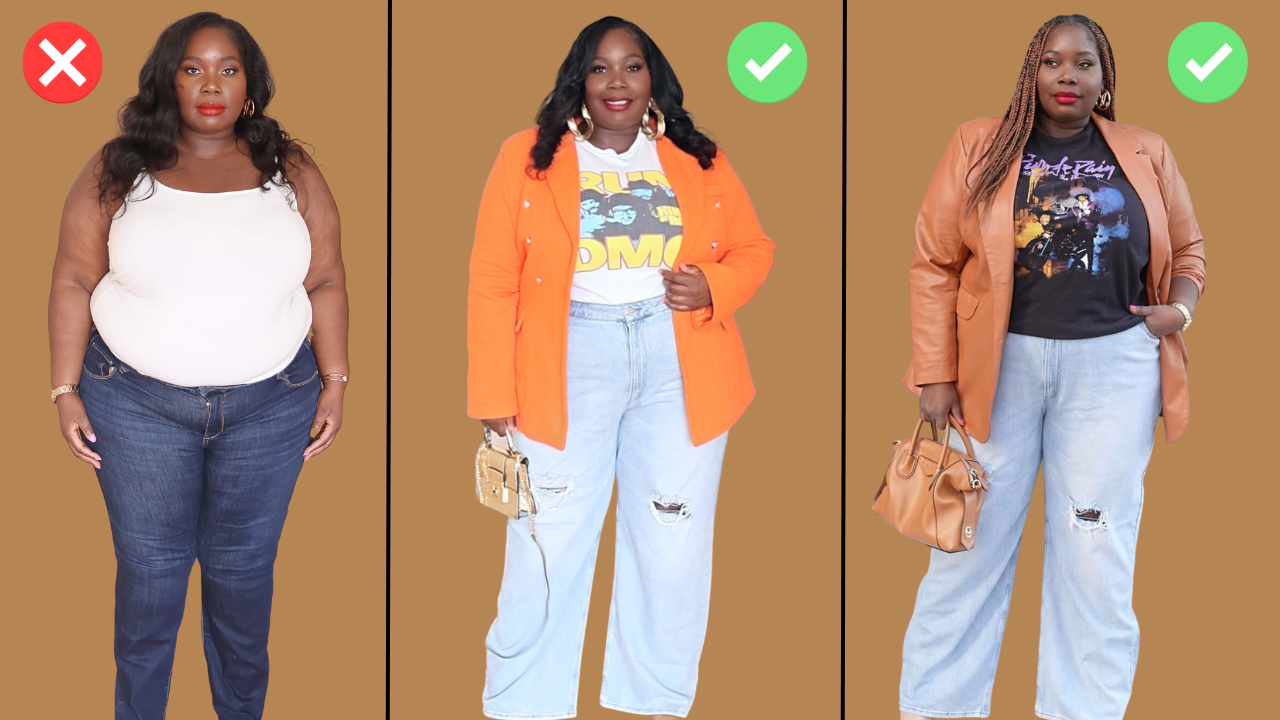 Checkout these jeans and pant options that flatter a stomach.
---
Tops That Help To Flatter A Big Stomach
These tummy flattering tips are going to be great for apple shape body types. Now, let's get into tops that flatter a large belly.
When shopping, be mindful and try to avoid tops that are boxy and cut you off in an awkward way. In addition, unless you're going for a crop top, avoid tops that are too short, as well as too tight.
Instead, look for tops that skim over your stomach. And go for tops that have interesting details. As well as tops that elongate your mid-section. For example, wrap tops, V-necks, peplum tops, and button down shirts are great options for flattering an apple body shape.
Flattering tops also don't have to be simplistic and boring. Try tops that have puff sleeves, neck ties, or graphic prints. These help to draw attention away from your thicker middle.
Below are a few options that will help you dress and make your tummy look smaller.
---
Outerwear That Flatters A Large Tummy
In this section, we are going to cover everything from blazers, jackets, to coats.
Blazers
If you want to elongate your mid-section and cover up a fuller stomach, then you should try a longline blazer. A blazer that hits you about mid hip or a tad longer. You can tuck or untuck a top for a more flattering look under the blazer. These types of blazers also look great over dresses.
You should also try one button blazers that pull in at the smallest part of your waist. They help to create a more shapely figure. Especially for apple shape body types.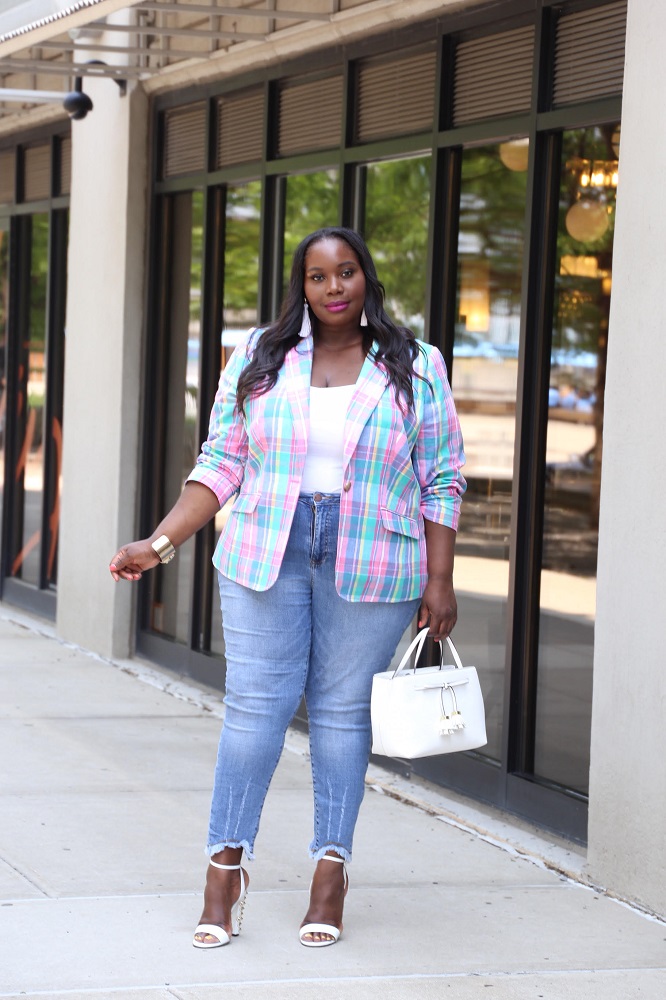 Checkout more tummy flattering blazers
Kimono's
Another alternative to flatter a fuller mid-sectioin is to go for a kimono. You can go for a mid or maxi length kimono. You can create a more defined waist if you get one that is belted.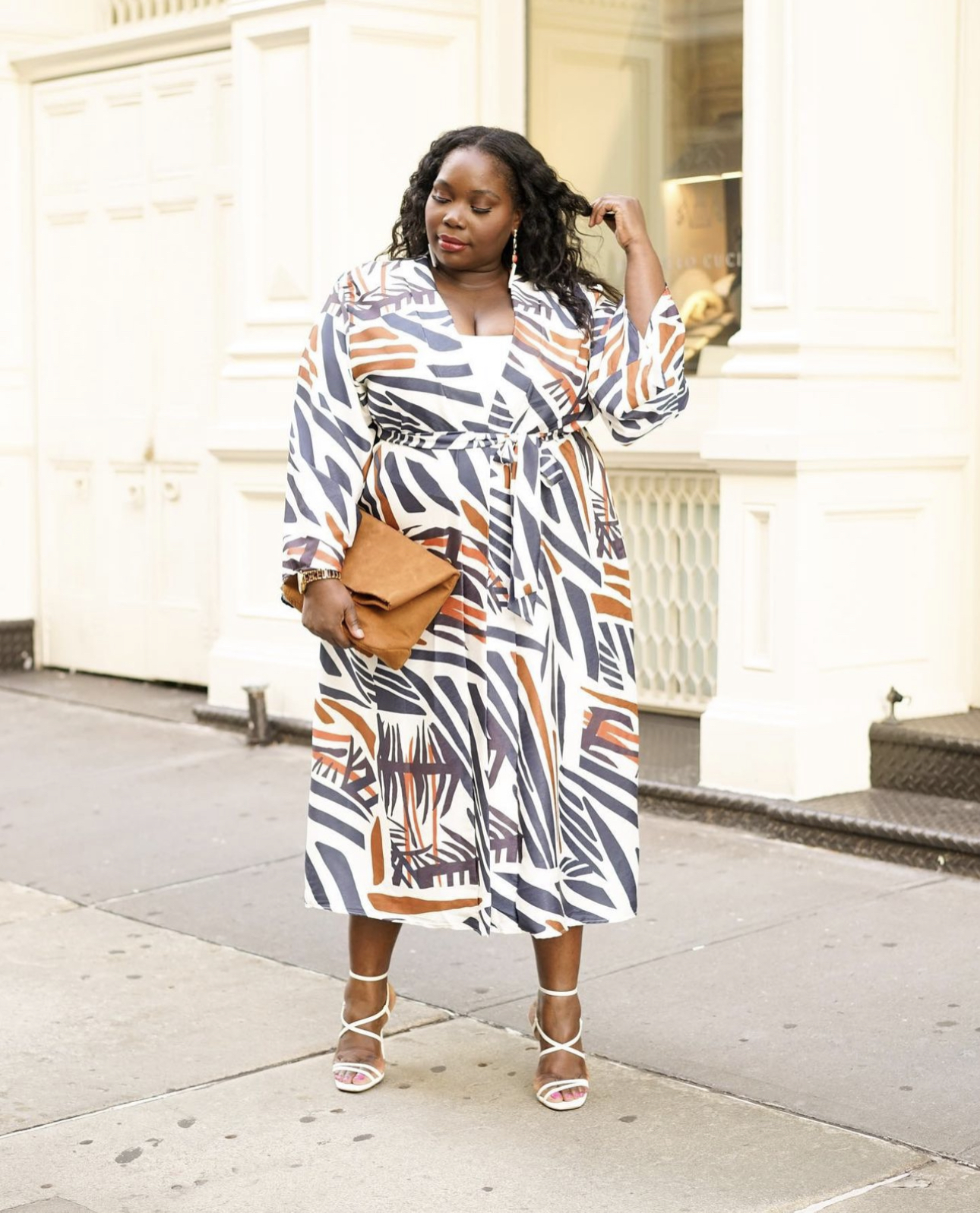 Because kimono's have dramatic sleeves, they can draw attention away from a fuller tummy.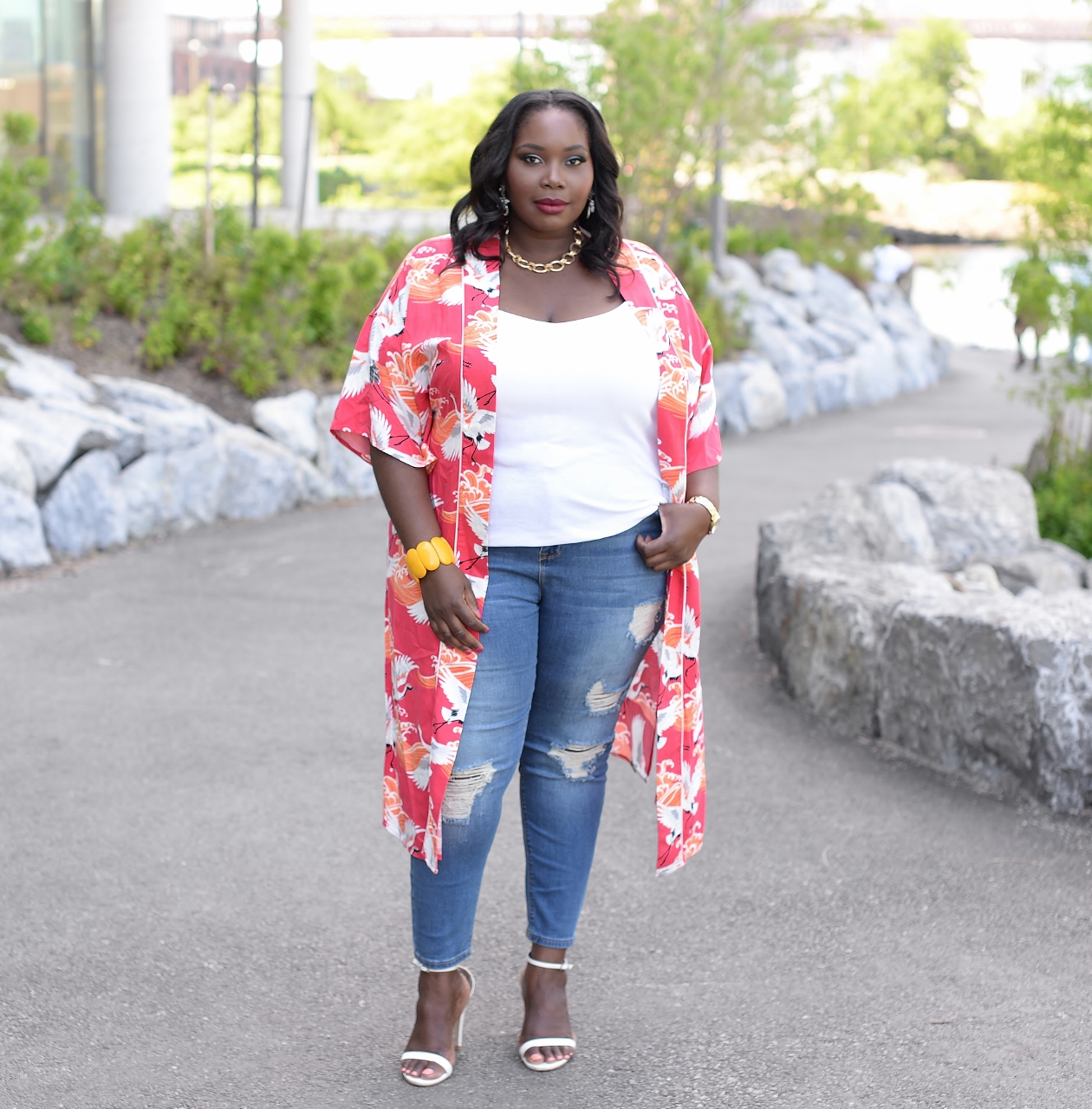 Checkout more flattering plus size kimono's.
---
Moto Jackets
An asymmetrical cut moto jacket instantly flatters a thicker middle. These jackets are perfect for creating the illusion of a smaller tummy.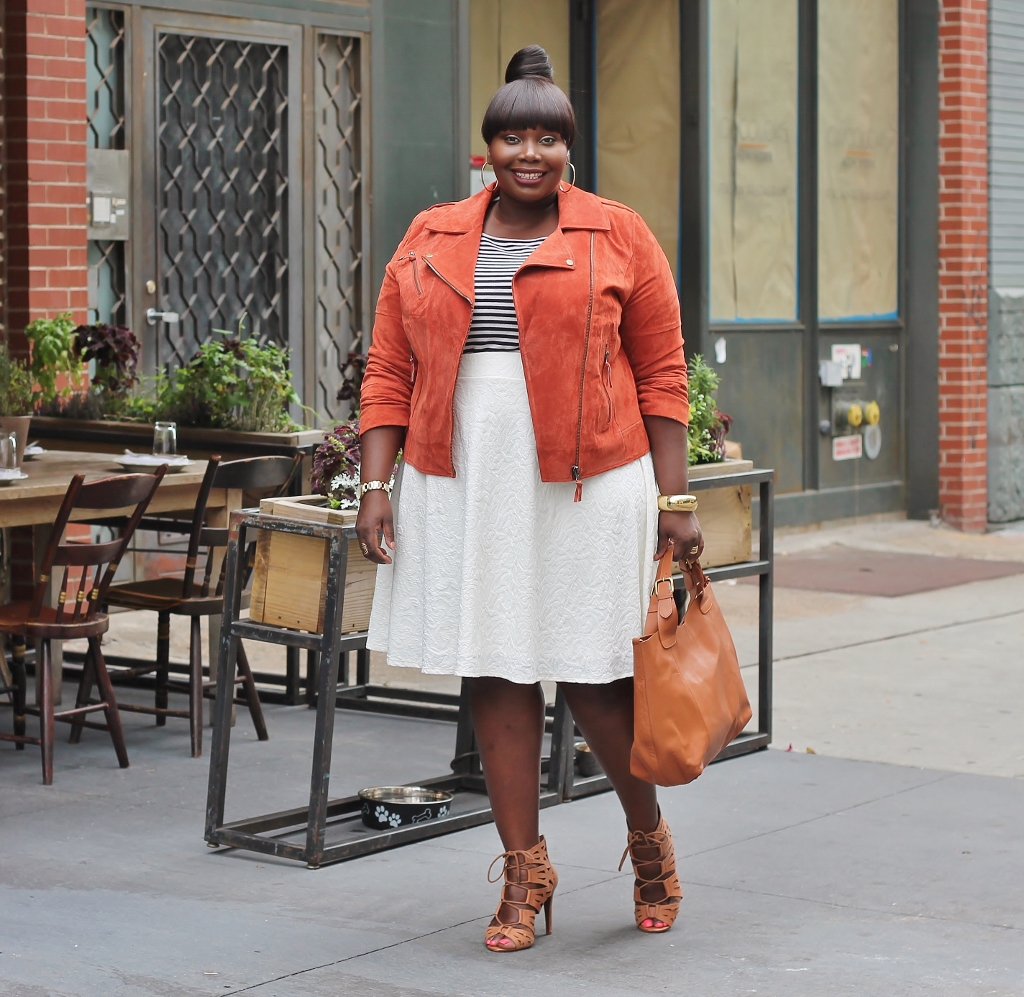 Also use them as a layering piece. pair a slightly longer top under your moto jacket to create dimension.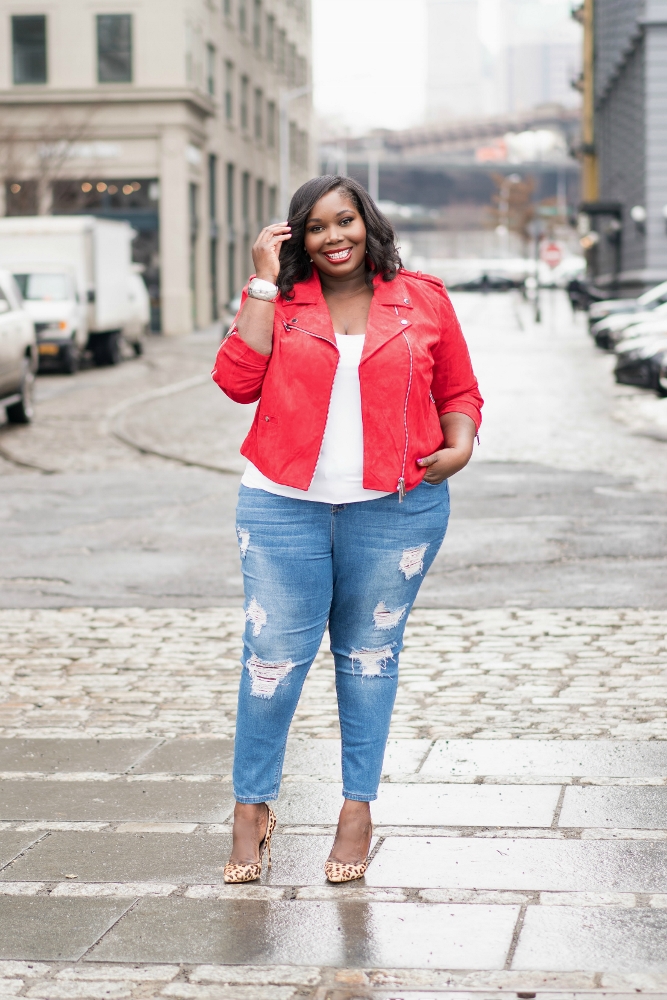 Checkout more moto jackets
---
For more tips, checkout how to dress for your body type HERE
You can also checkout the full video on how to stop dressing frumpy on youtube.
Watch it HERE and subscribe HERE
Like this article? PIN IT!