The power of social media never ceases to amaze me. Remember back in January we reported that Beyonce excluded plus sizes from her highly anticipated Adidas collection? Well, you can read it HERE. It seems as if Queen B heard the pleas and outcry from the plus size community.
Beyonce Includes Plus Sizes
Our girl Bey is including plus sizes up to a 4X in her 2nd Adidas collection. Yup! Big girls can get some of that Bey drip too.
I kind of felt like she was going to include plus sizes because she has been an ally to plus size women. She's included plus size dancers, back up singers, and musicians throughout her career. It only made sense for her to include plus sizes in her collection. Especially when Adidas does offer plus sizes in theirs.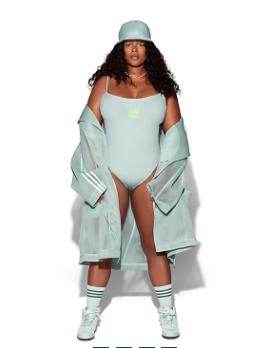 Shop Ivy Park & Adidas in Plus Size
The other reason I knew she was going to offer plus sizes is because she featured photos and videos of plus size model Precious Lee in the promo. Ya'll know we stan for Precious Lee. Did ya'll catch Precious walking in the Versace show? You can see it HERE.
This week WWD (a trusted authority in all things fashion) confirmed that Beyonce's Adidas collection will range from sizes XXXS-4X. The plus size community is extremely excited about the gender neutral collection being size inclusive.
Also this week, Beyonce released images of the collection and ya'll its better than the first. The colors are vibrant and the styles can take you from day to night. I have my eye on the pantsuits.
Beyonce's Adidas Collection will be available on October 29th on line and in store on October 30th. Be prepared and ready at your computer because this is definitely selling out quickly.
Checkout a preview of the collection on Adidas.com
What are your thoughts on Beyonce including plus sizes the 2nd time around?